Abstract
Snow in Antarctica is a vast terrestrial ecosystem and plays a key role that has likely been underestimated. Algae are the key primary producers on the coloured snow surface, and they support a microbial community that includes bacteria, fungi and/or invertebrates. We analysed microbial communities that co-exist in green and red snow samples from the Fildes Peninsula by Illumina sequencing, Antarctica, as well as the influence of snow physicochemical properties. We detected several species of green algae from Chlorophyta and Ochrophyta as well as fungi and cercozoans. The three red snow samples (RS1, RS2 and RS3) were represented by mixed eukaryotic microalgae from Sanguina, Chloromonas and Trebouxiophyceae. The green snow sample GS5 exhibited lake-to-snow colonisation composed of Trebouxiophyceae, Ulvophyceae and Chrysophyta representatives. The red snow RS4, predominantly by Chlainomonas sp. from slush layers, which presented a different microbial community from the other red snow samples, was sampled close to green snow sample GS5 near Lake Changhu. The environmental parameters were involved into descriptive differences among these coloured snow samples. The two snow algae Chlainomonas and Sanguina were firstly reported from Antarctica, which indicates distinguished snow algae colonisation that is closely connected with the melting snow at the lake ice-cover. Meanwhile, consistent with previous bacterial community profiles, Proteobacteria and Bacteroidetes were mostly represented in all the coloured snow samples. Polaromonas (Betaproteobacteria) was the most abundant genus, and its presence was reportedly essential for the sustained growth of snow algae. Flavobacterium from Bacteroidetes was the most frequently detected genera in GS5, but the Sphingobacteriia with only a few reads were an interestingly minority in GS5. The snow-algae-associated bacteria were closely related to psychrophilic strains or sequences from low-temperature environments. Many possible factors influence on the coloured snow microbial communities would require attentions, to help understand their occurrence mechanisms, their biogeographic distributions in polar regions.
Access options
Buy single article
Instant access to the full article PDF.
USD 39.95
Price excludes VAT (USA)
Tax calculation will be finalised during checkout.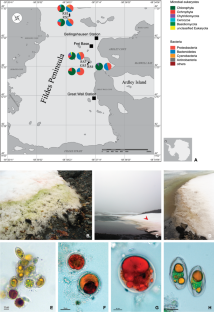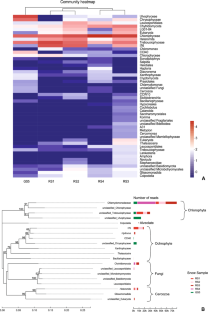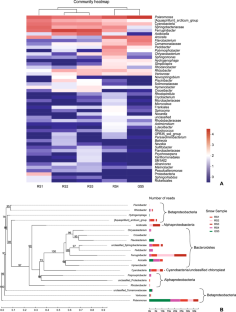 References
Akiyama M (1979) Some ecological and taxonomic observations on the coloured snow algae found in Rumpa and Skarvsnes, Antarctica. Mem Natl Inst Polar Res Special Issue 11:27–34

Battin TJ, Wille A, Sattler B, Psenner R (2001) Phylogenetic and functional heterogeneity of sediment biofilms along environmental gradients in a glacial stream. Appl Environ Microbiol 67:799–807

Bidigare RR, Ondrusek ME, Kennicutt MC II, Iturriaga R, Harvey HR, Hoham RW, Macko SA (1993) Evidence for a photoprotective function for secondary carotenoids of snow algae. J Phycol 29:427–434

Bråte J, Klaveness D, Rygh T, Jakobsen KS, Shalchian-Tabrizi K (2010) Telonemia-specific environmental 18S rDNA PCR reveals unknown diversity and multiple marine-freshwater colonizations. BMC Microbiol 10:168

Brown SP, Olson BJSC, Jumpponen A (2015) Fungi and algae co-occur in snow: an issue of shared habitat or algal facilitation of feterotrophs? Arct Antarct Alp Res 47:729–749

Caporaso JG, Kuczynski J, Stombaugh J, Bittinger K, Bushman FD, Costello EK, Fierer N, Peña AG, Goodrich JK, Gordon JI, Huttley GA, Kelley ST, Knights D, Koenig JE, Ley RE, Lozupone CA, McDonald D, Muegge BD, Pirrung M, Reeder J, Sevinsky JR, Turnbaugh PJ, Walters WA, Widmann J, Yatsunenko T, Zaneveld J, Knight R (2010) QIIME allows analysis of high-throughput community sequencing data. Nat Methods 7:335–336

Caporaso JG, Lauber CL, Walters WA, Berg-Lyons D, Huntley J, Fierer N, Owens SM, Betley J, Fraser L, Bauer M, Gormley N, Gilbert JA, Smith G, Knight R (2012) Ultra-high-throughput microbial community analysis on the Illumina HiSeq and MiSeq platforms. ISME J 6:1621–1624

Carpenter EJ, Lin S, Capone DG (2000) Bacterial activity in south pole snow. Appl Environ Microb 66:4514–4517

Cavalier-Smith T, Lewis R, Chao EE, Oates B, Bass D (2009) Helkesimastix marinan. sp. (Cercozoa: Sainouroidea superfam. n.) a Gliding zooflagellate of novel ultrastructure and unusual ciliary behaviour. Protist 160:452–479

Charvet S, Vincent WF, Lovejoy C (2012) Chrysophytes and other protists in high Arctic lakes: molecular gene surveys, pigment signatures and microscopy. Polar Biol 35:733–748

Croft MT, Lawrence AD, Raux-Deery E, Warren MJ, Smith AG (2005) Algae acquire vitamin B-12 through a symbiotic relationship with bacteria. Nature 438:90–93

Darcy JL, Lynch RC, King AJ, Robeson MS, Schmidt SK (2011) Global distribution of Polaromonas phylotypes—evidence for a highly successful dispersal capacity. PLoS ONE 6:e23742

Darienko T, Proeschold T (2017) Toward a monograph of non-marine Ulvophyceae using an integrative approach (molecular phylogeny and systematics of terrestrial Ulvophyceae II). Phytotaxa 324:1–41

Dodel A (1876) Die Kraushaar-Alge. Ulothrix zonata. Ihre geschlechtliche und ungeschlechtliche Fortpflanzung, Wilhelm Engelmann, Leipzig

Fujii M, Takano Y, Kojima H, Hoshino T, Tanaka R, Fukui M (2010) Microbial community structure, pigment composition, and nitrogen source of red snow in Antarctica. Microb Ecol 59:466–475

Gawor J, Grzesiak J, Sasin-Kurowska J, Borsuk P, Gromadka R, Gorniak D, Swiatecki A, Aleksandrzak-Piekarczyk T, Zdanowski MK (2016) Evidence of adaptation, niche separation and microevolution within the genus Polaromonas on Arctic and Antarctic glacial surfaces. Extremophiles 20:403–413

Hamilton TL, Havig J (2017) Primary productivity of snow algae communities on stratovolcanoes of the Pacific Northwest. Geobiology 15:280–295

Hansen HP, Koroleff F (1999) Determination of nutrients. In: Grasshoff K, Kremling K, Ehrhardt M (eds) Methods of seawater analysis. Wiley-VCH, Weinheim, pp 191–228

Hoham RW, Duval B (2001) Microbial ecology of snow and freshwater ice with emphasis on snow algae. In: Jones HG, Pomeroy JW, Walker DA, Hoham RW (eds) Snow ecology: an interdisciplinary examination of snow-covered ecosystems. Cambridge University Press, Cambridge, pp 168–228

Hoham RW, Bonome TA, Martin CW, Leebens-Mack JH (2002) A combined 18S rDNA and rbcL phylogenetic analysis of Chloromonas and Chlamydomonas (Chlorophyceae, Volvocales) emphasizing snow and other cold-temperature habitats. J Phycol 38:1051–1064

Howe AT, Bass D, Chao EE, Cavalier-Smith T (2011) New genera, species, and improved phylogeny of Glissomonadida (Cercozoa). Protist 162:710–722

Ji M, Greening C, Vanwontergherm I (2017) Atmospheric trace gases support primary production in Antarctic desert surface soil. Nature 552:400–403

Junge K, Eicken H, Deming JW (2004) Bacterial activity at -2 to -20ºC in Arctic wintertime sea ice. Appl Environ Microb 70:550–557

Kol E (1968) Kryobiologie. Biologie und Limnologie des Schnees und Eises. I. Kryo-vegetation. In: Elster H-J, Ohle W (eds) Die Binnengewdsser. (24). E. Schweizerbart'sche Verlagsbuchhandlung, Stuttgart, pp 1–216

Larose C, Dommergue A, Vogel TM (2013) The dynamic Arctic snow pack: an unexplored environment for microbial diversity and activity. Biology 2:317–330

Leya T, Rahn A, Lütz C, Remias D (2009) Response of arctic snow and permafrost algae to high light and nitrogen stress by changes in pigment composition and applied aspects for biotechnology. FEMS Microbiol Ecol 67:432–443

Ling HU, Seppelt RD (1998) Snow algae of the Windmill Islands, continental Antarctica. 3. Chloromonas polyptera (Volvocales, Chlorophyta). Polar Biol 20:320–324

Lopatina A, Krylenkov V, Severinov K (2013) Activity and bacterial diversity of snow around Russian Antarctic stations. Res Microbiol 164:949–958

Lopatina A, Medvedeva S, Shmakov S, Logacheva MD, Krylenkov V, Severinov K (2016) Metagenomic analysis of bacterial communities of Antarctic surface snow. Front Microbiol 7:398

Luo W, Li HR, Gao SQ, Yu Y, Lin L, Zeng Y (2016) Molecular diversity of microbial eukaryotes in sea waters from Fildes Peninsula, King George Island, Antarctica. Polar Biol 39:605–616

Luo W, Li HR, Kotut K, Krienitz L (2017) Molecular diversity of plankton in a tropical crater lake switching from hyposaline to subsaline conditions: lake Oloidien, Kenya. Hydrobiologia 788:205–229

Lutz S, Anesio AM, Edwards A, Benning LG (2015) Microbial diversity on Icelandic glaciers and ice caps. Front Microbiol 6:1–16

Lutz S, Anesio AM, Raiswell R, Edwards A, Newton RJ, Gill F, Benning LG (2016) The biogeography of red snow microbiomes and their role in melting arctic glaciers. Nat Commun 7:11968

Müller T, Leya T, Fuhr G (2001) Persistent snow algal fields in Spitsbergen: field observations and a hypothesis about the annual cell circulation. Arct Antarct Alp Res 33:42–51

Naff CS, Darcy JL, Schmidt SK (2013) Phylogeny and biogeography of an uncultured clade of snow chytrids. Environ Microbiol 15:2672–2680

Newton APW (1982) Red-coloured snow algae in Svalbard - some environmental factors determining the distribution of Chlamydomonas nivalis (Chlorophyta volvocales). Polar Biol 1:167–172

Nicholls KH (2009) Chrysophyte blooms in the plankton and neuston of marine and freshwater systems. In: Sandgren CD, Smol JP, Kristiansen J (eds) Chrysophyte algae: ecology, phylogeny and development. Cambridge University Press, New York, pp 181–213

Parada AE, Needham DM, Fuhrman JA (2016) Every base matters: assessing small subunit rRNA primers for marine microbiomes with mock communities, time series and global field samples. Environ Microbiol 18:1403–1414

Procházková L, Remias D, Holzinger A, Řezanka T, Nedbalová L (2018a) Ecophysiological and morphological comparison of two populations of Chlainomonas sp. (Chlorophyta) causing red snow on ice-covered lakes in the High Tatras and Austrian Alps. Eur J Phycol 53:230–243

Procházková L, Remias D, Řezanka T, Nedbaloá L (2018b) Chloromonas nivalis subsp. Tatrae, subsp. nov. (Chlamydomonadales, Chlorophyta): re-examiniation of a snow alga from the High Tatra Mountains (Slovakia). Fottea 18(1):1–18

Procházková L, Leya T, Křížková H, Nedbalová L (2019) Sanguina nivaloides and Sanguina aurantia gen. et spp. nov. (Chlorophyta): the taxonomy, phylogeny, biogeography and ecology of two newly recognized algae causing red and orange snow. FEMS Microbiol Ecol 95(6):1–21

Quast C, Pruesse E, Yilmaz P, Gerken J, Schweer T, Yarza P, Peplies J, Glöckner FO (2013) The SILVA ribosomal RNA gene database project: improved data processing and web-based tools. Nucleic Acids Res 41:590–596

Ramanan R, Kim BH, Cho DH, Oh HM, Kim HS (2016) Algae-bacteria interactions: evolution, ecology and emerging applications. Biotechnol Adv 34:14–29

Rasconi S, Jobard M, Sime-Ngando T (2011) Parasitic fungi of phytoplankton: ecological roles and implications for microbial food webs. Aquat Microb Ecol 62:123–137

Remias D, Lütz-Meindl U, Lütz C (2005) Photosynthesis, pigments and ultrastructure of the alpine snow alga Chlamydomonas nivalis. Eur J Phycol 40:259–268

Remias D, Karsten U, Lütz C, Leya T (2010) Physiological and morphological processes in the Alpine snow alga Chloromonas nivalis (Chlorophyceae) during cyst formation. Protoplasma 243:73–86

Remias D, Wastian H, Lütz C, Leya T (2013a) Insights into the biology and phylogeny of Chloromonas polyptera (Chlorophyta), an alga causing orange snow in Maritime Antarctica. Antarct Sci 25(5):648–656

Remias D, Jost S, Boenigk J, Wastian J, Lütz C (2013b) Hydrurus-related golden algae (Chrysophyceae) cause yellow snow in polar summer snowfields. Phycol Res 61:277–285

Remias D, Pichrtová M, Pangratz M, Lütz C, Holzinger A (2016) Ecophysiology, secondary pigments and ultrastructure of Chlainomonas sp. (Chlorophyta) from the European Alps compared to Chlamydomonas nivalis forming red snow. FEMS Microbiol Ecol 92:fiw030

Schloss PD, Gevers D, Westcott SL (2011) Reducing the effects of PCR amplification and sequencing artifacts on 16S rRNA-based studies. PLoS ONE 6:e27310. https://doi.org/10.1371/journal.pone.0027310

Simon M, Gloeckner FO, Amann R (1999) Different community structure and temperature optima of heterotrophic picoplankton in various regions of the Southern Ocean. Aquat Microb Ecol 18:275–284

Spijkerman E, Wacker A, Weithoff LT (2012) Elemental and fatty acid compostion of snow algae in Arctic habitats. Front Microbiol. https://doi.org/10.3389/fmicb.2012.00380

Steinbrenner J, Linden H (2001) Regulation of two carotenoid biosynthesis genes coding for phytoene synthase and carotenoid hydroxylase during stress-induced astaxanthin formation in the green alga Haematococcus pluvialis. Plant Physiol 125:810–817

Tanabe Y, Shitara T, Kashino Y, Hara Y, Kudoh S (2011) Utilizing the effective xanthophyll cycle for blooming of Ochromonas smithii and O. itoi (Chrysophyceae) on the snow surface. PLoS ONE 6(2):e14690. https://doi.org/10.1371/journal.pone.0014690

Terashima M, Umezawa K, Mori S, Kojima H, Fukui M (2017) Microbial community analysis of colored snow from an alpine snowfield in Northern Japan reveals the prevalence of Betaproteobacteria with snow algae. Front Microbiol 8:1481

Unrein F, Izaguirre I, Massana R, Balague V, Gasol JM (2005) Nanoplankton assemblages in maritime Antarctic lakes: characterization and molecular fingerprinting comparison. Aquat Microb Ecol 40:269–282

Xiang S, Yao T, An L, Xu B, Wang J (2005) 16S rRNA sequences and differences in bacteria isolated from the Muztag Ata Glacier at increasing depths. Appl Environ Microb 71:4619–4627

Xie S, Yao TD, Kang S, Xu B, Duan K, Thompson LG (2000) Geochemical analyses of a Himalayan snow pit profile: implications for atmospheric pollution and climate. Org Geochem 31:15–23

Xing TT, Yao TD, Liu YQ, Wang NL, Xu BQ, Shen L, Gu ZQ, Gu BX, Liu HC, Zhou YG (2016) Polaromonas eurypsychrophila sp. nov., isolated from an ice core. Int J Syst Evol Microbiol 66:2497–2501
Acknowledgements
This research was supported by the National Natural Science Foundation of China (No. 91851201; No. 41376191), the National Key R&D Program of China (No: 2018YFC1406903), the State Key Laboratory of Microbial Metabolism (Shanghai Jiao Tong University, China: MMLKF16-10), and the Key Research and Development Program of Science and Technology Innovation Project of Hunan Province (2018SK2011). We have special thanks to the Chinese Great Wall Station for their strong logistic supports of this field survey in summer season of 2017.
Ethics declarations
Conflict of interest
There is no conflicts of interest.
Additional information
Publisher's Note
Springer Nature remains neutral with regard to jurisdictional claims in published maps and institutional affiliations.
About this article
Cite this article
Luo, W., Ding, H., Li, H. et al. Molecular diversity of the microbial community in coloured snow from the Fildes Peninsula (King George Island, Maritime Antarctica). Polar Biol 43, 1391–1405 (2020). https://doi.org/10.1007/s00300-020-02716-0
Received:

Revised:

Accepted:

Published:

Issue Date:

DOI: https://doi.org/10.1007/s00300-020-02716-0
Keywords
Snow microbial community

Microbial eukaryotes

Bacteria

Antarctica