Abstract
Although most dives of emperor penguins (Aptenodytes forsteri) are less than 100 m, penguins from the Cape Washington colony regularly perform deep dives > 400 m. To evaluate the significance and location of these deep dives of birds on foraging trips from Cape Washington, we report the satellite tracks of three birds. We also review the frequency of deep dives in the 35 of 42 birds that performed deep dives during seven research seasons over 22 years. Records included 83,314 dives, of which 1418 were > 400 m deep (deepest 552 m). Durations of these deep dives ranged from 7 to 13 min, up to more than twice the aerobic dive limit. Inter-deep-dive-intervals (IDDIs) between most deep dives were 10–20 min. The travel routes of satellite-tagged birds showed that all three spent time over Crary Bank, about 100 km from Cape Washington. Dives > 400 m only occurred over Crary Bank in the two satellite-tracked birds that were also equipped with dive recorders. The depths of the dives were consistent with the distribution of the most common, and energy-dense prey item found in their diet, Pleuragramma antarctica. We conclude that significant food resources are located over Crary Bank, accounting for the deep dives and success of birds from Cape Washington, the second largest, stable colony of emperor penguins known.
Access options
Buy single article
Instant access to the full article PDF.
US$ 39.95
Tax calculation will be finalised during checkout.
Subscribe to journal
Immediate online access to all issues from 2019. Subscription will auto renew annually.
US$ 119
Tax calculation will be finalised during checkout.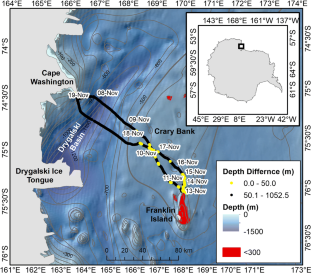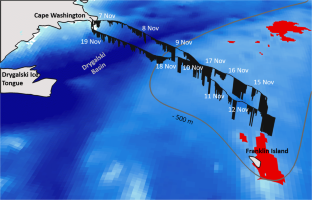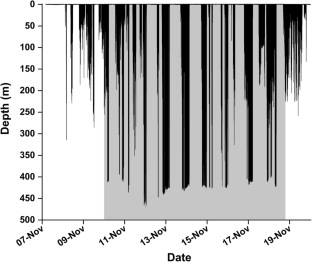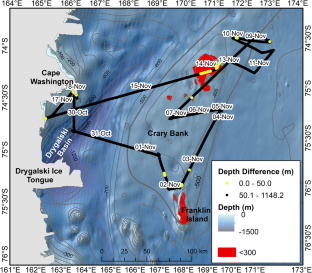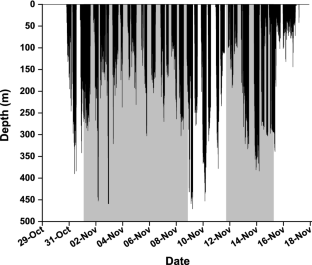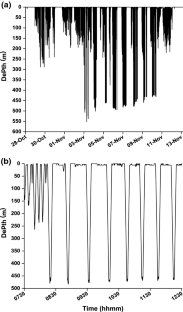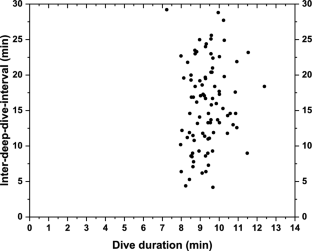 References
Ancel A, Kooyman G, Ponganis PJ, Gendner PJ, Lignon JP, Mestre J, Huin X, Thorson H, Robisson P, Maho YL (1992) Foraging behaviour of emperor penguins as a resource detector in winter and summer. Nature 360:336–339

Anderson JB (1999) Antarctic marine geology. Cambridge University Press, Cambridge

Barry JM, Grebmeier JM, Smith J, Dunbar R (2003) Oceanographic versus seafloor-habitat control of benthic megafaunal communities in the S.W. Ross Sea, Antarctica. Antarct Res Ser 78:327–354

Cherel Y, Kooyman GL (1998) Food of emperor penguins (Aptenodytes forsteri) in the western Ross Sea, Antarctica. Mar Biol 130:335–344

Cherel Y, Tremblay Y, Guinard E, Georges JY (1999) Diving behavior of female northern rockhopper penguins, Eudyptes chrysocome moseleyi, during the brooding period at Amsterdam Island (Southern Indian Ocean). Mar Biol 134:375–385

Croll DA, Gaston AJ, Burger AE, Konnoff D (1992) Foraging behavior and physiological adaptation for diving in thick-billed murres. Ecology 73:344–356

Davey FJ (2004) Ross Sea bathymetry, 1:2000000, version 1.0. Institute of Geological & Nuclear Sciences geophysical map 16. Institute of Geological & Nuclear Science Ltd, Lower Hutt

Dewitt HH, Heemstra PC, Gon O (1990) Nototheniidae. J.L.B. Smith Fishes of the Southern Ocean, Institute of Ichthyology, Grahamstown, pp 279–331

ESRI (2015) Arc GIS desktop: release 1031. Environmental Systems Research Institute, Redlands

Fuiman LA, Davis RW, Williams TM (2002) Behavior of midwater fishes under the Antarctic ice: observations by a predator. Mar Biol 140:815–822

Freund H, Oyono-Enguelle S, Heitz A, Ott C, Marbach J, Gartner M, Pape A (1990) Comparative lactate kinetics after short and prolonged submaximal exercise. Int J Sports Med 11:284–288

Goetz KT, McDonald BI, Kooyman GL (2018) Habitat preference and dive behavior of non-breeding emperor penguins in the eastern Ross Sea, Antarctica. Mar Ecol Prog Ser 593:155–171

Harris RC, Marlin DJ, Snow DJ, Harkness RA (1991) Muscle ATP loss and lactate accumulation at different work intensities in the exercising Thoroughbred horse. Eur J Appl Physiol 62:235–244

Hooker SA, Baird RW, Fahlman A (2009) Could beaked whales get the bends? Effect of diving behavior and physiology on modelled gas exchange for three species: Ziphius cavirostris, Mesoplodon densirostris, and Hyperoodon ampullatus. Respir Physiol Neurobiol 167:235–246

Jouventin P, Guillotin M, Cornet A (1979) Le chant du Manchot Empereur et sa signification adaptative. Behaviour 70:231–250

Karlsson J, Diamant B, Saltin B (1970) Muscle metabolites during submaximal and maximal exercise in man. Scand J Clin Lab Investig 26:385–394

Kirkwood R, Robertson G (1997a) The foraging ecology of female emperor penguins in winter. Ecol Monogr 67:155–176

Kirkwood R, Robertson G (1997b) Seasonal change in the foraging ecology of emperor penguins on the Mawson Coast, Antarctica. Marine Ecology-Progress Series 156:205–223

Kooyman GL (1985) Physiology without restraint in diving mammals. Mar Mammal Sci 1:166–178

Kooyman GL, Kooyman TG (1995) Diving behavior of emperor penguins nurturing chicks at Coulman Island, Antarctica. Condor 97:536–549

Kooyman GL, Siniff D, Stirling I, Bengtson J (2004) Moult habitat, pre- and post-moult diet and post-moult travel of Ross Sea emperor penguins. Mar Ecol Prog Ser 267:281–290

Kooyman GL, Ponganis PJ (2016) Rise and fall of Ross Sea emperor penguin colony populations: 2000 to 2012. Antarct Sci 29:201–208

Lenky C, Eisert R, Oftedal OT, Metcalf V (2012) Proximate composition and energy density of nototheniid and myctophid fish in McMurdo Sound and the Ross Sea, Antarctica. Polar Biol 35:717–724

McConnell BJ, Chambers C, Fedak MA (1992) Foraging ecology of southern elephant seals in relation to the bathymetry and productivity of the Southern Ocean. Antarct Sci 4:393–398

Meir JU, Ponganis PJ (2009) High-affinity hemoglobin and blood oxygen saturation in diving emperor penguins. J Exp Biol 212:3330–3338

Noren SR, Williams TM (2000) Body size and skeletal muscle myoglobin of cetaceans: adaptations for maximizing dive duration. Comp Biochem Physiol A 126:181–191

O'Driscoll RL, Macaulay GJ, Gauthier S, Pinkerton M, Hanchet S (2011) Distribution, abundance and acoustic properties of Antarctic silverfish (Pleuragramma antarcticum) in the Ross Sea. Deep Sea Res II 58:181–195

Ponganis PJ, Kooyman GL, Starke LN, Kooyman CA, Kooyman TG (1997) Post-dive blood lactate concentrations in emperor penguins, Aptenodytes forsteri. J Exp Biol 200:1623–1626

R Core Team (2019) R: a language and environment for statistical computing. R Foundation for Statistical Computing, Vienna. https://www.R-project.org/

Rodary D, Bonneau W, Le Maho Y, Bost CA (2000) Benthic diving in male emperor penguins Aptenodytes forsteri foraging in winter. Mar Ecol Prog Ser 207:171–181

Sato K, Shiomi K, Marshall G, Kooyman G, Ponganis PJ (2011) Stroke rates and diving air volumes of emperor penguins: implications for dive performance. J Exp Biol 214:2854–2863

Tremblay Y, Robinson PW, Costa DP (2009) A parsimonious approach to modeling animal movement data. PLoS ONE 4:e4711

Tyack PL, Johnson M, Aguilar Soto N, Sturlese A, Madsen PT (2006) Extreme diving of beaked whales. J Exp Biol 209:4238–4253

Wickham H (2009) ggplot 2: elegant graphics for data analysis. Springer, New York

Wienecke B, Robertson G, Kirkwood R, Lawton K (2007) Extreme dives by free-ranging emperor penguins. Polar Biol 30:133–142

Wienecke BC, Robertson G (1997) Foraging space of emperor penguins Aptenodytes forsteri in Antarctic shelf waters in winter. Mar Ecol Prog Ser 159:249–263

Williams CL, Meir JU, Ponganis PJ (2011) What triggers the aerobic dive limit? Patterns of muscle oxygen depletion during dives of emperor penguins. J Exp Biol 214:1802–1812

Williams CL, Sato K, Shiomi K, Ponganis PJ (2012) Muscle energy stores and stroke rates of emperor penguins: implications for muscle metabolism and dive performance. Physiol Biochem Zool 85(2):120–133

Wright AK, Ponganis KV, McDonald BI, Ponganis PJ (2014) Heart rates of emperor penguins diving at sea: implications for oxygen store management. Mar Ecol Prog Ser 496:85–98

Ydenberg RC, Clark CW (1989) Aerobiosis and anaerobiosis during diving by western grebes: an optimal foraging approach. J Theor Biol 139:437–449

Zimmer I, Wilson RP, Beaulieu M, Ropert-Coudert Y, Kato A, Ancel A, Plotz J (2010) Dive efficiency versus depth in foraging emperor penguins. Aquat Biol 8:269–277

Zimmer I, Wilson RP, Gilbert C, Beaulieu M, Ancel A, Plotz J (2008) Foraging movements of emperor penguins at Pointe Geologie, Antarctica. Polar Biol 31:229–243
Acknowledgements
This project was supported NSF/OPP Grants GA 4038 and GA 13713 to G. L. Kooyman; NSF DPP 87-15864 Special creative award to G. Kooyman; NSF/OPP 0229638 and 0944220 to P.J. Ponganis, and funds from the Japanese Society for the Promotion of Science (A19255001) to K. Sato. Thanks for all of the assistance by the NSF OPP staff especially Polly Penhale and Davd Bresnahan, for field assistance from Yves Cherel, Don Croll, Melinda Fowler, Carsten Kooyman, Tory Kooyman, Gitte McDonald, Katherine Ponganis, Patrice Robison, Steve Smith, Sheridan Stone, Mike Tift, and Greg Marshall, and for technical assistance of Wildlife Computers, Melinda Holland, Heather Baer, Adrian Rembold. We also thank US Navy squadron VXE 6 the C-130 flight crews in 1986 and 1989, the VXE6 Helicopter crews of 1989, the Captains and crews of the Coastguard Icebreaker Polar Sea in 1986, 1989, and 1993, and especially Capt. Lawson Brigham in 1993, the Kenn Borek flight crews from 1990, 1992, 1993, 1994, 1995, 1996, 2005 and 2011, and Mario Zucchelli, station manager for Italy's Mario Zucchelli Station, for hosting us on several Christmas Days for a shower, dinner, and helicopter transport to and from our camp. We thank Kozue Shiomi, Sara Labrousse and David Ainley, the reviewers of the manuscript. Their comments and suggestions greatly improved the paper.
Ethics declarations
Conflict of interest
The authors have no conflicts of interest.
Ethical approval
All procedures and research were conducted under multiple UCSD IACUC protocols and Antarctic Conservation Act permits.
Additional information
Publisher's Note
Springer Nature remains neutral with regard to jurisdictional claims in published maps and institutional affiliations.
About this article
Cite this article
Kooyman, G.L., Goetz, K., Williams, C.L. et al. Crary bank: a deep foraging habitat for emperor penguins in the western Ross Sea. Polar Biol 43, 801–811 (2020). https://doi.org/10.1007/s00300-020-02686-3
Received:

Revised:

Accepted:

Published:

Issue Date:
Keywords
Penguin

Crary bank

Antarctic silverfish

Ross sea

Inter-deep-dive-interval

Ross sea region MPA