Abstract
The continued decline in the small breeding population of southern elephant seals Mirounga leonina at Gough Island (40°19′S, 9°57′W) over a period of 46 years (1973–2019) signals the likely extirpation of the species at the northernmost extent of its breeding range in the Southern Ocean. The estimated number of births declined from a high (n = 38) in 1975 to a low (n = 2) in 2019, a 95% reduction at an average decrease of 2.15% per annum. The estimated mean time to extinction of this population from a linear regression model is 2 years (95% CI: 0–23 years). This decline is consistent with observed or forecasted population trends of some other marine top predators at the northern extent of their breeding ranges in the Southern Ocean; adding to the prevailing evidence that environmental change is the most plausible hypothesis explaining the range reduction of these marine species limited by a paucity of breeding grounds.
Access options
Buy single article
Instant access to the full article PDF.
USD 39.95
Price excludes VAT (USA)
Tax calculation will be finalised during checkout.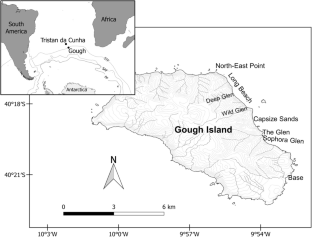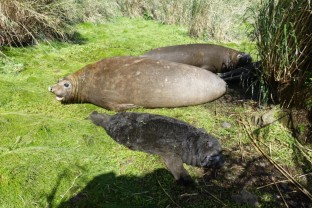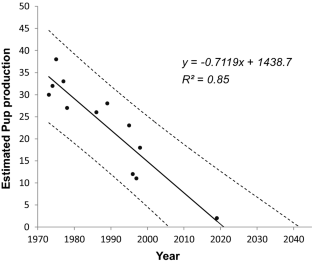 References
Baker CS, Chilvers BL, Constantine R, DuFresne S, Mattlin RH, van Helden A, Hitchmough R (2010) Conservation status of New Zealand marine mammals (suborders Cetacea and Pinnipedia), 2009. New Zeal J Mar Fresh 44:101–115

Bester MN (1980) The southern elephant seal Mirounga leonina at Gough Island. S Afr J Zool 15:235–239

Bester MN (1990) Population trends of Subantarctic fur seals and southern elephant seals at Gough Island. S Afr J Antarct Res 20:9–12

Bester MN, Möller H, Wium J, Enslin B (2001) An update on the status of southern elephant seals at Gough Island. S Afr J Wildl Res 31:68–71

Crawford RJ, Dyer BM, Upfold L, Makhado AB (2014) Congruent, decreasing trends of gentoo penguins and Crozet shags at sub-Antarctic Marion Island suggest food limitation through common environmental forcing. Afr J Mar Sci 36:225–231

Cristofari R, Liu X, Bonadonna F, Cherel Y, Pistorius P, Le Maho Y et al (2018) Climate-driven range shifts of the king penguin in a fragmented ecosystem. Nat Clim Change 8:245–251

De Bruyn PJN, Bester MN, Oosthuizen WC, Hofmeyr GJG, Pistorius PA (2016) A conservation assessment of Mirounga leonina. In: Child MF, Roxburgh L, Do Linh San E, Raimondo D, Davies-Mostert HT (eds) The red list of mammals of South Africa, Swaziland and Lesotho. South African National Biodiversity Institute and Endangered Wildlife Trust, Midrand

Laws RM (1994) History and present status of southern elephant seal populations. In: Le Boeuf BJ, Laws RM (eds) Elephant seals: population ecology, behavior, and physiology. University of California Press, Berkeley, pp 49–65

Le Boeuf BJ, Laws RM (1994) Elephant seals: an introduction to the genus. In: Le Boeuf BJ, Laws RM (eds) Elephant seals: population ecology, behavior, and physiology. University of California Press, Berkeley, pp 1–26

Learmonth JA, MacLeod CD, Santos MB, Pierce GJ, Crick HQ, Robinson RA (2006) Potential effects of climate change on marine mammals. Oceanogr Mar Biol 44:431–464

Reisinger RR, Bester MN (2010) Long distance breeding dispersal of a southern elephant seal. Polar Biol 33:1289–1291

Schoombie S, Crawford RJ, Makhado AB, Dyer BM, Ryan PG (2016) Recent population trends of sooty and light-mantled albatrosses breeding on Marion Island. Afr J Mar Sci 38:119–127

Shaughnessy PD (1975) Observations on the seals of Gough Island. S Afr J Antarct Res 5:42–44

Wace NM, Holdgate MW (1976) Man and nature in the Tristan da Cunha Islands. IUCN Monograph 6:114

Weimerskirch H, Le Bouard F, Ryan PG, Bost CA (2018) Massive decline of the world's largest king penguin colony at Ile aux Cochons, Crozet. Antarct Sci 30:236–242
Acknowledgements
The South African Department of Environment, Forestry and Fisheries provided logistical support; in particular we thank Errol Julies. We also thank Captain Clarence October of the MV GeoSearcher for transport from the Gough Island research base to the survey sites. The Tristan da Cunha Administrator, Island Council and Conservation Department provided permission to work at Gough Island. We also thank the reviewers John van den Hoff and Daniel Cárcamo for their helpful remarks which improved this manuscript.
Ethics declarations
Conflict of interest
The authors declare that they have no conflicts of interest.
Ethical approval
Field procedures were approved by the Animal Ethics Committee of the University of Pretoria.
Additional information
Publisher's Note
Springer Nature remains neutral with regard to jurisdictional claims in published maps and institutional affiliations.
About this article
Cite this article
Jones, C.W., Risi, M.M. & Bester, M.N. Local extinction imminent for southern elephant seals Mirounga leonina at their northernmost breeding site, Gough Island—South Atlantic Ocean. Polar Biol 43, 893–897 (2020). https://doi.org/10.1007/s00300-020-02679-2
Received:

Revised:

Accepted:

Published:

Issue Date:

DOI: https://doi.org/10.1007/s00300-020-02679-2
Keywords
Pinniped

Tristan da Cunha

Population decline

Local extinction

Range shift

Climate change