Abstract
Harbor seals (Phoca vitulina) were formerly widely distributed in Greenland, but in most areas, they have now become rare or extinct. In this study, we deployed 15 satellite-linked data-recorders on 12 individual harbor seals captured near the southern tip of Greenland. The tagging site, a small archipelago, turned out to be their main haul-out and molting location. The seals were tagged around the first week of September across 2 years. Six adult seals transmitted during the breeding season (June–July), during which two males and a female stayed near the tagging site, whereas two females and a male made a targeted swim about 250 km northward along the east coast, just prior to parturition and they returned right after the breeding period. Based on behavior (strong site fidelity and abrupt changes in haul-out and diving activities), we determined that all three females gave birth and that parturition happened during 14–21 June. Prolonged haul-out, relating to the molt, started in early August and peaked during 15 August–8 September with an average of 10–11 h haul-out per day. The seals thereafter gradually transitioned toward a winter mode with more deep dives and on average hauling out 4 h every other day. Dives deeper than 400 m made up less than 1% of their dives, but four seals dove to depths in excess of 575 m, with a record depth of 631 m and the longest dives lasting between 20 and 25 min. To our knowledge, these dives are the deepest recorded for harbor seals.
This is a preview of subscription content,
to check access.
Access this article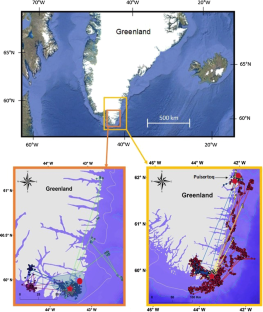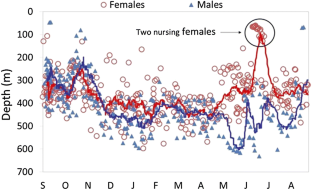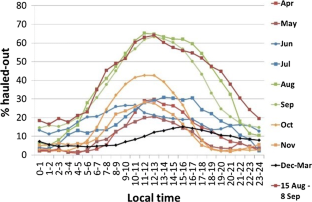 References
Andersen LW, Olsen MT (2010) Distribution and population structure of North Atlantic habour seals (Phoca vitulina). NAMMCO Sci Publ 8:15–36

Anon. (2010) "Selvstyrets bekendtgørelse nr. 16 af 12. november 2010 om beskyttelse og fangst af sæler" [The Greenland Government executive order no. 16 dated 12. November 2010 about protection and hunting of seals].

Bjorge A, Oien N, Hartvedt S, Bothun G, Bekkby T (2002) Dispersal and bycatch mortality in gray, Halichoerus grypus, and harbor, Phoca vitulina, seals tagged at the Norwegian coast. Mar Mamm Sci 18:963–976

Blanchet MA, Lydersen C, Ims RA, Lowther AD, Kovacs KM (2014) Harbour seal Phoca vitulina movement patterns in the high-Arctic archipelago of Svalbard, Norway. Aquat Biol 21:167–181

Boness DJ, Bowen WD, Buhleier BM, Marshall GJ (2006) Mating tactics and mating system of an aquatic-mating pinniped: the harbor seal, Phoca vitulina. Behav Ecol Sociobiol 61:119–130

Cordes LS, Thompson PM (2013) Variation in breeding phenology provides insights into drivers of long-term population change in harbour seals. Proc R Soc B 280:7

Cunningham L, Baxter JM, Boyd IL, Duck CD, Lonergan M, Moss SE, McConnell B (2009) Harbour seal movements and haul-out patterns: implications for monitoring and management. Aquat Conserv-Mar Freshw Ecosyst 19:398–407

Dietz R, Teilmann J, Andersen SM, Riget F, Olsen MT (2013) Movements and site fidelity of harbour seals (Phoca vitulina) in Kattegat, Denmark, with implications for the epidemiology of the phocine distemper virus. ICES J Mar Sci 70:186–195

Douglas DC (2006) The Douglas Argos-filter algorithm, Version 7.03. U.S. Geological Survey, Anchorage, AK. https://www.usgs.gov/software/douglas-argos-filter-algorithm. Accessed 29 Feb 2020

Eguchi T, Harvey JT (2005) Diving behavior of the Pacific harbor seal (Phoca vitulina richardii) in Monterey Bay, California. Mar Mamm Sci 21:283–295

Feltz ET, Fay FH (1966) Thermal requirements in vitro of epidermal cells from seals. Cryobiology 3:261–264

Freitas C, Lydersen C, Fedak MA, Kovacs KM (2008) A simple new algorithm to filter marine mammal Argos locations. Mar Mamm Sci 24:315–325

Frost KJ, Simpkins MA, Lowry LF (2001) Diving behavior of subadult and adult harbor seals in Prince William Sound, Alaska. Mar Mamm Sci 17:813–834

Gjertz I, Lydersen C, Wiig O (2001) Distribution and diving of harbour seals (Phoca vitulina) in Svalbard. Polar Biol 24:209–214

Hamilton CD, Lydersen C, Ims RA, Kovacs KM (2014) Haul-out behaviour of the world's northernmost population of harbour Seals (Phoca vitulina) throughout the year. PLoS ONE 9:15

Harris RB, Fancy SG, Douglas DC, Garner GW, Amstrup SC, McCabe TR, Pank LF (1990) Tracking wildlife by satellite: current systems and performance. Department of the Interior, Fish and Wildlife Service, Washington, DC 30:52

Hastings KK, Frost KJ, Simpkins MA, Pendleton GW, Swain UG, Small RJ (2004) Regional differences in diving behavior of harbor seals in the Gulf of Alaska. Can J Zool-Rev Can Zool 82:1755–1773

Herreman JK, Blundell GM, McDonald DB, Ben-David M (2009) Asymmetrical male-mediated gene flow between harbor seal (Phoca vitulina) populations in Alaska. Can J Zool 87:498–507

Huckstadt LA, Holser RR, Tift MS, Costa DP (2018) The extra burden of motherhood: reduced dive duration associated with pregnancy status in a deep-diving mammal, the northern elephant seal. Biol Lett 14:4

Härkönen T, Harding KC (2001) Spatial structure of harbour seal populations and the implications thereof. Can J Zool-Rev Can Zool 79:2115–2127

Härkönen T, Heide Jørgensen MP (1990) Comparative life histories of east Atlantic and other harbor seal populations. Ophelia 32:211–235

Kolb PM, Norris KS (1982) A harbor seal, Phoca-vitulina-ricardsi, taken from a sablefish trap. Calif Fish Game 68:123–124

Lawson JW, Renouf D (1985) Parturition in the Atlantic harbor seal, Phoca vitulina-concolor. J Mammal 66:395–398

Lowry LF, Frost KJ, Ver Hoef JM, DeLong RA (2001) Movements of satellite-tagged subadult and adult harbor seals in Prince William Sound, Alaska. Mar Mamm Sci 17:835–861

Mansfield AW (1967) Distribution of the harbor seal, Phoca vitulina Linnaeus, in Canadian Arctic waters. J Mammal 48:249–257

Paterson W, Sparling CE, Thompson D, Pomeroy PP, Currie JI, McCafferty DJ (2012) Seals like it hot: changes in surface temperature of harbour seals (Phoca vitulina) from late pregnancy to moult. J Therm Biol 37:454–461

Peterson SH, Lance MM, Jeffries SJ, Acevedo-Gutierrez A (2012) Long distance movements and disjunct spatial use of harbor seals (Phoca vitulina) in the Inland Waters of the Pacific Northwest. PLoS ONE 7:10

Reijnders PJH, Brasseur S, Meesters E (2010) Earlier pupping in harbour seals, Phoca vitulina. Biol Lett 6:854–857

Rosing-Asvid A (2010) Catch history and status of the harbour seal (Phoca vitulina) in Greenland. In: Harbor seals in the North Atlantic and the Baltic. NAMMCO Sci. Publ. 8: 161–174

Teilmann J, Dietz R (1994) Status of the harbor seal, Phoca vitulina, in Greenland. Can Field-Nat 108:139–155
Acknowledgements
This study was part of the Environmental Impact Assessment in relation to potential oil exploitation in South Greenland, funded by the Resource Management Office under the Greenland Government. We thank Signe May Andersen for helping to analyze some of the haul–out and dive data.
Ethics declarations
Conflict of interest
The authors declare to have no conflict of interest.
Ethical approval
This study complies with the guidelines for the treatment of marine mammals in field research, listed on the homepage of the society for Marine Mammalogy.
Additional information
Publisher's Note
Springer Nature remains neutral with regard to jurisdictional claims in published maps and institutional affiliations.
Electronic supplementary material
Below is the link to the electronic supplementary material.
About this article
Cite this article
Rosing-Asvid, A., Teilmann, J., Olsen, M.T. et al. Deep diving harbor seals (Phoca vitulina) in South Greenland: movements, diving, haul-out and breeding activities described by telemetry. Polar Biol 43, 359–368 (2020). https://doi.org/10.1007/s00300-020-02639-w
Received:

Revised:

Accepted:

Published:

Issue Date:

DOI: https://doi.org/10.1007/s00300-020-02639-w
Keywords