Abstract
Despite their wide distribution around the Antarctic continent, the life strategies of the long-fingered icefish Cryodraco antarcticus have been rarely investigated and are not well understood. The aim of this paper was to provide more insights on the demographic characteristics of the population living off the South Shetland Islands, focusing attention on key biological traits such as age and growth and the reproductive cycle. Individual age and reproductive status were assessed through the microstructural analyses of sagittal otoliths and histological analysis of gonads, respectively. The sex-balanced sampled population consisted of juvenile and adult fishes covering a wide size range. Both sexes had positive allometric growth, although males exhibited smaller maximum size and lower body condition than females. Fish longevity was comparable between sexes, being 16 and 18 years in males and females, respectively. Applying the von Bertalanffy growth model to length-at-age estimates, males consistently reached lower maximum asymptotic size at a faster rate than females. Based on the gametogenic process, the spawning period was inferred to occur from late summer to early autumn. As commonly found in icefishes, females devoted a great investment to reproduction as gonadosomatic index, egg size, and fecundity. A single female (62 cm TL) spawned about 7730 eggs as large as 3–4 mm. Considering also the results of previous studies conducted in other areas, this species is characterized by a long-lasting pelagic juvenile phase and adults share similar life strategies across the range of their spatial distribution, suggesting the possibility of a single panmictic circum-Antarctic population.
Access options
Buy single article
Instant access to the full article PDF.
USD 39.95
Price excludes VAT (USA)
Tax calculation will be finalised during checkout.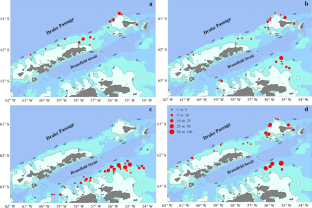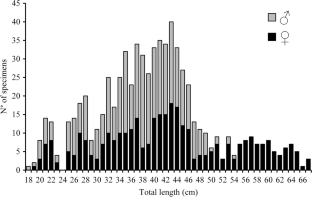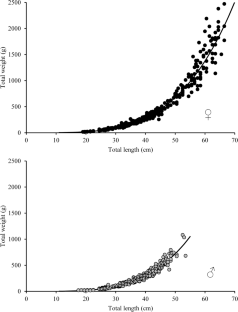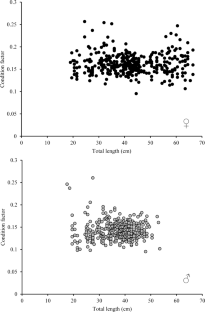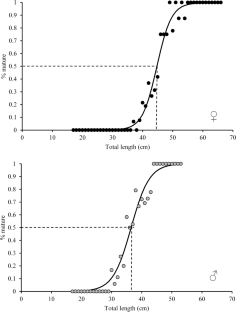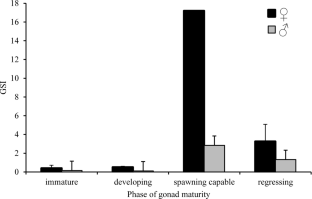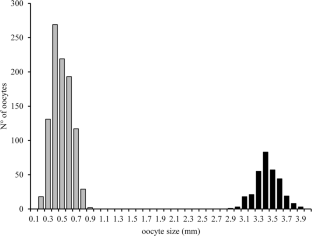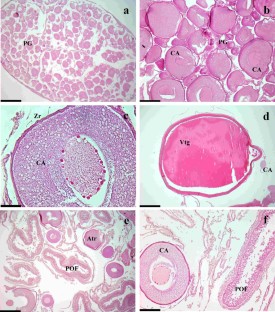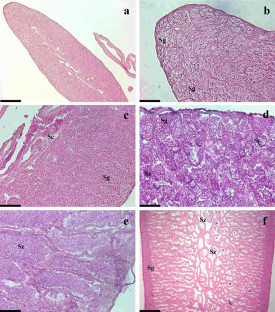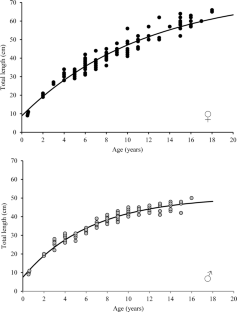 References
Artigues B, Morales-Nin BE (2003) Fish length-weight relationships in the Weddell Sea and Bransfield Strait. Polar Biol 26:463–467

Beamish RJ, Fournier DA (1981) A method of comparing the precision of a set of age determinations. Can J Fish Aquat Sci 38:982–983

Bolger T, Connolly PL (1989) The selection of suitable indices for the measurement and analysis of fish condition. J Fish Biol 34:171–182

Brown-Peterson NJ, Wyanski DM, Saborido-Rey F, Macewicz BJ, Lowerre-Barbieri SK (2011) A standardized terminology for describing reproductive development in fishes. Mar Coast Fish 3:52–70

Chang WYB (1982) A statistical method for evaluating the reproducibility of age determination. Can J Fish Aquat Sci 39:1208–1210

Dollo L (1900) Cryodraco antarcticus, poisson abyssal nouveau recuelli par l'expédition antarctique belge (communication préliminaire). Bull Acad R Belg 2:128–137

Dornburg A, Eytan RI, Federman S, Pennington JN, Stewart AL, Jones CD, Near TJ (2016) Molecular data support the existence of two species of the Antarctic fish genus Cryodraco (Channichthyidae). Polar Biol 39:1369–1379

Duhamel G, Kock K-H, Balguerias E, Hureau J-C (1993) Reproduction in fish of the Weddell Sea. Polar Biol 13:193–200

Eastman JT (2019) An analysis of maximum body size and designation of size categories for notothenioid fishes. Polar Biol 42:1131–1145

Ekau W (1991) Reproduction in high Antarctic fishes (Notothenioidei). Meeresforsch 33:159–167

Everson I (1980) Antarctic fish age determination methods. BIOMASS Handb 8:1–24

Hammer Ø, Harper DAT, Ryan PD (2001) PAST: Paleontological statistics software package for education and data analysis. Palaeontol Electron 4:1–9

Iwami T, Kock K-H (1990) Channichthyidae. In: Gon O, Heemstra PC (eds) Fishes of the Southern Ocean. JLB Smith Institute of Ichthyology, Grahamstown, pp 381–399

Jones CD, Brooks C, Detrich B, Driscoll R, Kendrick J, Kock K-H, Lombard D, Near T, Wilhelms S (2006) Demersal finfish survey of the northern Antarctic Peninsula. NOAA Tech Mem NMFS SWFSC 397:107–134

Jones CD, Koubbi P, Catalano B, Dietrich K, Ferm N (2014) Mesopelagic and larval fish survey. NOAA Tech Mem NMFS SWFSC 524:28–40

Kellermann A (1986) Zur biologie der jugendstadien der notothenioidei (Pisces) an der Antarktischen Halbinsel. Ber Polarforsch 31:1–155

Kellermann A (1989) The larval fish community in the zone of seasonal ice cover and its seasonal and interannual variability. Arch Fisch Wiss 39:81–109

Kellermann A (1990) Catalogue of early life stages of Antarctic notothenioid fish. Ber Polarforsch 67:45–136

Kellermann AK, Gauldie RW, Ruzicka JJ (2002) Otolith microincrements in the Antarctic fishes Notothenia coriiceps and Pseudochaenichthys georgianus. Polar Biol 25:799–807

Kimura DK (1980) Likelihood methods for the von Bertalanffy growth curve. Fish Bull 77:765–776

Kock K-H (1992) Antarctic fish and fisheries Studies in polar research. Cambridge University Press, Cambridge

Kock K-H (2005) Antarctic icefishes (Channichthyidae): a unique family of fishes: a review, part I. Polar Biol 28:862–895

Kock K-H, Everson I (1998) Age, growth and maximum size of Antarctic notothenioid fish-revisited. In: Prisco G, Pisano E, Clarke A (eds) Fishes of Antarctica. Springer, Berlin, pp 29–40

Kock K-H, Jones CD (2002) The biology of the icefish Cryodraco antarcticus Dollo, 1900 (Pisces, Channichthyidae) in the southern Scotia Arc (Antarctica). Polar Biol 25:416–424

Kock K-H, Kellermann A (1991) Reproduction in Antarctic notothenioid fish. Antarct Sci 3:125–150

Kock K-H, Jones CD, Wilhelms S (2000) Biological characteristics of Antarctic fish stocks in the southern Scotia Arc region. CCAMLR Sci 7:1–41

Kock K-H, Jones CD, von Bertouch G, Doolittle DF, La Mesa M, Pshenichnov L, Riehl R, Romeo T, Schöling S, Zane L (2003) The composition of the demersal fish fauna of the Elephant Island-South Shetland Islands region. Ber Polarforsch 470:18–22

Kock K-H, Busch M, Holst M, Klimpel S, Pietschok D, Pshenichnov L, Riehl R, Schöling S (2008) The composition, demography and biology of the demersal fish fauna in the Elephant Island-South Shetland Island region and at the tip of the Antarctic Peninsula. Ber Polarforsch 569:101–105

Kock K-H, Busch M, Elsheimer A, Emde S, Jones CD, Klimpel S, Kuhn T, Siegel V, Wolske J (2012) The composition, abundance and biology of the demersal fish fauna in the Elephant island-South Shetland Island region and at the tip of the Antarctic Peninsula (CCAMLR Subarea 48.1). Ber Polarforsch 652:15–20

Kock K-H, Gröger J, Jones CD (2013) Interannual variability in the feeding of ice fish (Notothenioidei, Channichthyidae) in the southern Scotia Arc and the Antarctic Peninsula region (CCAMLR subareas 481 and 482). Polar Biol 36:1451–1462

La Mesa M, Ashford J (2008) Age and growth of ocellated icefish, Chionodraco rastrospinosus (DeWitt and Hureau, 1979), from the South Shetland Islands. Polar Biol 31:1333–1342

La Mesa M, Vacchi M (2001) Review: age and growth of high-Antarctic notothenioid fish. Antarct Sci 13:227–235

La Mesa M, Vacchi M, Iwami T, Eastman JT (2002) Taxonomic studies of the Antarctic icefish genus Cryodraco Dollo, 1900 (Notothenioidei: Channichthyidae). Polar Biol 25:384–390

La Mesa M, Caputo V, Rampa R, Vacchi M (2003) Macroscopic and histological analyses of gonads during the spawning season of Chionodraco hamatus (Pisces, Channichthyidae) off Terra Nova Bay, Ross Sea, Southern Ocean. Polar Biol 26:621–628

La Mesa M, Ashford J, Larson E, Vacchi M (2004) Age and growth of Scotia Sea icefish, Chaenocephalus aceratus, from the South Shetland Islands. Antarct Sci 16:253–262

La Mesa M, Piepenburg D, Pineda-Metz SEA, Riginella E, Eastman JT (2019) Spatial distribution and habitat preferences of demersal fish assemblages in the southeastern Weddell Sea (Southern Ocean). Polar Biol 42:1025–1040

Murua H, Kraus G, Saborido-Rey F, Witthames PR, Thorsen A, Junquera S (2003) Procedures to estimate fecundity of marine fish species in relation to their reproductive strategy. J Northwest Atl Fish Sci 33:33–54

Norman JR (1938) Coast fishes. Part III. The Antarctic zone. Discov Rep 18:1–104

Pappenheim P (1912) Die fische der deutschen südpolar-expedition 1901–1903. I. Die Fische der Antarktis und Subantarktis. Dtsch Südpolar Exped 13:160–182

Parker GA (1992) The evolution of sexual size dimorphism in fish. J Fish Biol 41:1–20

Pearse AGE (1985) Histochemistry theoretical and applied analytical technology. Churchill Livingstone, Edinburgh

Regan CT (1913) The Antarctic fishes of the Scottish National Antarctic Expedition. Trans R Soc Edinb 49:229–292

Slosarczyk W (1986) Attempts at a quantitative estimate by trawl sampling of distribution of postlarvae and juvenile notothenioids (Pisces, Perciformes) in relation to environmental conditions in the Antarctic Peninsula region during SIBEX 1983–84. Mem Natl Inst Polar Res Spec Issue 40:299–315

Sokal RR, Rohlf FJ (1995) Biometry. The principle and practice of statistics in biological research. Freeman, San Francisco

Takahashi M, Iwami T (1997) The summer diet of demersal fish in the South Shetland Islands. Antarct Sci 9:407–413

Waite ER (1916) Fishes Australasian Antarctic expedition 1911–1914. Sci Rep C 3:3–92

Wei L, Zhu GP, Yang QY (2017) Length-weight relationships of five fish species associated with krill fishery in the Atlantic sector of the Southern Ocean. J Appl Ichthyol 33:1303–1305

Witthames PR, Thorsen A, Murua H, Saborido-Rey F, Greenwood LN, Dominguez R, Korta M, Kjesbu OS (2009) Advances in methods for determining fecundity: application of the new methods to some marine fishes. Fish Bull 107:148–164
Acknowledgements
We would like to thank all of the crew members and personnel aboard RV Polarstern and the RV Yuzhmorgeologiya during the relevant cruises, for their valuable support during field sampling activities. We are much indebted to Richard L. O'Driscoll and an anonymous reviewer, whose comments greatly improved the early draft of the manuscript. This study was financially supported by the Italian National Antarctic Research Program (PNRA) within the Project 2013/C1.07.
Ethics declarations
Conflict of interest
The authors declare to have no conflict of interest and that all applicable institutional, national or international guidelines for the use and care of animals were strictly followed in the present study.
Additional information
Publisher's Note
Springer Nature remains neutral with regard to jurisdictional claims in published maps and institutional affiliations.
About this article
Cite this article
La Mesa, M., Calì, F., Riginella, E. et al. Biological parameters of the High-Antarctic icefish, Cryodraco antarcticus (Channichthyidae) from the South Shetland Islands. Polar Biol 43, 143–155 (2020). https://doi.org/10.1007/s00300-019-02617-x
Received:

Revised:

Accepted:

Published:

Issue Date:

DOI: https://doi.org/10.1007/s00300-019-02617-x
Keywords
Channichthyid

Population structure

Age

Reproduction