Abstract
The plasticity in the trophic ecology, the breeding phenology, and the low nesting site fidelity would be the reasons why most of the gentoo penguin (Pygoscelis papua) populations breeding in the western Antarctic Peninsula and islands of Scotia Arc remained stable or increasing, despite the changing environmental conditions. Regardless of the overall trend, recent studies revealed a decline in the abundance of some gentoo penguin populations at those regions. Therefore, it is highly valuable to update the population size of each colony in order to confirm the current trends of individual colonies and generate a comprehensive overview of the population status. We report the abundance and breeding performance of gentoo penguins at the Stranger Point/Cabo Funes colony from 2000/2001 to 2018/2019. During the last season, 5383 breeding pairs and 5545 chicks in crèche were counted. Despite there were considerable inter-annual fluctuations over the study period, the total number of gentoo penguin breeding pairs increased by 74.6% (+ 3.1% per annum), while the number of chicks crèched increased by 60.0% (+ 2.6% per annum). However, the index of breeding success remained relatively constant over time, varying between 0.74 and 1.23 chicks in crèche/breeding pairs. Gentoo penguins have life-history strategies that are advantageous to face the environmental variability, allowing the species to maintain their breeding performance stable over time and enhance their resilience, which can favour the population growth at Stranger Point.
Access options
Buy single article
Instant access to the full article PDF.
USD 39.95
Price excludes VAT (USA)
Tax calculation will be finalised during checkout.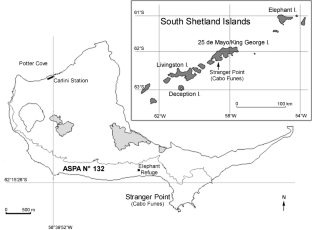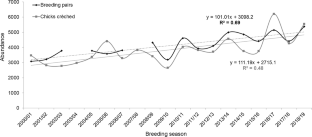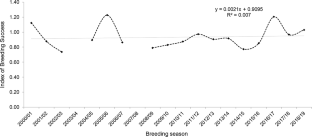 References
Aguirre CA (1995) Distribution and abundance of birds at Potter Peninsula, 25 de Mayo (King George) Island, South Shetland Islands, Antarctica. Mar Ornithol 23:23–31

Ainley D, Ballard G, Ackley S, Blight LK, Eastman JT, Emslie ED, Lescroël A, Olmastroni S, Townsend SE, Tynan CT, Wilson P, Woehler E (2007) Paradigm lost, or is top-down forcing no longer significant in the Antarctic marine ecosystem? Antarct Sci 19:283–290

Braun C, Esefeld J, Peter HU (2017) Monitoring the consequences of local climate change on the natural resources of the ice-free regions of Maxwell Bay (King George Island, Antarctic). Umweltbundesamt. Texte 26/2017. Dessau-Roßlau, Germany

Carlini AR, Coria NR, Santos MM, Negrete J, Juáres MA, Daneri GA (2009) Responses of Pygoscelis adeliae and P. papua populations to environmental changes at Isla 25 de Mayo (King George Island). Polar Biol 32:1427–1433

Casanovas P, Naveen R, Forrest S, Poncet J, Lynch HJ (2015) A comprehensive coastal seabird survey maps out the front lines of ecological change on the western Antarctic Peninsula. Polar Biol 38:927–940

CCAMLR (2014) CCAMLR ecosystem monitoring program standard methods. Commission for the Conservation of Antarctic Marine Living Resources, Hobart

Chwedorzewska KJ, Korczak M (2010) Human impact upon the environment in the vicinity of Arctowski Station, King George Island, Antarctica. Pol Polar Res 31(1):45–60

Croxall JP, Kirkwood ED (1979) The distribution of penguins on the Antarctic Peninsula and Islands of the Scotia Sea. Life Science Division, British Antarctic Survey, Cambridge, p 186

Dunn MJ, Jackson JA, Adlard S, Lynnes AS, Briggs DR, Fox D, Waluda CM (2016) Population size and decadal trends of three penguin species nesting at Signy Island, South Orkney Islands. PLoS ONE 11(10):e0164025. https://doi.org/10.1371/journal.pone.0164025

Dunn MJ, Forcada J, Jackson JA, Waluda CM, Nichol C, Trathan PN (2019) A long-term study of gentoo penguins (Pygoscelis papua) population trends at a major Antarctic tourist site, Goudier Island, Port Lockroy. Biodivers Conserv 28:37–53

Forcada J, Trathan PN, Reid K, Murphy EJ, Croxall JP (2006) Contrasting population changes in sympatric penguin species in association with climate warming. Glob Change Biol 12:411–423

Fraser WR, Trivelpiece WZ, Ainley D, Trivelpiece SG (1992) Increases in Antarctic penguin populations: reduced competition with whales or a loss of ice due to environmental warning? Polar Biol 11:525–531

Fraser WR, Patterson-Fraser DL, Ribic CA, Schofield O, Ducklow H (2013) A nonmarine source of variability in Adélie penguin demography. Oceanography 26:207–209

González-Zevallos D, Santos MM, Rombolá EF, Juáres MA, Coria NR (2013) Abundance and breeding distribution of seabirds in the northern part of the Danco Coast, Antarctic Peninsula. Polar Res 32:11133. https://doi.org/10.3402/polar.v32i0.11133

Hinke JT, Salwicka K, Trivelpiece SG, Watters GM, Trivelpiece WZ (2007) Divergent responses in Pygoscelis penguins reveal a common environmental driver. Oecologia 153:845–855

Hinke JT, Polito MJ, Reiss CS, Trivelpiece SG, Trivelpiece WZ (2012) Flexible reproductive timing can buffer reproductive success of Pygoscelis spp. Penguins in the Antarctic Peninsula region. Mar Ecol Prog Ser 454:91–104

Hinke JT, Cossio AM, Goebel ME, Reiss C, Trivelpiece WZ, Watters GM (2017) Identifying risk: concurrent overlap of the Antarctic krill fishery with krill-dependent predators in the Scotia Sea. PLoS ONE 12(1):e0170132. https://doi.org/10.1371/journal.pone.0170132

Humphries GRW, Che-Castaldo C, Naveen R, Schwaller M, McDowall P, Schrimpf M, Lynch HJ (2017) Mapping application for penguin populations and projected dynamics. www.penguinmap.com. Accessed 23 Apr 2019

Jabłoński B (1984) Distribution and numbers of penguins in the region of Admiralty Bay (King George Island, South Shetland Islands) in the breeding season 1980/1981. Pol Polar Res 5:17–30

Juáres MA, Santos MM, Negrete J, Santos MR, Mennucci JA, Rombolá E, Longarzo L, Coria NR, Carlini AR (2013) Better late than never? Interannual and seasonal variability in breeding chronology of gentoo penguins at Stranger Point, Antarctica. Polar Res 32:18448. https://doi.org/10.3402/polar.v32i0.18448

Juáres MA, Santos M, Negrete J, Mennucci JA, Perchivale PJ, Casaux R, Coria NR (2015) Adélie penguin population changes at stranger point: 19 years of monitoring. Antarct Sci 27(5):455–461

Kerr R, Mata MM, Mendes CRB, Secchi ER (2018) Northern Antarctic Peninsula: a marine climate hotspot of rapid changes on ecosystems and ocean dynamics. Deep-Sea Res II 149:4–9

Korczak-Abshire M, Wegrzyn M, Angiel PJ, Lisowska M (2013) Pygoscelid penguins breeding distribution and population trends at Lions Rump rookery, King George Island. Pol Polar Res 34:87–99

Lynch HJ, Fagan WF, Naveen R (2010) Population trends and reproductive success at a frequently visited penguin colony on the western Antarctic Peninsula. Polar Biol 33:493–503

Lynch HJ, Fagan WF, Naveen R, Trivelpiece SG, Trivelpiece WZ (2009) Timing of clutch initiation in Pygoscelis penguins on the Antarctic Peninsula: towards an improved understanding of off-peak census correction factors. CCAMLR Sci 16:149–165

Lynch HJ, Naveen R, Trathan PN, Fagan WF (2012a) Spatially integrated assessment reveals widespread changes in penguin populations on the Antarctic Peninsula. Ecology 93:1367–1377

Lynch HJ, Fagan WF, Naveen R, Trivelpiece SG, Trivelpiece WZ (2012b) Differential advancement of breeding phenology in response to climate may alter staggered breeding among sympatric Pygoscelid penguins. Mar Ecol Prog Ser 454:135–145

Miller AK, Karnovsky NJ, Trivelpiece WZ (2009) Flexible foraging strategies of gentoo penguins Pygoscelis papua over 5 years in the South Shetland Islands, Antarctica. Mar Biol 156:2527–2537

Petry MV, Valls FCL, Petersen ES, Finger JVG, Krüger L (2018) Population trends of seabirds at Stinker Point, Elephant Island, Maritime Antarctica. Antarct Sci 30:220–226

Quintana RD, Cirelli V, Orgeira JL (2000) Abundance and spatial distribution of bird populations at Cierva Point, Antarctic Peninsula. Mar Biol 28:21–27

Santos MM, Hinke JT, Coria NR, Fusaro B, Silvestro A, Juáres MA (2018) Abundance estimation of Adélie penguins at the Esperanza/Hope Bay mega colony. Polar Biol 41:2337–2342

Sierakowski K, Korczak-Abshire M, Jadwiszczak P (2017) Changes in bird communities of Admiralty Bay, King George Island (West Antarctic): insights from monitoring data (1977–1996). Pol Polar Res 38(2):231–262

Trathan PN, Forcada J, Murphy EJ (2007) Environmental forcing and Southern Ocean marine predator populations: effects of climate change and variability. Phil Trans R Soc B 362:2351–2365

Trathan PN, Forcada J, Atkinson R, Downie RH, Shears JR (2008) Population assessments of gentoo penguins (Pygoscelis papua) breeding at an important Antarctic tourist site, Goudier Island, Port Lockroy, Palmer Archipelago, Antarctica. Biol Conserv 141:3019–3028

Trivelpiece WZ, Hinke JT, Miller AK, Reiss CS, Trivelpiece SG, Watters GM (2011) Variability in krill biomass links harvesting and climate warming to penguin population changes in Antarctica. Proc Natl Acad Sci 108:7625–7628

Turner J, Lu H, White I, King JC, Phillips T, Hosking JS, Bracegirdle TJ, Marshall GJ, Mulvaney R, Pranab D (2016) Absence of 21st century warming on Antarctic Peninsula consistent with natural variability. Nature 535:411–415
Acknowledgements
We thank all field workers involved in the penguin monitoring. The permit for this work was granted by the Dirección Nacional del Antártico (Environmental Office). The FONCYT—Agencia Nacional de Promoción Científica y Tecnológica (Grant: PICTO 2010-0111) and the Instituto Antártico Argentino—Dirección Nacional del Antártico (PINST-05) provided financial and logistical support. We also thank Dr Maria Virginia Petry, two anonymous reviewers and editors for their helpful comments and suggestions on improving the manuscript.
Ethics declarations
Conflict of interest
The authors declare that they have no conflict of interests.
Ethical approval
All research involving gentoo penguins was conducted under appropriate international, national and/or institutional guidelines for the care and use of animals.
Additional information
Publisher's Note
Springer Nature remains neutral with regard to jurisdictional claims in published maps and institutional affiliations.
Electronic supplementary material
Below is the link to the electronic supplementary material.
About this article
Cite this article
Juáres, M.A., Casaux, R., Negrete, J. et al. Update of the population size and breeding performance of gentoo penguins (Pygoscelis papua) at Stranger Point/Cabo Funes, South Shetland Islands. Polar Biol 43, 123–129 (2020). https://doi.org/10.1007/s00300-019-02614-0
Received:

Revised:

Accepted:

Published:

Issue Date:

DOI: https://doi.org/10.1007/s00300-019-02614-0
Keywords
Pygoscelis papua

Breeding pairs

Chicks crèched

Long-term trends

Antarctica