Abstract
A new deep-sea keroeidid octocoral, Ideogorgia laurae, is described from Burdwood Bank, Argentina. It is distinguished from its single congener by the presence of conspicuous calyces, anthocodial sclerites (flattened and warted rods) and large coenenchymal triradiates. This is the deepest and the first record of that genus outside southern African waters. In addition, this is the first new species described for the recently created Marine Protected Area Namuncura II at Burdwood Bank, Argentine Sea. This discovery in a very well-sampled area shows how little we know about that fauna, and also reinforces the importance of creating MPAs to safeguard hotspots of biodiversity in Subantarctic waters. Finally, the new species is an evidence of early connections between deep Subantarctic and shallow South African benthic faunas.
Access options
Buy single article
Instant access to the full article PDF.
USD 39.95
Price includes VAT (USA)
Tax calculation will be finalised during checkout.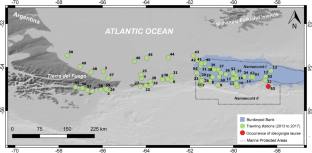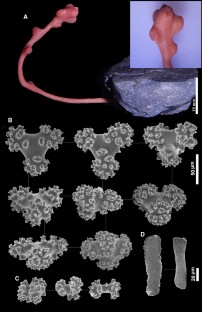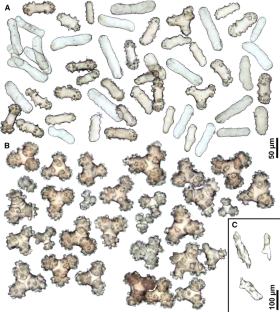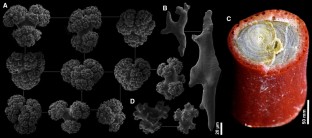 References
Arntz WE (2005) The Magellan-Antarctic connection: links and frontiers at southern high latitudes. Summ Rev Sci 62:359–365. https://doi.org/10.3989/scimar.2005.69s2359

Arntz W, Brey T (2003) Expedition ANTARKTIS XIX/5 (LAMPOS) of RV ''Polarstern'' in 2002. Ber Polarforsch Meeresforsch 462, Senckenberg.

Barnes DKA (2005) Changing chain: past, present and future of the Scotia Arc's and Antarctica's shallow benthic communities. Sci Mar 62:65–89.

Bayer FM (1981) Key to the genera of Octocorallia exclusive of Pennatulacea (Coelenterata: Anthozoa), with diagnoses of new taxa. Proc Biol Soc Wash 94:902–947

Brockman SA, McFadden CS (2012) The mitochondrial genome of Paraminabea aldersladei (Cnidaria: Anthozoa: Octocorallia) supports intramolecular recombination as the primary mechanism of gene rearrangement in octocoral mitochondrial genomes. Genome Biol Evol 4(9):882–894. https://doi.org/10.1093/gbe/evs074

Caille G, Musmeci JM, Harris G, Delfino Schenke R (2013) Sistema Inter-Jurisdiccional de Áreas Protegidas Costero Marinas – SIAPCM – Argentina (Proyecto ARG/10/G47 GEF – PNUD). Frente Maritimo 23:55–64

Cairns SD (2012) New primnoid genus and species (Alcyonacea: Primnoidae) from the southwestern Atlantic. Proc Biol Soc Wash 125:180–188. https://doi.org/10.2988/11-35.1

Casas C, Ramil F, van Ofwegen LP (1997) Octocorallia (Cnidaria: Anthozoa) from the Scotia Arc, South Atlantic Ocean I The genus Alcyonium Linnaeus, 1758. Zool Med Leiden 71(26):299–311

Esteban FD, Tassonea A, Menichetti M, Lodoloc E (2017) Application of slope maps as a complement of bathymetry: example from the SW Atlantic. Mar Geod 40(1):57–71. https://doi.org/10.1080/01490419.2016.1269033

Grasshoff M, Bargibant G (2001) Coral Reef Gorgonians of New Caledonia. Institut de Recherche pour le Dëveloppement, Faune et Flore Tropicales, 38, Paris.

Hickson SJ (1904) The Alcyonaria of the Cape of Good Hope. Part II. Mar Investig S Afr 3:211–239

McFadden CS, France SC, Sánchez JA, Alderslade P (2006) A molecular phylogenetic analysis of the Octocorallia (Cnidaria: Anthozoa) based on mitochondrial protein-coding sequences. Mol Phylogenet Evol 41:513–527. https://doi.org/10.1016/j.ympev.2006.06.010

Pérez CD, Zamponi MO (2000) A new Briareidae gray, 1859 (Octocorallia, Gorgonacea) from South Georgias islands (Argentine). Russ J Mar Biol 26:95–99

Pérez CD, Zamponi MO (2004) New records of octocorals (Cnidaria, Anthozoa) from Southwestern Atlantic Ocean Zoogeographic considerations. Zootaxa 630:1–12. https://doi.org/10.11646/zootaxa.630.1.1

Schejter L, Rimondino C, Chiesa L, Astarloa JMD, Doti B, Elías R, Escolar M, Genzano G, López-Gappa J, Tatián M, Zelaya DG, Cristobo J, Perez CD, Cordeiro RT, Bremec CS (2016) Namuncurá marine protected area: an oceanic hot spot of benthic biodiversity at Burdwood Bank, Argentina. Polar Biol 39(12):2373–2386. https://doi.org/10.1007/s00300-016-1913-2

Schejter L, Martins J, Lovrich G (2017a) Unveiling the submarine landscape of the Namuncurá Marine Protected Area, Burdwood Bank SW Atlantic Ocean. Pan-Am J Aquat Sci 12(3):248–253

Schejter L, Bertolino M, Calcinai B (2017b) Description of Antho (Plocamia) bremecae sp. nov. and checklist of Microcionidae (Demospongiae: Poecilosclerida) from Burdwood Bank and neighboring areas SW Atlantic Ocean. Zootaxa 4312(3):580–594. https://doi.org/10.11646/zootaxa.4312.3.11

Simpson JJ (1910) On a new pseudaxonid genus Dendrogorgia. Proc R Phys Soc Edinb 18(1):62–67

Taylor ML, Cairns SD, Agnew DJ, Rogers AD (2013) A revision of the genus Thouarella Gray, 1870 (Octocorallia: Primnoidae), including an illustrated dichotomous key, a new species description, and comments on Plumarella Gray, 1870 and Dasystenella, Versluys, 1906. Zootaxa 3602(1):001–105. https://www.doi.org/10.11646/zootaxa.3602.1.1

Williams GC (1992a) The Alcyonacea of southern Africa. Gorgonian octocorals (Coelenterata, Anthozoa). Ann S Afr Mus 101:181–296

Williams GC (1992b) Biogeography of the octocorallian coelenterate fauna of southern Africa. Biol J Linn Soc 46:351–401

Zamponi MO, Pérez CD (1995) Revision of the genus Renilla Lamarck, 1816 (Octocorallia, Pennatulacea), with descriptions of two new species from the Sub-Antarctic region. Anim Biodiv Conserv 18:21–32

Zapata-Guardiola R, López-González PJ (2010) Redescription of Thouarella brucei Thomson and Ritchie, 1906 (Cnidaria: Octocorallia: Primnoidae) and description of two new Antarctic primnoid species. Zootaxa 2616:48–68. https://doi.org/10.11646/zootaxa.2616.1.3
Acknowledgements
We would like to thank the RV "Puerto Deseado" and the crew for the help during sampling procedures, as well as Daniel Roccatagliata (Scientific chief of the expedition) and Ignacio Chiesa (who sorted the material trawled). Burdwood Bank surveys were supported by the Argentinean Government and AMP Namuncurá. Special thanks to Laura Schejter (INIDEP) for facilitating access to the specimen and for assistance with the Scanning Electron Microscope. Thanks to Dr. Stephen Cairns and Scott Whittaker (National Museum of Natural History—Smithsonian Institution) for the access to facilities and the use of the SEM Lab, respectively. Thanks to Christina Piotrowski and Dr. Gary Williams (California Academy of Sciences) for the loan of the comparative material. This study was partially supported by CNPq—Conselho Nacional de Desenvolvimento Científico e Tecnológico (Grants—CNPq/MCTI/FACEPE/PROTAX Nº 001/2015, 440633/20150 and APQ-0913-2.04/17 and Marine Biotechnology Network 408934/2013-1) to C.D.P. RTSC was funded by Grant 2018/13554-8, São Paulo Research Foundation (FAPESP). This study was financed in part by the Coordenação de Aperfeiçoamento de Pessoal de Nivel Superior, Brasil (CAPES), Finance Code 001. Contribution Nº 30 of Area Marina Protegida Namuncurá (Ley 26.875).
Additional information
Publisher's Note
Springer Nature remains neutral with regard to jurisdictional claims in published maps and institutional affiliations.
Electronic supplementary material
Below is the link to the electronic supplementary material.
Supplementary file1 Online Resource 1 Station data from Oceanographic Vessel "Puerto Deseado" (CONICET, Argentina) (April 2013 - three stations; April 2016 – 26 stations; April 2017 – 26 stations) and the vessel "Prefecto García" (Prefectura Naval Argentina - Argentine Coastguards) (December 2015 – eight stations). (XLSX 17 kb)
About this article
Cite this article
Pérez, C.D., Cordeiro, R.T.S. Ideogorgia laurae, an uncommon new octocoral species (Alcyonacea: Keroeididae) from a newly established Marine Protected Area at Burdwood Bank, Argentina. Polar Biol 43, 63–69 (2020). https://doi.org/10.1007/s00300-019-02604-2
Received:

Revised:

Accepted:

Published:

Issue Date:
Keywords
Octocorallia

Anthozoa

MPA Namuncurá II

Southwestern Atlantic Ocean