Abstract
Natural colonization of macroinvertebrates into the Sub-Antarctic area is generally accepted to be a rare event. In February 2017, two live adults of Pantala flavescens (Libellulidae) were recorded on the isolated Amsterdam Island (37°50′ S, 77°30′ E), southern Indian Ocean. This circumtropical species, common name the Globe Skimmer, can fly several thousand kilometers. This paper analyzes the weather conditions in this sector of the Indian Ocean in February 2017 to assess the probability of arrival of the dragonflies by air from their known migration route at lower latitudes between India and East Africa. The probability that this species could establish and form a permanent population on Amsterdam Island is discussed. Some favorable habitats are present but temperatures are probably too low to allow the dragonflies to complete their development. Odonata have never been observed on Sub-Antarctic islands and reports of natural arrival of insects into these islands mainly concern Lepidoptera. Here we also report observations of Vanessa cardui (Nymphalidae) which has established a permanent population on Amsterdam Island and has been observed on several occasions in the Crozet Archipelago.
This is a preview of subscription content, log in to check access.
Access options
Buy single article
Instant access to the full article PDF.
US$ 39.95
Price includes VAT for USA
Subscribe to journal
Immediate online access to all issues from 2019. Subscription will auto renew annually.
US$ 199
This is the net price. Taxes to be calculated in checkout.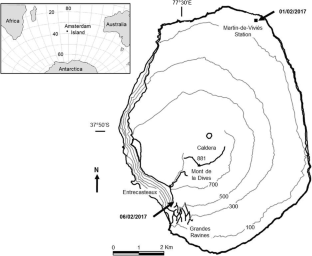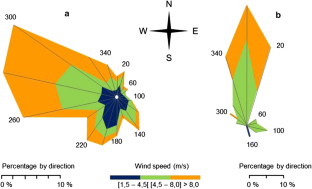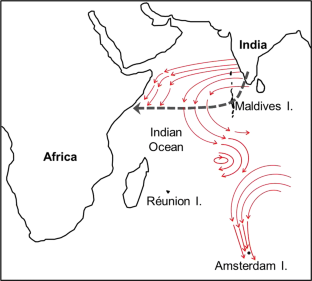 References
Anderson RC (2009) Do dragonflies migrate across the western Indian Ocean? J Trop Ecol 25:347–358

Bonner WN, Honey MR (1987) Agrostis ipsilon (Lepidoptera) at South Georgia. Br Antarct Surv Bull 77:157–161

Buczyński P, Shapoval AP, Buczyńska E (2014) Pantala flavescens at the coast of the Baltic Sea (Odonata: Libellulidae). Odonatologica 43:3–11

Buden DW (2010) Pantala flavescens (Insecta: Odonata) rides west winds into Ngulu Atoll, Micronesia: evidence of seasonality and wind-assisted dispersal. Pac Sci 64:141–143

Chattova B, Lebouvier M, Van de Vijver B (2014) Freshwater diatom communities from Ile Amsterdam (TAAF, southern Indian Ocean). Fottea 14:101–109

Chown SL, Avenant N (1992) Status of Plutella xylostella at Marion Island six years after its colonization. S Afr J Antarct Res 22:37–40

Chown SL, Language K (1994) Recently established Diptera and Lepidoptera on Sub-Antarctic Marion Island. Afr Entomol 2:57–76

Convey P (2005) Recent lepidopteran records from Sub-Antarctic South Georgia. Polar Biol 28:108–110

Corbet PS (1979) Pantala flavescens (Fabricius) in New Zealand (Anisoptera: Libellulidae). Odonatologica 8:115–121

Corbet PS (2004) Dragonflies: behaviour and ecology of Odonata, revised edition. Harley Books, Colchester

Corbet PS (1962) A biology of dragonflies. Witherby, London

Cowie RH, Holland BS (2006) Dispersal is fundamental to biogeography and the evolution of biodiversity on oceanic islands. J Biogeogr 33:193–198

Crafford JE, Chown SL (1987) Plutella xylostella L. (Lepidoptera: Plutellidae) on Marion Island. J Entomol Soc S Afr 50:259–260

Crafford JE, Chown SL (1990) The introduction and establishment of the Diamondback Moth (Plutella xylostella L., Plutellidae) on Marion Island. In: Kerry KR, Hempel G (eds) Antarctic ecosystems. Ecological change and conservation. Springer, Berlin, pp 354–358

Diez JM, D'Antonio CM, Dukes JS et al (2012) Will extreme climatic events facilitate biological invasions? Front Ecol Environ 10:249–257

Doucet S, Weis D, Scoates JS, Debaille V, Giret A (2004) Geochemical and Hf–Pb–Sr–Nd isotopic constraints on the origin of the Amsterdam–St. Paul (Indian Ocean) hotspot basalts. Earth Planet Sci Lett 218:179–195

Dumont HJ, Verschuren D (1991) Atypical ecology of Pantala flavescens (Fabr.) on Easter Island (Anisoptera: Libellulidae). Odonatologica 20:45–51

Frenot Y, Gloaguen JC, Massé L, Lebouvier M (2001) Human activities, ecosystem disturbance and plant invasions in Subantarctic Crozet, Kerguelen and Amsterdam Islands. Biol Conserv 101:33–50

Frenot Y, Chown SL, Whinam J, Selkirk PM, Convey P, Skotnicki M, Bergstrom DM (2005) Biological invasions in the Antarctic: extent, impacts and implications. Biol Rev 80:45–72

Frenot Y, Valleix T (1990) Carte des sols de l'Ile Amsterdam (Terres Australes et Antarctiques Françaises). CNFRA 59:1–48

Gaston KJ, Jones AG, Hänel C, Chown SL (2003) Rates of species introduction to a remote oceanic island. Proc R Soc Lond B 270:1091–1098

Gillespie RG, Baldwin BG, Waters JM, Fraser CI, Nijula R, Roderick GK (2012) Long-distance dispersal: a framework for hypothesis testing. Trends Ecol Evol 27:47–56

Greenslade P, Farrow RA, Smith JMB (1999) Long distance migration of insects to a Subantarctic island. J Biogeogr 26:1161–1167

Hänel C, Chown SL, Davies L (1998) Records of alien insect species from Sub-Antarctic Marion and South Georgia Islands. Afr Entomol 6:366–369

Harrel JC, Yoshimoto CM (1964) Trapping of air-borne insects on ships on the Pacific, Part 5. Pac Insects 6:274–282

Hawes TC, Greenslade PG (2013) The aerial invertebrate fauna of Subantarctic Macquarie Island. J Biogeogr 40:1501–1511

Hawking JH, Ingram BA (1994) Rate of larval development of Pantala flavescens (Fabricius) at its southern limit of range in Australia (Anisoptera: Libellulidae). Odonatologica 23:63–68

Hobson KA, Anderson RC, Soto DX, Wassenaar LI (2012) Isotopic evidence that dragonflies (Pantala flavescens) migrating through the Maldives come from the northern Indian Subcontinent. PLoS ONE 7(12):e52594. https://doi.org/10.1371/journal.pone.0052594

Hullé M, Turpeau E, Hudaverdian S, Chaubet B, Outreman Y, Lebouvier M (2010) Aphids and associated natural enemies on Ile Amsterdam and Ile Saint-Paul, southern Indian Ocean. Antarct Sci 22:379–385

Kotov AA (2007) Revision of the hirsuticornis-like species of Macrothrix Baird, 1843 (Cladocera: Anomopoda: Macrothricidae) from Subantarctic and temperate regions of the southern hemisphere. J Nat Hist 41:2569–2620

Moore NW (1993) Behavior of imaginal Pantala flavescens (Fabr.) on Easter Island. Odonatologica 22:71–76

Nathan R, Schurr FM, Spiegel O, Steinitz O, Trakhtenbrot A, Tsoar A (2008) Mechanisms of long-distance seed dispersal. Trends Ecol Evol 23:638–647

Pugh PJA, Dartnall HJG, McInnes SJ (2002) The non-marine Crustacea of Antarctica and the islands of the Southern Ocean: biodiversity and biogeography. J Nat Hist 36:1047–1103

Rowe RJ (1987) The dragonflies of New Zealand. University of Auckland Press, Auckland

Samways MJ, Osborn R (1998) Divergence in a transoceanic circumtropical dragonfly on a remote island. J Biogeogr 25:935–946

Stonehouse B (1982) La zonation écologique sous les hautes latitudes australes. CNFRA 51:532–537

Tréhen P, Frenot Y, Lebouvier M, Vernon P (1990) Invertebrate fauna and their role in the degradation of cattle dung at Amsterdam Island. In: Kerry KR, Hempel G (eds) Antarctic ecosystems. Ecological change and conservation. Springer, Berlin, pp 337–346

Troast D, Suhling F, Jinguji H, Sahlén G, Ware J (2016) A global population genetic study of Pantala flavescens. PLoS ONE 11(3):e0148949. https://doi.org/10.1371/journal.pone.0148949

Visher S (1925) Tropical cyclones and the dispersal of life from island to island in the Pacific. Am Nat 59:70–78

Voisin JF (1975) Vanessa cardui (L.) dans l'archipel Crozet (Lep. Nymphalidae). Bull Soc Entomol Fr 80:80–81

Yoshimoto CM, Gressit JL (1959) Trapping of air-borne insects on ships on the Pacific, Part II. Proc Hawaii Entomol Soc 17:150–157
Acknowledgements
We thank Gaël Delpon and Philippe Lambret for information on Pantala flavescens and Philippe Vernon, Sylvain Gutjahr, and Benjamin Ferlay for their records of Vanessa cardui on Possession Island in 1979, 2007, and 2017, respectively. We also thank D. Piepenburg (Editor in Chief, Polar Biology), M.J. Samways, L. Hugo-Coetzee, and one anonymous reviewer for valuable comments on our manuscript. This study was funded by IPEV (Institut Polaire Français Paul-Emile Victor, Programs 109, 136, and 1167) and the CNRS (Centre National de la Recherche Scientifique, Zone Atelier Antarctique).
Ethics declarations
Conflict of interest
There are no identified conflicts of interest regarding the work presented herein.
Additional information
Publisher's Note
Springer Nature remains neutral with regard to jurisdictional claims in published maps and institutional affiliations.
Electronic supplementary material
Below is the link to the electronic supplementary material.
About this article
Cite this article
Devaud, M., Lebouvier, M. First record of Pantala flavescens (Anisoptera: Libellulidae) from the remote Amsterdam Island, southern Indian Ocean. Polar Biol 42, 1041–1046 (2019). https://doi.org/10.1007/s00300-019-02479-3
Received:

Revised:

Accepted:

Published:

Issue Date:
Keywords
Long-distance dispersal

Odonata

Alien species

Sub-Antarctic island

Lepidoptera