Abstract
Penguins globally are of conservation concern due to rapid decreases in many populations. Royal penguins (Eudyptes schlegeli) are endemic to Macquarie Island and its offshore islands and the current population status of this species is unknown. Here, we present a contemporary population estimate, undertaken in 2016 using precise global position system technology. Between August and December 2016, all royal penguin colonies were visited and the number of breeding pairs estimated by mapping the perimeters of colonies and applying a nest density estimate. The royal penguin population was estimated at 750,037 breeding pairs (range 669,538–830,154 pairs). The estimate is slightly lower than a previous estimate in 1984, but given the refined methods it was not possible to establish a significant difference or that a decrease in the population has not occurred. Future censuses utilising a consistent methodology are required to more accurately determine the current population trend. Establishing the current status of the royal penguin population will help assess the species vulnerability to several threats that are impacting similar species in the sub-Antarctic region, and inform conservation planning and management.
This is a preview of subscription content,
to check access.
Access this article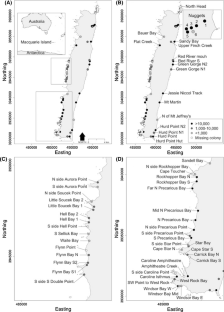 Similar content being viewed by others
References
Australian Government (2011) Assessment of the Macquarie Island Toothfish Fishery. Commonwealth of Australia, Canberra

Barbosa A, Palacios MJ (2009) Health of Antarctic birds: a review of their parasites, pathogens and diseases. Polar Biol 32:1095

BirdLife International (2017) IUCN Red List for birds. https://www.birdlife.org June 2017

Bivand R, Rundel C (2014) rgeos: Interface to Geometry Engine Open Source (GEOS). R package version 0.3-3 https://CRAN.R-project.org/package=rgeos

Borboroglu PG, Boersma PD (eds) (2013) Penguins: natural history and conservation. University of Washington Press, Seattle

Brothers N (1985) Breeding biology, diet and morphometrics of the king shag, Phalacrocorax albiventer purpurascens, at Macquarie Island. Wildl Res 12:81–94

Brothers N, Ledingham R (2008) The avifauna of Bishop and Clerk islets and its relationship to nearby Macquarie Island. Pap Proc R Soc Tas 142:117–121

Cooper J, Crawford RJ, De Villiers MS, Dyer BM, Hofmeyr GG, Jonker A (2009) Disease outbreaks among penguins at sub-Antarctic Marion Island: a conservation concern. Mar Ornithol 37:193–196

G Copson D Rounsevell 1987 The abundance of royal penguins (Eudyptes schlegeli, Finsch) breeding at Macquarie Island 41 Antarctic Division Department of Science

Costin A, Moore D (1960) The effects of rabbit grazing on the grasslands of Macquarie Island. J Ecol 48:729–732

Crawford R et al (2017) Tangled and drowned: a global review of penguin bycatch in fisheries. Endanger Spec Res 34:373–396

Croxall JP, Butchart SH, Lascelles B, Stattersfield AJ, Sullivan B, Symes A, Taylor P (2012) Seabird conservation status, threats and priority actions: a global assessment. Bird Conserv Int 22:1–34

JS Cumpston 1968 Macquarie Island Australia Department of External Affairs Antarctic Division

Cunningham DM, Moors PJ (1994) The decline of rockhopper penguins Eudyptes chrysocome at Campbell Island, Southern Ocean and the influence of rising sea temperatures. Emu 94:27–36

Day J, Hillary R (2017) Stock assessment of the Macquarie Island fishery for Patagonian toothfish (Dissostichus eleginoides) using data up to and including August 2016. CSIRO, Australia

Dunn MJ, Jackson JA, Adlard S, Lynnes AS, Briggs DR, Fox D, Waluda CM (2016) Population size and decadal trends of three penguin species nesting at Signy Island. South Orkney Islands. PLoS ONE 11:e0164025

Ellis S, Croxall JP, Cooper J (1998) Penguin conservation and assessment plan. IUCN/SSC Conservation Breeding Specialist Group, Apple Valley

Grimaldi WW, Jabour J, Woehler EJ (2011) Considerations for minimising the spread of infections disease in Antartic seabirds and seals. Polar Rec 47:56–66. https://doi.org/10.1017/S0032247410000100

Grimaldi WW, Seddon PJ, Lyver POB, Nakagawa S, Tompkins DM (2015) Infectious diseases of Antarctic penguins: current status and future threats. Polar Biol 38:591–606

GSGSSI (2010) Disease affects king penguins. GSGSSI, https://www.gov.gs

Hindell MA, Bradshaw CJ, Brook BW, Fordham DA, Kerry K, Hull C, McMahon CR (2012) Long-term breeding phenology shift in royal penguins. Ecol Evol 2:1563–1571

Hiscock JA, Chilvers BL (2014) Declining eastern rockhopper (Eudyptes filholi) and erect-crested (E. sclateri) penguins on the Antipodes Islands. New Zealand. N Z J Ecol 38:124–131

Hodgson JC, Baylis SM, Mott R, Herrod A, Clarke RH (2016) Precision wildlife monitoring using unmanned aerial vehicles. Sci Rep 6:22574

Horswill C et al (2014) Survival in macaroni penguins and the relative importance of different drivers: individual traits, predation pressure and environmental variability. J Anim Ecol 83:1057–1067

Hull CL (1999) The foraging zones of breeding royal (Eudyptes schlegeli) and rockhopper (E. chrysocome) penguins: an assessment of techniques and species comparison. Wildl Res 26:789–803

Isaksen K, Huyser O, Kirkman S, Wanles R, Wilson W (2000) Studies of seabirds and seals on Bouvetøya 1998/99. Norsk Polarinstitutt, Tromsø

Major L et al (2009) Ticks associated with Macquarie Island penguins carry arboviruses from four genera. PLoS ONE 4:e4375

Morrison KW, Battley PF, Sagar PM, Thompson DR (2015) Population dynamics of eastern rockhopper penguins on Campbell Island in relation to sea surface temperature 1942–2012: current warming hiatus pauses a long-term decline. Polar Biol 38:163–177

Morrison KW, Armstrong DP, Battley PF, Jamieson SE, Thompson DR (2017) Predation by New Zealand sea lions and brown skuas is causing the continued decline of an eastern rockhopper penguin colony on Campbell Island. Polar Biol 40:735–751

Parks and Wildlife Service (2014) Macquarie dispatch. MI Pest Eradication Project Newsletter vol 14.

Pebesma E, Bivand R (2005) Classes and methods for spatial data in R.

Pople A, Simpson R, Cairns S (1990) An incident of Southern Occean oil pollution: Effects of a spillage of diesel fuel on the rocky shore of Macquarie Island (Sub-Antarctic). Mar Freshw Res 41:603–620

Richardson M (1984) Aspects of the ornithology of the Tristan da Cunha group and Gough Island, 1972–1974. Mar Ornithol 12:123–201

Salton M (2017) Wildlife monitoring program, Macquarie Island: Internal report 2016-2017. Tasmanian Government,

Schulz M, Lynn J (2003) Census of the gentoo penguin Pygoscelis papua, royal penguin Eudyptes schegeli, imperial shag Phalacrocorax purpurascens and Antarctic tern Sterna vittata. Macquarie Island, Tasmanian Government

Scott J, Kirkpatrick J (2008) Rabbits, landslips and vegetation change on the coastal slopes of subantarctic Macquarie Island, 1980–2007: implications for management. Polar Biol 31:409–419

Selkirk J (1996) Peat slides on subantarctic Macquarie Island. Zeit Geomorph 105:61–72

Trathan PN et al (2015) Pollution, habitat loss, fishing, and climate change as critical threats to penguins. Conserv Biol 29:31–41

Travers T, van den Hoff J, Lea M-A, Carlyon K, Reisinger R, de Bruyn PJN, Morrice M (2018) Aspects of the ecology of killer whale (Orcinus orca Linn.) groups in the near-shore waters of Sub-Antarctic Macquarie Island. Polar Biol, https://doi.org/10.1007/s00300-018-2361-y
Acknowledgements
We are grateful to all who helped with field surveys of royal penguins at Macquarie Island in 2016, including Chris Howard, Rowena Lundie, Alison Skinn, George Brettingham-Moore and Penny Pascoe, and the logistical support from the Australian Antarctic Division. We thank the Marine Conservation Program (Department of Primary Industries, Parks, Water and Environment), for their valuable advice and support while conducting these surveys. We are also thankful to Geoff Copson and David Rounsevell for their pioneering efforts in surveying the population in 1984 and Martin Schulz and John Lynn for their efforts in 2003. We are grateful to three anonymous reviewers that improved drafts of the manuscript.
Ethics declarations
Conflict of interest
The authors declare that they have no conflict of interest.
Ethical approval
All applicable international, national, and/or institutional guidelines for the care and use of animals were followed. This article does not contain any studies with human participants performed by any of the authors.
Additional information
Publisher's Note
Springer Nature remains neutral with regard to jurisdictional claims in published maps and institutional affiliations.
Electronic supplementary material
Below is the link to the electronic supplementary material.
About this article
Cite this article
Salton, M., Kliska, K., Carmichael, N. et al. Population status of the endemic royal penguin (Eudyptes schlegeli) at Macquarie Island. Polar Biol 42, 771–781 (2019). https://doi.org/10.1007/s00300-019-02470-y
Received:

Revised:

Accepted:

Published:

Issue Date:

DOI: https://doi.org/10.1007/s00300-019-02470-y
Keywords