Abstract
Food quality is recognized as a key parameter of food web functioning in which zooplankton plays a crucial role not only in linking lower to upper trophic levels but also in transforming the quality of the organic matter available to predators. The influence of size and taxonomic group composition of zooplankton in these processes was assessed in eastern Kerguelen waters (Southern Ocean) at the onset of the spring bloom in 2011. Biochemical (lipids, proteins and carbohydrates) and elemental (carbon and nitrogen) composition were measured in five size—fractions of bulk zooplankton ranging from 80 µm to > 2000 µm and in large copepods, euphausiids, annelids and salps, and energy content was derived from biochemical contents. Proteins were the dominant component of zooplankton dry weight (21.5% dw), followed by lipids (8.9% dw), soluble carbohydrates (2.2% dw) and insoluble carbohydrates (1.0% dw). A concentration increase with zooplankton size for all biochemical components was observed, particularly stronger for proteins and lipids. Copepods and salps provided, respectively, the highest and the lowest amount of lipids and energy. A four-fold increase in energy content was observed from the smallest to the largest fraction inducing a significant increase (> 10 kJ g−1 dw) in the quality of zooplankton matter. This may explain why large zooplankton represent a major food resource for numerous fish, seabirds and marine mammals in the Southern Ocean. Such unique results are required to better quantify energy dynamics in polar food webs.
Access options
Buy single article
Instant access to the full article PDF.
USD 39.95
Price excludes VAT (USA)
Tax calculation will be finalised during checkout.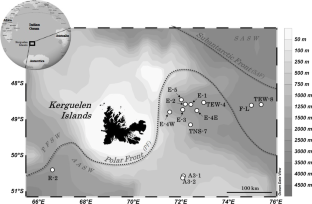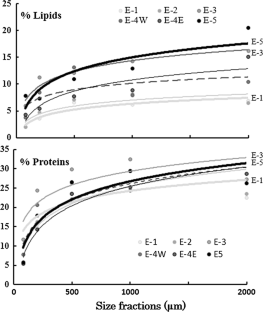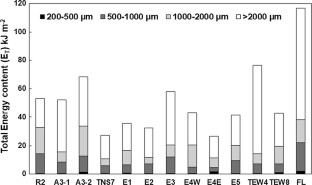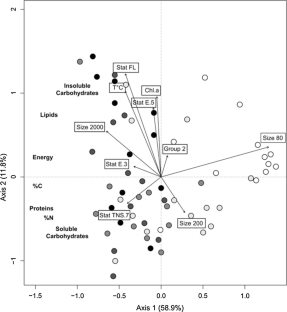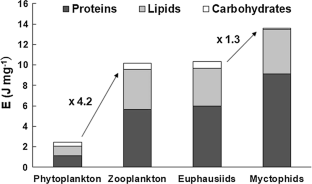 References
Arun Kumar M, Padmavati G, Anandavelu I (2013) Biochemical composition and calorific value of zooplankton from the coastal waters of South Andaman. Proc Int Acad Ecol Environ Sci 3:278–287

Banse K (1995) Zooplankton: pivotal role in the control of ocean production. ICES J Mar Sci 52:265–277

Barnes C, Maxwell D, Reuman DC, Jennings S (2010) Global patterns in predator-prey size relationships reveal size dependency of trophic transfer efficiency. Ecology 91:222–232

Beukema JJ (1997) Caloric values of marine invertebrates with an emphasis on the soft parts of marine bivalves. Oceanogr Mar Biol Ann Rev 35:387–414

Bhat KL, Sreepada RA, Ansari ZA (1993) Biochemical composition of zooplankton from the northern Arabian sea. Pak J Mar Sci 2:17–22

Blain S, Quéguiner B, Trull T (2008) The natural iron fertilization experiment KEOPS (Kerguelen Ocean Plateau Compared Study): an overview. Deep-Sea Res Pt II 55:559–565

Blanchard JL, Heneghan RF, Everett JD, Trebilco R, Richardson AJ (2017) From bacteria to whales: Using functional size spectra to model marine ecosystems. Trends Ecol Evol 32:174–186

Bligh EG, Dyer WJ (1959) A rapid method of total lipid extraction and purification. Can J Physiol Pharmacol 37:911–917

Bocher P, Cherel Y, Labat JP, Mayzaud P, Razouls S, Jouventin P (2001) Amphipod-based food web: Themisto gaudichaudii caught in nets and by seabirds in Kerguelen waters, southern Indian Ocean. Mar Ecol Prog Ser 223:261–276

Bocher P, Cherel Y, Alonzo F, Razouls S, Labat JP, Mayzaud P, Jouventin P (2002) Importance of the large copepod Paraeuchaeta antarctica (Giesbrecht, 1902) in coastal waters and the diet of seabirds at Kerguelen, Southern Ocean. J Plankton Res 24:1317–1333

Bost CA, Cotté C, Bailleul F, Cherel Y, Charrassin JB, Guinet C, Ainley DG, Weimerskirch H (2009) The importance of oceanic fronts to marine birds and mammals of the southern oceans. J Mar Syst 78:363–376

Carlotti F, Krause M, Radach G (1993) Growth and development of Calanus finmarchicus related to the influence of temperature: experimental results and conceptual model. Limnol Oceanogr 38:1125–1134

Carlotti F, Giske J, Werner F (2000) Modelling zooplankton dynamics. In: Harris R, Wiebe P, Lenz J, Skjoldal HR, Huntley M (eds) ICES zooplankton methodology manual. Academic Press, San Diego, pp 571–667

Carlotti F, Jouandet MP, Nowaczyk A, Harmelin-Vivien M, Lefèvre D, Richard P, Zhu Y, Zhou M (2015) Mesozooplankton structure and functioning during the onset of the Kerguelen bloom during Keops2 survey. Biogeosciences 12:4543–4563

Cass CJ, Daly KL, Wakeham SG (2014) Assessment of storage lipid accumulation patterns in eucalanoid copepods from the eastern tropical Pacific Ocean. Deep-Sea Res Pt I 93:117–130

Cherel Y, Bocher P, Trouvé C, Weimerskirch H (2002) Diet and feeding ecology of blue petrels Halobaena caerulea at Iles Kerguelen, Southern Indian Ocean. Mar Ecol Prog Ser 228:283–299

Cherel Y, Fontaine C, Richard P, Labat JP (2010) Isotopic niches and trophic levels of myctophid fishes and their predators in the Southern Ocean. Limnol Oceanogr 55:324–332

Cherel Y, Bost CA, Guinet C, Weimerskirch H (2005) Feeding habits of seabirds and marine mammals of the Kerguelen Archipelago. In: Palomares MLD, Pruvost P, Pitcher TJ, Pauly D (eds) Modeling Antarctic marine ecosystems. Fisheries Centre Research Reports, 13(7). Fisheries Centre, University of British Columbia, Vancouver, pp 31–36

Clarke A, Holmes LJ, Gore DJ (1992) Proximate and elemental composition of gelatinous zooplankton from the Southern Ocean. J Exp Mar Biol Ecol 155:55–68

Donnelly J, Stickney DG, Torres JJ (1993) Proximate and elemental composition and energy content of mesopelagic crustaceans from the Eastern Gulf of Mexico. Mar Biol 115:469–480

Donnelly J, Torres JJ, Hopkins TL, Lancraft TM (1994) Chemical composition of Antarctic zooplankton during austral fall and winter. Polar Biol 14:171–183

Dubois M, Gilles KA, Hamilton JK, Reber PA, Smith F (1956) Colorimetric method for determination of sugar and related substances. Anal Chem 28:350–356

Falk-Petersen S, Sargent JR, Loenne OJ, Timofeev S (1999) Functional biodiversity of lipids in Antarctic zooplankton: Calanoides acutus, Calanus propinquus, Thysanoessa macrura and Euphausia crystallorophias. Polar Biol 21:37–47

Färber-Lorda J, Gaudy R, Mayzaud P (2009) Elemental composition, biochemical composition and caloric value of Antarctic krill. Implications in energetics and carbon balances. J Mar Syst 78:518–524

Frederiksen M, Edwards M, Richardson AJ, Halliday NC, Wanless S (2006) From plankton to top predators: bottom-up control of a marine food web across four trophic levels. J Anim Ecol 75:1259–1268

García-Comas C, Sastri AR, Ye L, Chang CY, Lin FS, Su MS, Gong GC, Hsieh CH (2016) Prey size diversity hinders biomass trophic transfer and predator size diversity promotes it in planktonic communities. Proc R Soc B 283:2015–2129

Goswami SC, Rao TSS, Matondkar P (1981) Biochemical composition of zooplankton from the Andaman Sea. Indian J Mar Sci 10:296–300

Guinet C, Cherel Y, Ridoux V, Jouventin P (1996) Consumption of marine resources by seabirds and seals in Crozet and Kerguelen waters: Changes in relation to consumer biomass. 1962–1985. Antarct Sci 8:23–30

Guisande C (2006) Biochemical fingerprints in zooplankton. Limnetica 25:369–376

Hagen W, Auel H (2001) Seasonal adaptations and the role of lipids in oceanic zooplankton. Zoology 104:313–326

Hansen B, Bjornsen PK, Hansen PJ (1994) The size ratio between planktonic predators and their prey. Limnol Oceanogr 39:395–403

Hindell MA, Bost CA, Charrassin JB, Gales N, Lea MA, Goldsworthy S, Page B, Robertson G, Wienecke W, O'Toole M, Guinet C (2011) Foraging habitats of top predators, and areas of ecological significance, on the Kerguelen plateau. In: Duhamel G, Welsford D (eds) The Kerguelen Plateau: marine ecosystem and fisheries. Société d'Ichtyologie, Paris, pp 203–215

Huenerlage K, Buchholz F (2013) Krill of the northern Benguela Current and the Angola-Benguela frontal zone compared: physiological performance and short-term starvation in Euphausia hanseni. J Plankton Res 35:337–351

Ikeda T, Skjoldal HR (1989) Metabolism and elemental composition of zooplankton from the Barrents Sea during early Arctic summer. Mar Biol 100:173–183

Iverson SJ, Lang SLC, Cooper MH (2001) Comparison of the Bligh and Dyer and Folch methods for total lipid determination in a broad range of marine tissue. Lipids 36:1283–1287

Jouandet MP, Jackson G, Carlotti F, Picheral M, Stemmann L, Blain S (2014) Rapid formation of large aggregates during the spring bloom of Kerguelen Island: observations and model comparisons. Biogeosciences 11:4949–4993

Kattner G, Hagen W, Lee RF, Campbell R, Deibel D, Falk-Petersen S, Graeve M, Hansen BW, Hirche HJ, Jónasdottir SH, Madsen ML, Mayzaud P, Müller-Navarra D, Nichols PD, Paffenhöfer GA, Pond D, Saito H, Stübing D, Virtue P (2007) Perspectives on marine zooplankton lipids. Can J Fish Aquat Sci 64:1628–1639

Lasbleiz M, Leblanc K, Blain S, Ras J, Cornet-Barthaux V, Hélias Nunige S, Quéguiner B (2014) Pigments, elemental composition (C, N, P, and Si), and stoichiometry of particulate matter in the naturally iron fertilized region of Kerguelen in the Southern Ocean. Biogeosciences 11:5931–5955

Lea MA, Nichols PD, Wilson G (2002) Fatty acid composition of lipid-rich myctophids and mackerel icefish (Chamsocephalus gunnari) - Southern Ocean food-web implications. Polar Biol 25:843–854

Lee RF, Hagen W, Kattner G (2006) Lipid storage in marine zooplankton. Mar Ecol Progr Ser 307:273–306

Legendre L, Legendre P (2012) Numerical ecology, 3rd edn. Elsevier, New York

Lopes RM, Marcolin CR, Brandini FP (2015) Influence of oceanic fronts on mesozooplankton abundance and grazing during spring in the south-western Atlantic. Mar Freshw Res 67:626–635

Lowry O, Rosenbrough RJ, Farr L, Randall R (1951) Protein measurements with the Folin phenol sulfuric acid method. Water Res 7:741–746

Mayzaud P, Martin JLM (1975) Some aspects of the biochemical and mineral composition of marine plankton. J Exp Mar Biol Ecol 17:297–310

Mayzaud P, Laureillard J, Merien D, Labat JP (2007) Zooplankton nutrition, storage and fecal lipid composition in different water masses associated with the Agulhas and Subtropical Fronts. Mar Chem 107:202–213

Mayzaud P, Lacombre S, Boutoute M (2011) Seasonal and growth stage changes in lipid and fatty acid composition in the multigeneration copepod Drepanus pectinatus from Iles Kerguelen. Antarct Sci 23:3–17

Nageswara Rao I, Ratna Kumari R (2002) Biochemical composition of zooplankton from Visakhapatnam harbour waters, east coast of India. Indian J Mar Sci 31:125–129

Pakhomov EA, Perissinotto R, McQuaid CD (1996) Prey composition and daily rations of myctophid fishes in the Southern Ocean. Mar Ecol Prog Ser 134:1–14

Park YH, Durand I, Kestenare E, Rougier G, Zhou M, d'Ovidio F, Cotté C, Lee JH (2014) Polar Front around the Kerguelen Islands: An up-to-date determination and associated circulation of surface/subsurface waters. J Geophys Res Oceans 119:6575–6592

Pauthenet E, Roquet F, Madec G, Guinet C, Hindell M, McMahon CR, Harcourt R, Nerini D (2018) Seasonal meandering of the Polar Front upstream of the Kerguelen plateau. Geophys Res Lett. https://doi.org/10.1029/2018GL079614

Percy JA, Fife FJ (1981) The biochemical composition and energy content of Arctic marine macrozooplankton. Arctic 34:307–313

Postel L, Fock H, Hagen W (2000) Biomass and abundance. In: Harris R, Wiebe P, Lenz J, Skjoldal HR, Huntley M (eds) ICES zooplankton methodology manual. Academic, San Diego, pp 82–192

Pruvost P, Duhamel G, Palomares MLD (2005) An ecosystem model of the Kerguelen Islands'EEZ. In: Palomares MLD, Pruvost P, Pitcher TJ, Pauly D (eds) Modeling Antarctic marine ecosystems. Fisheries Centre Research Reports, 13(7). Fisheries Centre, University of British Columbia, Vancouver, pp 40–46

Raymont JEG, Srinivasagam RT, Raymont JKB (1971) The biochemical composition of Euphausia superba. J Mar Biol Assoc UK 51:581–588

Reinhardt SB, VanVleet ES (1986) Lipid composition of twenty-two species of Antarctic midwater zooplankton and fish. Mar Biol 91:149–159

Richoux N (2011) Trophic ecology of zooplankton at a frontal transition zone: fatty acid signatures at the subtropical convergence, Southern Ocean. J Plankton Res 33:491–505

Ridoux V (1994) The diets and dietary segregation of seabirds at the subantarctic Crozet Islands. Mar Ornithol 22:1–192

Salonen K, Sarvala J, Hakala I, Viljanen ML (1976) The relation of energy to organic carbon in aquatic invertebrates. Limnol Oceanogr 21:724–730

Schmidt K, Atkinson A (2016) Feeding and food processing in Antarctic krill (Euphausia superba Dana). In: Siegel V (ed) Biology and Ecology of Antarctic krill, Euphausia superba Dana 1850. Springer, Cham, pp 175–224

Schmidt K, Atkinson A, Pond DW, Ireland LC (2014) Feeding and overwintering of Antarctic krill across its major habitats: The role of sea ice cover, water depth, and phytoplankton abundance. Limnol Oceanogr 59:17–36

Sogawa S, Sugisaki H, Tadokoro K, Ono T, Sato E, Shimode S, Kikuchi T (2017) Feeding habits of six species of euphausiids (Decapoda: Euphausiacea) in the northwestern Pacific Ocean determined by carbon and nitrogen stable isotope ratios. J Crust Biol 37:29–36

Torres JJ, Donnelly J, Hopkins TL, Lancraft TM, Aarset AV, Ainley DG (1994) Proximate composition and overwintering strategies of Antarctic micronektonic Crustacea. Mar Ecol Prog Ser 113:221–232

Travers-Trolet M, Shin YJ, Jennings S, Cury P (2007) Towards end-to-end models for investigating the effects of climate and fishing in marine ecosystems. Prog Oceanogr 75:751–770

Trull TW, Davies DM, Dehairs F, Cavagna AJ, Lasbleiz M, Laurenceau-Cornec EC, d'Ovidio F, Planchon F, Leblanc K, Quéguiner B, Blain S (2015) Chemometric perspectives on plankton community responses to natural iron fertilization over and downstream of the Kerguelen Plateau in the Southern Ocean. Biogeosciences 12:1029–1056

Waluda CM, Hill SL, Peat HJ, Trathan PN (2012) Diet variability and reproductive performance of macaroni penguins Eudyptes chrysolophus at Bird Island, South Georgia. Mar Ecol Prog Ser 466:261–274

Ward P, Shreeve RS, Cripps GC (1996) Rhincalanus gigas and Calanus simillimus: lipid storage patterns of two species of copepod in the seasonally ice-free zone of the Southern Ocean. J Plankton Res 18:1439–1454

Woodson CB, Litvin SY (2014) Ocean fronts drive marine fishery production and biogeochemical cycling. Proc Natl Acad Sci USA 112:1710–1715

Yebra L, Kobari T, Sastri AR, Gusmão F, Hernández-León S (2017) Advances in biochemical indices of zooplankton production. Adv Mar Biol 76:157–240

Yun MS, Lee DB, Kim BK, Kang JJ, Lee JH, Yang EJ, Park WG, Chung KH, Lee SH (2015) Comparison of phytoplankton macromolecular compositions and zooplankton proximate compositions in the northern Chukchi Sea. Deep Sea Res Pt II 120:82–90
Acknowledgements
The authors thank S. Blain, project coordinator, B. Quéguiner chief scientist on board, and Captain B. Lassiette and the crew of the R/V Marion Dufresnes. Special thanks are due to M.P. Jouandet for her help in sample collection, M.F. Fontaine for biochemical analyzes, to L. Guillou and P. Richard (LIENSs Laboratory, La Rochelle University) for C and N analyzes, and to M. Paul, a native English speaker, for English correction. This work was supported by the French Research program of INSU-CNRS LEFE – CYBER ("Les enveloppes fluides et l'environnement-Cycles biogéochimiques, environnement et resources"), the French ANR (Agence Nationale de la Recherche, ANR-10-BLAN-0614 of SIMI-6 program, and ANR-09-CEXC-006–01 to M. Zhou and F. Carlotti), LABEX OT-MED (No. ANR-11-LABX-0061), the French CNES (Centre National d'Etudes Spatiales) and the French Polar Institute IPEV (Insitut Polaire Paul-Emile Victor). The project leading to this publication has received funding from European FEDER Fund under Project 1166-39417. Many thanks are addressed to the three reviewers for their constructive and helpful comments on an earlier version of the manuscript.
Ethics declarations
Conflict of interest
The authors declare that they have no conflict of interest.
About this article
Cite this article
Harmelin-Vivien, M., Bӑnaru, D., Dromard, C.R. et al. Biochemical composition and energy content of size-fractionated zooplankton east of the Kerguelen Islands. Polar Biol 42, 603–617 (2019). https://doi.org/10.1007/s00300-019-02458-8
Received:

Revised:

Accepted:

Published:

Issue Date:

DOI: https://doi.org/10.1007/s00300-019-02458-8
Keywords
Southern Ocean

Plankton

Lipids

Proteins

Carbohydrates

Energy content