Abstract
The jellyfish Periphylla periphylla, which can have strong ecological impacts on its environment, is ubiquitous in the Norwegian Sea and its range was predicted to extend northwards. The occurrence of P. periphylla in the northern Barents Sea increased since 2014 and, for the first time, several individuals were collected within a high Arctic fjord (> 78°N) in western Spitsbergen in January 2017. The low solar irradiance prevailing during the polar night and an increased inflow of relatively warm Atlantic water in the European Arctic since the last decade likely provide suitable conditions for the medusa to colonize Svalbard's fjords during the winter months. However, light avoidance constrains the photophobic P. periphylla to deeper offshore areas during the midnight sun period. The current occurrence of P. periphylla in high Arctic fjords during the polar night will have a limited impact on marine ecosystems in the short term, but long-term effects are more uncertain if its abundance continues to increase.
This is a preview of subscription content, log in to check access.
Access options
Buy single article
Instant access to the full article PDF.
US$ 39.95
Price includes VAT for USA
Subscribe to journal
Immediate online access to all issues from 2019. Subscription will auto renew annually.
US$ 199
This is the net price. Taxes to be calculated in checkout.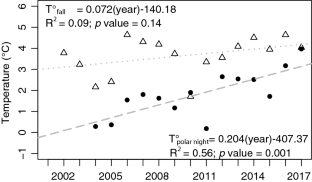 References
Aksnes DL, Dupont N, Staby A, Fiksen Ø, Kaartvedt S, Aure J (2009) Coastal water darkening and implications for mesopelagic regime shifts in Norwegian fjords. Mar Ecol Prog Ser 387:39–49. https://doi.org/10.3354/meps08120

Arai MN (1997) A functional biology of Scyphozoa. Chapman & Hall, London

Berge J, Johnsen G, Nilsen F, Gulliksen B, Slagstad D (2005) Ocean temperature oscillations enable reappearance of blue mussels Mytilus edulis in Svalbard after a 1000 year absence. Mar Ecol Prog Ser 303:167–175

Berge J, Heggland K, Lønne OJ et al (2015) First records of Atlantic Mackerel (Scomber scombrus) from the Svalbard Archipelago, Norway, with possible explanations for the extension of its distribution. Arctic 68:54–61. https://doi.org/10.14430/arctic4455

Bozman A, Titelman J, Kaartvedt S, Eiane K, Aksnes DL (2017) Jellyfish distribute vertically according to irradiance. J Plankton Res 39:280–289. https://doi.org/10.1093/plankt/fbw097

Cottier F, Tverberg V, Inall M, Svendsen H, Nilsen F, Griffiths C (2005) Water mass modification in an Arctic fjord through cross-shelf exchange: the seasonal hydrography of Kongsfjorden, Svalbard. J Geophys Res 110:C12005. https://doi.org/10.1029/2004JC002757

Cottier FR, Nilsen F, Inall ME, Gerland S, Tverberg V, Svendsen H (2007) Wintertime warming of an Arctic shelf in response to large-scale atmospheric circulation. Geophys Res Lett 34:L10607. https://doi.org/10.1029/2007GL029948

Dalpadado P, Ellertsen B, Melle W, Skjoldal HR (1998) Summer distribution patterns and biomass estimates of macrozooplankton and micronekton in the Nordic Seas. Sarsia 83:103–116. https://doi.org/10.1080/00364827.1998.10413676

Dupont N, Aksnes DL (2010) Simulation of optically conditioned retention and mass occurrences of Periphylla periphylla. J Plankton Res 32:773–783. https://doi.org/10.1093/plankt/fbq015

Fosså JH (1992) Mass occurrence of Periphylla periphylla (Scyphozoa, Coronatae) in a Norwegian fjord. Sarsia 77:237–251. https://doi.org/10.1080/00364827.1992.10413509A

Gjøsæter H, Wiebe PH, Knutsen T, Ingvaldsen RB (2017) Evidence of diel vertical migration of mesopelagic sound-scattering organisms in the Arctic. Front Mar Sci 4:1–14. https://doi.org/10.3389/fmars.2017.00332

Gulliksen B, Svensen E (2004) Svalbard and life in polar oceans. Kom forlag, Kristiansund

Hurvich CM, Tsai CL (1993) A corrected Akaike information criterion for vector autoregressive model selection. J Time Ser Anal 14:271–279. https://doi.org/10.1111/j.1467-9892.1993.tb00144.x

Jarms G, Tiemann H, Båmstedt U (2002) Development and biology of Periphylla periphylla (Scyphozoa: Coronatae) in a Norwegian fjord. Mar Biol 141:647–657. https://doi.org/10.1007/s00227-002-0858-x

Johannesen E, Mørk HL, Korsbrekke K, et al. (2017) Arctic fishes in the Barents Sea 2004–2015: Changes in abundance and distribution, IMR/PINRO Joint Report Series, No. 1/2017

Kaartvedt S, Klevjer TA, Torgersen T, Sørnes TA, Røstad A (2007) Diel vertical migration of individual jellyfish (Periphylla periphylla). Limn Oceanogr 52:975–983. https://doi.org/10.4319/lo.2007.52.3.0975

Kaartvedt S, Ugland KI, Klevjer TA, Røstad A, Titelman J, Solberg I (2015) Social behaviour in mesopelagic jellyfish. Sci Rep 5:1–8. https://doi.org/10.1038/srep11310

Larson RJ (1986) Pelagic scyphomedusae (Scyphozoa: Coronatae and Semaeostomeae) of the Southern Ocean. Biology of the Antarctic Seas XVI. Antarct Res Ser 41:59–165

Lucas CH, Reed AJ (2010) Gonad morphology and gametogenesis in the deep-sea jellyfish Atolla wyvillei and Periphylla periphylla (Scyphozoa: Coronatae) collected from Cape Hatteras and the Gulf of Mexico. J Mar Biol Assoc UK 90:1095–1104. https://doi.org/10.1017/S0025315409000824

Moriarty P, Andrews K, Harvey C, Kawase M (2012) Vertical and horizontal movement patterns of scyphozoan jellyfish in a fjord-like estuary. Mar Ecol Prog Ser 455:1–12. https://doi.org/10.3354/meps09783

Palerud R, Gulliksen B, Brattegard T, Sneli JA, Vader W (2004) The marine macro-organisms in Svalbard waters. In: Presterud P, Strøm H, Goldman HV (eds) A catalogue of the terrestrial and marine animals of Svalbard, vol 201, 1st edn. Norsk Polarinstitutt Skrifter, Tromsø, pp 5–56

Prozorkevich D, Sunnanå K (2017) Survey report from the joint Norwegian/Russian ecosystem survey in the Barents Sea and adjacent waters, August–October 2016, IMR/PINRO Joint Report Series, No. 1/2017

Raskoff KA, Purcell JE, Hopcroft RR (2005) Gelatinous zooplankton of the Arctic Ocean: in situ observations under the ice. Polar Biol 28:207–217. https://doi.org/10.1007/s00300-004-0677-2

Renaud PE, Berge J, Varpe Ø, Lønne OJ, Nahrgang J, Ottesen C, Hallanger I (2012) Is the poleward expansion by Atlantic cod and haddock threatening native polar cod, Boreogadus saida? Polar Biol 35:401–412. https://doi.org/10.1007/s00300-011-1085-z

Sørnes TA, Aksnes DL, Båmstedt U, Youngbluth MJ (2007) Causes for mass occurrences of the jellyfish Periphylla periphylla: a hypothesis that involves optically conditioned retention. J Plankton Res 29:157–167. https://doi.org/10.1093/plankt/fbm003

Sørnes TA, Hosia A, Båmstedt U, Aksnes DL (2008) Swimming and feeding in Periphylla periphylla (Scyphozoa, Coronatae). Mar Biol 153:653–659. https://doi.org/10.1007/s00227-007-0839-1

Tiller RG, Borgersen ÅL, Knutsen Ø et al (2017) Coming soon to a fjord near you: future jellyfish scenarios in a changing climate. Coast Manag 45:1–23. https://doi.org/10.1080/08920753.2017.1237239

Willis KJ, Cottier FR, Kwaśniewski S (2008) Impact of warm water advection on the winter zooplankton community in an Arctic fjord. Polar Biol 31:475–481. https://doi.org/10.1007/s00300-007-0373-0

Youngbluth MJ, Båmstedt U (2001) Distribution, abundance, behavior and metabolism of Periphylla periphylla, a mesopelagic coronate medusa in a Norwegian fjord. Hydrobiologia 451:321–333. https://doi.org/10.1023/A:1011874828960

Zelickman EA (1972) Distribution and ecology of the pelagic hydromedusae, siphonophores and ctenophores of the Barents Sea, based on perennial plankton collections. Mar Biol 17:256–264. https://doi.org/10.1007/BF00366301
Acknowledgements
Pedro de la Torre and Daniel Vogedes provided logistic supports. Elena Eriksen provided valuable information regarding IMR samples. Bodil Bluhm, Marine Cusa, Néstor Santana Hernandez, Janne Søreide, and Malin Daase contributed to sampling in 2017. Calum Bachell, Dora Marie Alvsvåg, Øystein Sture, Kertu Liis Krigul, Jonathan Björklund contributed to fieldwork in January 2017 through the University Center in Svalbard course AB334/834. A particular thanks to Colin Griffiths for overseeing the collection of mooring data in Kongsfjorden since 2002.
Funding
The study was co-funded by two projects supported by the Research Council of Norway (NFR): Arctic ABC (#244319) and AMOS (#223254), and by the Norwegian Biodiversity Information Centre project GooseAlien (#47-15-70184235). The mooring work was supported by the UK Natural Environment Research Council Oceans 2025 and Northern Sea Program with further support from NFR projects Circa (#214271), Cleopatra (#178766), Cleopatra II (#216537), and Marine Night (#226471). TJL acknowledges funding through the MARmaED project that received funding from the European Union's Horizon 2020 research and innovation programme under the Marie Skłodowska-Curie Grant Agreement No. 675997. This study is a contribution towards the ARCTOS research network (www.arctos.uit.no), the Arctic Science Partnership (ww.asp.org), and the Ocean Frontier Institute funded through Canada's First Research Excellence Fund. The results of this publication reflect only the authors' view and funding agencies are not responsible for any use that may be made of the information it contains.
Ethics declarations
Conflict of interests
The authors declare that they have no conflict of interests.
Ethical approval
All applicable international, national, and/or institutional guidelines for the care and use of animals were followed. This study was carried out with permission from the Governor on Svalbard and followed the strict regulations regarding health, environment and safety enforced at UNIS and UiT.
Electronic supplementary material
Below is the link to the electronic supplementary material.
About this article
Cite this article
Geoffroy, M., Berge, J., Majaneva, S. et al. Increased occurrence of the jellyfish Periphylla periphylla in the European high Arctic. Polar Biol 41, 2615–2619 (2018). https://doi.org/10.1007/s00300-018-2368-4
Received:

Revised:

Accepted:

Published:

Issue Date:
Keywords
Helmet jellyfish

Polar night

Arctic Ocean

Barents Sea

Svalbard

Borealization