Abstract
Today albatrosses are threatened worldwide, especially by fishing activities, and many populations are currently in decline. Albatrosses breeding at the French Southern Territories in the south-western Indian Ocean, on the Crozet, Kerguelen and Saint-Paul–Amsterdam island archipelagos, are monitored regularly. This monitoring has been based on a sample of species and sites, and there was a need for an assessment of the population trends for all species at each site. During the past 3 years most populations have been surveyed, allowing an assessment of the trends of albatrosses breeding at the archipelagos of the French Southern Territories over the past 40 years. Wandering Albatrosses show similar trends at all sites within the Crozet and Kerguelen archipelagos, with a recent recovery of colonies after strong declines in the 1970s. Amsterdam Albatrosses are increasing, albeit at lower rates during recent years. Indian Yellow-nosed Albatrosses show a global decline over the entire range. The trends among Black-browed and Grey-headed Albatrosses vary between colonies and archipelagos. Sooty Albatrosses have continuously decreased in numbers whereas Light-mantled Albatross numbers vary considerably between years, with an overall increase over the past 30 years. These results confirm that the French Southern Territories in the south-west Indian Ocean support a significant portion of the world populations of several albatross species. Several species appear to be steadily decreasing probably because of the impact of fisheries and disease outbreaks. The reasons for different trends among populations of the same species are not well understood and require further investigation.
This is a preview of subscription content, log in to check access.
Access options
Buy single article
Instant access to the full article PDF.
US$ 39.95
Price includes VAT for USA
Subscribe to journal
Immediate online access to all issues from 2019. Subscription will auto renew annually.
US$ 199
This is the net price. Taxes to be calculated in checkout.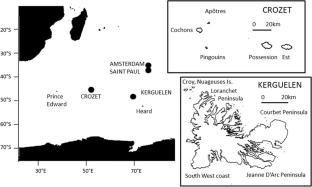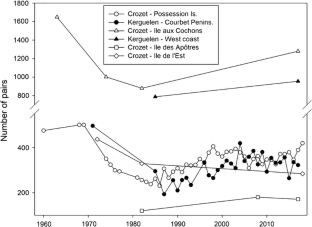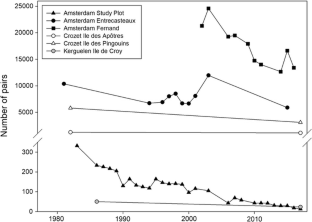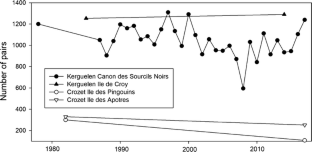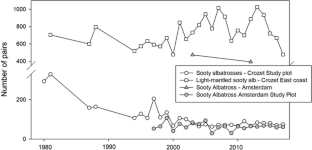 References
Barbraud C, Tuck GN, Thomson R, Delord K, Weimerskirch H (2013) Fisheries bycatch as an inadvertent human-induced evolutionary mechanism. PlosOne. https://doi.org/10.1371/journal.pone.0060353

Caughlet G (1980) Analysis of vertebrate populations. Wiley, New York

Croxall JP, Butchart SH, Lascelles B, Stattersfield AJ, Sullivan B, Symes A, Taylor P (2012) Seabird conservation status, threats and priority actions: a global assessment. Bird Conserv Int 22:1–34

Delord K, Besson D, Barbraud C, Weimerskirch H (2008) Population trends in a community of large Procellariiforms of Indian Ocean: potential effects of environment and fisheries interactions. Biol Conserv 141:1840–1856

Delord K, Barbraud C, Bost CA, Cherel Y, Guinet C, Weimerskirch H (2013) Atlas of top predators from French Southern Territories in the Southern Indian Ocean. CNRS, Villiers en Bois

Derenne P, Mougin JL, Steinberg C, Voisin JF (1976) Les oiseaux de l'ile aux Cochons, archipel Crozet CNFRA:107–148

Fay R, Weimerskirch H, Delord K, Barbraud C (2015) Population density and climate shape early-life survival and recruitment in a long-lived pelagic seabird. J Anim Ecol 84:1423–1433

Fay R, Barbraud C, Delord K, Weimerskirch H (2017) Contrasting effect of climate and population density over time and life-stages in a long-live seabird. Funct Ecol 31:1275–1284

Fretwell PT, Scofield P, Phillips RA (2017) Using super-high resolution satellite imagery to census threatened albatrosses. Ibis 159:481–490

Gales R, Brothers N, Reid T (1998) Seabird mortality in the japanese tuna longline fishery around Australia, 1988–1995. Biol Conserv 86:37–56

Huang H-W, Liu K-M (2010) Bycatch and discards by Taiwanese large-scale tuna longline fleets in the Indian Ocean. Fish Res 106:261–270

Jaeger A, Lebarbenchon C, Bourret V, Bastien M, Lagadec E, Thiebot JB, Boulinier T, Delord K, Barbraud C, Marteau C, Dellagi K, Tortosa P, Weimerskirch H (2018) Avian cholera outbreaks threaten seabird species on Amsterdam Island. PLoS ONE

Jouventin P (1990) Shy Albatrosses Diomedea cauta salvini breeding on Penguin Island, Crozet Archipelago, Indian Ocean. Ibis 132:126–127

Jouventin P, Stahl JC, Weimerskirch H, Mougin JL (1984) The seabirds of the French Subantarctic Islands & Adélie Land, their status and conservation. ICBP Techn Publ 2:609–625

Michael PE, Thomson R, Barbraud C, Delord K, De Grissac S, Hobday AJ, Strutton PG, Tuck GN, Weimerskirch H, Wilcox C (2017) Illegal fishing bycatch overshadows climate as a driver of albatross population decline. Mar Ecol Progr Ser 579:185–199

Nel DC, Ryan PG, Nel JL, Klages NTW, Wilson RP, Robertson G, Tuck GN (2002) Foraging interactions between Wandering Albatrosses Diomedea exulans breeding on Marion Island and long-line fisheries in southern Indian Ocean. Ibis 144:E141–E154

Nel DC, Taylor F, Ryan PG, Cooper J (2003) Population dynamics of the wandering albatross Diomedea exulans at marion island: longline fishing and environmental influences. Afr J Mar Sci 25:503–517

Pardo D, Forcada J, Wood AG, Tuck GN, Ireland L, Pradel R, Croxall JP, Phillips RA (2017) Additive effects of climate and fisheries drive ongoing declines in multiple albatross species. Proc Natl Acad Sci USA 114:E10829–E10837. https://doi.org/10.1073/pnas.1618819114

Phillips R, Gales R, Baker G, Double M, Favero M, Quintana F, Tasker M, Weimerskirch H, Uhart M, Wolfaardt A (2016) The conservation status and priorities for albatrosses and large petrels. Biol Conserv 201:169–183

Pinaud D, Weimerskirch H (2007) At-sea distribution and scale-dependent foraging behaviour of petrels and albatrosses: a comparative study. J Anim Ecol 76:9–19

Poncet S, Robertson G, Phillips RA, Lawton K, Phalan B, Trathan PN, Croxall JP (2006) Status and distribution of wandering, black-browed and grey-headed albatrosses breeding at South Georgia. Polar Biol 29:772–781

Poncet S, Wolfaardt AC, Black A, Browning S, Lawton K, Lee J, Passfield K, Strange G, Phillips RA (2017) Recent trends in numbers of wandering (Diomedea exulans), black-browed (Thalassarche melanophris) and grey-headed (T. chrysostoma) albatrosses breeding at South Georgia. Polar Biol 40:1347–1358. https://doi.org/10.1007/s00300-016-2057-0

Rivalan P, Barbraud C, Inchausti P, Weimerskirch H (2010) Combined impacts of longline fisheries and climate on the persistence of the Amsterdam Albatross Diomedia amsterdamensis. Ibis 152:6–18

Robertson G, Moreno CA, Lawton K, Kirkwood K, Valencia J (2008) Comparison of census methods for Black-browed Albatrosses breeding at the Ildefonso Archipelago, Chile. Polar Biol 31:153–162

Rolland V, Barbraud C, Weimerskirch H (2008) Combined effects of fisheries and climate on a migratory long-lived marine predator. J Appl Ecol 45:4–13

Rolland V, Barbraud C, Weimerskirch H (2009) Assessing the impact of fisheries, climate and disease on the dynamics of the Indian yellow-nosed albatross. Biol Conserv 142:1084–1095

Rolland V, Weimerskirch H, Barbraud C (2010) Relative influence of fisheries and climate on the demography of four albatross species. Glob Change Biol 16:1910–1922

Ryan P, Jones MG, Dyer B, Upfold L, Crawford RJ (2009) Recent population estimates and trends in numbers of albatrosses and giant petrels breeding at the sub-Antarctic Prince Edward Islands. Afr J Mar Sci 31:409–417

Schoombie S, Crawford R, Makhado A, Dyer B, Ryan P (2016) Recent population trends of sooty and light-mantled albatrosses breeding on Marion Island. Afr J Mar Sci 38:119–127

Tuck GN, Phillips RA, Small C, Thomson RB, Klaer NL, Taylor F, Wanless RM, Arrizabalaga H (2011) An assessment of seabird-fishery interactions in the Atlantic Ocean. ICES J Mar Sci 68:1628–1637

Tuck GN, Thomson RB, Barbraud C, Delord K, Louzao M, Herrera M, Weimerskirch H (2016) An integrated assessment model of seabird population dynamics: can individual heterogeneity in susceptibility to fishing explain abundance trends in Crozet wandering albatross? J Appl Ecol 52:950–959

Voisin JF (1984) Observations on the birds and mammals of île aux Cochons, Crozet Islands, in February 1982. S Afr J Nav Antarct Res 14:11–17

Weimerskirch H (2004) Diseases threaten Southern Ocean albatrosses. Polar Biol 27:374–379

Weimerskirch H, Lequette B, Jouventin P (1989a) Development and maturation of plumage in the wandering albatross Diomedea exulans. J Zool 219:411–421

Weimerskirch H, Zotier R, Jouventin P (1989b) The avifauna of the Kerguelen Islands. Emu 89:15–29

Weimerskirch H, Salamolard M, Sarrazin F, Jouventin P (1993) Foraging strategy of wandering albatrosses through the breeding season: a study using satellite telemetry. Auk 110:325–342

Weimerskirch H, Brothers N, Jouventin P (1997) Population dynamics of wandering albatross Diomedea exulans and Amsterdam albatross D. amsterdamensis in the Indian Ocean and their relationships with long-line fisheries: conservation implications. Biol Conserv 79:257–270

Weimerskirch H, Cherel Y, Delord K, Jaeger A, Patrick SC, Riotte-Lambert L (2014) Lifetime foraging patterns of the wandering albatross: life on the move! J Exp Mar Biol Ecol 450:68–78

Wolfaardt W, Phillips RP (2013) ACAP Guideline census methodologies for albatrosses and petrels. http://www.acap.aq/en/resources/acap-conservation-guidelines/2187-census-guidelines/file
Acknowledgements
This study was funded by the French Polar Institute (Program IPEV 109), Réserve Nationale des Terres Australes Françaises), and the Antarctic Circumpolar Expedition (ACE), a scientific expedition carried out under the auspices of the Swiss Polar Institute, supported by funding from the ACE Foundation and Ferring Pharmaceuticals. We thank the crews of the French Navy ships Floreal and Nivose and especially the helicopter pilots for their help. We thank all the fieldworkers involved in the long-term monitoring programme, and Gaspard Bernard, Nicolas Moulin and Benoit Gineste for their help with the helicopter photographs and photographic counts. We thank Marc Lebouvier and Zone Atelier Antarctique for providing with the Ile de l'Est satellite image. We thank three anonymous reviewers for extensive changes and suggestions on a previous version of the manuscript.
Ethics declarations
Ethical approval
The study took place in the National Reserve of 'Terres Australes Francaises' and was approved by the Préfet des TAAF.
Electronic supplementary material
Below is the link to the electronic supplementary material.
About this article
Cite this article
Weimerskirch, H., Delord, K., Barbraud, C. et al. Status and trends of albatrosses in the French Southern Territories, Western Indian Ocean. Polar Biol 41, 1963–1972 (2018). https://doi.org/10.1007/s00300-018-2335-0
Received:

Revised:

Accepted:

Published:

Issue Date:
Keywords
Crozet

Kerguelen

Amsterdam

Fisheries

Monitoring