Abstract
Most of Fildes Peninsula is ice-free during summer thereby allowing for formation of networks of creeks with meltwater from Collins Glacier and snowmelt. A variety of benthic microbial mats develop within these creeks. The composition of these microbial communities has not been studied in detail. In this report, clone libraries of bacterial and cyanobacterial 16S rRNA genes were used to describe the microbial community structure of four mats near a shoreline of Drake Passage. Samples were collected from four microbial mats, two at an early developmental stage (December) and two collected latter in late summer (April). Sequence analysis showed that filamentous Cyanobacteria, Alphaproteobacteria, and Betaproteobacteria were the most abundant ribotypes. Diversity indices were comparable for the four mats. Bacterial libraries from mat samples collected in December represented primarily Alphaproteobacterial and Betaproteobacterial ribotypes. In contrast, filamentous Cyanobacteria as well as Alphaproteobacteria were most abundant in libraries derived from samples collected in April. Differences in relative abundances may reflect the succession of microbial communities during the austral summer. Composition of cyanobacterial orders in bacterial libraries obtained from mats collected in late summer were different compared with their corresponding cyanobacterial libraries. This may be the result of divergence in primer specificities. Nostocales, Oscillatoriales, and Synechococcales orders were the dominant ribotypes represented in cyanobacterial libraries. Some taxa of cyanobacteria identified using this strategy coincided with previous studies of others in the same region using microscopic techniques. Future work should combine microscopy, culture–dependent and culture–independent strategies to better describe microbial mats in maritime Antarctica.
Access options
Buy single article
Instant access to the full article PDF.
US$ 39.95
Tax calculation will be finalised during checkout.
Subscribe to journal
Immediate online access to all issues from 2019. Subscription will auto renew annually.
US$ 119
Tax calculation will be finalised during checkout.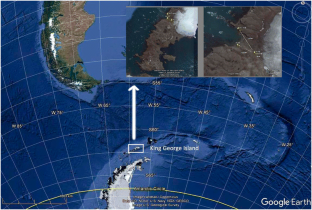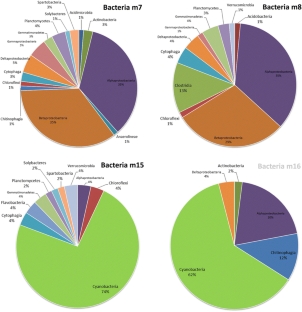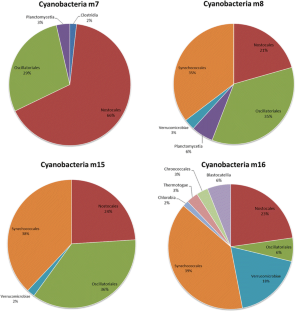 References
Brambilla E, Hippe H, Hagelstein A, Tindall BJ, Stackebrandt E (2001) 16S rDNA diversity of cultured and uncultured prokaryotes of a mat sample from Lake Fryxell, McMurdo Dry Valleys, Antarctica. Extremophiles 5:23–33. https://doi.org/10.1007/s007920000169

Callejas C, Gill PR, Catalán AI, Azziz G, Castro-Sowinski S, Batista S (2011) Phylotype diversity in a benthic cyanobacterial mat community on King George Island, maritime Antarctica. World J Microbiol Biotechnol 27:1507–1512. https://doi.org/10.1007/s11274-010-0578-1

de Los Ríos A, Ascaso C, Wierzchos J, Fernández-Valiente E, Quesada A (2004) Microstructural characterization of cyanobacterial mats from the McMurdo Ice Shelf, Antarctica. Appl Environ Microbiol 70:569–580. https://doi.org/10.1128/aem.70.1.569-580.2004

De Wever A, Leliaert F, Verleyen E, Vanormelingen P, Van der Gucht K, Hodgson DA et al (2009) Hidden levels of phylodiversity in Antarctic green algae: further evidence for the existence of glacial refugia. Proc R Soc London B Biol Sci. https://doi.org/10.1098/rspb.2009.0994

Devereux R, Willis SG (1995) Amplification of ribosomal RNA sequences. In: Van der Zijpp AJ, van Elsas JD, de Bruijn F (eds) Molecular microbial ecology manual. Springer, Berlin, pp 277–287

Ellis-Evans JC (1996) Microbial diversity and function in Antarctic freshwater ecosystems. Biodivers Conserv 5:1395–1431. https://doi.org/10.1007/BF00051985

Fernández-Valiente E, Quesada A, Howard-Williams C, Hawes I (2001) N2-fixation in cyanobacterial mats from ponds on the McMurdo ice shelf, Antarctica. Microb Ecol 42:338–349. https://doi.org/10.1007/s00248-001-1010-z

Fernández-Valiente E, Camacho A, Rochera C, Rico E, Vincent WF, Quesada A (2007) Community structure and physiological characterization of microbial mats in Byers Peninsula, Livingston Island (South Shetland Islands, Antarctica). FEMS Microbiol Ecol 59:377–385. https://doi.org/10.1111/j.1574-6941.2006.00221.x

Gantner S, Andersson AF, Alonso-Sáez L, Bertilsson S (2011) Novel primers for 16S rRNA-based archaeal community analyses in environmental samples. J Microbiol Methods 84:12–18. https://doi.org/10.1016/j.mimet.2010.10.001

Griffiths RI, Whiteley AS, O'Donnell AG, Bailey MJ (2000) Rapid method for coextraction of DNA and RNA from natural environments for analysis of ribosomal DNA- and rRNA-based microbial community composition. Appl Environ Microbiol 66:5488–5491. https://doi.org/10.1128/AEM.66.12.5488-5491.2000

Hill TCJ, Walsh KA, Harris JA, Moffett BF (2003) Using ecological diversity measures with bacterial communities. FEMS Microbiol Ecol 43:1–11. https://doi.org/10.1111/j.1574-6941.2003.tb01040.x

Komárek J (2015) Review of the cyanobacterial genera implying planktic species after recent taxonomic revisions according to polyphasic methods: state as of 2014. Hydrobiologia 764:259–270. https://doi.org/10.1007/s10750-015-2242-0

Komárek O, Komárek J (1999) Diversity of freshwater and terrestrial habitats and their oxyphototroph microflora in the Arctowski Station region, South Shetland Islands. Polish Polar Res 20:259–282

Komárek O, Komárek J (2010) Diversity and ecology of cyanobacterial microflora of Antarctic seepage habitats: comparison of King George Island, Shetland Islands and James Ross Island, NW Weddell Sea, Antarctica. In: Seckbach J, Oren A (eds) Microbial Mats. Modern and Ancient Microorganisms in Stratified Systems. pp 517–539

Lane DJ (1991) Small subunit ribosomal RNA sequences and primers. Large subunit ribosomal RNA sequences and primers. Nucleic Acid Tech Bact Syst Chichester, UK John Wiley Sons 148–175

McDonald IR, Upton M, Hall G, Pickup RW, Edwards C, Saunders JR et al (1999) Molecular ecological analysis of methanogens and methanotrophs in blanket bog peat. Microb Ecol 38:225–233

Nübel U, Garcia-Pichel F, Muyzer G (1997) PCR primers to amplify 16S rRNA genes from cyanobacteria. Appl Environ Microbiol 63:3327–3332

Peeters K, Ertz D, Willems A (2011) Culturable bacterial diversity at the Princess Elisabeth Station (Utsteinen, Sør Rondane Mountains, East Antarctica) harbours many new taxa. Syst Appl Microbiol 34:360–367. https://doi.org/10.1016/j.syapm.2011.02.002

Peeters K, Verleyen E, Hodgson DA, Convey P, Ertz D, Vyverman W et al (2012) Heterotrophic bacterial diversity in aquatic microbial mat communities from Antarctica. Polar Biol 35:543–554. https://doi.org/10.1007/s00300-011-1100-4

Robinson SA, Wasley J, Tobin AK (2003) Living on the edge–plants and global change in continental and maritime Antarctica. Glob Chang Biol 9:1681–1717

Sabbe K, Hodgson DA, Verleyen E, Taton A, Wilmotte A, Vanhoutte K et al (2004) Salinity, depth and the structure and composition of microbial mats in continental Antarctic lakes. Freshw Biol 49:296–319. https://doi.org/10.1111/j.1365-2427.2004.01186.x

Schloss PD, Larget BR, Handelsman J (2004) Integration of microbial ecology and statistics: a test to compare gene libraries. Appl Environ Microbiol 70:5485–5492. https://doi.org/10.1128/AEM.70.9.5485-5492.2004

Taton A, Grubisic S, Brambilla E, De Wit R, Wilmotte A (2003) Cyanobacterial diversity in natural and artificial microbial mats of Lake Fryxell (McMurdo Dry Valleys, Antarctica): a morphological and molecular approach. Appl Environ Microbiol 69:5157–5169. https://doi.org/10.1128/AEM.69.9.5157-5169.2003

Taton A, Grubisic S, Balthasart P, Hodgson DA, Laybourn-Parry J, Wilmotte A (2006) Biogeographical distribution and ecological ranges of benthic cyanobacteria in East Antarctic lakes. FEMS Microbiol Ecol 57:272–289. https://doi.org/10.1111/j.1574-6941.2006.00110.x

Vincent WF, Downes MT, Castenholz RW, Howard-Williams C (1993) Community structure and pigment organisation of cyanobacteria-dominated microbial mats in Antarctica. Eur J Phycol 28:213–221. https://doi.org/10.1080/09670269300650321

Zhang L, Jungblut AD, Hawes I, Andersen DT, Sumner DY, Mackey TJ (2015) Cyanobacterial diversity in benthic mats of the McMurdo Dry Valley lakes, Antarctica. Polar Biol 38:1097–1110. https://doi.org/10.1007/s00300-015-1669-0
Acknowledgements
This work was partially supported by Instituto Antártico Uruguayo, ANII (Agencia Nacional de Investigación e Innovación), AMSUD Pasteur and PEDECIBA-Biología (Programa de Ciencias Básicas).
Electronic supplementary material
Below is the link to the electronic supplementary material.
About this article
Cite this article
Callejas, C., Azziz, G., Souza, E.M. et al. Prokaryotic diversity in four microbial mats on the Fildes Peninsula, King George Island, maritime Antarctica. Polar Biol 41, 935–943 (2018). https://doi.org/10.1007/s00300-018-2256-y
Received:

Revised:

Accepted:

Published:

Issue Date:
Keywords
Microbial mat

Maritime Antarctica

16S rRNA gene clone library

Microbial diversity