Abstract
Brown trout (Salmo trutta L.) was voluntarily introduced in some rivers of the Kerguelen Islands in the 1950s–1960s. Fish originating from hatcheries rapidly colonized other streams, thanks to the early occurrence of anadromous (i.e., migratory) form. Getting insight into the success of colonization requires investigating fitness-related traits such as growth and reproductive investment. In particular, increased growth and body size—traits that are broadly related to dispersal ability—are predicted on colonization front, to the possible detriment of reproductive ability. We here report such investigation on early data following the first natural reproductions in the founder populations of Kerguelen, from 1971 to 1994, assessing the main characteristic on growth at sea and reproductive investment for both sexes. Our results reveal that growth of sea trout is excellent with individuals fully benefiting from their relatively short period of growth at sea, sizes and weights ranking among the highest recorded to date. During the reproduction period, males lose on average 15–21% of their weight, whereas females lose 18–19% of their weight. Although a trade-off between growth and reproduction may arise at marginal distribution of invasive species, our study indicates that any potential advantages arising from increased growth and therefore potential dispersal ability may not be directly balanced by reduced reproductive investment, with respect to other published studies. Results overall shed light on intrinsic invasiveness of the brown trout in a post-glacial landscape with barely any interaction with human activities.
This is a preview of subscription content, log in to check access.
Access options
Buy single article
Instant access to the full article PDF.
US$ 39.95
Price includes VAT for USA
Subscribe to journal
Immediate online access to all issues from 2019. Subscription will auto renew annually.
US$ 199
This is the net price. Taxes to be calculated in checkout.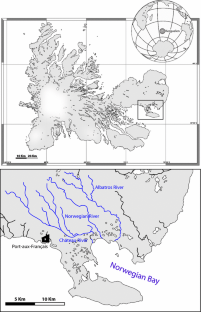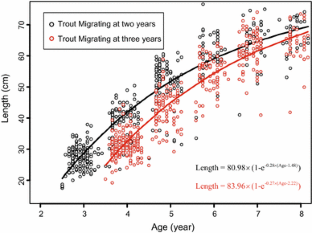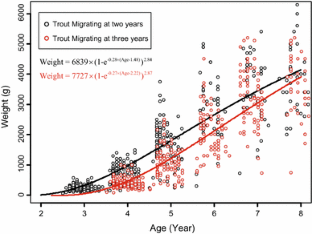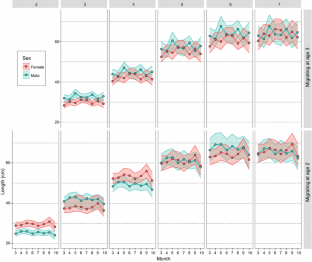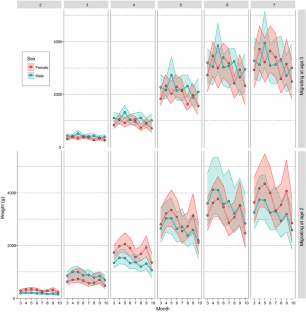 References
Alm G (1950) The sea trout population in the Åva stream. Inst Freshw Res Drottningholm Rep 31:26–56

Aymes JC, Vignon M, Beall E, Guéraud F, Gaudin P (2016) Age validation of the Kerguelen Island brown trout, Salmo trutta L., and selection of the otolith optimal zone for investigating chronological data series. Fish Res 176:23–29

Beall E (1979) Analyse scalimétrique d'une population de truites de mer, Salmo trutta L., îles Kerguelen, TAAF: structures d'âge, croissance, reproduction. Ph. D. Thesis, Université Paul Sabatier de Toulouse

Beall E, Davaine P (1988) Analyse scalimétrique de la truite de mer (Salmo trutta L.): formation des anneaux et critères d'identification chez les individus sédentaires et migrateurs d'une même population acclimatée aux îles Kerguelen (TAAF). Aquat Living Res 1:3–16

Beall E, Davaine P, Bazin D (1992) Étude scalimétrique de la truite commune à Kerguelen, TAAF. Principales difficultés et validation. In: Baglinière JL, Castanet J, Conand F, Meunier FJ (eds) Tissus durs et âge individuel des vertébrés, Colloques et Séminaires ORSTOM-INRA, pp 199–210

Berg OK, Berg M (1987) The seasonal pattern of growth of the sea trout (Salmo trutta L.) from the Vardnes River in northern Norway. Aquaculture 62:143–152

Berg OK, Berg M (1989) The duration of sea and freshwater residence of the sea trout, Salmo trutta, from the Vardnes River in northern Norway. Env Biol Fish 24:23–32

Berg OK, Jonsson B (1990) Growth and survival rates of the anadromous trout, Salmo trutta, from the Vardnes River, northern Norway. Env Biol Fish 29:145–154

Campbell JS (1977) Spawning characteristics of brown trout and sea trout Salmo trutta L. in Kirk Burn, River Tweed. Scotland. J Fish Biol 11:217–229

Chen IC, Hill JK, Ohlemüller R, Roy DB, Thomas CD (2011) Rapid range shifts of species associated with high levels of climate warming. Science 333:1024–1026

Cooper J, Crafford JE, Hecht T (1992) Introduction and extinction of brown trout (Salmo trutta L) in an impoverished sub-antarctic stream. Antarct Sci 4:9–14

Crespi BJ, Teo R (2002) Comparative phylogenetic analysis of the evolution of semelparity and life history in Salmonid fishes. Evolution 56:1008–1020

Cunjak RA (1988) Physiological consequences of overwintering in streams: the cost of acclimatization? Can J Fish Aquat Sci 45:443–452

Davaine P, Beall E (1992) Relationships between temperature, population density, and growth in a sea trout population (S. trutta L.) of the Kerguelen Islands. ICES J Mar Sci 49:445–451

De Leeuw JJ, ter Hofstede R, Winter HV (2007) Sea growth of anadromous brown trout (Salmo trutta). J Sea Res 58:163–165

Dodson JJ, Aubin-Horth N, Thériault V, Paez DJ (2013) The evolutionary ecology of alternative migratory tactics in salmonid fishes. Biol Rev 88:602–625

Fahy E (1980) Growing season as a factor in sea trout production. J Fish Biol 17:541–546

Fleming IA (1998) Pattern and variability in the breeding system of Atlantic salmon (Salmo salar), with comparisons to other salmonids. Can J Fish Aquat Sci 55:59–76

Guyomard R, Grévisse C, Oury FX, Davaine P (1984) Évolution de la variabilité génétique inter et intra-population de populations de salmonidés issues de mêmes pools génétiques. Can J Fish Aquat Sci 41:1024–1029

Habit E, Gonzalez J, Ruzzante DE, Walde SJ (2012) Native and introduced species fish richness in Chilean Patagonian lakes: inferences on invasion mechanisms using salmonid-free lakes. Divers Distrib 18:1153–1165

Heino J, Virkkala R, Toivonen H (2009) Climate change and freshwater biodiversity: detected patterns, future trends and adaptations in northern regions. Biol Rev 84:39–54

Hinzman LD, Bettez ND, Bolton WR, Chapin FS, Dyurgerov MB et al (2005) Evidence and implications of recent climate change in northern Alaska and other arctic regions. Clim Change 72:251–298

Hughes L (2000) Biological consequences of global warming: is the signal already apparent? Trends Ecol Evol 15:56–61

Jarry M, Davaine P, Beall E (1998) A matrix model to study the colonization by brown trout of a virgin ecosystem in the Kerguelen Islands. Acta Biotheor 46:253–272

Jensen KW (1968) Sea trout (Salmo trutta L) of the river Istra, Western Norway. Inst Freshw Res Drottningholm Rep 48:187–213

Jonsson B (1985) Life history patterns of freshwater resident and sea run migrant brown trout in Norway. Trans Am Fish Soc 114:182–194

Jonsson B, Gravem FR (1985) Use of space and food by resident and migrant brown trout, Salmo trutta. Env Biol Fish 14:281–293

Jonsson B, Jonsson N (1993) Partial migration: niche shift versus sexual maturation in fishes. Rev Fish Biol Fish 3:348–365

Jonsson B, Jonsson N (2009) A review of the likely effects of climate change on anadromous Atlantic salmon Salmo salar and brown trout Salmo trutta, with particular reference to water temperature and flow. J Fish Biol 75:2381–2447

Jonsson N, Hansen LP, Jonsson B (1991) Variation in age, size and repeat spawning of adult Atlantic salmon in relation to river discharge. J Anim Ecol 60:937–947

Klemetsen A, Amundsen PA, Dempson JB, Jonsson B, O'Connell MF, Mortensen E (2003) Atlantic salmon Salmo salar L., brown trout Salmo trutta L. and Artic char Salvelinus alpinus L.: a review of aspects of their life histories. Ecol Freshw Fish 12:1–59

Labonne J, Vignon M, Prévost E, Lecomte F, Dodson JJ, Kaeuffer R, Aymes JC, Jarry M, Gaudin P, Davaine P, Beall E (2013) Invasion dynamics of a fish-free landscape by brown trout (Salmo trutta). PLoS ONE 8:1–7

Launey S, Brunet G, Guyomard R, Davaine P (2010) Role of introduction history and landscape in the range expansion of brown trout (Salmo trutta L.) in the Kerguelen Islands. J Hered 101:270–283

Lecomte F, Beall E, Chat J, Davaine P, Gaudin P (2013) The complete history of salmonid introduction in the Kerguelen Islands, Southern Ocean. Polar Biol 36:457–475

Levine JM, D'Antonio CM (1999) Elton revisited: a review of evidence linking diversity and invasibility. Oikos 87:15–26

MacCrimmon HR, Marshall TL (1968) World distribution of brown trout, Salmo Trutta. J Fish Res Board Can 25:2527–2548

MacCrimmon HR, Marshall TL, Gots BL (1970) World distribution of brown trout, Salmo trutta: further observations. J Fish Res Boar Can 27:811–818

Marandel L, Gaudin P, Guéraud F, Glise S, Herman A, Plagnes-Juan E, Véron V, Panserat S, Labonne J (2017) A reassessment of the carnivorous status of salmonids: Hepatic glucokinase is expressed in wild fish in Kerguelen Islands. Reviewed in STOTEN

McIntosh AR, McHugh PA, Dunn NR, Goodman JM, Howard SW et al (2010) The impact of trout on galaxiid fishes in New Zealand. New Zeal J Ecol 34:195–206

Milner AM, Brown LE, Hannah DM (2009) Hydroecological response of river systems to shrinking glaciers. Hydrol Proces 23:62–77

O'Neal SL, Stanford JA (2011) Partial migration in a robust brown trout population of a Patagonian River. Trans Am Fish Soc 140:623–635

Olsen EH, Knutsen H, Simonsen JH, Jonsson B, Knutsen J (2006) Seasonal variation in marine growth of sea trout, Salmo trutta, in coastal Skagerrak. Ecol Freshw Fish 15:446–452

Pascual MA, Ciancio JE (2007) Introduced anadromous salmonids in Patagonia: risk, uses, and a conservation paradox. In: Bert TM (ed) Ecological and genetic implications of aquaculture activities. Springer, New York, pp 335–353

Richard A, Baglinière JL (1990) Description et interprétation des écailles de truites de mer (Salmo trutta) de deux rivières de basse-Normandie: l'Orne et la Touques. Bull Fr Pêche Piscic 396:239–257

Thomas T, Davaine P, Beall E (1981) Dynamique de la migration et reproduction de la truite de mer, Salmo trutta L., dans la Rivière Norvégienne, Iles Kerguelen. TAAF. CNFRA 47:5–42

Thomas JA, Rose RJ, Clarke RT, Thomas CD, Webb NR (1999) Intraspecific variation in habitat availability among ectothermic animals near their climatic limits and their centres of range. Funct Ecol 13:55–64

Thomas CD, Bodsworth EJ, Wilson RJ, Simmons AD, Davies ZG, Musche M, Conradt L (2001) Ecological and evolutionary processes at expanding range margins. Nature 411:577–581

Travis JMJ, Dytham C (2002) Dispersal evolution during invasions. Evol Ecol Res 4:1119–1129

von Bertalanffy L (1938) A quantitative theory of organic growth. Hum Biol 10:181–213

Westley PAH, Fleming IA (2011) Landscape factors that shape a slow persistent aquatic invasion: brown trout in Newfoundland 1883–2010. Divers Distrib 17:566–579

Young KA, Dunham JB, Stephenson JF, Terreau A, Thailly AF et al (2010) A trial of two trouts: comparing the impacts of rainbow and brown trout on a native galaxiid. Anim Conserv 13:399–410
Acknowledgements
We gratefully acknowledge the support (funding, logistics, travel) provided by the TAAF administration (Terres Australes et Antarctiques Françaises-Mission de Recherche) over all these years and their staff in Paris, La Réunion and Brest, France. This study is part of SALMEVOL-1041 program funded by the French Polar Institute (IPEV) and Institut National de la Recherche Agronomique (INRA). This study is supported by the Zone Atelier Antarctique.
Ethics declarations
Ethical approval
All procedures performed in studies involving animals were in accordance with the ethical standards of the institution or practice at which the studies were conducted.
Electronic supplementary material
Below is the link to the electronic supplementary material.
About this article
Cite this article
Jarry, M., Beall, E., Davaine, P. et al. Sea trout (Salmo trutta) growth patterns during early steps of invasion in the Kerguelen Islands. Polar Biol 41, 925–934 (2018). https://doi.org/10.1007/s00300-018-2253-1
Received:

Revised:

Accepted:

Published:

Issue Date:
Keywords
Scale reading

Growth profiles

Reproductive cost

Feeding

Salmonid

Sub-Antarctic