Abstract
Invasive house mice Mus musculus are significant predators of seabird chicks on islands where they are the only introduced mammal, but there are very few records of attacks on adult birds. We report the first evidence of mouse attacks on adult albatrosses and petrels breeding on Marion and Gough Islands, where there has been a recent increase in attacks on seabird chicks. In September 2017, wounds consistent with a mouse attack were recorded on an incubating adult male Northern Giant Petrel Macronectes halli on Marion Island. The nest was deserted, and breeding success within 500 m was 18% (n = 11) compared to 68% at nests > 500 m away (n = 123), suggesting that other incubating adults in the immediate vicinity also might have been affected. In March 2018, an incubating Tristan Albatross Diomedea dabbenena was found on Gough Island with a typical mouse wound on its rump. The egg hatched and the same bird was later seen brooding and feeding the chick. In October 2018, an incubating Atlantic Yellow-nosed Albatross Thalassarche chlororhynchos was found on Gough Island with a wound on its back suggestive of a mouse attack and 23 freshly dead carcasses of this species were found, next to empty nests, in nearby colonies. These observations add to mounting evidence of the impacts of mice on seabirds, and further support calls to eradicate mice from Marion and Gough Islands
This is a preview of subscription content, log in to check access.
Access options
Buy single article
Instant access to the full article PDF.
US$ 39.95
Price includes VAT for USA
Subscribe to journal
Immediate online access to all issues from 2019. Subscription will auto renew annually.
US$ 199
This is the net price. Taxes to be calculated in checkout.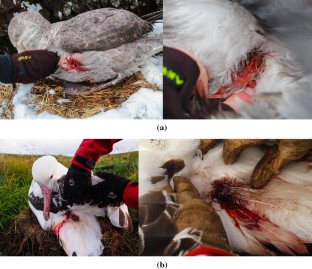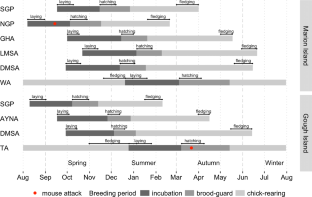 References
Angel A, Cooper J (2006) A review of the impacts of introduced rodents on the Islands of Tristan da Cunha and Gough. Royal Society for the Protection of Birds, Sandy

Anonymous (2016) Mouse aggression. Scientists document non-native mice attacking nesting. Albatrosses at Midway Atoll National Wildlife, Refuge

Bergstrom DM, Chown SL (1999) Life at the front: history, ecology and change on Southern Ocean islands. Trends Ecol Evol 14:472–477

Converse SJ, Kendall WL, Doherty PF, Ryan PG (2009) Multistate models for estimation of survival and reproduction in the grey-headed albatross (Thalassarche chrysostoma). Auk 126:77–88

Cooper J (2008) Human history. In: Chown SL, Froneman PW (eds) The Prince Edward Islands: Land-Sea Interactions in a Changing Ecosystem. Sun PReSS, Stellenbosch, pp 331–350

Cooper J, Brown CR (1990) Ornithological research at the subAntarctic Prince Edward Islands: a review of achievements. S Afr J Antarct Res 20:40–57

Cooper J, Parker GC (2011) Observations of sexual dimorphism among the Southern Giant Petrels Macronectes giganteus of Gough Island. Sea Swallow 60:84–90

Cooper J, de Brooke,ML, Burger AE, Crawford RJM, Hunter S, Williams AJ (2001) Aspects of the breeding biology of the northern giant petrel (Macronectes halli) and the southern giant petrel (M. giganteus) at sub-Antarctic Marion Island. Int J Ornithol 4:53–68

Cuthbert R, Hilton G (2004) Introduced house mice Mus musculus: a significant predator of endangered and endemic birds on Gough Island, South Atlantic Ocean? Biol Conserv 117:483–489

Cuthbert RJ, Louw H, Parker G, Rexer-Huber K, Visser P (2013a) Observations of mice predation on dark-mantled sooty albatross and Atlantic yellow-nosed albatross chicks at Gough Island. Antarct Sci 25:763–766

Cuthbert RJ, Louw H, Lurling J, Parker G, Rexer-Huber K, Sommer E, Visser P, Ryan PG (2013b) Low burrow occupancy and breeding success of burrowing petrels at Gough Island: a consequence of mouse predation. Bird Conserv Int 23:113–124

Cuthbert RJ, Wanless RM, Angel A, Burle MH, Hilton GM, Louw H, Visser P, Wilson JW, Ryan PG (2016) Drivers of predatory behavior and extreme size in house mice Mus musculus on Gough Island. J Mammal 97:533–544

Davies D, Dilley B, Bond A, Cuthbert R, Ryan P (2015) Trends and tactics of mouse predation on Tristan Albatross Diomedea dabbenena chicks at Gough Island. South Atlantic Ocean. Avian Conserv Ecol 10(1):5

Dilley BJ, Davies D, Bond AL, Ryan PG (2015) Effects of mouse predation on burrowing petrel chicks at Gough Island. Antarct Sci 27:543–553

Dilley BJ, Schoombie S, Schoombie J, Ryan PG (2016) 'Scalping'of albatross fledglings by introduced mice spreads rapidly at Marion Island. Antarct Sci 28:73–80

Hellmann JJ, Byers JE, Bierwagen BG, Dukes JS (2008) Five potential consequences of climate change for invasive species. Conserv Biol 22:534–543

Hilton GM, Cuthbert RJ (2010) The catastrophic impact of invasive mammalian predators on birds of the UK Overseas Territories: a review and synthesis. Ibis 152:443–458

Jones MGW, Ryan PG (2010) Evidence of mouse attacks on albatross chicks on sub-Antarctic Marion Island. Antarct Sci 22:39–42

McClelland GT, Altwegg R, Aarde RJ, Ferreira S, Burger AE, Chown SL (2018) Climate change leads to increasing population density and impacts of a key island invader. Ecol Appl 28:212–224

Nel DC, Taylor F, Ryan PG, Cooper J (2003) Population dynamics of wandering albatrosses Diomedea exulans at sub-Antarctic Marion Island: long-line fishing and environmental influences. Afr J Mar Sci 25:503–517

Ryan PG, Bester MN (2008) Pelagic predators. In: Chown SL, Froneman PW (eds) The Prince Edward Islands. Sun PReSS, Stellenbosch, Land-Sea Interactions in a Changing Ecosystem, pp 121–164

Ryan PG, Cuthbert RJ (2008) The biology and conservation status of the Gough Bunting Rowettia goughensis. Bull Br Ornithol Club 128:242–253

Schoombie S (2015) The population status, breeding success and foraging ecology of Phoebetria albatrosses on Marion Island. MSc dissertation. University of Cape Town, Cape Town

Smith VR (2002) Climate change in the sub-Antarctic: an illustration from Marion Island. Clim Change 52:345–357

Taylor RV (2017) The Rodent Situation (Not Your Grandfather's Mouse), Eighteen Months on Midway. Accessed 3 January 2017. Retrieved from https://18-on-midway.blogspot.co.za/2017/01/the-rodent-situation-not-your.html

Wanless RM, Angel A, Cuthbert RJ, Hilton GM, Ryan PG (2007) Can predation by invasive mice drive seabird extinctions? Biol Lett 3:241–244

Wanless RM, Ryan PG, Altwegg R, Angel A, Cooper J, Cuthbert R, Hilton GM (2009) From both sides: dire demographic consequences of carnivorous mice and longlining for the Critically Endangered Tristan albatrosses on Gough Island. Biol Conserv 142:1710–1718

Wanless RM, Ratcliffe N, Angel A, Bowie B, Cita K, Hilton GM, Kritzinger P, Ryan PG, Slabber M (2012) Predation of Atlantic petrel chicks by house mice on Gough Island. Anim Conserv 15:472–479
Acknowledgements
We thank the numerous field assistants who conducted monitoring over the years, recently in particular to Christiaan Brink, Thando Cebekhulu, Ben Dilley, Delia Davies, David Green, Kate Lawrence, Fabrice Le Bouard, Alexis Osborne, Paige Potter, Stefan Schoombie, Janine Schoombie and Kim Stevens. Logistical and financial support was provided by the South African Department of Environmental Affairs, through the South African National Antarctic Programme (SANAP), the National Research Foundation, the University of Cape Town and the Royal Society for the Protection of Birds (RSPB). Long-term monitoring on Gough Island was established with a grant from the UK Foreign and Commonwealth Office with further support over the years from the UK Government's Overseas Territories Environment Programme (OTEP) and Darwin Initiative programme, the RSPB and the Agreement on the Conservation of Albatrosses and Petrels. The Tristan da Cunha Administrator, Island Council and Conservation Department provided permission to work at Gough Island; the Department of Environmental Affairs, South Africa, provided permission, to work on Marion Island.
Ethics declarations
Conflict of interest
The authors declare that they have no conflict of interests.
Ethical approval
Field procedures and animal manipulations were approved by the Animal Ethics Committee of the RSPB and University of Cape Town.
Additional information
Publisher's Note Springer Nature remains neutral with regard to jurisdictional claims in published maps and institutional affiliations.
About this article
Cite this article
Jones, C.W., Risi, M.M., Cleeland, J. et al. First evidence of mouse attacks on adult albatrosses and petrels breeding on sub-Antarctic Marion and Gough Islands. Polar Biol 42, 619–623 (2019). https://doi.org/10.1007/s00300-018-02444-6
Received:

Revised:

Accepted:

Published:

Issue Date:
Keywords
Mus musculus

Eradication

Adult predation

Macronectes halli
Diomedea dabbenena
Thalassarche chlororhynchos