No indication of arthropod-vectored viruses in mosquitoes (Diptera: Culicidae) collected on Greenland and Svalbard
Abstract
Viruses transmitted to vertebrates via arthropod vectors (so-called arboviruses) include many important pathogens such as dengue virus, Zika virus, and Sindbis virus. Mosquitoes represent the major vectors of many of these arboviruses and occur in all climatic zones, including the Arctic. The focal species, Aedes nigripes (Diptera: Culicidae), is the most widely distributed mosquito species in the Arctic. We screened over 11,000 specimens collected between 2012 and 2016 on Greenland (Kangerlussuaq) and Svalbard (Petuniabukta) for the presence of arboviruses which have previously been reported in latitudes up to 70°N. Assays for arbovirus detection using RT-PCR with primers specific for the genera Alphavirus (family Togaviridae), Orthobunyavirus, Phlebovirus (Bunyaviridae), Flavivirus (Flaviviridae), and Orbivirus (Reoviridae) were negative for all specimens. Similar results were recently obtained in a screening focused on tick-borne pathogens on Svalbard. The findings suggest that the circulation of arboviruses at studied localities is currently negligible or nonexistent, possibly due to dispersal, climate, or biotic restrictions. However, global climate change could enhance vector abundance and activity, introduction of invasive host species, and increase in tourism which then could lead to emerging arbovirus outbreaks in the future, with considerable impact on local ecosystems.
Keywords
Aedes nigripes
Mosquitoes 
Arbovirus 
Arctic 
Svalbard 
Greenland 
Introduction
Arthropod-borne viruses (arboviruses) are a group of evolutionarily unrelated viruses sharing a similar ecological niche by being transmitted by arthropod vectors to vertebrate hosts. Numerous arboviruses are important human and veterinary pathogens such as dengue virus, Zika virus, chikungunya virus, tick-borne encephalitis virus, and bluetongue virus (Weaver and Reisen 2010; Hubálek et al. 2014).
Arboviruses have been reported from all continents except Antarctica, including all climatic zones up to 70 °N (McLean 1975) and down to 54 °S (La Linn et al. 2001; Major et al. 2009). Arboviruses from polar regions have been found in numerous hosts with infections remaining asymptomatic or showing a wide range of clinical signs including lethal disease. Antibodies against mosquito-borne viruses have been described in a wide variety of mammals such as ruminants, rodents, lagomorphs, carnivores, and humans, as well as birds (Zarnke et al. 1983; Descamps 2013).
In polar areas, arboviruses are transmitted mainly by ticks and mosquitoes (McLean et al. 1978; Traavik et al. 1978; Deardorff et al. 2013). In the southern hemisphere, arboviruses have been repeatedly detected in ticks from Subantarctic Macquarie Island (Doherty et al. 1975; St George et al. 1985; La Linn et al. 2001; Major et al. 2009) but never in samples from continental Antarctica. In the northern hemisphere, mosquito-borne arboviruses, transmitted mainly by mosquitoes of the genera Culex and Aedes (McLean 1975), have been reported repeatedly. Among these, Snowshoe Hare virus and Jamestown Canyon virus (both California encephalitis serogroup, genus Orthobunyavirus, family Bunyaviridae) have been found in Alaska, Canada, and Arctic Russia (McLean et al. 1977; McLean 1983; Mitchell et al. 1993; Carson et al. 2017). Other bunyaviruses from the California encephalitis serogroup circulating in the Eurasian Arctic are Chatanga virus and Inkoo virus (Vanlandingham et al. 2002; Putkuri et al. 2014, 2016; Tingström et al. 2016). Bunyaviruses from the Bunyamwera serogroup are represented by Northway virus in Arctic North America (Stansfield et al. 1988; Sahu et al. 2002). Various alphaviruses (family Togaviridae), such as Sindbis virus and Getah virus, have also been described in the Arctic and sub-Arctic regions (Walters et al. 1999). Furthermore, antibodies against mosquito-borne flaviviruses such as St. Louis encephalitis virus and West Nile virus have been reported in various vertebrate hosts from Alaska and Canada (Pedersen et al. 2016).
While arboviruses have been documented in many continental polar locations, information about the presence of arboviruses is lacking from Arctic Ocean islands such as Greenland, Iceland, or the Svalbard Archipelago. In addition, the northernmost isolations of arboviruses were made at almost 70°N in Norway (Traavik et al. 1978) and Canada (McLean 1975, 1983) despite the fact that vectors able to transmit arboviruses even occur further north (Coulson and Refseth 2004). Previously, we were not able to detect any tick-borne pathogens in I. uriae samples from Svalbard and Jan Mayen (Elsterova et al. 2015), although these results were based on a limited number of specimens. Given the abundance of mosquitoes in Greenland's and Svalbard's tundra ecosystems and that climate change rapidly alters the distributions of vectors and pathogens (Descamps 2013; Culler et al. 2015), building a baseline dataset of arbovirus occurrence can serve as a reference for future studies and help anticipate any impacts to important natural resources as the Arctic continues to warm up (Overland et al. 2015).
We collected mosquito samples on Svalbard and Greenland to test for the presence and prevalence of arboviruses among the most abundant and widely distributed mosquito in the Arctic, Aedes nigripes (Zetterstedt, 1838). Ae. nigripes is the only mosquito species present in Svalbard and the most prevalent species in Greenland. It is a species with circumpolar distribution and the northernmost occurrence (up to 80°N) of all mosquito species (Coulson and Refseth 2004; Becker et al. 2010). Vector competence of Ae. nigripes for arboviruses is largely unknown. The species has been suggested to transmit Getah virus in Siberia by L'vov et al. (1995). Hubálek et al. (2014) also list Ae. nigripes among the possible vectors of Getah virus in the review of pathogenic arboviruses, but the reference for the primary literature source supporting this statement is lacking. Finally, there is evidence of natural infection of Ae. nigripes by Anadyr virus and Chatanga viruses (unpublished results, from GenBank accession numbers EU616894, FJ956756, FJ956750, GQ355970, GQ340744, HQ734817, HQ734821, HQ734824, GQ330482, FJ913881, KT288281-KT288283, KT313747-KT313752, KT313743).
Methods
Sample collection and storage
Mosquitoes were collected during the summer seasons (July and August) from 2012 to 2016. On Svalbard, mosquitoes were collected at several localities in Petuniabukta (78°41′N 16°32′E), while in Greenland sampling was done around Kangerlussuaq (67°01′N 50°41′W) (Fig. 
1
). Mosquito identification was performed morphologically using the identification key by Becker et al. (
2010
).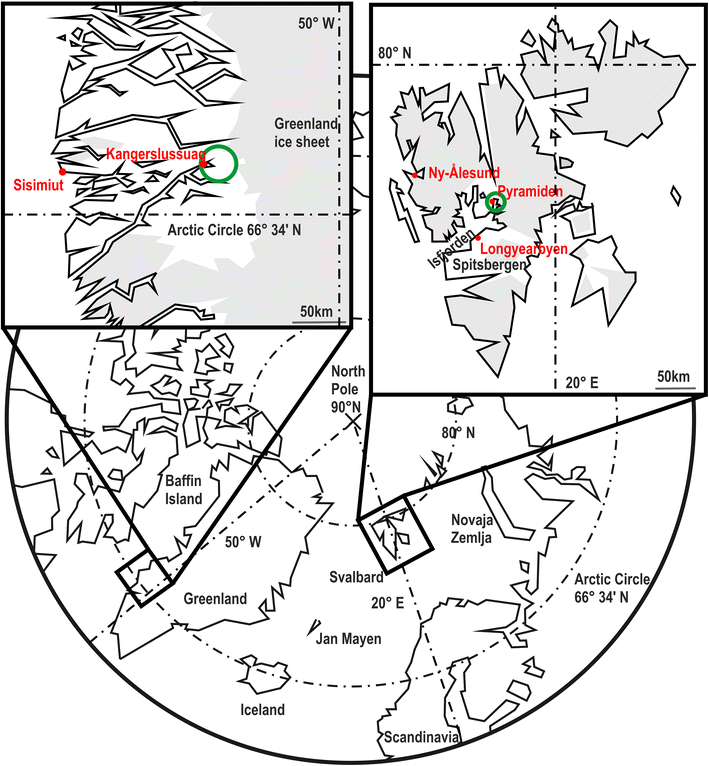 Mosquitoes were pooled in samples of up to 30 individuals according to developmental stage, locality of collection, and day of collection. The collected samples were stored in RNAlater (QIAGEN, Germany) or in a solution of 25 mM sodium citrate, 10 mM EDTA, and 70 g ammonium sulfate/100 ml solution (pH 5.2) which corresponds to the RNAlater composition. The samples were stored on melting ice in the field and frozen to − 80 °C as soon as possible (not later than two weeks after collection).
Nucleic acid isolation
Samples were thawed at 4 °C. Whole mosquito bodies were removed from RNA stabilizing solution, transferred to 1 ml of cooled PBS solution, and homogenized using a TissueLyser II (QIAGEN, Germany). RNA was isolated from 280 µl of homogenate by RNAGem (Zygem, New Zealand) according to the manufacturer's protocol.
RT-PCR detection of mosquito-borne arboviruses
Arbovirus detection was performed by RT-PCR. The RT-PCR reaction was prepared using the KAPA SYBR FAST One-Step qRT-PCR Kit (Kappa Biosystems, USA) according to the manufacturer's protocol. Arbovirus genus-specific primers were selected according to Kuno et al. (
1996
) for the genus
Orthobunyavirus
, Sánchez-Seco et al. (
2001
) for the genus
Alphavirus
, Scaramozzino et al. (
2001
) for the genus
Flavivirus
, Sánchez-Seco et al. (
2003
) for the genus
Phlebovirus,
and Palacios et al. (
2011
) for the genus
Orbivirus
. Primer sequences and length of expected RT-PCR amplicons are listed in Online Resource 1. Tahyna virus, Semliki Forest virus, tick-borne encephalitis virus, Uukuniemi virus, and Tribec virus were used as positive controls for the various genera screened. For the detection of viruses from the genera
Orthobunyavirus, Alphavirus, Flavivirus,
and
Orbivirus
, the amplification program was as follows: 5 min at 42 °C for reverse transcription, 3 min at 95 °C for enzyme activation, 3 s at 95 °C for DNA denaturation, and 1 min at 60 °C for primer annealing and extension. The last two steps were repeated forty times. The protocol for the detection of genomic RNA of viruses of the genus
Phlebovirus
was slightly different: 5 min at 42 °C for reverse transcription, 3 min at 95 °C for enzyme activation, 3 s at 95 °C for DNA denaturation, 20 s at 45 °C for primer annealing, and 1 min at 60 °C for primer annealing and extension. PCR products were analyzed by a SYBR green-stained 2% agarose gel and visualized by UV light. All tested specimens and pools are listed in Table 
1
.
Table 1
List of collected Aedes nigripes specimens
Locality

Year

Larvae

Pupae

Adult females

Total

Individuals

Pools

Individuals

Pools

Individuals

Pools

Individuals

Pools

Greenland, Kangerslussuaq

2013

0

0

0

0

337

15

337

15

2014

0

0

0

0

1829

65

1829

65

Subtotal—Greenland

0

0

0

0

2166

80

2166

80

Svalbard, Petuniabukta

2012

953

36

718

28

378

15

2049

79

2013

0

0

0

0

522

19

522

19

2014

0

0

0

0

2310

81

2310

81

2015

0

0

390

16

1710

60

2100

76

2016

0

0

0

0

1871

67

1871

67

Subtotal—Svalbard

953

36

1108

44

6791

242

8852

322

Total

953

36

1108

44

8957

322

11,018

402
Sequencing
PCR amplicons from positive control and potentially positive samples were purified by the QIAquick PCR Purification Kit (QIAGEN, Germany) and sequenced using the BigDye Terminator v3.1 Cycle Sequencing Kit (Life Technologies, USA) by Biogen PRAHA (Czech Republic).
Results and discussion
We collected over 11,000 mosquito specimens to test for the presence of arboviruses. The collection included 8852 mosquitoes from Svalbard (953 larvae, 1108 pupae, and 6791 adult females) collected during 2012–2016 and 2166 adult mosquito females from Greenland collected in 2013 and 2014 (Table 1). In all cases, they were determined as Ae. nigripes (Diptera: Culicidae). This is in concordance with the previously described geographical distribution of mosquito species on Svalbard (Coulson and Refseth 2004). Similarly, all collected individuals from Greenland were determined to be Ae. nigripes. Aedes impiger is a second species occurring in Greenland but it does not occur in Kangerlussuaq (Jenkins 1956).
We did not detect any of the arboviral genera in our mosquito specimens. This was despite the fact that DNA molecules of the expected amplicon size were produced by RT-PCR in all positive controls, which underwent the same isolation and amplification process as the samples demonstrating that our screening methodology was able to detect the searched viruses.
According to the best of our knowledge and in agreement with our results, there have been no reports of arboviruses from Greenland or Svalbard so far. Our previous search for tick-borne pathogens on tick samples from Svalbard also did not reveal the presence of arboviruses (Elsterova et al. 2015). In general, arbovirus presence in the high Arctic is limited, with the northernmost latitude where arboviruses have been detected being 70°N (McLean 1975; Traavik et al. 1978), which is far south from the collection localities on Svalbard. On the other hand, Kangerlussuaq is located just north of the Arctic Circle, where, according to previous studies, the presence of arboviruses might be expected.
There are five main reasons why arboviruses may be absent from Greenland and Svalbard. First, given that both are islands, it could be that the viruses have just not established due to a lack of mosquito infection sources (infectious hosts). Second, it is possible that the harsh climates in the studied locations do not allow arbovirus circulation due to physiological constraints. Replication of arboviruses in their mosquito hosts is very sensitive to temperature, although Northway virus was shown to be able to replicate in Arctic Aedes mosquitoes even at 4 °C (McLean et al. 1979). Third, arboviruses tend to occur in northern localities within boreal forests, such as in the Yukon Valley and in northern Norway (McLean 1975; Traavik et al. 1978), while the studied localities are within the tundra biome. Fourth, suitable vertebrate hosts may not be present at our studied locations. Although the Arctic hare (Lepus arcticus), a suitable vertebrate host of Northway virus, is present in Greenland (Bennike et al. 1989), it might not belong to the blood host spectrum of Ae. nigripes mosquitoes (Corbet and Downe 1966). More information is needed about the adult feeding preferences of Ae. nigripes mosquitoes in Greenland and Svalbard, which would support testing hypotheses about arbovirus transmission by this species. In addition, the vector competence of Ae. nigripes for the Northway virus is not known. It would be beneficial to evaluate this in the laboratory in the future, as vector incompetence would be equivalent to no transmission risk. Lastly, the prevalence of arboviruses in Arctic mosquitoes can be extremely low. For example, Batai and Getah virus prevalence in Siberia was shown to be as low as 1:24,000 (L'vov et al. 1995). Such rare viruses could be missed in our geographically limited sampling.
In summary, data from the literature as well as the results of our current mosquito and recent tick screening studies show that arboviruses either do not circulate or do at below-detection limits on Greenland and Svalbard. Nevertheless, global climate change is very apparent in the Arctic and could well support an increase in vector abundance and activity due to easier overwintering (Descamps 2013) and faster development (Culler et al. 2015) as well as the invasion of novel blood host species (Yoccoz and Ims 1999; Markova et al. 2016). Growing tourism could also bring about novel mosquito species through human-mediated displacement. Monitoring and surveillance of vectors and associated arboviruses should be a research priority because the introduction of arboviruses into the Arctic could pose an important stressor for local animal populations and significant medical threat for indigenous human populations.
Notes
Acknowledgements
Our thanks belong to the whole team of the Centre of Polar Ecology at the Faculty of Science, University of South Bohemia, for their help and support during the field work, notably to Dr. Josef Elster for the possibility to participate in the field work on Svalbard, to Dr. Václav Pavel, Dr. Jan Kavan, Dr. Alexandra Bernardová, and Martin Lulák for logistic support, and to our laboratory technician Zuzana Vavrušková for her help with benchwork. Our thanks further belong to Dr. Daniel Růžek for the methodological and theoretical guidance of our team. The project was supported by LM2015078 CzechPolar2 - Czech Polar Research Infrastructure and ECOPOLARIS project No. CZ.02.1.01/0.0/0.0/16_013/0001708 provided by the Ministry of Education, Youth and Sports of the Czech Republic. Further, the research was supported by the Czech Grant Agency (GA15-03044S to JM, JC, and LG) and by ECDC & EFSA (funding to HK and DW within the VectorNet project). Funding was provided by Dartmouth's Biology Department (R. Melville Cramer Fund) and a NSF IGERT Fellowship (NSF award 0801490) to LEC. Access to instruments and other facilities was supported by the Czech Research Infrastructure for Systems Biology C4SYS (project no LM2015055).
Copyright information
© Springer-Verlag GmbH Germany, part of Springer Nature 2018