Abstract
Arctic sea ice is rapidly declining in presence, thickness and extent. The consequences that this has for the overall biodiversity in Arctic marine ecosystems are poorly addressed. Especially the so-called sympagic meiofauna, the many tiny organisms living in sea ice, is rarely identified to species level. Here we present the first record of the hydrozoan Sympagohydra tuuli living in sea ice in the Svalbard fjords (European Arctic). Previously, this tiny ice-cnidarian has only been reported from sea ice of Barrow (Alaska), the Canadian Arctic and the central Arctic Ocean. In April 2015, two small hydrozoans were recorded in the landfast sea ice in Van Mijenfjorden (West Spitsbergen). Both of them were preserved in ethanol and one specimen was successfully identified with Sanger sequencing. DNA barcoding confirmed it to be the Protohydridae S. tuuli. Little is known about S. tuuli lifecycle, but its occurrence within the sea ice of seasonal ice-covered fjords in Western Svalbard with no sea-ice connection to the Arctic Ocean strengthens the theory about a sympago-benthic life strategy. We propose that S. tuuli has a pan-Arctic distribution and only spends parts of its life cycle in sea ice.
Access options
Buy single article
Instant access to the full article PDF.
USD 39.95
Price excludes VAT (USA)
Tax calculation will be finalised during checkout.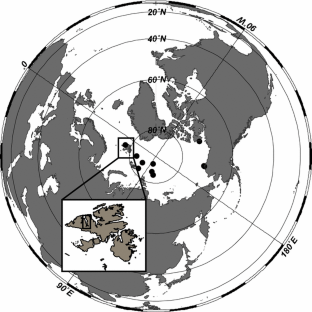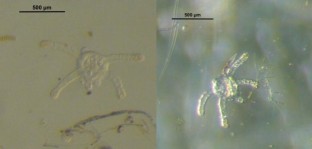 References
Bluhm BA, Gradinger R (2008) Regional variability in food availability for arctic marine mammals. Ecol Appl 18(2):S77–S96

Bluhm BA, Gradinger R, Piraino S (2007) First record of sympagic hydroids (Hydrozoa, Cnidaria) in Arctic coastal fast ice. Polar Biol 30(12):1557–1563

Bluhm BA, Gradinger R, Schnack-Schiel S (2010) Sea ice meio- and macrofauna. In: Thomas DN, Dieckmann GS (eds) Sea ice, 2nd edn. Blackwell, Oxford, pp 357–393

Bozhenova OV, Stepanjants SD, Sheremetevsky AM (1989) The first finding of the meiobenthic cnidaria Boreohydra simplex (Hydrozoa, Athecata) in the White Sea. Zool Zh 68:11–16

Bucklin A, Steinke D, Blanco-Bercial L (2011) DNA barcoding of marine metazoa. Annu Rev Mar Sci 3:471–508. https://doi.org/10.1146/annurev-marine-120308-080950

Carey AG Jr (1985) Marine ice fauna: Arctic. In: Horner RA (ed) Sea ice biota. CRC Press, Boca Raton, pp 173–190

Comiso JC, Parkinson CL, Gersten R, Stock L (2008) Accelerated decline in the Arctic Sea ice cover. Geophys Res Lett. https://doi.org/10.1029/2007GL031972

Cunningham CW, Buss LW (1993) Molecular evidence for multiple episodes of paedomorphosis in the family Hydractiniidae. Biochem Syst Ecol 21:57–69. https://doi.org/10.1016/0305-1978(93)90009-G

Darriba D, Taboada GL, Doallo R, Posada D (2012) jModelTest 2: more models, new heuristics and parallel computing. Nat Methods 9(8):772

Drummond AJ, Ashton B, Buxton S, Cheung M, Cooper A, Duran C, Field M, Heled J, Kearse M, Markowitz S, Moir R, Stones-Havas Sturrock S, Thiere T, Wilson A (2011) Geneious v5.4. Available from http://www.geneious.com/. Accessed 12 Mar 2017

Garrison DL, Buck KR (1986) Organism losses during ice melting: a serious bias in sea ice community studies. Polar Biol 6(4):237–239. https://doi.org/10.1007/BF00443401

Granhag L, Majaneva S, Møller LF (2012) First recordings of the ctenophore Euplokamis sp. (Ctenophora, Cydippida) in Swedish coastal waters and molecular identification of this genus. Aquat Invasions 7:455–463

Guindon S, Gascuel O (2003) A simple, fast and accurate method to estimate large phylogenies by maximum-likelihood. Syst Biol 52:696–704

Heip C, Smol N (1976) On the importance of Protohydra leuckarti as a predator of meiobenthic populations. In: Persoone G, Jaspers E (eds) Proceedings of the 10th European marine biology symposium, 2: population dynamics of marine organisms in relation with nutrient cycling in shallow waters. University Press, Wetteren, pp 285–296

Horner R, Ackley SF, Dieckmann GS, Gulliksen B, Hoshia T, Legendre L, Melnikov IA, Reeburgh WS, Spindler M, Sullivan CW (1992) Ecology of sea ice biota. 1. Habitat, terminology, and methodology. Polar Biol 12(3–4):417–427. https://doi.org/10.1007/BF00243113

Høyland KV (2009) Ice thickness, growth and salinity in Van Mijenfjorden, Svalbard, Norway. Polar Res 28:339–352

Katoh K, Standley DM (2013) MAFFT multiple sequence alignment software version 7: improvements in performance and usability. Mol Biol Evol 30(4):772–780

Katoh K, Misawa K, Kuma K, Miyata T (2002) MAFFT: a novel method for rapid multiple sequence alignment based on fast Fourier transform. Nucleic Acids Res 30:3059–3066

Kiko R, Kern S, Kramer M, Mütze H (2017) Colonization of newly forming Arctic sea ice by meiofauna: a case study for the future Arctic? Polar Biol 40:1277–1288. https://doi.org/10.1007/s00300-016-2052-5

Leu E, Wiktor J, Soreide JE, Berge J, Falk-Petersen S (2010) Increased irradiance reduces food quality of sea ice algae. Mar Ecol Prog Ser 411:49–60

Leu E, Søreide JE, Hessen DO, Falk-Petersen S, Berge J (2011) Consequences of changing sea-ice cover for primary and secondary producers in the European Arctic shelf seas: timing, quantity, and quality. Prog Oceanogr 90(1–4):18–32

Marquardt M, Kramer M, Carnat G, Werner I (2011) Vertical distribution of sympagic meiofauna in sea ice in the Canadian Beaufort Sea. Polar Biol 34(12):1887–1900

Muckenhuber S, Nilsen F, Korosov A, Sandven S (2016) Sea ice cover in Isfjorden and Hornsund, Svalbard (2000–2014) from remote sensing data. TC 10:149–158. https://doi.org/10.5194/tc-10-149-2016

Nilsen F, Skogseth R, Vaadal-Lunde J, Inall M (2016) A simple shelf circulation model—intrusion of Atlantic Water on the West Spitsbergen Shelf. J Phys Oceanogr. https://doi.org/10.1175/JPO-D-15-0058.1

Onarheim IH, Smedsrud LH, Ingvaldsen RB, Nilsen F (2014) Loss of sea ice during winter north of Svalbard. Tellus 66:23933. https://doi.org/10.3402/tellusa.v66.23933

Pavlov AK, Tverberg V, Ivanov BV, Nilsen F, Falk-Petersen S, Granskog MA (2013) Warming of Atlantic Water in two west Spitsbergen fjords over the last century (1912–2009). Polar Res 32:11206. https://doi.org/10.3402/polar.v32i0.11206

Piraino S, Bluhm BA, Gradinger R, Boero F (2008) Sympagohydra tuuli gen. nov. and sp. nov. (Cnidaria: Hydrozoa) a cool hydroid from the Arctic sea ice. J Mar Biol Assoc UK 88:1637–1641

Pitusi V (2016) Seasonal development of ice algal biomass and sympagic meiofauna in Van Mijenfjorden, Southwest Svalbard. Bachelor thesis, Scottish Association for Marine Science, Oban

Ronowicz M, Kukliński P, Mapstone GM (2015) Trends in the diversity, distribution and life history strategy of arctic Hydrozoa (Cnidaria). PLoS ONE 10(3):e0120204. https://doi.org/10.1371/journal.pone.0120204

Ronquist F, Teslenko M, van der Mark P, Ayres DL, Darling A, Höhna S, Larget B, Liu L, Suchard MA, Huelsenbeck JP (2012) MrBayes 3.2: efficient Bayesian phylogenetic inference and model choice across a large model space. Syst Biol 61:539–542

Sanger F, Coulson AR (1975) A rapid method for determining sequences in DNA by primed synthesis with DNA polymerase. J Mol Biol 94(3):441–448. https://doi.org/10.1016/0022-2836(75)90213-2

Schewe I (2001) Small-sized benthic organisms of the Alpha Ridge, central Arctic Ocean. Internat Rev Hydrobiol 86:317–335

Siebert S, Anton-Erxleben F, Kiko R, Kramer M (2009) Sympagohydra tuuli (Cnidaria, Hydrozoa)—first report from sea ice of the central Arctic Ocean and insights into histology, reproduction and locomotion. Mar Biol 156:541–554

Skardhamar J, Svendsen H (2010) Short-term hydrographic variability in a stratified Arctic fjord. Geol Soc Spec Publ 344:51–60

Sommer S, Pfannkuche O (2000) Metazoan meiofauna of the deep Arabian Sea: standing stocks, size spectra and regional variability in relation to monsoon induced enhanced sedimentation regimes of particulate organic matter. Deep-Sea Res II 47:2957–2977

Søreide JE, Leu E, Berge J, Graeve M, Falk-Petersen S (2010) Timing of blooms, algal food quality and Calanus glacialis reproduction and growth in a changing Arctic. Global Change Biol 16(11):3154–3163. https://doi.org/10.1111/j.1365-2486.2010.02175.x

Stroeve J, Serreze M, Holland M, Kay J, Malanik J, Barrett A (2012) The Arctic's rapidly shrinking sea ice cover: a research synthesis. Clim Change 110:1005–1027

Thiel H (1988) Cnidaria. In: Higgins RP, Thiel H (eds) Introduction to the study of meiofauna. Smithsonian Institution Press, Washington, DC, pp 266–272

Zheng L, He J, Lin Y, Cao W, Zhang W (2014) 16S rRNA is a better choice than COI for DNA barcoding hydrozoans in the coastal waters of China. Acta Oceanol Sin 33(4):55–76

Zwickl DJ (2006) Genetic algorithm approaches for the phylogenetic analysis of large biological sequence datasets under the maximum likelihood criterion. Dissertation, The University of Texas, Austin
Acknowledgements
We first of all want to thank the UNIS logistic department and UNIS AB202 students of 2015 for their support in the field. We appreciated the help of Anna Vader and Stuart Thomson in the laboratory. Special thanks to Tove Gabrielsen for providing useful tips about cnidarian barcoding and Stefano Piraino for support on morphology. Furthermore, thanks to Rolf Gradinger and Bodil Bluhm for fruitful discussions on sympagic meiofauna. We want to acknowledge the reviewers comments that helped to improve this manuscript. The study was supported by the Fram Centre incentive fund (project: EcoCice, RiS no. 10612) and the Norwegian Biodiversity Information Centre project GooseAlien (47-15, 70184235 for SM).
Electronic supplementary material
Below is the link to the electronic supplementary material.
About this article
Cite this article
Marquardt, M., Majaneva, S., Pitusi, V. et al. Pan-Arctic distribution of the hydrozoan Sympagohydra tuuli? First record in sea ice from Svalbard (European Arctic). Polar Biol 41, 583–588 (2018). https://doi.org/10.1007/s00300-017-2219-8
Received:

Revised:

Accepted:

Published:

Issue Date:

DOI: https://doi.org/10.1007/s00300-017-2219-8
Keywords