Abstract
We excavated active and abandoned Adélie Penguin (Pygoscelis adeliae) colonies at Seymour Island and Hope Bay, Antarctic Peninsula, to determine an occupation history for this species at these sites. Previous research at Hope Bay has indicated an occupation there since the middle Holocene, based on a sediment record from Lake Boeckella. Excavations revealed only shallow and relatively fresh ornithogenic soils in the active colonies at the two localities. At least 53 abandoned pebble mounds were located at Hope Bay of which nine were excavated and four were sampled by probing to recover organic remains to determine their age. Radiocarbon dating of egg membrane, feather, and bone from both sites revealed a young occupation dating to less than ~600 years after correcting for the marine carbon reservoir effect. The mismatch in the geologic record of Adélie Penguin occupation in the northern Antarctic Peninsula, including Lake Boeckella sediments and geologic deposits and lake sediments on King George Island, with more direct evidence of breeding colonies from ornithogenic soils from active and abandoned colonies is hereby referred to as the 'northern enigma' as it does not occur in other regions of Antarctica including the southern Antarctic Peninsula, East Antarctica, or the Ross Sea, where the penguin record extends to the early to middle Holocene and matches well with the geologic record of deglaciation and penguin occupation. As yet, there is no convincing explanation for the 'northern enigma'.
Access options
Buy single article
Instant access to the full article PDF.
USD 39.95
Price excludes VAT (USA)
Tax calculation will be finalised during checkout.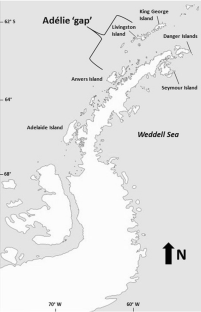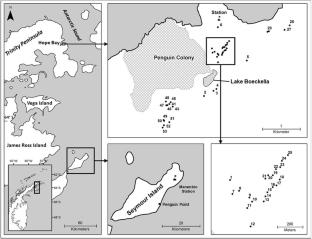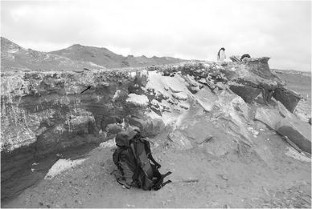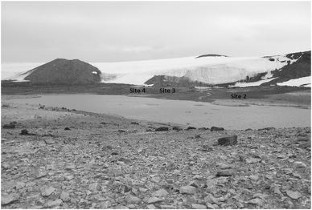 References
Ainley DG (2002) The Adélie penguin: bellwether of climate change. Columbia University Press, New York

Baroni C, Orombelli G (1994) Abandoned penguin colonies as Holocene paleoclimatic indicators in Antarctica. Geology 22:23–26

Björck S, Håkansson H, Zale R, Karlén W, Jönsson BL (1991) A late Holocene lake sediment sequence from Livingston Island, South Shetland Islands, with palaeoclimatic implications. Antarct Sci 3:61–72

Björck S, Hjort C, Ingólfsson Ó, Zale R, Ising J (1996) Holocene deglaciation chronology from lake sediments. In: López-Martínez J, Thomson MRA, Martínez de Pisón E et al (eds) Geomorphological map of Byers Peninsula, Livingston Island. BAS GEOMAP Ser, Sheet 5-A, 1:25000, with supplementary text, pp 49–51

del Valle R, Montalti D, Inbar M (2002) Mid-Holocene macrofossil-bearing raised marine beaches at Potter Peninsula, King George Island, South Shetland Islands. Antarct Sci 14:263–269

Emslie SD (2001) Radiocarbon dates from abandoned penguin colonies in the Antarctic Peninsula region. Antarct Sci 13:289–295

Emslie SD, McDaniel JD (2002) Adélie penguin diet and climate change during the middle to late Holocene in northern Marguerite Bay, Antarctic Peninsula. Polar Biol 25:222–229

Emslie SD, Woehler EJ (2005) A 9000-year record of Adélie Penguin occupation and diet in the Windmill Islands, East Antarctica. Antarct Sci 17:56–66

Emslie SD, Ritchie P, Lambert D (2003) Late-Holocene penguin occupation and diet at King George Island, Antarctic Peninsula. In: Domack E, Leventer A, Burnett A, Bindschadler R, Convey P, Kirby M (eds) Antarctic peninsula climate variability. Antarctic Research Series 79. American Geophysical Union, Washington, DC, pp 171–180

Emslie SD, Coats L, Licht K (2007) A 45000-year record of Adélie Penguins and climate change in the Ross Sea, Antarctica. Geology 35:61–64

Emslie SD, Baumann K, van Tuinen M (2011) Late Holocene occupation of Gentoo Penguins (Pygoscelis papua) at Byers Peninsula, Livingston Island, Antarctica. Polar Biol 34:283–290

Emslie SD, Polito MJ, Patterson WP (2013) Stable isotope analysis of ancient and modern gentoo penguin egg membrane and the krill surplus hypothesis in Antarctica. Antarct Sci 25:213–218

Emslie SD, Polito MJ, Brasso R, Patterson WP, Sun L (2014) Ornithogenic soils and the paleoecology of pygoscelid penguins in Antarctica. Quat Int 352:4–15

Harris CM (ed) (2006) Wildlife awareness manual: Antarctic Peninsula, South Shetland Islands, South Orkney Islands. Wildlife Information Publication No. 1. Environmental Research & Assessment, Cambridge

Ingólfsson Ó (2003) Glacial and climate history of the Antarctic Peninsula since the Last Glacial Maximum. Arct Antarct Alp Res 35:175–186

Liu X, Sun L, Xie Z, Yin X, Wang Y (2005) A 1300-year record of penguin populations at Ardley Island in the Antarctic, as deduced from the geochemical data in the ornithogenic lake sediments. Arct Antarct Alp Res 37:490–498

Polito MJ, Lynch HJ, Naveen R, Emslie SD (2011) Stable isotopes reveal regional heterogeneity in the pre-breeding distribution and diets of sympatrically breeding Pygoscelis penguins. Mar Ecol Prog Ser 421:265–277

Roberts SJ et al (2017) Past penguin colony responses to explosive volcanism on the Antarctic Peninsula. Nat Commun. doi:10.1038/ncomms14914

Stuiver M, Reimer PJ (1993) Extended 14C database and revised Calib 3.0 14C age calibration program. Radiocarbon 35:215–230

Sun L, Xie Z, Zhao J (2000) A 3,000-year record of penguin populations. Nature 407:858

Sun L, Zhu R, Yin X, Liu X, Xie Z, Wang Y (2004) A geochemical method for the reconstruction of the occupation history of a penguin colony in the maritime Antarctic. Polar Biol 27:670–678

Tatur A (1989) Ornithogenic soils of the maritime Antarctic. Pol Polar Res 10:481–532

Tatur A, Myrcha A, Fabiszewski J, Niegodzisz J (1997) Formation of abandoned penguin colony ecosystems in maritime Antarctic. Polar Biol 17:405–417

Wang J, Wang Y, Wang X, Sun L (2007) Penguins and vegetations on Ardley Island, Antarctica: evolution in the past 2,400 years. Polar Biol 30:1475–1481

Woehler EJ (1993) The distribution and abundance of Antarctic and subantarctic penguins. Scientific Committee on Antarctic Research, Cambridge

Zale R (1994) Changes in size of the Hope Bay Adélie penguin rookery as inferred from Lake Boeckella sediment. Ecography 17:297–304
Acknowledgements
This research was funded by NSF Grants ANT-0739575 and 1443585. We thank Nestor Coria and the Instituto Antártico Argentino for their support for the field component of this study, as well as personnel at Marambio and Esperanza Stations. K. Newtoff assisted with completing Fig. 2. M. Polito provided information on new radiocarbon dates at the Danger Islands.
About this article
Cite this article
Emslie, S.D., McKenzie, A., Marti, L.J. et al. Recent occupation by Adélie Penguins (Pygoscelis adeliae) at Hope Bay and Seymour Island and the 'northern enigma' in the Antarctic Peninsula. Polar Biol 41, 71–77 (2018). https://doi.org/10.1007/s00300-017-2170-8
Received:

Revised:

Accepted:

Published:

Issue Date:

DOI: https://doi.org/10.1007/s00300-017-2170-8
Keywords
Adélie Penguin

Occupation history

Ornithogenic soils

Hope Bay

Seymour Island