Abstract
The ivory gull (Pagophila eburnea) is a high-Arctic species considered endangered in most parts of its breeding range. Ivory gulls must cope with not only the reduction in sea ice cover triggered by climate change but also increasing contaminant loads due to changes in global contaminant pathways and the release of previously stored pollutants from melting snow and ice. This top predator may be affected by biomagnification processes of a variety of compounds with concentrations dramatically increasing from water to higher trophic levels. The objective of this study was therefore to assess the contaminant bioaccumulation of this species in four colonies located on Barentsøya, Svalbard, in link with its trophic behaviour. To that end, contaminants, including organochlorines (OCs), brominated flame retardants (BFRs), and perfluorinated alkyl substances (PFASs), were determined in the blood (plasma and whole blood) of ivory gulls sampled over several years. Carbon- and nitrogen-stable isotopes were also determined in different tissues (feathers, plasma and red blood cells, or whole blood) to infer the trophic level (δ15N) and feeding habitat (δ13C) during both the breeding and moulting periods. The most quantitatively abundant contaminants found in the ivory gull were p,p′-DDE (dichlorodiphenyldichloroethylene), ΣPCB (polychlorobiphenyl), and PFOS (perfluorooctane sulphonate). Several compounds including most of the PFASs, trans-nonachlor, cis-nonachlor, and BDE-28 were correlated with nitrogen values. This study highlighted variability in trophic behaviour among individuals during the breeding and the moulting periods. Overall, similar feeding habitats and strategies were used between breeding sites which was echoed by similar contaminant levels.
Access options
Buy single article
Instant access to the full article PDF.
USD 39.95
Price excludes VAT (USA)
Tax calculation will be finalised during checkout.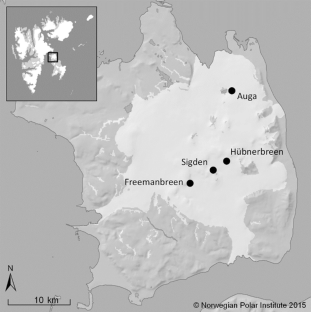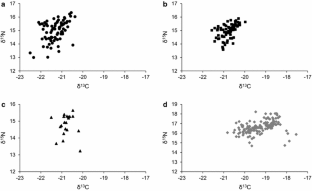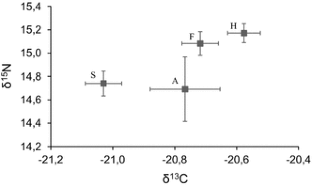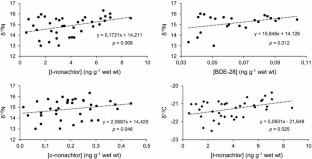 References
ACIA (2004) Impacts of a warming arctic: arctic climate impact assessment. Cambridge University Press, Cambridge

Bond AL, Hobson KA, Branfireun BA (2015) Rapidly increasing methyl mercury in endangered Ivory Gull (Pagophila eburnea) feathers over a 130 year record. Proc R Soc B 282:20150032

Borgå K, Fisk AT, Hoekstra PF, Muir DCG (2004) Biological and chemical factors of importance in the bioaccumulation and trophic transfer of persistent organochlorine contaminants in Arctic marine food webs. Environ Toxicol Chem 23:2367–2385

Bourgeon S, Leat EHK, Magnusdóttir E, Fisk AT, Furness RW, Strøm H, Hanssen SA, Petersen Æ, Olafsdòttir K, Borgå K, Gabrielsen GW, Bustnes JO (2012) Individual variation in biomarkers of health: influence of persistent organic pollutants in Great Skuas (Stercorarius skua) breeding at different geographical locations. Environ Res 118:31–39

Bourne WRP, Bogan JA (1972) Polychlorinated biphenyls in North Atlantic seabirds. Mar Pollut Bull 3:171–175

Braune BM, Mallory ML, Gilchrist HG, Letcher RJ, Drouillard KG (2007) Levels and trends of organochlorines and brominated flame retardants in Ivory Gull eggs from the Canadian Arctic, 1976 to 2004. Sci Total Environ 378:403–417

Bustnes JO, Bakken V, Erikstad KE, Mehlum F, Skaare JU (2001) Patterns of incubation and nest-site attentiveness in relation to organochlorine (PCB) contamination in Glaucous Gulls. J Appl Ecol 38:791–801

Butt CM, Berger U, Bossi R, Tomy GT (2010) Levels and trends of poly- and perfluorinated compounds in the arctic environment. Sci Total Environ 408:2936–2965

Covaci A, Harrad S, Abdallah MAE, Ali N, Law RJ, Herzke D, de Wit CA (2011) Novel brominated flame retardants: a review of their analysis, environmental fate and behavior. Environ Int 37:532–556

Dawson A (2000) Mechanisms of endocrine disruption with particular reference to occurrence in avian wildlife: a review. Ecotoxicology 9:59–69

de Wit CA, Fisk A, Hobbs K, Muir D, Gabrielsen G, Kallenborn R, Krahn M, Norstrom R, Skaare J (2004) AMAP Assessment 2002: Persistent Organic Pollutants in the Arctic. Arctic Monitoring and Assessment Program, Oslo

de Wit CA, Herzke D, Vorkamp K (2010) Brominated flame retardants in the Arctic environment-Trends and new candidates. Sci Total Environ 408:2885–2918

Divoky GJ (1976) The pelagic feeding habits of Ivory and Ross' Gulls. Condor 78:85–90

Ehresman DJ, Froehlich JW, Olsen GW, Chang SC, Butenhoff JL (2007) Comparison of human whole blood, plasma, and serum matrices for the determination of perfluorooctanesulfonate (PFOS), perfluorooctanoate (PFOA), and other fluorochemicals. Environ Res 103:176–184

Gabrielsen GW, Skaare JU, Polder A, Bakken V (1995) Chlorinated hydrocarbons in Glaucous Gulls (Larus hyperboreus) in the southern part of Svalbard. Sci Total Environ 160–161:337–346

Gilchrist GH, Mallory ML (2005) Declines in abundance and distribution of the Ivory Gull (Pagophila eburnea) in Arctic Canada. Biol Conversat 121:303–309

Gilg O, Strøm H, Aebischer A, Gavrilo MV, Volkov AE, Miljeteig C, Sabard B (2010) Post-breeding movements of northeast Atlantic Ivory Gull Pagophila eburnea populations. J Avian Biol 41:532–542

Goutte A, Barbraud C, Meillère A, Carravieri A, Bustamante P, Labadie P, Budzinski H, Delord K, Cherel Y, Weimeskirch H, Chastel O (2014a) Demographic consequences of heavy metals and persistent organic pollutants in a vulnerable long-lived bird, the Wandering Albatross. Proc R Soc B 281:20133313

Goutte A, Bustamante P, Barbraud C, Delord K, Weimeskirch H, Chastel O (2014b) Demographic responses to mercury exposure in two closely-related Antarctic top predators. Ecology 95:1075–1086

Goutte A, Angelier F, Bech C, Clément-Chastel C, Dell'Omo G, Gabrielsen GW, Lendvai AZ, Børge M, Noreen E, Pinaud D, Tartu S, Chastel O (2014c) Annual variation in the timing of breeding, pre-breeding foraging areas and corticosterone levels in an Arctic population of Black-legged Kittiwakes. Mar Ecol Prog Ser 496:233–247

Hanssen L (2013) Partition of perfluoroalkyl substances (PFASs) in whole blood and plasma, assessed in maternal and umbilical cord samples from inhabitants of arctic Russia and Uzbekistan. Sci Total Environ 447:430–437

Haukås M, Berger U, Hop H, Gulliksen B, Gabrielsen GW (2007) Bioaccumulation of per- and polyfluorinated alkyl substances (PFAS) in selected species from the Barents Sea food web. Environ Pollut 148:360–371

Herzke D, Nygård T, Berger U, Huber S, Røv N (2009) Perfluorinated and other persistent halogenated organic compounds in European Shag (Phalacrocorax aristotelis) and Common Eider (Somateria mollissima) from Norway: a suburban to remote pollutant gradient. Sci Total Environ 408:340–348

Hobson KA (1995) Reconstructing avian diets using stable-carbon and nitrogen isotope analysis of egg components: patterns of isotopic fractionation and turnover. Condor 97:752–762

Hobson KA, Clark RG (1993) Turnover of d13C in cellular and plasma fractions of blood: implications for non-destructive sampling in avian dietary studies. Auk 110:638–641

Hobson KA, Piatt JF, Pitocchelli J (1994) Using stable isotopes to determine seabird trophic relationships. J Anim Ecol 63:786–798

Hobson KA, Fisk A, Karnovsky N, Holst M, Gagnon JM, Fortier M (2002) A stable isotope (δ13C, δ15N) model for the North Water food web: implications for evaluating trophodynamics and the flow of energy and contaminants. Deep-Sea Res Part II 49:5131–5150

Hoegh-Guldberg O, Bruno JF (2010) The impact of climate change on the world's marine ecosystems. Science 328:1523–1528

Holmström KE, Berger U (2008) Tissue distribution of perfluorinated surfactants in Common Guillemot (Uria aalge) from the Baltic Sea. Environ Sci Technol 42:5879–5884

Hop H, Borgå K, Gabrielson GW, Kleivane L, Skaare JU (2002) Food web magnification of persistent organic pollutants in poikilotherms and homeotherms from the Barents Sea. Environ Sci Technol 36:2589–2597

Howell SNG (2001) Molt of the Ivory Gull. Waterbirds 24:438–442

Jardine TD, Kidd KA, Fisk AT (2006) Applications, considerations, and sources of uncertainty when using stable isotope analysis in ecotoxicology. Environ Sci Technol 40:7501–7511

Jones PD, Hu W, de Coen W, Newsted JL, Giesy JP (2003) Binding of perfluorinated fatty acids to serum proteins. Environ Toxicol Chem 22:2639–2649

Karnovsky NJ, Hobson KA, Brown ZW, Hunt GL Jr (2009) Distribution and diet of Ivory Gulls (Pagophila eburnea) in the North Water Polynya. Arctic 62:65–74

Keith JO, Mitchell CA (1993) Effects of DDE and food stress on reproduction and body condition of ringed turtle doves. Arch Environ Contam Toxicol 25:192–203

Leat EHK, Bourgeon S, Magnusdottir E, Gabrielsen GW, Grecian WJ, Hanssen SA, Olafsdottir K, Petersen A, Phillips RA, Strøm H, Ellis S, Fisk AT, Bustnes JO, Furness RW, Borgå K (2013) Influence of wintering area on persistent organic pollutants in a breeding migratory seabird. Mar Ecol Prog Ser 491:277–293

Lei R, Xie H, Wang J, Leppäranta M, Jónsdóttir I, Zhang Z (2015) Changes in sea ice conditions along the Arctic Northeast Passage from 1979 to 2012. Cold Reg Sci Technol 119:132–144

Leslie HA, Thomsen C, Brandsma S, Van Velzen M, Leonards PEG, de Boer J (2007) Decabromodiphenylether in human whole blood and serum. Proceedings of the BFR, Amsterdam

Lucia M, Verboven N, Strøm H, Miljeteig C, Gavrilo MV, Braune BM, Boertmann D, Gabrielsen GW (2015) Circumpolar contamination in eggs of the high-arctic Ivory Gull Pagophila eburnea. Environ Toxicol Chem 34:1552–1561

Macdonald RW, Harner T, Fyfe J (2005) Recent climate change in the Arctic and its impact on contaminant pathways and interpretation of temporal trend data. Sci Total Environ 342:5–86

Martin JW, Smithwick MM, Braune BM, Hoekstra PF, Muir DCG, Mabury SA (2004) Identification of long-chain perfluorinated acids in biota from the Canadian Arctic. Environ Sci Technol 38:373–380

McArthur MLB, Fox GA, Peakall DB, Philogéne BJR (1983) Ecological significance of behavioral and hormonal abnormalities in breeding ring doves fed an organochlorine chemical mixture. Arch Environ Contam Toxicol 12:343–353

Mehlum F (1990) Seabird distribution in the northern Barents Sea marginal ice-zone during late summer. Polar Res 8:61–65

Mehlum F, Gabrielsen GW (1993) The diet of High-Arctic seabirds in coastal and ice-covered, pelagic areas near the Svalbard archipelago. Polar Res 12:1–20

Miljeteig C, Strøm H, Gavrilo MV, Volkov A, Jenssen BM, Gabrielsen GW (2009) High levels of contaminants in Ivory Gull Pagophila eburnea eggs from the Russian and Norwegian Arctic. Environ Sci Technol 43:5521–5528

Newsted JL, Coady KK, Beach SA, Butenhoff JL, Gallagher S, Giesy JP (2007) Effects of perfluorooctane sulfonate on Mallard and Northern Bobwhite Quail exposed chronically via the diet. Environ Toxicol Pharmacol 23:1–9

Peakall DB (1985) Behavioral responses of birds to pesticides and other contaminants. Residue Rev 96:45–77

Pellerin Plourde S, Moreau R, Letcher RJ, Verreault J (2013) Is the bone tissue of Ring-billed Gulls breeding in a pollution hotspot in the St. Lawrence River, Canada, impacted by halogenated flame retardant exposure? Chemosphere 93:2333–2340

Powley CR, George SW, Ryan TW, Buck RC (2005) Matrix effect-free analytical methods for determination of perfluorinated carboxylic acids in environmental matrixes. Anal Chem 77:6353–6358

Renner R (2000) What fate for bromimated fire retardants? Environ Sci Technol 34:222A–226A

Roscales JL, Muñoz-Arnanz J, González-Solis J, Jiménez B (2010) Geographical PCB and DDT patterns in Shearwaters (Calonectris sp.) breeding across the NE Atlantic and the Mediterranean archipelagos. Environ Sci Technol 44:2328–2334

Spencer NC, Gilchrist HG, Mallory ML (2014) Annual Movement Patterns of Endangered Ivory Gulls: the Importance of Sea Ice. PLoS ONE 9:e115231

Thibodeaux JR, Hanson RG, Rogers JM, Grey BE, Barbee BD, Richards JH, Butenhoff JL, Stevenson LA, Lau C (2003) Exposure to perfluorooctane sulfonate during pregnancy in rat and mouse. I: maternal and prenatal evaluations. J Toxicol Sci 74:369–381

Tomy GT, Budakowsky W, Halldorson T, Helm PA, Stern GA, Friesen K, Pepper K, Tittlemier SA, Fisk AT (2004) Fluorinated organic compounds in an eastern Arctic marine food web. Environ Sci Technol 38:6475–6481

Vanden Heuvel JP, Thompson JT, Frame SR, Gillies PJ (2006) Differential activation of nuclear receptors by perfluorinated fatty acid analogs and natural fatty acids: a comparison of human, mouse, and rat peroxisome proliferator-activated receptor-α, -β, and - γ, liver X receptor-β, and retinoid X receptor-α. Toxicol Sci 92:476–489

Verreault J, Skaare JU, Jenssen BM, Gabrielsen GW (2004) Effects of organochlorine contaminants on thyroid hormone levels in Arctic breeding Glaucous Gulls, Larus hyperboreus. Environ Health Perspect 112:532–537

Verreault J, Houde M, Gabrielsen GW, Berger U, Haukås M, Letcher RJ, Muir DCG (2005) Perfluorinated alkyl substances in plasma, liver, brain, and eggs of Glaucous Gulls (Larus hyperboreus) from the Norwegian Arctic. Environ Sci Technol 39:7439–7445

Verreault J, Gebbink WA, Gauthier LT, Gabrielsen GW, Letcher RJ (2007) Brominated flame retardants in Glaucous Gulls form the Norwegian Arctic: more than just an issue of polybrominated diphenyl ethers. Environ Sci Technol 41:4925–4931

Volz SA, Johnston JJ, Griffin DL (2001) Solid phase extraction gas chromatography/electron capture detector method for the determination of organochlorine pesticides in wildlife whole blood. J Agric Food Chem 49:2741–2745

Wassmann P, Reigstad M, Haug T, Rudels B, Carroll ML, Hop H, Gabrielsen GW, Falk-Petersen S, Denisenko SG, Arashkevich E, Slagstad D, Pavlova O (2006) Food web and carbon flux in the Barents Sea. Prog Oceanogr 71:232–287

Watanabe I, Sakai S (2003) Environmental release and behavior of brominated flame retardants. Environ Int 29:665–682
Acknowledgments
The authors wish to thank the European Commission for its financial support through a Marie Curie fellowship to M. Lucia, as well as Gael Guillou from the "plateforme analyses isotopiques" (UMR LIENSs) for technical support during stable isotope analyses. We thank Linda Hanssen and Arntraut Götsch (NILU) for their assitance with the chemical analyses. We also thank Birgit Braune for her help with English. The fieldwork was supported by the Norwegian Polar Institute's centre for Ice, Climate and Ecosystems (ICE) and the SEAPOP program (seapop.no). Thanks to Vidar Bakken, Audun Igesund, Cecilie Miljeteig, Knut Olsen, Maria Gavrilo, Olivier Gilg and Odd Kindberg for help in the field.
Electronic supplementary material
Below is the link to the electronic supplementary material.
About this article
Cite this article
Lucia, M., Strøm, H., Bustamante, P. et al. Contamination of ivory gulls (Pagophila eburnea) at four colonies in Svalbard in relation to their trophic behaviour. Polar Biol 40, 917–929 (2017). https://doi.org/10.1007/s00300-016-2018-7
Received:

Revised:

Accepted:

Published:

Issue Date:

DOI: https://doi.org/10.1007/s00300-016-2018-7
Keywords