Abstract
The polar night in the Arctic is characterized by up to six months of darkness, low temperatures and limited food availability. Biological data on species composition and abundance during this period are scarce due to the logistical challenges posed when sampling these regions. Here, we characterize the plankton community composition during the polar night using water samplers and zooplankton net samples (50, 64, 200, 1500 μm), supplemented by acoustics (ADCPs, 300 kHz), to address a previously unresolved question–which species of zooplankton perform diel vertical migration during the polar night? The protist community (smallest plankton fraction) was mainly represented by ciliates (Strombidiida). In the larger zooplankton fractions (50, 64, 200 μm) the species composition was represented primarily by copepod nauplii and small copepods (e.g., Microcalanus spp., Pseudocalanus spp. and Oithona similis). In the largest zooplankton fraction (>1500 μm), the euphausiid, Thysanoessa inermis, was the most abundant species followed by the chaetognath Parasagitta elegans. Classical DVM was not observed throughout the darkest parts of the polar night (November–mid-January), although, subtle vertical migration patterns were detected in the acoustic data. With the occurrence of a more distinct day–night cycle (i.e., end of January), acoustical DVM signals were observed, paralleled by a classical DVM pattern in February in the largest fractions of zooplankton net samples. We suggest that Thysanoessa spp. are main responsible for the acoustical migration patterns throughout the polar night, although, chaetognaths and copepods may be co-responsible.
Access options
Buy single article
Instant access to the full article PDF.
US$ 39.95
Tax calculation will be finalised during checkout.
Subscribe to journal
Immediate online access to all issues from 2019. Subscription will auto renew annually.
US$ 119
Tax calculation will be finalised during checkout.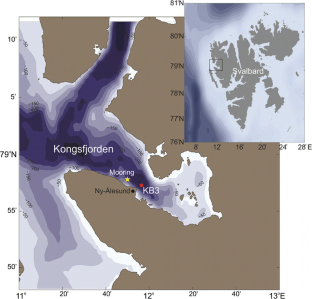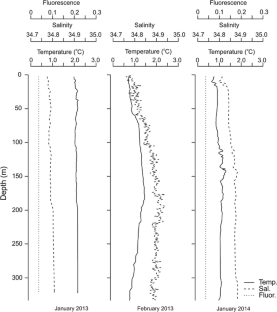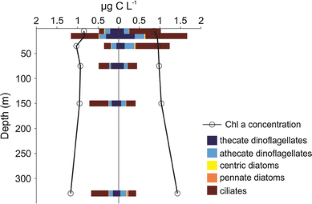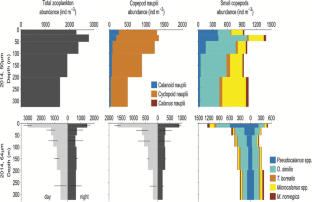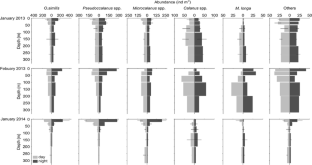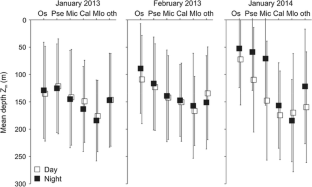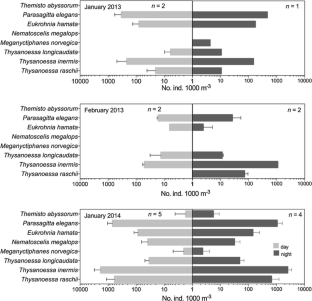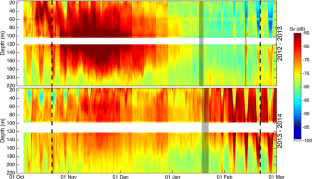 References
Agersted MD, Nielsen TG, Munk P et al (2011) The functional biology and trophic role of krill (Thysanoessa raschii) in a Greenlandic fjord. Mar Biol 158:1387–1402

Ashjian CJ, Campbell RG, Welch HE, Butler M, Van Keuren D (2003) Annual cycle in abundance, distribution, and size in relation to hydrography of important copepod species in the western Arctic Ocean. Deep-Sea Res I 50:1235–1261

Auel H, Klages M, Werner I (2003) Respiration and lipid content of the Arctic copepod Calanus hyperboreus overwintering 1 m above the seafloor at 2300 m water depth in the Fram Strait. Mar Biol 143:275–282. doi:10.1007/s00227-003-1061-4

Båmstedt U, Karlson K (1998) Euphausiid predation on copepods in coastal water of the Northeast Atlantic. Mar Ecol Prog Ser 172:149–168

Båtnes A, Miljeteig C, Berge J, Greenacre M, Johnsen G (2013) Quantifying the light sensitivity of Calanus spp. during the polar night: potential for orchestrated migrations conducted by ambient light from the sun, moon, or aurora borealis? Polar Biol 38:51–65

Berge J, Cottier F, Last KS, Varpe Ø, Leu E, Søreide J, Eiane K, Falk-Petersen S (2009) Diel vertical migration of Arctic zooplankton during the polar night. Biol Lett 5:69–72

Berge J, Cottier F, Varpe Ø, Renaud PE, Falk-Petersen S, Kwasniewski S, Griffiths C, Søreide JE et al. (2014) Arctic complexity: a case study on diel vertical migration of zooplankton. J Plankton Res 36:1279–1297

Berge J, Cottier F, Darnis G, Falk-Petersen S, Gabrielsen T, Johnsen G, Last K, Leu E et al (2015a) In the dark: a review of ecosystem processes during the Arctic polar night. Curr Biol 25:1–7

Berge J, Daase M, Renaud PE, Ambrose WG, Darnis G, Last KS, Leu E, Cohen J et al (2015b) Unexpected levels of biological activity during the polar night offers new perspectives on a warming Arctic. Curr Biol. doi:10.1016/j.cub.2015.08.024

Berge et al (2015c) First records of Atlantic Mackerel (Scomber scombrus) from the Svalbard Archipelago, Norway, with possible explanations for the extension of its distribution. Arctic 68:54–61

Blachowiak-Samolyk K, Kwasniewski S, Richardson K, Dmoch K, Hansen E, Hop H, Falk-Petersen S, Mouritsen LT (2006) Arctic zooplankton do not perform diel vertical migration (DVM) during periods of midnight sun. Mar Ecol Prog Ser 308:101–116

Błachowiak-Samołyk K, Wiktor JM, Hegseth EN, Wold A, Falk-Petersen S, Kubiszyn AM (2015) Winter tales: the dark side of planktonic life. Polar Biol 38:23–36

Bollens SM, Frost BW (1989) Predator induced diel vertical migration in a planktonic copepod. J Plankton Res 11:1047–1065

Brierley AS (2014) Diel vertical migration. Curr Biol 24:R1074–R1076

Buchholz F, Buchholz C, Weslawski JM (2010) Ten years after: krill as indicator of changes in the macro-zooplankton communities of two Arctic fjords. Polar Biol 33:101–113

Cisewski B, Strass VH, Rhein M, Kraegefsky S (2010) Seasonal variation of diel vertical migration of zooplankton from ADCP backscatter time series data in the Lazarev Sea, Antarctica. Deep-Sea Res 57:78–94

Cleary AC, Durbin EG, Rynearson TA (2012) Krill feeding on sediment in the Gulf of Maine (North Atlantic). Mar Ecol Prog Ser 455:157–172

Cohen JH, Berge J, Moline MA, Sørensen AJ, Last K, Falk-Petersen S, Renaud P, Leu E et al (2015) Is ambient light during the high Arctic polar night sufficient to act as a visual cue for zooplankton? PLoS One. doi:10.1371/journal.pone.0126247

Conover RJ, Huntley M (1991) Copepods in ice-covered seas distribution, adaptations to seasonally limited food, metabolism, growth patterns and life-cycle strategies in polar seas. J Marine Syst 2:1–41

Cottier FR, Tarling GA, Wold A et al (2006) Unsynchronized and synchronized vertical migration of zooplankton in a high arctic fjord. Limnol Oceanogr 51:2586–2599

Cottier FR, Nilsen F, Inall ME, Gerland S, Tverberg V, Svendsen H (2007) Winter-time warming of Arctic shelves in response to large-scale atmospheric circulation. Geophys Res Lett. doi:10.1029/2007GL029948

Daase M, Eiane K, Aksnes DL et al (2008) Vertical distribution of Calanus spp. and Metridia longa at four Arctic locations. Mar Biol Res 4:193–207

Dagg M (1977) Some effects of patchy food environments on copepods. Limnol Oceanogr 22:99–107

Darnis G, Fortier L (2012) Zooplankton respiration and the export of carbon at depth in the Amundsen Gulf (Arctic Ocean). J Geophys Res. doi:10.1029/2011JC007374

Darnis G, Fortier L (2014) Temperature, food and the seasonal vertical migration of key arctic copepods in the thermally stratified Amundsen Gulf (Beaufort Sea, Arctic Ocean). J Plankton Res. doi:10.1093/plankt/fbu03

Darnis G, Barber DG, Fortier L (2008) Sea ice and the onshore-offshore gradient in pre-winter zooplankton assemblages in southeastern Beaufort Sea. J Marine Syst 74:994–1011

Darnis G, Robert D, Pomerleau C et al (2012) Current state and trends in Canadian Arctic marine ecosystems: II. Heterotrophic food web, pelagic-benthic coupling, and biodiversity. Clim Change 115:179–205

De Robertis A (2002) Size-dependent visual predation risk and the timing of vertical migration: an optimization model. Limnol Oceanogr 47:925–933

Deines KL (1999) Backscatter estimation using Broadband acoustic Doppler current profilers. Proceedings of the IEEE Sixth Working Conference on Current Measurement (Cat. No.99CH36331). IEEE: 249–253

Dilling L, Wilson J, Steinberg D, Alldredge A (1998) Feeding by the euphausiid Euphausia pacifica and the copepod Calanus pacificus on marine snow. Mar Ecol Prog Ser 170:89–201

Eriksen E, Dalpadado P (2011) Long-term changes in krill biomass and distribution in the Barents Sea: are the changes mainly related to capelin stock size and temperature conditions? Polar Biol 34:1399–1409

Falk-Petersen S, Hopkins CCE (1981) Zooplankton sound scattering layers in North Norwegian Fjords: interactions between fish and krill shoals in a winter situation in Ullsfjorden and Øksfjorden. Kieler Meeresforsch, Sonderh, pp 191–201

Falk-Petersen S, Hagen W, Kattner G, Clarke A, Sargent J (2000) Lipids, trophic relationships, and biodiversity in Arctic and Antarctic krill. Can J Fish Aquat Sci 57:178–191

Falk-Petersen S, Leu E, Berge J, Kwasniewski S, Nygård E, Røstad A, Keskinen E, Thormar J, von Quillfeldt C, Wold A, Gulliksen G (2008) Vertical migration in high Arctic waters during autumn 2004. Deep-Sea Res II 55:2275–2284

Fielding S, Griffiths G, Roe HSJ (2004) The biological validation of ADCP acoustic backscatter through direct comparison with net samples and model predictions based on acoustic-scattering models. ICES J Mar Sci 61:184–200

Fischer J, Visbeck M (1993) Seasonal variation of the daily zooplankton migration in the Greenland Sea. Deep-Sea Res 40:1547–1557

Fortier M, Fortier L, Hattori H, Saito H, Legendre L (2001) Visual predators and the diel vertical migration of copepods under Arctic sea ice during the midnight sun. J Plankton Res 23:1263–1278

Forward RB (1988) Diel vertical migration: zooplankton photobiology and behaviour. Oceanogr Mar Biol 26:361–393

Frost BW, Bollens SM (1992) Variability of diel vertical migration in the marine planktonic copepod Pseudocalanus newmani in relation to its predators. Can J Fish Aquat Sci 49:1137–1141

Gaten E, Tarling G, Dowse H, Kyriacou CP, Rosato E (2008) Is vertical migration in Antarctic krill (Euphausia superba) influenced by an underlying circadian rhythm? J Genet 87:473–483

Grigor JJ, Søreide JE, Varpe Ø (2015) Seasonal ecology and life-history strategy of the high-latitude predatory zooplankter Parasagitta elegans. Mar Ecol Prog Ser 499:77–88

Hagen W, Auel H (2001) Seasonal adaptations and the role of lipids in oceanic zooplankton. Zool-Anal Complex Syst 104:313–326

Hansen B, Bjørnsen PK, Hansen PJ (1994) The size ratio between planktonic predators and their prey. Limnol Oceanogr 39:395–403

Hays GC (2003) A review of the adaptive significance and ecosystem consequences of zooplankton diel vertical migrations. Hydrobiologia 503:163–170

Heath M, Boyle P, Gislason A, Gurney W, Hay S, Head E, Holmes S, Ingvarsdóttir A, Jónasdóttir S, Lindeque P, Pollard R, Rasmussen J, Richards K, Richardson K, Smerdon G, Speirs D (2004) Comparative ecology of the over-wintering Calanus finmarchicus in the northern North Atlantic, and implications for life-cycle patterns. ICES J Mar Sci 61:698–708

Hegseth EN, Tverberg V (2013) Effect of Atlantic water inflow on timing of the phytoplankton spring bloom in a high Arctic fjord (Kongsfjorden, Svalbard). J Mar Syst 113:94–105. doi:10.1016/j.jmarsys.2013.01.003

Holm-Hansen O, Riemann B (1978) Chlorophyll a determination: improvements in methodology. Oikos 30:438–447

Hop H, Pearson T, Hegseth E et al (2002) The marine ecosystem of Kongsfjorden, Svalbard. Polar Res 21:167–208

Huenerlage K, Graeve M, Buchholz C, Buchholz F (2015) The other krill: overwintering physiology of adult Thysanoessa inermis (Euphausiacea) from the high-Arctic Kongsfjord. Aquat Biol 23:225–235

Kortsch S, Primicerio R, Beuchel F, Renaud P, Rodrigues J, Lønne OJ, Gulliksen B (2012) Climate-driven regime shifts in Arctic marine benthos. Proc Nat Acad Sci 109:14052–14057

Kraft A, Berge J, Varpe Ø, Falk-Petersen S (2013) Feeding in Arctic darkness: mid-winter diet of the pelagic amphipods Themisto abyssorum and T. libellula. Mar Biol 160:241–248

Kwasniewski S, Hop H, Falk-Petersen S et al (2003) Distribution of Calanus species in Kongsfjorden, a glacial fjord in Svalbard. J Plankton Res 25:1–20

Last KS, Hobbs L, Berge J, Brierley AS, Cottier F (2016) Moonlight drives ocean-scale mass vertical migration of zooplankton during the Arctic winter. Curr Biol 26:1–8. doi:10.1016/j.cub.2015.11.038

Levinsen H, Turner JT, Nielsen TG, Hansen BW (2000) On the trophic coupling between protists and copepods in arctic marine ecosystems. Mar Ecol Progr Ser 204:65–77

Lischka S, Hagen W (2005) Life histories of the copepods Pseudcalanus minutus, P. acuspes (Calanoida) and Oithona similis (Cyclopoida) in the Arctic Kongsfjorden (Svalbard). Polar Biol 28:910–921

Longhurst A, Sameoto D, Herman A (1984) Vertical distribution of Arctic zooplankton in summer: eastern Canadian archipelago. J Plankton Res 6:137–168. doi:10.1093/plankt/6.1.137

Lovegrove T (1956) Copepod nauplii (II). Conseil International pour l'Exploration de la Mer, Zooplankton Identification Sheets 63:1–4

Madsen SD, Nielsen TG, Hansen BW (2001) Annual population development and production by Calanus finmarchicus, C. glacialis and C. hyperboreus in Disko Bay, western Greenland. Mar Biol 139:75–93

Madsen SD, Nielsen TG, Hansen BW (2008) Annual population development and production by small copepods in Disko Bay, western Greenland. Mar Biol 155:63–77

Manly BJF (1977) A further note on Kiritani and Nakasuji's model for stage frequency data including comments on the use of Tukey's jackknife technique for estimating variances. Res Popul Ecol 18:177–186

Möller KO, John M, Temming A, Floeter J, Sell AF, Herrmann JP, Möllmann C (2012) Marine snow, zooplankton and thin layers: indications of a trophic link from small-scale sampling with the Video Plankton Recorder. Mar Ecol Prog Ser 468:57–69. doi:10.3354/meps09984

Møller EF, Nielsen TG, Richardson K (2006) The zooplankton community in the Greenland sea: composition and role in carbon turnover. Deep-Sea Res I 53:76–93

Ogilvie H (1953) Copepod Nauplii (I). Conseil International pour l'Exploration de la Mer, Zooplankton Identification Sheets 50:1–4

Omori M, Ikeda T (1984) Methods in marine zooplankton ecology. Wiley, New York, p c1984

Orlova EL, Dolgov AV, Renaud PE, Boitsov VD, Prokopchuk IP, Zashihina MV (2013) Structure of the macroplankton–pelagic fish–cod trophic complex in a warmer Barents Sea. Mar Biol Res 9:851–866

Peijnenburg TCA, Pierrot-Bults AC (2004) Quantitative morphological variation in Sagitta setosa Müller, 1847 (Chaetognatha) and two closely related taxa. Contrib Zool 73(4):305–315

Quetin LB, Ross RM (1991) Behavioral and physiological characteristics of the Antarctic krill, Euphausia superba. Am Zool 31:49–63

R Development Core Team (2005) R: a language and environment for statistical computing. R Foundation for Statistical Computing, Vienna

Rabindranath A, Daase M, Falk-Petersen S et al (2011) Seasonal and diel vertical migration of zooplankton in the high Arctic during the autumn midnight sun of 2008. Mar Biodiv 41:365–382

Renaud PE, Løkken TS, Jørgensen LL, Berge J, Johnson BJ (2015) Macroalgal detritus and food-web subsidies along an Arctic fjord depth-gradient. Front Mar Sci 2:31

Riley GA (1976) A model of plankton patchiness. Limnol Oceanogr 21:873–880

Ringelberg J (1995) Changes in light intensity and diel vertical migration: a comparison of marine and freshwater environments. J Mar Biol Assoc UK 75:15–25

Ringelberg J (2010) Diel vertical migration of zooplankton in lakes and oceans: causal explanations and adaptive significances. Springer Science Business Media B.V, Dordrecht

Seuthe L, Iversen KR, Narcy F (2011) Microbial processes in a high-latitude fjord (kongs-fjorden, svalbard): ii. ciliates and dinoflagellates. Polar Biol 34:751–766

Smetacek V, Nicol S (2005) Polar ocean ecosystems in a changing world. Nature 437:362–368

Søreide JE, Hop H, Falk-Petersen S, Gulliksen B, Hansen E (2003) Macrozooplankton communities and environmental variables in the Barents Sea marginal ice zone. Mar Ecol Prog Ser 263:43–64

Sørnes TA, Aksnes DL, Båmstedt U, Youngbluth MJ (2007) Causes for mass occurrences of the jellyfish, Periphylla periphylla; a hypothesis that involves optically conditioned retention. J Plankton Res 29:157–167

Stanton TK, Wiebe PH, Chu D et al (1994) On acoustic estimate of zooplankton biomass. ICES J Mar Sci 51:505–512

Stanton TK, Chu DZ, Wiebe PH (1998) Sound scattering by several zooplankton groups. II. Scattering models. J Acoust Soc Am 103:236–253

Svendsen H, Beszczynska-Møller A, Hagen JO et al (2002) The physical environment of Kongsfjorden-Krossfjorden, an Arctic fjord system in Svalbard. Polar Res 21:133–166

Tarling GA (2015) Marine ecology: a wonderland of marine activity in the arctic night. Curr Biol 25:R1070–R1091

Tarling GA, Jarvis T, Emsley SM, Matthews JBL (2002) Midnight sinking behaviour in Calanus finmarchicus: a response to satiation or krill predation? Mar Ecol Prog Ser 240:183–194

Tomas CR (1997) Identifying marine phytoplankton. Academic Press, San Diego

Tremblay JE, Robert D, Varela D, Lovejoy C, Darnis G, Nelson R, Sastri A (2012) Current state and trends in Canadian Arctic marine ecosystems: I. Primary production. Clim Change 115:161–178. doi:10.1007/s10584-012-0496-3

Turner JT (2004) The importance of small planktonic copepods and their roles in pelagic marine food webs. Zool Stud 43:255–266

Walkusz W, Kwasniewski S, Falk-Petersen S, Hop H, Tverberg V, Wieczorek P, Weslawski JM (2009) Seasonal and spatial changes in the zooplankton community of Kongsfjorden, Svalbard. Polar Res 28:254–281

Wallace MI, Cottier FR, Berge J et al (2010) Comparison of zooplankton vertical migration in an ice-free and a seasonally ice-covered Arctic fjord: an insight into the influence of sea ice cover on zooplankton behavior. Limnol Oceanogr 55:831–845

Webster C, Varpe Ø, Falk-Petersen S, Berge J, Stübner E, Brierley A (2013) Moonlit swimming: vertical distributions of macrozooplankton and nekton during the polar night. Polar Biol 38:75–85

Weslawski J, Hacquebord L, Stempniewicz L (2000) Greenland whales and walruses in the Svalbard food web before and after exploitation. Oceanologia 42:37–56

Weydmann A, Carstensen J, Goszczko I, Dmoch K, Olszewska A, Kwasniewski S (2014) Shift towards the dominance of Boreal species in the Arctic: inter-annual and spatial zooplankton variability in the West Spitsbergen current. Mar Ecol Progr Ser 501:41–52

Wiebe PH, Ashjian CJ, Gallager SM et al (2004) Mar Biol 144:493. doi:10.1007/s00227-003-1228-z

Willis KJ, Cottier F, Kwasniewski S, Wold A, Falk-Petersen S (2006) The influence of advection on zooplankton community composition in an Arctic fjord (Kongsfjorden, Svalbard). J Mar Syst 61:39–54

Wiktor J, Okolodkov J, Vinogradova K (1995) Atlas of the marine flora of southern Spitsbergen. Institute of Oceanography, Gda`nsk

Zamora-Terol S, Nielsen TG, Saiz E (2013) Plankton community structure and role of Oithona similis on the western coast of Greenland during the winter-spring transition. Mar Ecol Prog Ser 483:85–102
Acknowledgments
The authors would like to thank the crew onboard RV Helmer Hanssen and KV Svalbard for their support and efforts during the cruises. A special thanks to Colin Griffiths and Daniel Vogedes for their assistance in sampling and to Michael Greenacre and Sigrun Jonasdottir for criticism and guidance in stages of manuscript writing. Ship time was provided by UiT—The Arctic University of Norway. This study was funded by two Grants from the Norwegian Research Council: CircA (Project number 214271) and Marine Night (Project number 226417).
Additional information
This article belongs to the special issue on the "Kongsfjorden ecosystem—new views after more than a decade of research," coordinated by Christian Wiencke and Haakon Hop.
About this article
Cite this article
Grenvald, J.C., Callesen, T.A., Daase, M. et al. Plankton community composition and vertical migration during polar night in Kongsfjorden. Polar Biol 39, 1879–1895 (2016). https://doi.org/10.1007/s00300-016-2015-x
Received:

Revised:

Accepted:

Published:

Issue Date:
Keywords
Protists

Zooplankton

Vertical migration

Polar night

Kongsfjorden

Svalbard