Abstract
Nematodes are among the most abundant metazoans in soils, but their true diversity and distribution patterns remain poorly investigated, especially in polar environments. Here, we studied three high Arctic tundra sites at Kongsford, NW Svalbard (78°55′N) to understand: (1) Whether there is detectable small-scale habitat variation, (2) What the predictors of diversity and community variation are, and (3) Whether molecular methodology reveals greater diversity than morphological studies. DNA was extracted using the Baermann funnel method, and PCR amplified for the 18S rRNA gene, followed by 454-pyrosequencing. Our samples revealed no difference in nematode OTU α-diversity between different tundra habitats. Similarly, we found no correlation between nematode α-diversity in individual samples and soil properties or vegetation coverage. However, β-diversity was lower in the highly vegetated tundra than in the other tundra. There was no evidence of distinct nematode communities between individual 1 m2 quadrats of different vegetation cover and soil parameters. Overall, the community composition of highly vegetated tundra clustered separately from less vegetated tundra. The phylogenetic community assembly analysis indicated that the variation of nematode community was deterministic. This suggests that—despite the 'extreme' environment—nematodes in the high Arctic tundra are still to some extent habitat specialized. This study also revealed a much greater overall nematode diversity than has been previously detected in Svalbard. The nematode OTU diversity in our samples was considerably higher than the total species previously reported. This suggests the potential of DNA-based methods to rapidly reveal the true diversity of metazoans.
Access options
Buy single article
Instant access to the full article PDF.
US$ 39.95
Tax calculation will be finalised during checkout.
Subscribe to journal
Immediate online access to all issues from 2019. Subscription will auto renew annually.
US$ 119
Tax calculation will be finalised during checkout.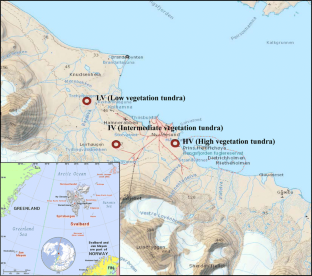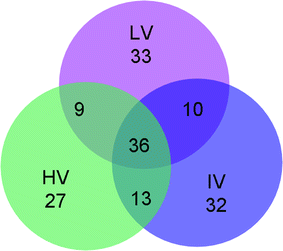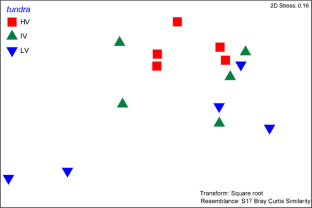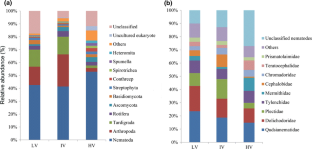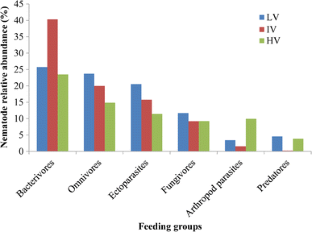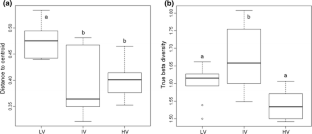 References
Aguiar MR, Sala OE (1999) Patch structure, dynamics and implications for the functioning of arid ecosystems. Trends Ecol Evol 14:273–277

Alsos IG, Ehrich D, Thuiller W, Eidesen PB, Tribsch A, Schönswetter P, Brochmann C (2012) Genetic consequences of climate change for Northern plants. Proc R Soc Lond B Biol Sci 279(1735):2042–2051. doi:10.1098/rspb.2011.2363

Anderson MJ et al (2011) Navigating the multiple meanings of β-diversity: a roadmap for the practicing ecologist. Ecol Lett 14:19–28

Andrassy I (1998) The genus Boreolaimus gen. n. and its six species (Dorylaimida: Qudsianematidae), nematodes from the European Arctic. Fundam Appl Nematol 21:553–568

Andrássy I (1986) The genus Eudorylaimus Andrássy, 1959 and the present status of its species (Nematoda: Qudsianematidae). Opusc Zool Bp 22:1–42

Barrett J, Virginia RA, Wall DH, Adams BJ (2008) Decline in a dominant invertebrate species contributes to altered carbon cycling in a low-diversity soil ecosystem. Glob Change Biol 14:1734–1744

Boag B, Yeates GW (1998) Soil nematode biodiversity in terrestrial ecosystems. Biodivers Conserv 7:617–630

Bölter M, Blume H-P, Schneider D, Beyer L (1997) Soil properties and distributions of invertebrates and bacteria from King George Island (Arctowski Station), maritime Antarctic. Polar Biol 18:295–304

Bongers T, Ferris H (1999) Nematode community structure as a bioindicator in environmental monitoring. Trends Ecol Evol 14:224–228

Burke IC, Lauenroth WK, Riggle R, Brannen P, Madigan B, Beard S (1999) Spatial variability of soil properties in the shortgrass steppe: the relative importance of topography, grazing, microsite, and plant species in controlling spatial patterns. Ecosystems 2:422–438

Clark K, Gorley R (2006) PRIMER v6: user manual. Plymouth Marine Laboratory, Plymouth

Cockell CS, Lee P, Schuerger AC, Hidalgo L, Jones JA, Stokes MD (2001) Microbiology and vegetation of micro-oases and polar desert, Haughton impact crater, Devon Island, Nunavut, Canada. Arct Antarct Alp Res 33:306–318

Coulson S (2012) Checklist of the terrestrial and freshwater invertebrate fauna of Svalbard Accessed on the internet at http://www.unis.no/35_STAFF/staff_webpages/biology/steve_coulson/default.htm on various dates in June

Coulson S, Leinaas H, Ims R, Søvik G (2000) Experimental manipulation of the winter surface ice layer: the effects on a high Arctic soil microarthropod community. Ecography 23:299–306

Coulson SJ, Convey P, Aakra K, Aarvik L, Ávila-Jiménez ML, Babenko A, Biersma EM, Boström S, Brittain JE, Carlsson AM, Christoffersen K (2014) The terrestrial and freshwater invertebrate biodiversity of the archipelagoes of the Barents Sea; Svalbard, Franz Josef Land and Novaya Zemlya. Soil Biol Biochem 68:440–470

De Deyn GB et al (2003) Soil invertebrate fauna enhances grassland succession and diversity. Nature 422:711–713

Edgar RC, Haas BJ, Clemente JC, Quince C, Knight R (2011) UCHIME improves sensitivity and speed of chimera detection. Bioinformatics 27:2194–2200. doi:10.1093/bioinformatics/btr381

Fonseca VG et al (2010) Second-generation environmental sequencing unmasks marine metazoan biodiversity. Nat Commun 1:98

Haldorsen S, Heim M (1999) An Arctic groundwater system and its dependence upon climatic change: an example from Svalbard. Permafr Periglac Process 10:137–149

Holovachov O (2014) Nematodes from terrestrial and freshwater habitats in the Arctic. Biodivers Data J 2:e1165

Hooper DU, Bignell DE, Brown VK, Brussard L, Dangerfield JM, Wall DH, Wardle DA, Coleman DC, Giller KE, Lavelle P, Van Der Putten WH (2000) Interactions between aboveground and belowground biodiversity in terrestrial ecosystems: patterns, mechanisms, and feedbacks: we assess the evidence for correlation between aboveground and belowground diversity and conclude that a variety of mechanisms could lead to positive, negative, or no relationship-depending on the strength and type of interactions among species. Bioscience 50:1049–1061

Hoschitz M, Kaufmann R (2004) Soil nematode communities of Alpine summits–site differentiation and microclimatic influences. Pedobiologia 48:313–320

Huse SM, Welch DM, Morrison HG, Sogin ML (2010) Ironing out the wrinkles in the rare biosphere through improved OTU clustering. Environ Microbiol 12:1889–1898

Jónsdóttir IS (2005) Terrestrial ecosystems on Svalbard: heterogeneity, complexity and fragility from an Arctic island perspective. In: Biology and Environment Proceedings of the Royal Irish Academy, JSTOR, pp 155–165

Kito K, Shishida Y, Ohyama Y (1996) A new species of the genus Eudorylaimus Andrássy, 1959 (Nematoda: Qudsianematidae) from East Antarctica. Polar Biol 16:163–169

Klekowski RZ, Opalinski KW (1986) Matter and energy flow in Spitsbergen ornithogenic tundra. Polar Res 4:187–197

Knops JM, Wedin D, Tilman D (2001) Biodiversity and decomposition in experimental grassland ecosystems. Oecologia 126:429–433

Koleff P, Gaston KJ, Lennon JJ (2003) Measuring beta diversity for presence-absence data. J Anim Ecol 72:367–382. doi:10.1046/j.1365-2656.2003.00710.x

Lavelle P et al (2006) Soil invertebrates and ecosystem services. Eur J Soil Biol 42:S3–S15

Lawton J, Bignell D, Bloemers G, Eggleton P, Hodda M (1996) Carbon flux and diversity of nematodes and termites in Cameroon forest soils. Biodivers Conserv 5:261–273

Poage MA, Barrett JE, Virginia RA, Wall DH (2008) The influence of soil geochemistry on nematode distribution, McMurdo Dry Valleys, Antarctica. Arct Antarct Alp Res 40:119–128

Porazinska DL, Bardgett RD, Blaauw MB, Hunt HW, Parsons AN, Seastedt TR, Wall DH (2003) Relationships at the aboveground-belowground interface: plants, soil biota, and soil processes. Ecol Monographs 73:377–395

Porazinska DL et al (2009) Evaluating high-throughput sequencing as a method for metagenomic analysis of nematode diversity. Mol Ecol Resour 9:1439–1450. doi:10.1111/j.1755-0998.2009.02611.x

Porazinska DL, Sung W, Giblin-Davis RM, Thomas WK (2010) Reproducibility of read numbers in high-throughput sequencing analysis of nematode community composition and structure. Mol Ecol Resour 10:666–676

Porazinska DL, Giblin-Davis RM, Powers TO, Thomas WK (2012) Nematode spatial and ecological patterns from tropical and temperate rainforests. Plos One 7:e44641

Schloss PD et al (2009) Introducing mothur: open-source, platform-independent, community-supported software for describing and comparing microbial communities. Appl Environ Microbiol 75:7537–7541. doi:10.1128/AEM.01541-09

Sørensen LI, Holmstrup M, Maraldo K, Christensen S, Christensen B (2006) Soil fauna communities and microbial respiration in high Arctic tundra soils at Zackenberg, Northeast Greenland. Polar Biol 29:189–195

Stafford Smith D, Pickup G (1990) Pattern and production in arid lands. In: Proceedings of the Ecological Sociey of Australia, pp 195–200

Thorne G (1961) Principles of nematology. McGraw-Hill publications in the agricultural sciences. McGraw-Hill, New York

Vinciguerra M, Orselli L (1998) Nematodes from Italian sand dunes. 3. Four new species of Qudsianematidae (Dorylaimida, Nematoda). Nematol Mediterr 26:255–266

Wall DH, Virginia RA (1999) Controls on soil biodiversity: insights from extreme environments. Appl Soil Ecol 13:137–150

Wardle D, Nicholson K (1996) Synergistic effects of grassland plant spcies on soil microbial biomass and activity: implications for ecosystem-level effects of enriched plant diversity. Funct Ecol 10:410–416

Wardle D, Bonner K, Nicholson K (1997) Biodiversity and plant litter: experimental evidence which does not support the view that enhanced species richness improves ecosystem function. Oikos 79:247–258

Webb CO, Ackerly DD, Kembel SW (2008) Phylocom: software for the analysis of phylogenetic community structure and trait evolution. Bioinformatics 18:2098–2100

Welker J, Wookey P, Parsons A, Press M, Callaghan T, Lee J (1993) Leaf carbon isotope discrimination and vegetative responses of Dryas octopetala to temperature and water manipulations in a high Arctic polar semi-desert, Svalbard. Oecologia 95:463–469

Wookey P, Parsons A, Welker J, Potter J, Callaghan T, Lee J, Press M (1993) Comparative responses of phenology and reproductive development to simulated environmental change in sub-arctic and high Arctic plants. Oikos 67:490–502

Wu T, Ayres E, Bardgett RD, Wall DH, Garey JR (2011) Molecular study of worldwide distribution and diversity of soil animals. Proc Natl Acad Sci 108:17720–17725

Yeates G (1977) Soil nematodes in New Zealand pastures. Soil Sci 123:415–422

Yeates G (1999) Effects of plants on nematode community structure. Annu Rev Phytopathol 37:127–149

Yeates GW, Bongers T, De Goede RG, Freckman DW, Georgieva SS (1993) Feeding habits in soil nematode families and genera-an outline for soil ecologists. J Nematol 25:315–331

Yergeau E, Bokhorst S, Huiskes AH, Boschker HT, Aerts R, Kowalchuk GA (2007) Size and structure of bacterial, fungal and nematode communities along an Antarctic environmental gradient. FEMS Microbiol Ecol 59:436–451
Acknowledgments
This work was supported by a Grant of the Polar Academic Program (PAP) funded by Korea Polar Research Institute (KOPRI) under the number 0409-20140091.
Electronic supplementary material
Below is the link to the electronic supplementary material.
About this article
Cite this article
Kerfahi, D., Park, J., Tripathi, B.M. et al. Molecular methods reveal controls on nematode community structure and unexpectedly high nematode diversity, in Svalbard high Arctic tundra. Polar Biol 40, 765–776 (2017). https://doi.org/10.1007/s00300-016-1999-6
Received:

Revised:

Accepted:

Published:

Issue Date:
Keywords
High Arctic

Metagenetics

Nematode

Svalbard

Tundra

18S rRNA gene