Abstract
Sea ice now forms later and melts earlier than it did 4 decades years ago, and it now melts completely in all parts of the Chukchi Sea. This decline in sea ice is expected to have repercussions on the trophic structure in this environment, and there are indications that changes already have taken place in the seabird community. We compared boat-based densities of seabirds in the eastern Chukchi Sea between July and October during 1975–1981 (historical data) with densities during 2007–2012 (recent data). We related the composition of the seabird community to sea-ice cover to explore how the community may be responding to changes in oceanography. The seabird community historically was composed predominantly of piscivorous Black-legged Kittiwakes (Rissa tridactyla) and murres (Uria spp.). In contrast, the seabird community now is composed predominantly of planktivorous seabirds such as Crested Auklets (Aethia cristatella) and Short-tailed Shearwaters (Puffinus tenuirostris). Total abundance of seabirds declined in three of four strata in the eastern Chukchi Sea, largely due to declines in densities of piscivorous and omnivorous species. These changes in the abundance and community composition of seabirds were associated with changes in ice cover. Earlier ice retreat appears to contribute to an environment that is more favorable to the sustained production of large oceanic copepods and euphausiids. We propose that long-term changes (4 decades) in the abundance and composition of the seabird community reflect an increase in the availability of large zooplankton prey in the region.
Access options
Buy single article
Instant access to the full article PDF.
US$ 39.95
Tax calculation will be finalised during checkout.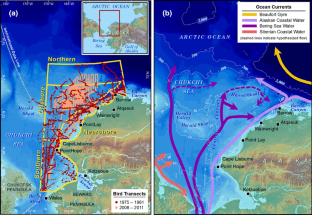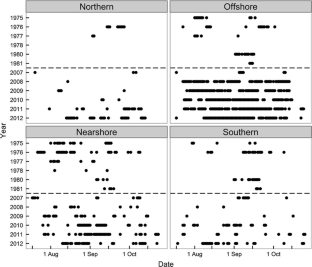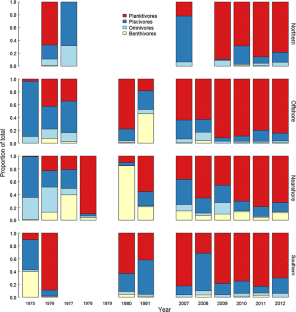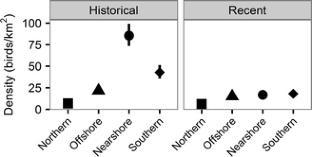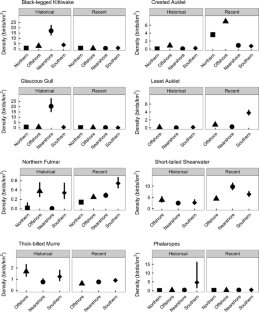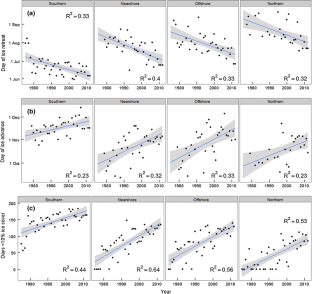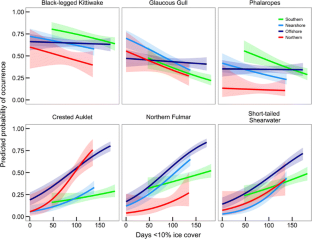 References
Aagaard K, Roach AT (1990) Arctic ocean-shelf exchange: measurements in Barrow Canyon. J Geophys Res 95:18163–18175. doi:10.1029/JC095iC10p18163

Ainley DG, Clarke ED, Arrigo K, Fraser WR, Kato A, Barton KJ, Wilson PR (2005) Decadal-scale changes in the climate and biota of the Pacific sector of the Southern Ocean, 1950s to the 1990s. Antarct Sci 17:171–182. doi:10.1017/S0954102005002567

Ainley D, Ribic C, Woehler E (2012) Adding the ocean to the study of seabirds: a brief history of at-sea seabird research. Mar Ecol Progr Ser 451:231–243. doi:10.3354/meps09524

Anderson MJ (2001) A new method for non parametric multivariate analysis of variance. Aust Ecol 26:32–46. doi:10.1111/j.1442-9993.2001.01070

Arrigo KR, van Dijken G, Pabi S (2008) Impact of a shrinking Arctic ice cover on marine primary production. Geophys Res Lett 35:L19603. doi:10.1029/2008GL035028

Ashjian CJ, Braund SR, Campbell RG, Geroge JC, Kruse J, Maslowski W, Moore SE, Nicolson CR, Okkonen SR, Sherr BF, Sherr EB, Spitz YF (2010) Climate variability, oceanography, bowhead whale distribution, and Iñupiat subsistence whaling near Barrow, Alaska. Arctic 63:179–194

Beaugrand G (2009) Decadal changes in climate and ecosystems in the North Atlantic Ocean and adjacent seas. Deep Sea Res Part II Top Stud Oceanogr 56:656–673. doi:10.1016/j.dsr2.2008.12.022

Berline L, Spitz YH, Ashjian CJ, Campbell RG, Maslowski W, Moore SE (2008) Euphausiid transport in the western Arctic Ocean. Mar Ecol Progr Ser 360:163–178. doi:10.3354/meps07387

Bluhm BA, Gebruk AV, Gradinger R, Hopcroft RR, Huettmann F, Kosobokova KN, Sirenko BI, Weslawski JM (2011) Arctic marine biodiversity: an update of species richness and examples of biodiversity change. Oceanography 24:232–248

Bray JR, Curtis JT (1957) An ordination of the upland forest communities of southern Wisconsin. Ecol Monogr 27:325–349

Brown Z, Arrigo K (2012) Contrasting trends in sea ice and primary production in the Bering Sea and Arctic Ocean. ICES J Mar Sci 69:1180–1193

Brown RGB, Gaskin DE (1988) The pelagic ecology of the Grey and Red-necked Phalaropes phalaropes Phalaropus fulicarius and P. lobatus in the Bay of Fundy, eastern Canada. Ibis 130:234–250. doi:10.1111/j.1474-919X.1988.tb00974.x

Burnham KP, Anderson DR (2002) Model selection and multimodel inference: a practical information–theoretic approach, 2nd edn. Springer, New York 496 pp

Carmack E, Chapman DC (2003) Wind-driven shelf/basin exchange on an Arctic shelf: the joint roles of ice cover extent and shelf-break bathymetry. Geophys Res Lett 30:1778. doi:10.1029/2003GL017526

Cavalieri D, Parkinson CL, Gloersen P, Zwally HJ (2008) Sea ice concentrations from Nimbus-7 SMMR and DMSP SSM/I passive microwave data, 1998–2009. http://nsidc.org/data/nsidc-0051

Citta JJ, Quakenbush LT, Okkonen SR, Druckenmiller ML, Maslowski W, Clement-Kinney J, Goerge JC, Brower H, Small RJ, Ashjian CJ, Harwood LA, Heide-Jorgensen MP (2015) Ecological characteristics of core-use areas used by Bering–Chukchi–Beaufort (BCB) bowhead whales, 2006–2012. Progr Oceanogr 136:201–222. doi:10.1016/j.pocean.2014.08.012

Clarke K, Ainsworth M (1993) A method of linking multivariate community structure to environmental variables. Mar Ecol Progr Ser 92:205–219

Clarke K, Green R (1988) Statistical design and analysis for a"biological effects" study. Mar Ecol Progr Ser 46:213–226

Coachman LK, Aagaard K, Tripp RB (1975) Bering Strait: the regional physical oceanography. University of Washington Press, Seattle

Day RH, Gall AE, Morgan TM, Rose JR, Plissner JH, Sanzenbacher PM, Fenneman JD, Kuletz KJ, Watts BH (2013a) Seabirds new to the eastern Chukchi and Beaufort seas, Alaska: response to a changing climate? Western Birds 44:174–182

Day RH, Weingartner TJ, Hopcroft RR, Aerts LAM, Blanchard AL, Gall AE, Gallaway BJ, Hannay DE, Holladay BA, Mathis JT, Norcross BL, Questel JM, Wisdom SS (2013b) The offshore northeastern Chukchi Sea, Alaska: a complex high-latitude ecosystem. Cont Shelf Res 67:147–165. doi:10.1016/j.csr.2013.02.002

Dragoo DE, Kettle AB, Bolin DE (2012) Biological monitoring at Cape Lisburne, Alaska in 2012. U.S. Fish and Wildlife Service report AMNWR2012/06. Homer, Alaska. https://absilcc.org/science/amnwr/sitepages/library.aspx

Dragoo DE, Renner HM, Irons DB (2015) Breeding status and population trends of seabirds in Alaska, 2014. U.S. Fish and Wildlife Service report AMNWR2015/03. Homer, Alaska. https://absilcc.org/science/amnwr/sitepages/library.aspx

Ershova EA, Hopcroft RR, Kosobokova KN, Matsuno K, Nelson RJ, Yamaguchi A, Eisner LB (2015) Long-term changes in summer zooplankton communities of the western Chukchi Sea, 1945–2012. Oceanography 28:100–115

Gall AE, Day RH, Weingartner TJ (2013) Structure and variability of the marine-bird community in the northeastern Chukchi Sea. Cont Shelf Res 67:96–115. doi:10.1016/j.csr.2012.11.004

Golet GH, Irons DB, Estes JA (1998) Survival costs of chick rearing in Black-legged Kittiwakes. J Anim Ecol 67:827–841. doi:10.1046/j.1365-2656.1998.00233.x

Golet GH, Schmutz JA, Irons DB, Estes JA (2004) Determinants of reproductive costs in the long-lived Black-legged Kittiwake: a multiyear experiment. Ecol Monogr 74:353–372

Gould PJ, Forsell DJ (1989) Techniques for shipboard surveys of marine birds. Fish and Wildlife Technical Report 25, US Fish and Wildlife Service, Anchorage, AK. 24 p. http://alaska.usgs.gov/science/biology/seabirds_foragefish/products/protocols/gould_seabird_protocol.pdf

Grebmeier J, Cooper L, Feder H, Sirenko B (2006a) Ecosystem dynamics of the Pacific-influenced Northern Bering and Chukchi seas in the Amerasian Arctic. Progr Oceanogr 71:331–361. doi:10.1016/j.pocean.2006.10.001

Grebmeier JM, Overland JE, Moore SE, Farley EV, Carmack EC, Cooper LW, Frey KE, Helle JH, McLaughlin FA, McNutt SL (2006b) A major ecosystem shift in the northern Bering Sea. Science 311:1461–1464. doi:10.1126/science.1121365

Haney JC, Stone AE (1988) Littoral foraging by Red Phalaropes during spring in the northern Bering Sea. Condor 90:723–726

Hosmer DW, Lemeshow S, Sturdivant RX (2013) Applied logistic regression, 3rd edn. Wiley, New York

Huettmann F, Artukhin Y, Gilg O, Humphries G (2011) Predictions of 27 Arctic pelagic seabird distributions using public environmental variables, assessed with colony data: a first digital IPY and GBIF open access synthesis platform. Mar Biodivers 41:141–179. doi:10.1007/s12526-011-0083-2

Hunt GL, Coyle KO, Eisner LB et al (2011) Climate impacts on eastern Bering Sea foodwebs: a synthesis of new data and an assessment of the Oscillating Control Hypothesis. ICES J Mar Sci 68:1230–1243. doi:10.1093/icesjms/fsr036

Hunt GL, Blanchard AL, Boveng P, Dalpadado P, Drinkwater KF, Eisner L, Hopcroft RR, Kovacs KM, Norcross BL, Renaud P, Reigstad M, Renner M, Skoldjal HR, Whitehouse A, Woodgate RA (2013) The Barents and Chukchi seas: comparison of two Arctic shelf ecosystems. J Mar Syst 109–110:43–68. doi:10.1016/j.jmarsys.2012.08.003

Kitaysky AS, Golubova EG (2000) Climate change causes contrasting trends in reproductive performance of planktivorous and piscivorous alcids. J Anim Ecol 69:248–262. doi:10.1046/j.1365-2656.2000.00392.x

Kuletz KJ, Ferguson MC, Hurley B et al (2015) Seasonal spatial patterns in seabird and marine mammal distribution in the eastern Chukchi and western Beaufort seas: identifying biologically important pelagic areas. Progr Oceanogr 136:175–200

Kwasniewski S, Gluchowska M, Walkusz W, Karnovsky NJ, Jakubas D, Wojczulanis-Jakubas K, Harding AMA, Goszczko I, Cisek M, Beszczynska-Moller A, Walczowski W, Weslawski JM, Stempniewicz L (2012) Interannual changes in zooplankton on the West Spitsbergen Shelf in relation to hydrography and their consequences for the diet of planktivorous seabirds. ICES J Mar Sci 69:890–901. doi:10.1093/icesjms/fss076

Lane P, Llinas L, Smith S, Pilz D (2008) Zooplankton distribution in the western Arctic during summer 2002: hydrographic habitats and implications for food chain dynamics. J Mar Syst 70:97–133. doi:10.1016/j.jmarsys.2007.04.001

Laxon SW, Giles KA, Ridout AL et al (2013) CryoSat-2 estimates of Arctic sea ice thickness and volume. Geophys Res Lett 40:1–6. doi:10.1002/GRL.50193

Magurran AE (2004) Measuring biological diversity. Blackwell Publishing, Malden

Mathis JT, Pickart RS, Byrne RH, McNeil CL, Moore GWK, Juranek LW, Liu X, Ma J, Easley RA, Elliot MM, Cross JN, Reisdorph SC, Bahr F, Morison J, Lichendorf T, Feely RA (2012) Storm-induced upwelling of high pCO2 waters onto the continental shelf of the western Arctic Ocean and implications for carbonate mineral saturation states. Geophys Res Lett 39:L07606. doi:10.1029/2012GL051574

Matsuno K, Yamaguchi A, Hirawake T, Imai I (2011) Year-to-year changes of the mesozooplankton community in the Chukchi Sea during summers of 1991, 1992 and 2007, 2008. Polar Biol 34:1349–1360. doi:10.1007/s00300-011-0988-z

Mueter FJ, Litzow MA (2008) Sea ice retreat alters the biogeography of the Bering Sea continental shelf. Ecol Appl 18:309–320

Oksanen J, Guillaume Blanchet F, Kindt R et al (2011) Vegan: community ecology package. http://vegan.r-forge.r-project.org/

Orben RA, Irons DB, Paredes R, Roby DD, Phillips RA, Shaffer SA (2015a) North or South? Niche separation of endemic Red-legged Kittiwakes and sympatric Black-legged Kittiwakes during their non-breeding migrations. J Biogeogr 42:401–412

Orben RA, Paredes R, Roby DD, Irons DB, Shaffer SA (2015b) Body size affects individual winter foraging strategies of Thick-billed Murres in the Bering Sea. J Anim Ecol 84:1589–1599. doi:10.1111/1365-2656.12410

Palmer MA, van Dijken GL, Mitchell BG, Seegers BJ, Lowry KE, Mills MM, Arrigo KR (2013) Light and nutrient control of photosynthesis in natural phytoplankton populations from the Chukchi and Beaufort seas, Arctic Ocean. Limnol Oceanogr 58:2185–2205. doi:10.4319/lo.2013.58.6.2185

Piatt JF, Springer AM (2003) Advection, pelagic food webs and the biogeography of seabirds in Beringia. Mar Ornithol 31:141–154

Questel JM, Clarke C, Hopcroft RR (2013) Seasonal and interannual variation in the planktonic communities of the northeastern Chukchi Sea during the summer and early fall. Cont Shelf Res 67:23–41. doi:10.1016/j.csr.2012.11.003

R Development Core Team (2013) R: a language and environment for statistical computing. R Foundation for Statistical Computing, Vienna, Austria. http://www.R-project.org

Schwemmer P, Mendel B, Sonntag N et al (2011) Effects of ship traffic on seabirds in offshore waters: implications for marine conservation and spatial planning. Ecol Appl 21:1851–1860

Sigler M, Renner M, Danielson S, Eisner L (2011) Fluxes, fins, and feathers: relationships among the Bering, Chukchi, and Beaufort seas in a time of climate change. Oceanography 24:250–265

Snell RR (2002) Thayer's Gull (Larus glaucoides). In: Poole A (ed) The birds of North America online. No. 699, Cornell Lab of Ornithology, Ithaca, NY. http://bna.birds.cornell.edu/bna/species/699b

Springer AM, McRoy CP (1993) The paradox of pelagic food webs in the northern Bering Sea—III. Patterns of primary production. Cont Shelf Res 13:575–599

Springer A, McRoy C, Turco KR (1989) The paradox of pelagic food webs in the northern Bering Sea—II. Zooplankton communities. Cont Shelf Res 9:359–386. doi:10.1016/0278-4343(89)90039-3

Stabeno PJ, Jr Farley E V, Kachel NB, Moore S, Mordy CW, Napp JM, Overland JE, Pinchuk AI, Sigler MF (2012) A comparison of the physics of the northern and southern shelves of the eastern Bering Sea and some implications for the ecosystem. Deep Sea Res Part II Top Stud Oceanogr 65–70:14–30. doi:10.1016/j.dsr2.2012.02.019

Swartz LG (1967) Distribution and movement of birds in the Bering and Chukchi seas. Pacific Sci 21:332–347

Sydeman WJ, Thompson SA, Kitaysky A (2012) Seabirds and climate change: roadmap for the future. Mar Ecol Progr Ser 454:107–117. doi:10.3354/meps09806

Tasker ML, Hope Jones P, Dixon T, Blake BF (1984) Counting seabirds at sea from ships: a review of methods employed and a suggestion for a standardized approach. Auk 101:567–577

U.S. Department of State (1990) Agreement with the Union of Soviet Socialist Republics on the maritime boundary. Senate Treaty Document 101–22. http://www.state.gov/e/oes/ocns/opa/c28187.htm

USGS (2014) North Pacific Pelagic Seabird Database. http://alaska.usgs.gov/science/biology/nppsd/index.php

Venables WN, Ripley BD (2002) Modern applied statistics with S, 4th edn. Springer, New York

Walsh J, McRoy C, Coachman L, Goering JJ, Nihoul JJ, Whitledge TE, Blackburn TH, Parker PL, Wirick CD, Shuert PG, Grebmeier JM, Speinger AM, Tripp RD, Hansell DA, Djenidi S, Deleersnijder E, Henriksen K, Lund BA, Andersen P, Müller-Karger FE, Dean K (1989) Carbon and nitrogen cycling within the Bering/Chukchi Seas: source regions for organic matter affecting AOU demands of the Arctic Ocean. Progr Oceanogr 22:277–359

Wang M, Overland JE (2009) A sea ice free summer Arctic within 30 years? Geophys Res Lett 36:L07502. doi:10.1029/2012GL052868

Wang M, Overland JE, Stabeno P (2012) Future climate of the Bering and Chukchi seas projected by global climate models. Deep Res Part II 65–70:46–57. doi:10.1016/j.dsr2.2012.02.022

Weingartner T, Cavalieri D, Aagaard K, Sasaki Y (1998) Circulation, dense water formation, and outflow on the northeast Chukchi shelf. J Geophys Res 103:7647–7661

Weingartner TJ, Danielson S, Sasaki Y, Pavlov V, Kulakov M (1999) The Siberian Coastal Current: a wind- and buoyancy-forced Arctic coastal current. J Geophys Res 104:29697. doi:10.1029/1999JC900161

Weingartner T, Aagaard K, Woodgate R, Danielson S, Sasaki Y, Cavalieri D (2005) Circulation on the north central Chukchi Sea shelf. Deep Sea Res Part II Top Stud Oceanogr 52:3150–3174. doi:10.1016/j.dsr2.2005.10.015

Weingartner T, Dobbins E, Danielson S, Winsor P, Potter R, Statscewich H (2013) Hydrographic variability over the northeastern Chukchi Sea shelf in summer–fall 2008–2010. Cont Shelf Res 67:5–22. doi:10.1016/j.csr.2013.03.012

Wong SN, Gjerdrum C, Morgan KH, Mallory ML (2014) Hotspots in cold seas: the composition, distribution, and abundance of marine birds in the North American Arctic. J Geophys Res Ocean 119:1691–1705. doi:10.1002/2013JC009198

Woodgate RA, Weingartner TJ, Lindsay R (2012) Observed increases in Bering Strait oceanic fluxes from the Pacific to the Arctic from 2001 to 2011 and their impacts on the Arctic Ocean water column. Geophys Res Lett. doi:10.1029/2012GL054092
Acknowledgments
Data collection and analysis conducted by ABR, Inc. was funded by ConocoPhillips Company, Anchorage, AK; Shell Exploration and Production Company, Anchorage, AK; and Statoil USA E&P, Inc., Anchorage, AK. Data collection by USFWS was funded with grants from the North Pacific Research Board (2007–2010), the Bureau of Ocean Energy Management (2010–2012), and the USFWS. The data collection, analysis, and interpretation, however, were conducted by the authors; the conclusions are ours and do not necessarily represent the views of the funding organizations. We particularly thank scientists Caryn Rea (ConocoPhillips), Michael Macrander (Shell), and Steinar Eldøy (Statoil) for support and feedback during all phases of this research. We also thank ABR and USFWS personnel for data collection in 2007–2012 and thank the many contributors to the North Pacific Pelagic Seabird Database over the past 4 decades. In particular, we thank Elizabeth Labunski (USFWS) for assisting with data collection and management. Gary Drew and John Piatt (US Geological Survey) maintain the NPPSD and provided much-appreciated assistance. Allison Zusi (ABR) provided invaluable GIS support. Bill Chapman (University of Illinois) and Lena Krutikov (Alaska Center for Climate Assessment & Policy) provided access to historical aerial surveys of ice cover. At the University of Alaska Fairbanks, we thank Arny Blanchard for statistical advice and Seth Danielson, John Walsh, and Peter Winsor for assistance with the summary of sea-ice data. This manuscript has been improved by the comments and suggestions of three anonymous reviewers.
Electronic supplementary material
Below is the link to the electronic supplementary material.
About this article
Cite this article
Gall, A.E., Morgan, T.C., Day, R.H. et al. Ecological shift from piscivorous to planktivorous seabirds in the Chukchi Sea, 1975–2012. Polar Biol 40, 61–78 (2017). https://doi.org/10.1007/s00300-016-1924-z
Received:

Revised:

Accepted:

Published:

Issue Date:
Keywords
Chukchi Sea

Sea ice

Climate change

Aethia spp.