Abstract
The South Sandwich Islands, in the South Atlantic Ocean, are a major biological hot spot for penguins and other seabirds, but their remoteness and challenging coastlines preclude regular biological censuses. Here we report on an extensive survey of the South Sandwich Islands, the first since the late 1990s, which was completed through a combination of direct counting, GPS mapping, and interpretation of high-resolution commercial satellite imagery. We find that the South Sandwich Islands host nearly half of the world's Chinstrap Penguin (Pygoscelis antarctica) population (1.3 million breeding pairs), as well as c. 95,000 breeding pairs of Macaroni Penguins (Eudyptes chrysolophus), and several thousand breeding pairs of Gentoo Penguins (Pygoscelis papua). Despite being at the northern edge of their breeding range, we found an unexpectedly large (≥125,000 breeding pairs) population of Adélie Penguins (Pygoscelis adeliae). Additionally, we report that nearly 1900 pairs of Southern Giant Petrels (Macronectes giganteus) breed in the South Sandwich Islands, 4 % of the global population, almost all of which are found on Candlemas Island. We find that the South Sandwich Islands have not experienced the same changes in penguin abundance and distribution as the rest of the Scotia Arc and associated portions of the western Antarctic Peninsula. This discovery adds important context to the larger conversation regarding changes to penguin populations in the Southern Ocean.
This is a preview of subscription content, log in to check access.
Access options
Buy single article
Instant access to the full article PDF.
US$ 39.95
Price includes VAT for USA
Subscribe to journal
Immediate online access to all issues from 2019. Subscription will auto renew annually.
US$ 199
This is the net price. Taxes to be calculated in checkout.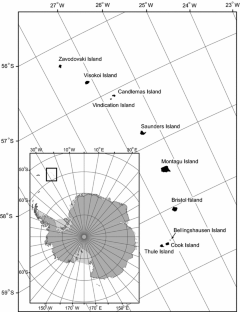 References
Ainley DG (2002) The Adélie Penguin: bellweather of climate change. Columbia University Press, New York

Ainley D, Ballard G, Blight LK, Ackley S, Emslie SD, Lescroël A, Olmastroni S, Townsend SE, Tynan CT, Wilson P, Woehler E (2010) Impacts of cetaceans on the structure of Southern Ocean food webs. Mar Mammal Sci 26:482–498

Atkinson A, Siegel V, Pakhomov EA, Rothery P, Loeb V, Ross RM, Quetin LB, Schmidt K, Fretwell P, Murphy EJ, Tarling GA, Fleming AH (2008) Oceanic circumpolar habitats of Antarctic krill. Mar Ecol Prog Ser 362:1–23

Baker PE, Holdgate MW, Longton RE, Tilbrook PJ, Tomblin JF, Vaughan RW, Wynne-Edwards CJC (1964) A survey of the South Sandwich Islands. Nature 203:691–693

Bender NA, Crosbie K, Lynch HJ (2016) Patterns of tourism in the Antarctic Peninsula Region: a 20 year re-analysis. Antarct Sci (in press)

BirdLife International (2015a) Species factsheet: Chionus albus. http://www.birdlife.org. Accessed 17 Jan 2015

BirdLife International (2015b) Species factsheet: Macronectes giganteus. http://www.birdlife.org. Accessed 25 Jun 2015

Casanovas PV, Naveen R, Forrest S, Poncet J, Lynch HJ (2015) A comprehensive coastal seabird survey maps out the front lines of ecological change on the western Antarctic Peninsula. Polar Biol 38:927–940

Commission for the Conservation of Antarctic Living Marine Resources (CCAMLR) (2015) Statistical Bulletin 25

Convey P, Morton A, Poncet J (1999) Survey of marine birds and mammals of the South Sandwich Islands. Polar Rec 35:107–194

Cordier J-R, Mendez A, Mougin JL, Visbeek G (1981) Les oiseaux des l'ile Thulé archipel des Sandwich du Sud (58°28′S, 27°20′W). L'oiseau et RFO 51:147–160

Creuwels JCS, Stark JS, Woehler EJ, van Franeker JA, Ribic CA (2005) Monitoring of a Southern Giant Petrel Macronectes giganteus population on the Frazier Islands, Wilkes Land, Antarctica. Polar Biol 28:483–493

Creuwels JCS, Poncet S, Hodum PJ, van Franeker JA (2007) Distribution and abundance of the Southern Fulmar Fulmarus glacialoides. Polar Biol 30:1083–1097

Croxall JP, Kirkwood ED (1979) The distribution of penguins on the Antarctic Peninsula and islands of the Scotia Sea. British Antarctic Survey, Cambridge

Ducklow HW, Baker K, Martinson DG, Quetin LB, Ross RM, Smith RC, Stammerjohn SE, Vernet M, Fraser W (2007) Marine Pelagic ecosystems: the West Antarctic Peninsula. Philos T R Soc B 362:67–94

Harris CM, Lorenz K, Fishpool LDC, Lascelles B, Cooper J, Coria NR, Croxall JP, Emmerson LM, Fraser WR, Fijn RC, Jouventin P, LaRue MA, Le Maho Y, Lynch HJ, Naveen R, Patterson-Fraser DL, Peter H-U, Poncet S, Phillips RA, Southwell CJ, van Franeker JA, Weimerskirch H, Wienecke B, Woehler EJ (2015) Important Bird Areas in Antarctica 2015 Summary. BirdLife International and Environmental Research & Assessment Ltd., Cambridge

Holdgate MW, Baker PE (1979) The South Sandwich Islands: I. General description. Br Antarct Surv Sci Rep 91:1–76

LaRue MA, Lynch HJ, Lyver POB, Barton K, Ainley DG, Pollard A, Fraser WR, Ballard G (2014) A method for estimating colony sizes of Adélie penguins using remote sensing imagery. Polar Biol 37:507–517

Lynch HJ, Crosbie K, Fagan WF, Naveen R (2010) Spatial patterns of tour ship traffic in the Antarctic Peninsula region. Antarct Sci 22:123–130

Lynch HJ, Naveen R, Trathan PN, Fagan WF (2012a) Spatially integrated assessment reveals widespread changes in penguin populations on the Antarctic Peninsula. Ecology 93:1367–1377

Lynch HJ, White R, Black AD, Naveen R (2012b) Detection, differentiation, and abundance estimation of penguin species by high-resolution satellite imagery. Polar Biol 35:963–968

Murphy EJ, Thorpe SE, Watkins JL, Hewitt R (2004) Modeling the krill transport pathways in the Scotia Sea: spatial and environmental connections generating the seasonal distribution of krill. Deep Sea Res Part II 51:1435–1456

Murphy EJ, Watkins JL, Trathan PN, Reid K, Meredith MP, Thorpe SE, Johnston NM, Clarke A, Tarling GA, Collins MA, Forcada J, Shreeve RS, Atkinson A, Korb R, Whitehouse MJ, Ward P, Rodhouse PG, Enderlein P, Hirst AG, Martin AR, Hill SL, Staniland IJ, Pond DW, Briggs DR, Cunningham NJ, Fleming AH (2007) Spatial and temporal operation of the Scotia Sea ecosystem: a review of large-scale links in a krill centred food web. Philos T R Soc B 362:113–148

Naveen R, Lynch HJ (2011) Antarctic Peninsula compendium, 3rd edn. Environmental Protection Agency, Washington

Naveen R, Lynch HJ, Forrest S, Mueller T, Polito M (2012) First direct, site-wide penguin survey at Deception Island, Antarctic, suggests significant declines in breeding chinstrap penguins. Polar Biol 35:1879–1888

Patterson DL, Woehler EJ, Croxall JP, Cooper J, Poncet S, Peter H-U, Hunter S, Fraser WR (2008) Breeding distribution and population status of the Northern Giant Petrel Macronectes Halli and the Southern Giant Petrel M. Giganteus. Mar Ornithol 36:115–124

Thorpe SE, Murphy EJ, Watkins JL (2007) Circumpolar connections between Antarctic krill (Euphausia superba Dana) populations: investigating the roles of ocean and sea ice transport. Deep Sea Res Part I 54:792–810

Trathan PN, Forcada J, Murphy EJ (2007) Environmental forcing and Southern Ocean marine predator populations: effects of climate change and variability. Philos T R Soc B 362:2351–2365

Trathan PN, Ratcliffe N, Masden EA (2012) Ecological drivers of change at South Georgia: the krill surplus, or climate variability. Ecography 35:983–993

Trivelpiece WZ, Hinke JT, Miller AK, Reiss CS, Trivelpiece SG, Watters GM (2011) Variability in krill biomass links harvesting and climate warming to penguin population changes in Antarctica. Proc Natl Acad Sci USA 108:7625–7628

Wilkinson JV (1956) South Sandwich Islands-birdlife. Sea Swallow 9:18–20

Woehler EJ (1993) The distribution and abundance of Antarctic and subantarctic penguins. Scientific Committee on Antarctic Research, Cambridge
Acknowledgments
Thanks to the crew of the MS Golden Fleece for getting us there, getting us ashore and back again, and keeping us fed and watered along the way. It is hard to imagine that it would have been possible to get so much done without the experience of Jérôme Poncet, who surely knows these islands better than anyone else. Thanks to Tom Hart who participated in the survey and provided notes and photographs, as well as to Thomas Hopper for help digitizing the coastline for GIS support. Many thanks are due to Dr. Keith Reid, Dr. Peter Convey, Dr. Jeroen Creuwels, and one anonymous reviewer, all of whom contributed significantly during the review process. HL and RN would like to acknowledge the Tinker Foundation and the Jeniam Foundation for financial support contributing to the expedition, and HL would like to acknowledge the US National Science Foundation Office of Polar Programs and Geography and Spatial Sciences (Award Nos. 07-39515 and 12-55058) for financial support of the data analysis.
Electronic supplementary material
Below is the link to the electronic supplementary material.
About this article
Cite this article
Lynch, H.J., White, R., Naveen, R. et al. In stark contrast to widespread declines along the Scotia Arc, a survey of the South Sandwich Islands finds a robust seabird community. Polar Biol 39, 1615–1625 (2016). https://doi.org/10.1007/s00300-015-1886-6
Received:

Revised:

Accepted:

Published:

Issue Date:
Keywords
Population estimate

Zavodovski Island

Chinstrap Penguin

Macaroni Penguin

Adélie Penguin

King Penguin