Abstract
Seabird bycatch represents one of the main threats to vulnerable seabird populations, particularly albatross and petrels, and requires urgent conservation management interventions at a global scale. We studied seabird mortality associated with demersal factory trawl vessels that target Argentine Hake Merluccius hubbsi along the Argentine Patagonian Shelf and tested the efficacy of bird-scaring lines as a seabird bycatch mitigation measure. From November 2008 to June 2010, dedicated seabird observers recorded three sources of seabird mortality: entanglements with the trawl net; collisions with the trawl cables (corpses hauled aboard); and collisions with trawl cables (birds observed killed or injured). During 141 days and 389 hauls, we recorded 17 seabird species associated with vessels, ten of which interacted with fishing gear. The most vulnerable species was the black-browed albatross (Thalassarche melanophris). From 41 recovered corpses, we identified black-browed albatross mortality rates of 0.013 and 0.093 birds/haul for net entanglement and cable collision (corpses hauled aboard), respectively. From counts of birds killed or injured by cable collisions, we estimate a black-browed albatross mortality rate of 0.237 birds/h. We use official fishing effort data to consider the potential scale of seabird mortality for the entire fleet and identify the main factors contributing to seabird mortality in this fishery. Bird-scaring lines eliminated seabird mortality caused by collisions with trawl cables and are recommended as a short- to medium-term measure to mitigate seabird mortality in this fishery.
This is a preview of subscription content,
to check access.
Access this article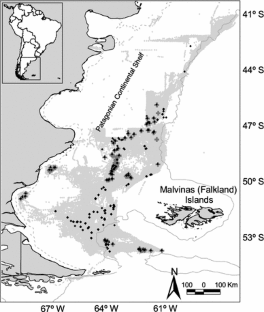 Similar content being viewed by others
References
Abraham ER, Pierre JP, Middleton DAJ, Cleal J, Walker NA, Waugh SM (2009) Effectiveness of fish waste management strategies in reducing seabird attendance at a trawl vessel. Fish Res 95:210–219. doi:10.1016/j.fishres.2008.08.014

ACAP (2013a) ACAP Summary advice for reducing impact of demersal longlines on seabirds. http://www.acap.aq/index.php/en/bycatch-mitigation/cat_view/128-english/392-bycatch-mitigation/391-mitigation-advice

ACAP (2013b) Tasa de mortalidad de aves marinas y pruebas de eficiencia de líneas espantapájaros en la flota congeladora de arrastre de fondo del Mar Argentino. La Rochelle, Francia

Anderson ORJ, Small CJ, Croxall JP, Dunn EK, Sullivan BJ, Yates O, Black A (2011) Global seabird bycatch in longline fisheries. End Species Res 14:91–106

Bakun A (1993) The California Current, Benguela Current, and Southwestern Atlantic Shelf ecosystems; a comparative approach to identifying factors regulating biomass yields. In: Sherman K, Alexander DG, Gold BD (eds) Large marine ecosystems: stress mitigation, and sustainability. AAAS Press, Washington. p 199–221

Bartle JA (1991) Incidental capture of seabirds in the New Zealand subantarctic squid trawl fishery. Bird Conserv Int 1:351–359

Bertolotti MI, Hernández DR, Pagani AN, Castañeda MF (2001) Estratificación y estimación de los rendimientos de la flota de buques procesadores congeladores arrastreros. El Mar Argentino y sus Recursos Pesqueros 3:71–88

BirdLife International (2004) Threatened birds of the World 2004 CD-ROM. http://www.birdlife.org/datazone/info/speciespubs

BirdLife International (2014a) IUCN Red List for birds. http://www.birdlife.org. Accessed 03 Jul 2014

BirdLife International (2014b) Species factsheet: Thalassarche melanophrys. http://www.birdlife.org. Accessed 03 Jul 2014

BirdLife International Marine Programme (2014) Albatross task force annual report 2013. Royal Society for the Protection of Birds, The Lodge

Boggs CH (2001) Deterring albatrosses from contacting baits during swordfish longline sets. Seab Bycatch Trends Roadblocks Solut 01:79–94

Brothers NP (1991) Albatross mortality and associated bait loss in the Japanese longline fishery in the Southern Ocean. Biol Conserv 55:255–268

Brothers NP (1995) An investigation into the causes of seabird mortality and solutions to this in the Spanish system of demersal longline fishing for Patagonian toothfish Dissostichus eleginoides in the South Atlantic Ocean. Parks and Wildlife Service, Tasmania

Brothers NP, Cooper J, Løkkeborg S (1999) The incidental catch of seabirds by longline fisheries: worldwide review and technical guidelines for mitigation. FAO, Rome

Bull LS (2007) A review of methodologies for mitigating incidental catch of seabirds in New Zealand fisheries. DOC research & development series 263. Department of Conservation, Wellington, 57 p

Cochran WG (1963) Sampling techniques, 2nd edn. Wiley, New York

Copello S, Seco Pon JP, Favero M (2014) Spatial overlap of Black-browed Albatrosses with longline and trawl fisheries in the Patagonian Shelf during the non-breeding season. J Sea Res 89:44–51. doi:10.1016/j.seares.2014.02.006

Crawley MJ (2007) The R book, 2nd edn. Wiley, Chichester

Croxall JP, Wood AG (2002) The importance of the Patagonian Shelf for top predator species breeding at South Georgia. Aquat Conserv 12:101–118. doi:10.1002/aqc.480

Development Core Team R (2006) R: a language and environmental for statistical computing. Viena, Austria

Dietrich K, Melvin E (2007) Alaska trawl fisheries: potential interactions with North Pacific Albatrosses. Washington Sea Grant, Seattle

Favero M, Silva Rodriguez P (2005) Estado actual y conservación de aves pelágicas que utilizan la plataforma continental argentina como área de alimentación. Hornero 20:95–110

Favero M, Khatchikian CE, Arias A, Silva Rodriguez P, Cañete G, Mariano-Jelicich R (2003) Estimates of seabird by-catch along the Patagonian Shelf by Argentine longline fishing vessels, 1999–2001. Bird Conserv Int 13:273–281. doi:10.1017/S0959270903003204

Favero M, Blanco G, García G, Copello S, Seco Pon JP, Frere E, Quintana F, Yorio P, Rabuffetti F, Cañete G, Gandini PA (2011) Seabird mortality associated with ice trawlers in the Patagonian shelf: effect of discards on the occurrence of interactions with fishing gear. Anim Conser 14:131–139. doi:10.1111/j.1469-1795.2010.00405.x

Gales R (1998) Albatross populations: status and threads. In: Robertson G, Gales R (eds) Albatross biology and conservation. Surrey and Beatty and Sons, Chipping Norton

Gómez Laich A, Favero M, Mariano-Jelicich R, Blanco G, Cañete G, Arias A, Rodriguez Silva P, Brachetta H (2006) Environmental and operational variability affecting the mortality of Black-browed Albatrosses associated with long-liners in Argentina. Emu 106:21–28

González-Zevallos D, Yorio P (2006) Seabird use of discards and incidental captures at the Argentine hake trawl fishery in the Golfo San Jorge, Argentina. Mar Ecol Prog Ser 316:175–183. doi:10.3354/meps316175

González-Zevallos D, Yorio P, Caille G (2007) Seabird mortality at trawler warp cables and a proposed mitigation measure: a case of study in Golfo San Jorge. Patagon Argent Biol Conserv 136:108–116. doi:10.1016/j.biocon.2006.11.008

González-Zevallos D, Yorio P, Svagelj W (2011) Seabird attendance and incidental mortality at shrimp fisheries in Golfo San Jorge, Argentina. Mar Ecol Prog Ser 432:125–135

Hilborn R, Mangel M (1997) The ecological detective. Confronting models with data. Monographs in population biology 28. Princeton University Press, Princeton

Huin N (2002) Foraging distribution of the Black-browed Albatross, Thalassarche melanophris, breeding in the Falkland Islands. Aquat Conserv 12:89–99. doi:10.1002/aqc.479

Jones LL, DeGange AR (1988) Interactions between seabirds and fisheries in the North Pacific Ocean. In: Burger J (ed) Seabirds and other marine vertebrates: competition, predation and other interactions. Columbia University Press, New York, pp 269–291

Klaer NL, Polacheck T (1995) Japanese longline seabird bycatch in australian fishing zone April 1991–March 1994: Catch and catch rates by area and season and an evaluation of the effectiveness of mitigation methods. CSIRO Division of Fisheries, Hobart, Tasmania (Australia), 95 p

Løkkeborg S (2003) Review and evaluation of three mitigation measures—bird-scaring line, underwater setting and line shooter—to reduce seabird bycatch in the north Atlantic longline fishery. Fish Res 60:11–16

Lucchetti A, Sala A (2010) An overview of loggerhead sea turtle (Caretta caretta) bycatch and technical mitigation measures in the Mediterranean Sea. Rev Fish Biol Fisher 20:141–161

Maree BA, Wanless RM, Fairweather TP, Sullivan BJ, Yates O (2014) Significant reductions in mortality of threatened seabirds in a South African trawl fishery. Anim Conserv 17:520–529. doi:10.1111/acv.12126

Marinao C, Yorio P (2011) Fishery discards and incidental mortality of seabirds attending coastal shrimp trawlers at Isla Escondida, Patagonia, Argentina. Wilson J Ornithol 123:709–719

Melvin E, Dietrich K, Thomas T (2004a) Pilot tests of techniques to mitigate seabird interactions with catcher processor vessels in the Bering Sea pollock trawl fishery: Final report WSG-AS 05-05. Washington Sea Grant, University of Washington

Melvin E, Sullivan B, Robertson G, Wienecke B (2004b) A review of the effectiveness of streamer lines as a seabird by-catch mitigation technique in longline fisheries and CCAMLR streamer line requirements. CCAMLR Sci 11:189–201

Melvin E, Sullivan B, Robertson G, Wienecke B (2004b) Optimizing tori line designs for pelagic tuna longline fisheries: South Africa. Report of work under special permit from the Republic of South Africa Department of Environmental Affairs and Tourism, Marine and Coastal Management Pelagic and High Seas Fishery Management Division. Washington Sea Grant

Melvin EF, Guy TJ, Read LB (2014) Best practice seabird bycatch mitigation for pelagic longline fisheries targeting tuna and related species. Fish Res 149:5–18. doi:10.1016/j.fishres.2013.07.012

Moore JE, Žydelis R (2008) Quantifying seabird bycatch: where do we go from here? Anim Conserv 11:257–259. doi:10.1111/j.1469-1795.2008.00197.x

Nel DC, Ryan PG, Watkins BP (2002) Seabird mortality in the Patagonian toothfish longline fishery around the Prince Edward Islands, 1996–2000. Antarct Sci 14:151–161

Polacheck T, Klaer N (1997) By-catch of Albatrosses and other seabirds by japanese longline fishing vessels in the australian fishing zone from April 1992 to March 1995. Emu 97:150–167

Reid T, Sullivan B, Pompert J, Enticott J, Black A (2005) Seabird mortality associated with Patagonian Toothfish (Dissostichus eleginoides) longliners in Falkland Islands waters. Emu 104:317–325

Rowe SJ (2007) A review of methodologies for mitigating incidental catch of protected marine mammals. Department of Conservation, Wellington

Sánchez R, Navarro G, Rozycky V (2012) Estadísticas de la Pesca Marina en la Argentina. Evolución de los desembarques 1898–2010. 1st edn. Ministerio de Argricultura, Ganadería y Pesca. Presidencia de la Nación. Buenos Aires

Sullivan BJ, Reid TA (2002) Seabird interactions/mortality with longliners and trawlers in Falkland Island waters 2001/02. Falklands Conservation, Stanley

Sullivan BJ, Brickle P, Reid TA, Bone DG (2004) Experimental trials to investigate emerging mitigation measures to reduce seabird mortality caused by warp cable strike on factory trawlers. Falklands Conservation, Stanley

Sullivan BJ, Brickle P, Reid TA, Bone DG, Middleton DAJ (2006a) Mitigation of seabird mortality on factory trawlers: trials of three devices to reduce warp cable strikes. Polar Biol 29:745–753. doi:10.1007/s00300-006-0111-z

Sullivan BJ, Reid TA, Bugoni L (2006b) Seabird mortality on factory trawlers in the Falkland Islands and beyond. Biol Conserv 131:495–504

Tamini LL, Perez JE, Chiaramonte GE, Cappozzo HL (2002) Magellanic Penguin Spheniscus magellanicus and fish as bycatch in the cornalito Sorgentinia incisa fishery at Puerto Quequén, Argentina. Atl Seab 4:109–114

Thompson WL (2002) Towards reliable bird surveys: accounting for individuals present but not detected. Auk 119:18–25. doi:10.1642/0004-8038(2002)119[0018:TRBSAF]2.0.CO;2

Watkins BP, Petersen SL, Ryan PG (2008) Interactions between seabirds and deep-water hake trawl gear: an assessment of impacts in South African waters. Anim Conserv 11:247–254. doi:10.1111/j.1469-1795.2008.00192.x

Weimerskirch H, Brothers N, Jouventin P (1997) Population dynamics of wandering albatross Diomedea exulans and Amsterdam albatross D. amsterdamensis in the Indian Ocean and their relationships with long-line fisheries: conservation implications. Biol Conserv 79:257–270

Weimerskirch H, Capdeville D, Duhamel G (2000) Factors affecting the number and mortality of seabirds attending trawlers and long-liners in the Kerguelen area. Polar Biol 23:236–249

White RW, Gillon KW, Black AD, Reid JB (2002) The distribution of seabirds and marine mammals in Falkland Islands waters. Joint Nature Conservation Committee, Peterborough

Woods RW, Woods A (2006) Birds and mammals of the Falkland Islands. WILDGuides, Old Basing

Yorio P, Bertellotti M, Gandini PA, Frere E (1998) Kelp gulls (Larus dominicanus) breeding on the Argentine coast: population status and relationship with coastal management and conservation. Mar Ornithol 26:11–18
Acknowledgments
Thanks to those who provided the necessary and indispensable data for this study. Gabriela Navarro and Gustavo Martinez of the Dirección Nacional de Planificación Pesquera, Subsecretaría de Pesca y Acuicultura de la Nación and Gabriel Blanco of the National Observer Programe, Instituto Nacional de Investigación y Desarrollo Pesquero (INIDEP). The Albatross Task Force is funded through The Royal Society for the Protection of Birds and BirdLife International. Special thanks to the company Pescargen S. A. and the captains and crews of the Pescargen IV and V.
About this article
Cite this article
Tamini, L.L., Chavez, L.N., Góngora, M.E. et al. Estimating mortality of black-browed albatross (Thalassarche melanophris, Temminck, 1828) and other seabirds in the Argentinean factory trawl fleet and the use of bird-scaring lines as a mitigation measure. Polar Biol 38, 1867–1879 (2015). https://doi.org/10.1007/s00300-015-1747-3
Received:

Revised:

Accepted:

Published:

Issue Date:

DOI: https://doi.org/10.1007/s00300-015-1747-3
Keywords