Abstract
Cyanea is a genus of large bloom-forming scyphozoans, including some of the most conspicuous representatives of megaplankton. Its taxonomy has been revised repeatedly throughout the last century due to the fact that most of the morphological characteristics of Cyanea species, such as color, structure of gastrovascular system and number of tentacles, may overlap greatly in different populations. Here, we report a new species of Cyanea, Cyanea tzetlinii sp. nov., from the White Sea, which is distinguishable from all previously described Cyanea species by an eye-spot-bearing bulb formed at the base of each rhopalium. This well-recognizable morphological characteristic is supported at the molecular level by a substantial genetic distance in mitochondrial (CO1: 9.6–10.6 %, 16S RNA: 3.1–3.5 %) as well as nuclear (ITS: 5.0 %, 18S RNA: 0.1 %) loci, making it the sister species to Cyanea capillata. Taking into account the young geological age of the White Sea and a substantial genetic divergence between C. tzetlinii sp. nov. and the nearest sister species, we suppose that C. tzetlinii sp. nov. has been advected to the White Sea from elsewhere and may also inhabit other Arctic seas. Past ecological studies in the White Sea and possibly in other Arctic Seas could have conflated C. tzetlinii sp. nov. with other species, which likely affected the analyses.
This is a preview of subscription content, log in to check access.
Access options
Buy single article
Instant access to the full article PDF.
US$ 39.95
Price includes VAT for USA
Subscribe to journal
Immediate online access to all issues from 2019. Subscription will auto renew annually.
US$ 199
This is the net price. Taxes to be calculated in checkout.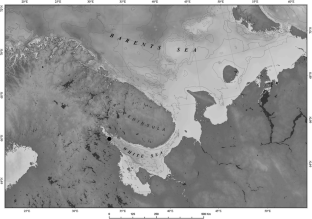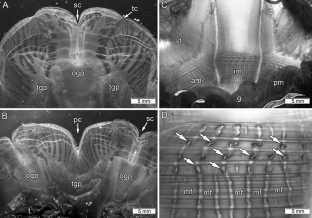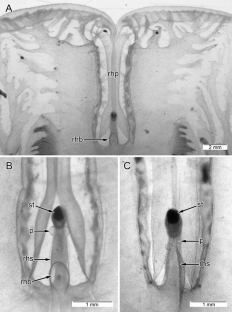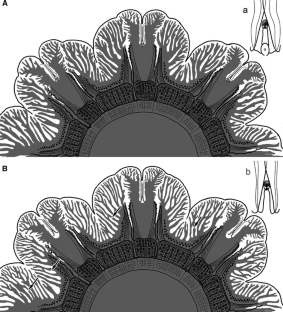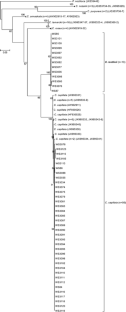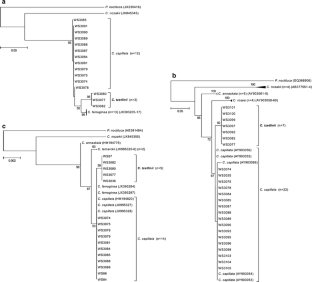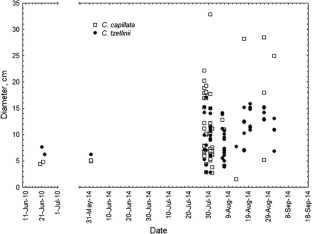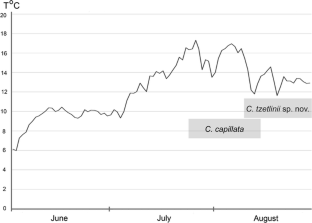 References
Agassiz L (1857) Contributions to the natural history of the United States of America, vol I. Second monograph. Little, Brown and Company, Boston

Agassiz L (1862) Discophorae. Contributions to the natural history of the United States of America, vol IV. Second monograph. Little, Brown and Company, Boston

Altschul SF, Gish W, Miller W, Myers EW, Lipman DJ (1990) Basic local alignment search tool. J Mol Biol 215:403–410

Bayha KM, Dawson MN, Collins AG, Barbeitos MS, Haddock SHD (2010) Evolutionary relationships among scyphozoan jellyfish families based on complete taxon sampling and phylogenetic analyses of 18S and 28S ribosomal DNA. Integr Comp Biol 50:436–455

Bigelow HB (1926) Plankton of the offshore of the gulf of Mane. Bulletin of the bureau of fisheries, vol XL, part II. Government Printing Office, Washington

Brewer RH (1991) Morphological differences between, and reproductive isolation of, two populations of the jellyfish Cyanea in Long Island Sound, USA. Hydrobiologia 216(217):471–477

Bridge D, Cunningham CW, Schierwater B, DeSalle R, Buss LW (1992) Class-level relationships in the phylum Cnidaria: evidence from mitochondrial genome structure. Proc Natl Acad Sci USA 89:8750–8753

Dawson MN (2004) Some implications of molecular phylogenetics for understanding biodiversity in jellyfishes, with an emphasis on Scyphozoa. Hydrobiologia 530(531):249–260

Dawson MN (2005) Morphological variation and systematics in the Scyphozoa: mastigias (Rhizostomeae, Mastigiidae)—a golden unstandard? Hydrobiologia 537:185–206

Dawson MN, Jacobs DK (2001) Molecular evidence for cryptic species of Aurelia aurita (Cnidaria, Scyphozoa). Biol Bull 200:92–96

de Lamarck JBPA (1837) Histore naturelle des animaux sans vertebres, vol 1. Cans and Compagnie, Bruxelles

de Lamarck JBPA (1840) Histore naturelle des animaux des vertebrès, vol 3. Baillière, Libraire

Edgar RC (2004) MUSCLE: multiple sequence alignment with high accuracy and high throughput. Nucleic Acids Res 32:1792–1797

Eimer T (1878) Die Medusen: Physiologisch und Morphologisch auf ihr Nervensystem untersucht. Verlag der H. Laupp'shen Bucchanlung, Tübingen

Féral J-P (2002) How useful are the genetic markers in attempts to understand and manage marine biodiversity? J Exp Mar Biol Ecol 268:121–145

Gardes M, Bruns TD (1993) ITS primers with enhanced specificity for basidiomycetes-application to the identification of mycorrhizae and rusts. Mol Ecol 2:113–118

Giribet G, Carranza S, Baguna J, Riutort M, Ribera C (1996) First molecular evidence for the existence of a Tardigrada + Arthropoda clade. Mol Biol Evol 13:76–84

Giribet G, Carranza S, Baguna J, Riutort M, Ribera C (1999) Internal phylogeny of the Chilopoda (Myriapoda, Arthropoda) using complete 18S rDNA and partial 28S rDNA sequences. Philos Trans R Soc Lond B Biol Sci 354:215–222

Graham WM, Bayha KM (2007) Biological invasions by marine jellyfish. In: Nentwig W (ed) Springer, Berlin, pp 240–255

Haeckel E (1879) System der Acrapeden, Zweite Hälfte des system der Medusen, vol 2. Gustav Fischer, Jena

Hansson LJ (1997) Capture and digestion of the scyphozoan jellyfish Aurelia aurita by Cyanea capillata and prey response to predator contact. J Plankton Res 19:195–208

Hay SJ, Hislop JRG, Shanks AM (1990) North Sea Scyphomedusae; summer distribution, estimated biomass and significance particularly for 0-group gadoid fish. Neth J Sea Res 25:113–130

Hillis DM, Wiens JJ (2000) Molecules versus morphology in systematics: conflicts, artifacts, and misconceptions. Phylogenetic analysis of morphological data. Smithsonian Institution Press, Washington

Holst S, Laakmann S (2013) Morphological and molecular discrimination of two closely related jellyfish species, Cyanea capillata and C. lamarckii (Cnidaria, Scyphozoa), from the northeast Atlantic. J Plankton Res 36:48–63

Kimura M (1980) A simple method for estimating evolutionary rates of base substitutions through comparative studies of nucleotide sequences. J Mol Evol 16:111–120

Knowlton N (1993) Sibling species in the sea. Ann Rev Ecol Syst 24:189–216

Knowlton N (2000) Molecular genetic analyses of species boundaries in the sea. Hydrobiologia 420:73–90

Kramp PL (1961) Synopsis of the medusae of the world. J Mar Biol Assoc UK 469:1–469

Lambeck K (1996) Limits on the areal extent of the Barents Sea ice sheet in Late Weichselian time. Glob Planet Change 12:41–51

Lilley MKS, Beggs SE, Doyle TK, Hobson VJ, Stromberg KHP, Hays GC (2011) Global patterns of epipelagic gelatinous zooplankton biomass. Mar Biol 158:2429–2436

Loginova NP, Perzova NM (1967) Some data on ecology of feeding pelagic coelenterate in the White Sea. Isseldovaniya Fauni Moorei 7:21–28

Malyutin OI (2010) Scyphozoa. In: Tzetlin AB, Zhadan AE, Marfenin NN (eds) Flora and fauna of the White Sea. Tovarischestvo nauchnikh izdanii KMK, Moscow

Mayer AG (1910) Scyphomedusae. Medusae of the World, vol III. Carnegie Institution of Washington, Washington

Meyer CP, Geller JB, Paulay G (2005) Fine scale endemism on coral reefs: archipelagic differentiation in turbinid gastropods. Evolution 59:113–125

Murdoch J (1885) Marine invertebrates. Report of international polar expedition to point barrow, Alaska. Washington Government Printnig Office, Washington, pp 136–190

Naumov DV (1961) Scyphozoans of the USSR. In: Pavlovskii EN (ed) Keys to the Fauna of the USSR. Zool Inst Acad Sci USSR, Moscow

Naumov AD, Fedyakov VV (1993) Everlasting White Sea. Izdatelstvo Sankt-Petersburgskogo gorodskogo dvortsa tvorchestva yunikhSaint Petersburg, Saint Petersburg. [in Russian]

Ospovat MF (1985) On phylogeny and classification of the type Ctenophora. Zoologichesky Zhurnal 64:965–974

Palumbi SR (1992) Marine speciation on a small planet. Trends Ecol Evol 7:114–118

Peron F, Leuseur CA (1809) Histoire générale et particulière de tous les animaux qui composent la famille des Méduses. Annls Mus Hist Nat 14:363

Raskoff KA, Sommer FA, Hamner WM, Cross KM (2003) Collection and culture techniques for gelatinous zooplankton. Biol Bull 204:68–80

Raskoff KA, Hopcroft RR, Kosobokova KN, Purcell JE, Youngbluth MY (2010) Jellies under ice: ROV observations from the Arctic 2005 hidden ocean expedition. Deep Sea Res 57:111–126

Russell FS (1970) The Medusae of the British Isles. Pelagic Scyphozoa with a supplement to the first volume on Hydromedusae. Cambridge University Press, Cambridge

Saitou N, Nei M (1987) The neighbor-joining method: a new method for reconstructing phylogenetic trees. Mol Biol Evol 4:406–425

Saranchova OL, Flyachinskaya LP (2001) The influence of salinity on early ontogeny of the Mussel Mytilus edulis and the Starfish Asterias rubens from the White Sea. Russ J Mar Biol 27:87–93

Sparmann SF (2012) Contributions to the molecular phylogeny, phylogeography, and taxonomy of scyphozoan jellyfish. Dissertation, University of British Columbia

Stepanjants SD (1989) Hydrozoa of the Eurasian Arctic Seas. In: Herman Y (ed) The Arctic Seas: climatology, oceanography, geology and biology. Van Nostrand Reinhold, New York, pp 397–430

Stiasny G, van der Maaden H (1943) Über scyphomedusen aus dem Ochotskishen und Kamtschatka Meer nebst einer kritik der Genera Cyanea und Desmonema. Zool Jährbucher Abteilung Syst 76:227–266

Tamura K, Stecher G, Peterson D, Filipski A, Kumar S (2013) MEGA6: molecular evolutionary genetics analysis version 6.0. Mol Biol Evol 30:2725–2729

Vanhöffen E (1888) Untersuchungen über Semaeostome und Rhizostome Medusen. Verlag von Theodor Fisher. Cassel

von Linnaeus C (1758) Systema naturae per regna tria naturae, secundum classes, ordines, genera, species, cum characteribus, differentiis, synonymis, locis. Laurentius Salvius, Holmiae

Yashnov VA (1948) Classis Scyphozoa. In: Gayevskaya NS (ed) Determination of the Fauna and Flora of the Northern Seas of USSR. Sovetskaya Nauka, Moscow
Acknowledgments
We thank Nikolay Neretin and Boris Feniouk for help in collection and processing of Cyanea samples, and Nikolay Mugue, Alexander Tzetlin, Andrey Prudkovsky, Nikolay Marfenin, Boris Osadchenko and Anna Zhadan for valuable discussions. We thank the personnel of the White Sea Biological Station for the wonderful research opportunities provided at this facility. This work was performed during the Molecular Biology and General Biology course for the students of the Faculty of Bioengineering and Bioinformatics of the Lomonosov Moscow State University. The molecular investigations were supported by Russian Scientific Foundation grant 14-50-00029 and by grant 15-29-02447 from the Russian Fund for Basic Research.
Electronic supplementary material
Below is the link to the electronic supplementary material.
About this article
Cite this article
Kolbasova, G.D., Zalevsky, A.O., Gafurov, A.R. et al. A new species of Cyanea jellyfish sympatric to C. capillata in the White Sea. Polar Biol 38, 1439–1451 (2015). https://doi.org/10.1007/s00300-015-1707-y
Received:

Revised:

Accepted:

Published:

Issue Date:
Keywords
Scyphozoa

Cyanea

Medusae

Taxonomy

Rhopalium

Molecular genetics

Biodiversity