Abstract
Sea-ice is a key physical driver of Antarctic marine ecosystems. Understanding ecological effects of sea-ice is particularly important given current and future climate change, but a major obstacle is the impracticality of manipulating sea-ice at a relevant scale. However, large-scale anomalous events, such as those occurring in Commonwealth Bay, East Antarctica, provide opportunities for natural experiments. Historically, katabatic winds have kept Commonwealth Bay ice-free for most of each year, but since 2010, a massive grounded iceberg has resulted in year-round sea-ice cover. We surveyed benthic communities in Commonwealth Bay approximately 3 years after continuous sea-ice cover began and found algal bed communities in severe decline. The majority (~75 %) of large macroalgae were decomposing, and the remainder were discoloured or bleached, while approximately 40 % of encrusting coralline algae were bleached. Accompanying this, the presence of invertebrates such as ophiuroids and polychaetes suggests that communities are in the early stages of transitioning to an invertebrate-dominated state. With a known start date, monitoring benthic communities in Commonwealth Bay will allow quantification of rates of benthic regime shifts in response to sea-ice cover, and improve understanding of the vulnerability of polar ecosystems to climate change.
Access options
Buy single article
Instant access to the full article PDF.
US$ 39.95
Tax calculation will be finalised during checkout.
Subscribe to journal
Immediate online access to all issues from 2019. Subscription will auto renew annually.
US$ 119
Tax calculation will be finalised during checkout.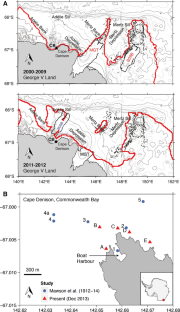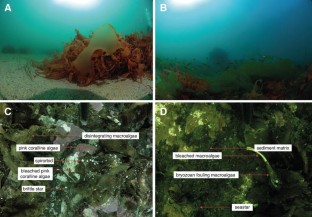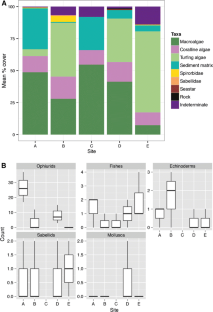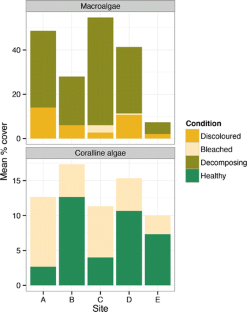 References
Aguilera J, Karsten U, Lippert H, Vogele B, Philipp E, Hanelt D, Wiencke C (1999) Effects of solar radiation on growth, photosynthesis and respiration of marine macroalgae. Mar Ecol Prog Ser 191:109–119

Mayewski PA et al (2009) State of the Antarctic and Southern Ocean climate system. Rev Geophys 47:RG1003

Amsler CD, McClintock JB (1998) Chemical defence against herbivory in the Antarctic marine macroalgae Iridaea cordata and Phyllophora antarctica (Rhodophyceae). J Phycol 34:35–59

Anderson MJ (2001) A new method for non-parametric multivariate analysis of variance. Austral Ecol 26:32–46. doi:10.1111/j.1442-9993.2001.01070.pp.x

Anderson MJ, Gorley RN, Clarke KR (2007) Permanova + for primer: guide to software and statistical methods. Primer-E, Plymouth

Baird HP, Miller KJ, Stark JS (2011) Evidence of hidden biodiversity, ongoing speciation and diverse patterns of genetic structure in giant Antarctic amphipods. Mol Ecol 20:3439–3454

Barnes DKA (1996) Low levels of colonisation in Antarctica: the role of bryozoans in early community development. In: Gordon DP, Smith AM, Grant-Mackie JA (eds) Bryozoans in space and time. National Institute of Water and Atmospheric Research, Wellington, p 442

Barnes DKA, Souster T (2011) Reduced survival of Anarctic benthos linked to climate-induced iceberg scouring. Nat Clim Change 1:365–368

Bintanja R, van Oldenborgh GJ, Drijfhout SS, Wouters B, Katsman CA (2013) Important role for ocean warming and increased ice-shelf melt in Antarctic sea-ice expansion. Nat Geosci 6:376–379

Boé J, Hall A, Qu X (2009) September sea-ice cover in the Arctic Ocean projected to vanish by 2100. Nat Geosci 2:341

Brey T, Dahm C, Gorny M, Klages M, Stiller M, Arntz WE (1996) Do Antarctic benthic invertebrates show an extended level of eurybathy? Antarct Sci 8(1):3–6

Brown KM, Fraser KPP, Barnes DKA, Peck LS (2004) Links between the structure of an Antarctic shallow-water community and ice-scour frequency. Oecologia 141:121–129

Campana GL, Zacher K, Fricke A, Molis M, Wulff A, Quartino ML, Wiencke C (2009) Drivers of colonization and succession in polar benthic macro- and microalgal communities. Bot Mar 52:655–667

Campbell AH, Harder T, Nielsen S, Kjelleberg S, Steinberg PD (2011) Climate change and disease: bleaching of a chemically defended seaweed. Glob Change Biol 17:2958–2970

Campbell AH, Verges A, Steinberg PD (2014) Demographic consequences of disease in a habitat-forming seaweed and impacts on interactions between natural enemies. Ecology 95:142–152

Clark GF, Stark JS, Johnston EL, Runcie JW, Goldsworthy PM, Raymond B, Riddle MJ (2013) Light-driven tipping points in polar ecosystems. Glob Change Biol 19:3749–3761

Clark GF, Raymond B, Riddle MJ, Stark JS, Johnston EL (2015) Vulnerability of Antarctic shallow invertebrate-dominated ecosystem. Austral Ecol. doi:10.1111/aec.12237

Connell SD (2007) Water quality and the loss of coral reefs and kelp forests: alternative states and the influence of fishing. In: Connell SD, Gillanders BM (eds) Marine ecology. Oxford University Press, Melbourne

Dunbar RB, Anderson JB, Stockton WL (1989) Biogenic sedimentation in McMurdo Sound, Antarctica. Mar Geol 85:155–179

Filinger L, Janussen D, Lundalv T, Richter C (2013) Rapid glass sponge expansion after climate-induced Antarctic ice shelf collapse. Curr Biol 23:1330–1334

Fuiman L, Davis R, Williams T (2002) Behavior of midwater fishes under the Antarctic ice: observations by a predator. Mar Biol 140:815–822. doi:10.1007/s00227-001-0752-y

Gorman D, Connell SD (2009) Recovering subtidal forests in human-dominated landscapes. J Appl Ecol 46:1258–1265

Gutt J (2001) On the direct impact of ice on marine benthic communities, a review. Polar Biol 24:553–564

Gutt J, Starmans A, Dieckmann G (1996) Impact of iceberg scouring on polar benthic habitats. Mar Ecol Prog Ser 137:311–316

Gutt J, Barnes DKA, Lockhart SJ, van de Putte A (2013a) Antarctic macrobenthic communities: a compilation of circumpolar information. Nat Conserv 4:1–13

Gutt J, Griffiths HJ, Jones CD (2013b) Circumpolar overview and spatial heterogeneity of Antarctic macrobenthic communities. Mar Biodivers 43:481–487

Harrold C, Reed DC (1985) Food availability, sea urchin grazing, and kelp forest community structure. Ecology 66:1160–1169

Irving AD, Connell SD, Elsdon TS (2004) Effects of kelp canopies on bleaching and photosynthetic activity of encrusting coralline algae. J Exp Mar Biol Ecol 310:1–12

Irving AD, Connell SD, Johnston EL, Pile AJ, Gillanders BM (2005) The response of encrusting coralline algae to canopy loss: an independent test of predictions on an Antarctic coast. Mar Biol 147:1075–1083

Johnston EL, Connell SD, Irving AD, Pile AJ, Gillanders BM (2007) Antarctic patterns of shallow subtidal habitat and inhabitants in Wilke's Land. Polar Biol 30:781–788

Kidson E (1946) Meteorology. Discussions of Observations at Adélie Land, Queen Mary Land and Macquarie Island. Sydney

Kortsch S, Primicerio R, Beuchel F, Renaud PE, Rodrigues J, Jørgen Lønne O, Gulliksen B (2012) Climate-driven regime shifts in Arctic marine benthos. Proc Natl Acad Sci. doi:10.1073/pnas.1207509109

Krause-Jensen D et al (2012) Seasonal sea ice cover as principal driver of spatial and temporal variation in depth extension and annual production of kelp in Greenland. Glob Change Biol. doi:10.1111/j.1365-2486.2012.02765.x

Kühl M, Glud RN, Borum J, Roberts R, Rysgaard S (2001) Photosynthetic performance of surface-associated algae below sea ice as measured with a pulse-amplitude-modulated (PAM) fluorometer and O2 microsensors. Mar Ecol Prog Ser 223:1–14

Lohrer AM, Cummings VJ, Thrush S (2013) Altered sea ice thickness and permanance affects benthic ecosystem functioning in coastal Antarctica. Ecosystems 16:224–236

Lucas AHS (1919) The Algae of Commonwealth Bay. Sydney, Australia

Marzinelli EM, Underwood AJ, Coleman RA (2011) Modified habitats influence kelp epibiota via direct and indirect effects. PLoS ONE 6:e21936

Mawson D (1940) Marine biological programmme and other zoological and botanical activities, vol 2. University of Adelaide, Sydney, Australia

Miles BWJ, Stokes CR, Vieli A, Cox NJ (2013) Rapid, climate-driven changes in outlet glaciers on the Pacific coast of East Antarctica. Nature 500:563–567. doi:10.1038/nature12382

Parish TR, Walker R (2006) A re-examination of the winds of Adélie Land, Antarctica. Aust Meteorol Mag 55:105–117

Parkinson CL (2004) Southern Ocean sea ice and its wider linkages: insights revealed from models and observations. Antarct Sci 16:387–400

Pritchard HD, Vaughan DG (2007) Widespread acceleration of tidewater glaciers on the Antarctic Peninsula. J Geophys Res 112: F03S29. doi:10.1029/2006JF000597

Quartino ML, Deregibus D, Campana GL, Latorre GEJ, Momo FR (2013) Evidence of macroalgal colonization on newly ice-free areas following glacial retreat in potter cove (South Shetland Islands), Antarctica. PLoS ONE 8:e58223. doi:10.1371/journal.pone.0058223

Rignot E, Casassa G, Gogineni P, Krabill W, Rivera A, Thomas R (2004) Accelerated ice discharge from the Antarctic Peninsula following the collapse of Larsen B ice shelf. Geophys Res Lett. doi:10.1029/2004GL020697

Runcie JW, Riddle MJ (2006) Photosynthesis of marine macroalgae in ice-covered and ice-free environments in East Antarctica. Eur J Phycol 41:223–233

Scheffer M, Carpenter S (2003) Catastrophic regime shifts in ecosystems: linking theory to observation. Trends Ecol Evol 18:648–656

Shadwick EH et al (2013) Glacier tongue calving reduced water formation and enhanced carbon uptake. Geophys Res Lett 40:904–909

Smale DA, Brown KM, Barnes DKA, Fraser KPP, Clarke A (2008) Ice scour disturbance in Antarctic waters. Science 321:371

Stanwell-Smith D, Barnes DKA (1997) Benthic community development in Antarctica: recruitment and growth on settlement panels at Signy Island. J Exp Mar Biol Ecol 212:61–79

Tamura T, Williams GD, Fraser AD, Ohshima KI (2012) Potential regime shift in decreased sea ice production after the Mertz Glacier calving. Nature Comms 3:826. doi:10.1038/ncomms1820

Wahl M, Hay ME (1995) Associational resistance and shared doom—effects of epibiosis on herbivory. Oecologia 102:329–340

Zacher K, Rautenberger R, Hanelt D, Wulff A, Wiencke C (2009) The abiotic environment of polar marine benthic algae. Bot Mar 52:483–490
Acknowledgments
We thank members of the Australasian Antarctic Expedition 2013–2014 (www.spiritofmawson.com) for their support of this study. GFC was supported by a UNSW Strategic Research Grant awarded to ELJ. EMM thanks SIMS and Director PD Steinberg for additional support. Work was conducted under Antarctic Treaty (Environment Protection) permit number ATEP 13-14-AAE 2013.
About this article
Cite this article
Clark, G.F., Marzinelli, E.M., Fogwill, C. et al. Effects of sea-ice cover on marine benthic communities: a natural experiment in Commonwealth Bay, East Antarctica. Polar Biol 38, 1213–1222 (2015). https://doi.org/10.1007/s00300-015-1688-x
Received:

Revised:

Accepted:

Published:

Issue Date:
Keywords
Antarctic

Australasian Antarctic Expedition (AAE)

Benthic

Iceberg B09B

Invertebrates

Irradiance

Light

Macroalgae

Phase shift

Regime shift