Abstract
The McMurdo Dry Valleys of Antarctica are a unique yet threatened polar biome. Cyanobacterial mats form a large part of the standing biomass in the McMurdo Dry Valleys and are therefore an indicator of ecosystem productivity and health. They are, however, patchily distributed, and this has hampered spatial ecology studies due to the logistical challenges of ground-based field sampling. Here, we report the application of remote sensing using a fixed-wing unmanned aerial vehicle (UAV) and GIS spatial mapping to identify cyanobacterial mats, estimate their extent and discriminate between different mat types. Using the Spalding Pond area of Taylor Valley as a test site, we were able to identify mats on soil surfaces within the hyporheic zone, as well as benthic mats below the water surface. The mapping also clearly identified the footprint of campsites and walking trails on soils, and we highlight the potential of this technique in monitoring human impact in this fragile ecosystem.
This is a preview of subscription content, log in to check access.
Access options
Buy single article
Instant access to the full article PDF.
US$ 39.95
Tax calculation will be finalised during checkout.
Subscribe to journal
Immediate online access to all issues from 2019. Subscription will auto renew annually.
US$ 199
Tax calculation will be finalised during checkout.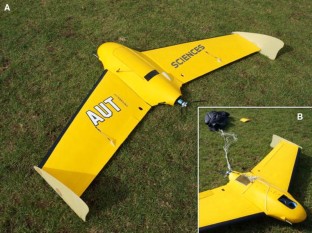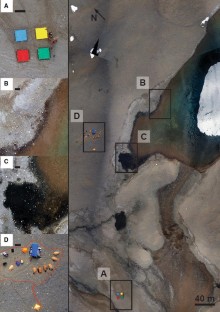 References
Bottos EM, Woo AC, Zawar-Reza P, Pointing SB, Cary SC (2013) Airborne bacterial populations above desert soils of the McMurdo Dry Valleys, Antarctica. Microb Ecol 67:120–128

Broady PA (2005) The distribution of terrestrial and hydro-terrestrial algal associations at three contrasting locations in Southern Victoria Land, Antarctica. Algol Stud/Arch Hydrobiol 118:95–112

Cary SC, McDonald IR, Barrett JE, Cowan DA (2010) On the rocks: the microbiology of Antarctic Dry Valley soils. Nat Rev Microbiol 8:129–138

Chan Y, Lacap DC, Lau MCY, Ha KY, Warren-Rhodes KA, Cockell CS, Cowan DA, McKay CP, Pointing SB (2012) Hypolithic microbial communities: between a rock and a hard place. Environ Microbiol 14:2272–2282

Chan Y, Van Nostrand JD, Zhou D, Pointing SB, Farrell RL (2013) Functional ecology of an Antarctic Dry Valley. Proc Natl Acad Sci USA 110:8990–8995

Conovitz A, Mcknight DM, Niyogi DEVK, Bomblies A, Tate M, South V (1999) Valley streams: ecosystems waiting for water. Bioscience 49:985–995

Convey P, Gibson JAE, Hillenbrand C-D, Hodgson DA, Pugh PJA, Smellie JL, Stevens MI (2008) Antarctic terrestrial life: challenging the history of the frozen continent? Biol Rev Camb Philos Soc 83:103–117

Cowan DA, Pointing SB, Stevens MI, Stomeo F, Tuffin IM, Cary SC (2011) Distribution and abiotic influences on hypolithic microbial communities in an Antarctic Dry Valley. Polar Biol 34:307–311

Davey A, Marchant HJ (1983) Seasonal variation in nitrogen fixation by Nostoc commune Vaucher at the Vestfold Hills, Antarctica. Phycologia 22:377–385

Fraser CA, Terauds A, Smellie J, Convey P, Chown SL (2014) Geothermal activity helps life survive glacial cycles. Proc Natl Acad Sci USA 111:5634–5639

Green TGA, Sancho LG, Pintado A, Schroeter B (2011) Functional and spatial pressures on terrestrial vegetation in Antarctica forced by global warming. Polar Biol 34:1643–1656

Hodgson DA, Vyverman W, Verleyen E, Sabbe K, Leavitt PR, Taton A, Squier AH, Keely BJ (2004) Environmental factors influencing the pigment composition of in situ benthic microbial communities in east Antarctic lakes. Aq Microb Ecol 37:247–263

Hogg ID, Wall DH (2011) Global change and Antarctic terrestrial biodiversity. Polar Biol 34:1625–1627

Jungblut A-D, Hawes I, Mountfort D, Hitzfeld B, Dietrich DR, Burns BP, Neilan BA (2005) Diversity within cyanobacterial mat communities in variable salinity meltwater ponds of McMurdo Ice Shelf, Antarctica. Environ Microbiol 7:519–529

Lucieer A, Turner D, King DH, Robinson SA (2014) Using an unmanned aerial vehicle (UAV) to capture micro-topography of Antarctic moss beds. Int J Appl Earth Obs Geoinf 27:53–62

Novis PM, Whitehead D, Gregorich EG, Hunt JE, Sparrow AD, Hopkins DW, Elberling B, Greenfield LG (2007) Annual carbon fixation in terrestrial populations of Nostoc commune (Cyanobacteria) from an Antarctic Dry Valley is driven by temperature regime. Glob Change Biol 13:1224–1237

Pointing SB, Belnap J (2012) Microbial colonization and controls in dryland systems. Nat Rev Microbiol 10:551–562

Pointing SB, Chan Y, Lacap DC, Lau MCY, Jurgens JA, Farrell RL (2009) Highly specialized microbial diversity in hyper-arid polar desert. Proc Natl Acad Sci USA 106:19964–19969

Rao S, Chan Y, Lacap DC, Hyde KD, Pointing SB, Farrell RL (2011) Low-diversity fungal assemblage in an Antarctic Dry Valleys Soil. Polar Biol 35:567–574

SCAR (2004) SCAR Bulletin 155. Polar Rec 40:371–382

Taton A, Grubisic S, Brambilla E, De Wit E, Wilmotte A, De Wit R (2003) Cyanobacterial diversity in natural and artificial microbial mats of Lake Fryxell McMurdo Dry Valleys, Antarctica: a morphological and molecular approach. Appl Environ Microbiol 69:5157–5169

Taton A, Grubisic S, Balthasart P, Hodgson DA, Laybourn-Parry J, Wilmotte A (2006) Biogeographical distribution and ecological ranges of benthic cyanobacteria in East Antarctic lakes. FEMS Microbiol Ecol 57:272–289

Vincent WF, Downes MT, Castenholz RW, Howard-Williams C (1993) Community structure and pigment organisation of cyanobacteria-dominated microbial mats in Antarctica. Eur J Phycol 28:213–221

Wharton RA, Parker BC, Simmons GM (1983) Distribution, species composition and morphology of algal mats in Antarctic Dry Valley lakes. Phycologia 22:355–365

Wood SA, Rueckert A, Cowan DA, Cary SC (2008) Sources of edaphic cyanobacterial diversity in the Dry Valleys of Eastern Antarctica. ISME J 2:308–320

Yung CM, Chan Y, Lacap DC, Pérez-Ortega S, de Los Rios-Murillo A, Lee CK, Cary SC, Pointing SB (2014) Characterization of chasmoendolithic community in Miers Valley, McMurdo Dry Valleys, Antarctica. Microb Ecol 68:351–359
Acknowledgments
The authors are extremely grateful to Antarctica New Zealand for field logistical support, and to staff at Air Traffic Control Services (Mac Centre, McMurdo Station, US Antarctic Program) for supporting our UAV flight program. The research was funded by the Institute for Applied Ecology New Zealand.
Additional information
Barbara Bollard-Breen and John D. Brooks have contributed equally to this article.
About this article
Cite this article
Bollard-Breen, B., Brooks, J.D., Jones, M.R.L. et al. Application of an unmanned aerial vehicle in spatial mapping of terrestrial biology and human disturbance in the McMurdo Dry Valleys, East Antarctica. Polar Biol 38, 573–578 (2015). https://doi.org/10.1007/s00300-014-1586-7
Received:

Revised:

Accepted:

Published:

Issue Date:
Keywords
Antarctica

McMurdo Dry Valleys

Conservation

Cyanobacterial mats

UAV

Unmanned aerial vehicle