Abstract
Tardigrades are important members of the simple terrestrial ecosystems in the extreme environments in Antarctica. This study provides a baseline description of tardigrade species diversity and distribution pattern within the terrestrial and lake environments of the coastal regions around Syowa Station and the neighbouring inland Sør Rondane Mountains, Dronning Maud Land. We combined data obtained from new and previously described collections and updated data available in the existing literature. We recorded five tardigrade species, three of which (Echiniscus pseudowendti Dastych 1984, Hebesuncus ryani Dastych and Harris 1994, Pseudechiniscus sp.) have not previously been reported from the area, increasing the total recorded tardigrade diversity for this region of continental Antarctica to ten species. The results of our study indicate that tardigrades have been and are major components of the lake environment community in continental Antarctica, with Acutuncus antarcticus (Richters 1904) the most common and dominant species. Our data confirm that the tardigrade species diversity in the vicinity of Syowa Station is very low and suggest potential relationships between individual tardigrade species and terrestrial moss species and depth in freshwater ecosystems.
Access options
Buy single article
Instant access to the full article PDF.
USD 39.95
Price excludes VAT (USA)
Tax calculation will be finalised during checkout.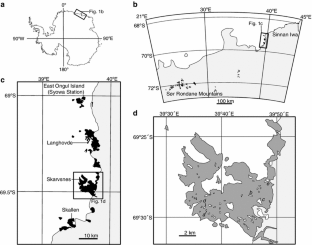 References
Adams B, Bardgett RD, Ayres E, Wall DH, Aislabie J, Bamforth S, Bargagli R, Cary C, Cavacini P, Connell L, Convey P, Fell J, Frati F, Hogg I, Newsham N, O'Donnell A, Russell N, Seppelt R, Stevens MI (2006) Diversity and distribution of Victoria Land biota. Soil Biol Biochem 38:3003–3018

Binda MG, Pilato G (2000) Diphascon (Adropion) tricuspidatum, a new species of eutardigrade from Antarctica. Polar Biol 23:75–76

Cannone N, Convey P, Guglielmin M (2013) Diversity trends of bryophytes in continental Antarctica. Polar Biol 36:259–271

Chown SL, Huiskes AHL, Gremmen NJM, Lee JE, Terauds A, Crosbie K, Frenot Y, Hughes KA, Imura S, Kiefer K, Lebouvier M, Raymond B, Tsujimoto M, Ware C, Vijver B, Bergstrom DM (2012) Continent-wide risk assessment for the establishment of nonindigenous species in Antarctica. Proc Natl Acad Sci 109:4938–4943

Convey P (2013) Antarctic ecosystems. In: Levin SA (ed) Encyclopedia of biodiversity, vol 1, 2nd edn. Elsevier, San Diego, pp 179–1888

Convey P, McInnes SJ (2005) Exceptional tardigrade-dominated ecosystems in Ellsworth Land, Antarctica. Ecology 86:519–527

Czechowski P, Sands CJ, Adams BJ, D'Haese CA, Gibson JAE, McInnes SJ, Stevens MI (2012) Antarctic Tardigrada: a first step in understanding molecular operational taxonomic units (MOTUs) and biogeography of cryptic meiofauna. Invertebr Syst 26:526–538

Dastych H (1984) The Tardigrada from Antarctic with descriptions of several new species. Acta Zool Cracov 27:377–436

Dastych H (1991) Redescription of Hypsibius antarcticus (Richters, 1904), with some notes on Hypsibius arcticus (Murray, 1907) (Tardigrada). Mitt Ham Zool Mus Inst 88:141–159

Dastych H (2003) Diphascon langhovdense (Sudzuki, 1964) stat. nov., a new taxonomic status for the semi-terrestrial tardigrade (Tardigrada). Acta Biol Benrodis 12:19–25

Dastych H, Drummond AE (1996) Notes on limnic water-bears (Tardigrada) from the Robertskollen nunataks, Dronning Maud Land, Antarctica. Entomol Mitt 12:111–117

Dastych H, Harris JM (1994) A new species of the genus Hebesuncus from the Antarctic nunataks, Dronning Maud Land (Tardigrada). Entomol Mitt 11:139–145

Dougherty EC (1964) Cultivation and nutrition of the micrometazoa. II. An antarctic strain of the tardigrade Hypsibius arcticus (Murray 1907) Marcus 1928. Trans Am Microsc Soc 83(1):7–11

Dougherty EC, Harris LG (1963) Antarctic micrometazoa: freshwater species in the McMurdo Sound area. Science 140:497–498

Gibson JAE, Comer L, Agius JT, McInnes SJ, Marley NJ (2007) Tardigrade eggs and exuviae in Antarctic lake sediments: insights into Holocene dynamics and origins of the fauna. J Limnol 66(s1):65–71

Hodgson D, Convey P, Verleyen E, Vyverman W, McInnes S, Sands CS, Fernández-Carazo R, Wilmotte A (2010) Observations on the limnology and biology of the Dufek Massif, Transantarctic Mountains 82° South. Polar Sci 4:197–214

Imura S, Bando T, Saito S, Seto K, Kanda H (1999) Benthic moss pillars in Antarctic lakes. Polar Biol 22:137–140

Imura S, Bando T, Seto K, Ohtani S, Kudoh S, Kanda H (2003) Distribution of aquatic mosses in the Sôya Coast region. Polar Biosci 16:1–10

Kagoshima H, Imura S, Suzuki AC (2013) Molecular and morphological analysis of an Antarctic tardigrade, Acutuncus antarcticus. J Limnol 72(s1):15–23

McInnes SJ (1995) Tardigrades from Signy Island, South Orkney Islands, with particular reference to freshwater species. J Nat Hist 29:1419–1445

McInnes SJ, Pugh PJA (1999) Zonation in Antarctic lake-dwelling benthic meiofauna, with emphasis on the Tardigrada. Zool Anz 238:283–288

Miller WR, Miller JD, Heatwole HF (1996) Tardigrades of the Australian Antarctic Territories: the Windmill Islands, East Antarctica. Zool J Linn Soc 116:175–184

Morikawa K (1962) Notes on some Tardigrada from the Antarctic region. Biol Res Jpn Ant Res Exp 17:3–6

Murray J (1910) Tardigrada. British Antarctic expedition 1907–1909, reports on the scientific investigations. Biology 1(Part V):83–187 (plates 14–21)

Nakai R, Abe T, Baba T, Imura S, Kagoshima H, Kanda H, Kohara Y, Koi A, Niki H, Yanagihara K, Naganuma T (2012) Eukaryotic phylotypes in aquatic moss pillars inhabiting a freshwater lake in East Antarctica, based on 18S rRNA gene analysis. Polar Biol 35:1495–1504

Ochyra R, Lewis Smith RI, Bednarek-Ochyra H (2008) The illustrated moss flora of Antarctica. Cambridge University Press, Cambridge

Priddle J, Dartnall HJG (1978) Biology of an Antarctic aquatic moss community. Freshw Biol 8:469–480

Quayle WC, Peck LS, Peat H, Ellis-Evans JC, Richard Harrigan P (2002) Extreme responses to climate change in Antarctic Lakes. Science 295:645

Quesada A, Fernandez-Valiente E, Hawes I, Howard-Williams C (2008) Benthic primary production in polar lakes and rivers. In: Vincent WF, Laybourn-Parry J (eds) Polar lakes and rivers. Oxford University Press, Oxford, pp 179–196

Ramazzotti G, Maucci W (1983) Il phylum Tardigrada. Mem Istit Ital Idrobiol 41:1–1012

Sabbe K, Hodgson DA, Verleyen E, Taton A, Wilmotte A, Vanhoutte K, Vyverman W (2004) Salinity, depth and the structure and composition of microbial mats in continental Antarctic lakes. Freshw Biol 49:296–319

Sohlenius B, Boström S (2005) The geographic distribution of metazoan microfauna on East Antarctic nunataks. Polar Biol 28:439–448

Sohlenius B, Boström S, Hirschfelder A (1995) Nematodes, rotifers and tardigrades from nunataks in Dronning Maud Land, East Antarctica. Polar Biol 15:51–56

Sohlenius B, Boström S, Hirschfelder A (1996) Distribution patterns of microfauna (nematodes, rotifers and tardigrades) on nunataks in Dronning Maud Land, East Antarctica. Polar Biol 16:191–200

Sohlenius B, Boström S, Jönsson IK (2004) Occurrence of nematodes, tardigrades and rotifers on ice-free areas in East Antarctica. Pedobiologia 48:395–408

Sudzuki M (1964) On the microfauna of the Antarctic region. 1. Moss-water community at Langhovde. JARE Sci Rep 19:1–41

Turner J, Bindchadler R, Convey P, Di Prisco G, Fahrbach E, Gutt J, Hodgson D, Mayewski P, Summerhayes C (eds) (2009) Antarctic climate change and the environment. Scientific Committee on Antarctic Research, Cambridge

Utsugi K, Ohyama Y (1989) Antarctic Tardigrada. Proc NIPR Symp Polar Biol 2:190–197
Acknowledgments
We thank the JARE 49 biology members and JARE 53 meteorite members for the assistance in sample collections. Dr. Wataru Abe kindly provided instruction to MT on fixation and mounting tardigrades. Two anonymous reviewers provided helpful comments and suggestions on the manuscript. This study was supported by The Graduate University for Advanced Studies (SOKENDAI) and grant-in-aid for Scientific Research No. 23247012 of SI from the Japan Society for the Promotion of Science. Part of this study was conducted under a Scientific Committee on Antarctic Research (SCAR) Fellowship 2012-13 to MT and held at the British Antarctic Survey (BAS). PC is supported by core funding from NERC to the BAS 'Ecosystems' programme. This paper also contributes to the SCAR AntEco research programme.
Electronic supplementary material
Below is the link to the electronic supplementary material.
About this article
Cite this article
Tsujimoto, M., McInnes, S.J., Convey, P. et al. Preliminary description of tardigrade species diversity and distribution pattern around coastal Syowa Station and inland Sør Rondane Mountains, Dronning Maud Land, East Antarctica. Polar Biol 37, 1361–1367 (2014). https://doi.org/10.1007/s00300-014-1516-8
Received:

Revised:

Accepted:

Published:

Issue Date:

DOI: https://doi.org/10.1007/s00300-014-1516-8
Keywords
Tardigrades

Antarctica

Species diversity

Distribution pattern

Freshwater lakes

Mosses