Abstract
The high arctic is undergoing a faster change in climate than most other regions of the planet, with already observed ecological consequences. Combined with the characteristics of high-arctic ecosystems, such as low species redundancy, high seasonality and weather extremes, shifts in individual species performance and phenology may lead to altered interaction dynamics through trophic mismatch and cascades. An ecosystem approach is therefore desirable in the attempt to understand the multidimensional impacts of climate. Here, we present ecosystem-wide trend analyses of a long-term dataset on terrestrial and limnic biota with focus on the distribution of observed trends and associated variation across the ecosystem. We used 114 time series drawn from 11 abiotic variables, 19 terrestrial and 7 limnic biotic species/taxa and compared temporal trends, changes and abrupt shifts in the variation within and across the two biota. A total of 36 % of the time series analysed showed a significant trend during the study period with a higher frequency of trends occurring within performance variables. Overall, the changes tended to be negative, indicating advances in phenology but reduced species performance. General system variance was also higher in the limnic biota than in the terrestrial biota, both exhibiting increasing variance up through the trophic system. Overall, our results suggest that multiple biotic responses to the climatic changes in this high-arctic ecosystem are not synchronised across trophic levels and may differ qualitatively and quantitatively between terrestrial and limnic biota.
This is a preview of subscription content, log in to check access.
Access options
Buy single article
Instant access to the full article PDF.
US$ 39.95
Price includes VAT for USA
Subscribe to journal
Immediate online access to all issues from 2019. Subscription will auto renew annually.
US$ 199
This is the net price. Taxes to be calculated in checkout.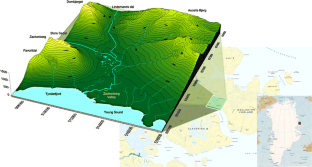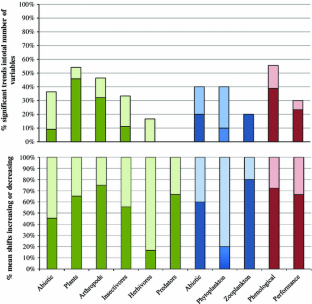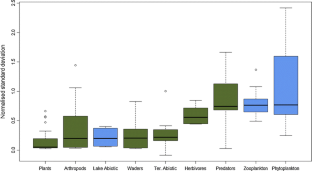 References
AMAP (2011) Snow, water, ice and permafrost (SWIPA): climate changes and the cryosphere. Arctic Monitoring and Assessment Program (AMAP), Oslo

Brodie J, Post E, Watson F, Berger J (2012) Climate change intensification of herbivore impacts on tree recruitment. Proc R Soc B 279(1732):1366–1370. doi:10.1098/rspb.2011.1501

Callaghan TV (2005) Arctic tundra and polar desert ecosystems. In: Callaghan TV (ed) Arctic climate impact assessment. Cambridge University Press, Cambridge

Christoffersen KS, Amsinck SL, Landkildehus F, Lauridsen TL, Jeppesen E (2008) Lake flora and fauna in relation to ice-melt, water temperature and chemistry at Zackenberg. Adv Ecol Res 40:371–389. doi:10.1016/S0065-2504(07)00016-5

Cooper EJ, Dullinger S, Semenchuk P (2011) Late snowmelt delays plant development and results in lower reproductive success in the High Arctic. Plant Sci 180(1):157–167. doi:10.1016/j.plantsci.2010.09.005

Crawley MJ (2007) The R book. Wiley, Chichester

Donnelly A, Caffarra A, O'Neill BF (2011) A review of climate-driven mismatches between interdependent phenophases in terrestrial and aquatic ecosystems. Int J Biometeorol 55(6):805–817. doi:10.1007/s00484-011-0426-5

Ellebjerg SM, Tamstorf MP, Illeris L, Michelsen A, Hansen BU (2008) Inter-annual variability and controls of plant phenology and productivity at Zackenberg. Adv Ecol Res 40:249–273

Forchhammer MC, Schmidt NM, Høye TT, Berg TB, Hendrichsen DK, Post E (2008) Population dynamical responses to climate change. Adv Ecol Res 40:391–420

Gilman SE, Urban MC, Tewksbury J, Gilchrist GW, Holt RD (2010) A framework for community interactions under climate change. Trends Ecol Evol 25(6):325–331. doi:10.1016/j.tree.2010.03.002

Goodison BE, Brown RD, Crane RG (1999) Cryospheric systems. EOS science plan. NASA, Washington

Hansen BU, Sigsgaard C, Rasmussen L, Cappelen J, Hinkler J, Mernild SH, Petersen D, Tamstorf MP, Rasch M, Hasholt B (2008) Present-day climate at Zackenberg. Adv Ecol Res 40:111–149. doi:10.1016/S0065-2504(07)00006-2

Høye TT, Forchhammer MC (2008) Phenology of high-arctic arthropods: effects of climate on spatial, seasonal, and inter-annual variation. Adv Ecol Res 40:299–325

Høye TT, Post E, Meltofte H, Schmidt NM, Forchhammer MC (2007) Rapid advancement of spring in the High Arctic. Curr Biol 17(12):449–451

IPCC (2007) Climate change 2007: the physical science basis. Cambridge University Press, Cambridge

Ives AR, Carpenter SR (2007) Stability and diversity of ecosystems. Science 317(5834):58–62. doi:10.1126/science.1133258

Kattsov VM, Källén E (2005) Future climate change: modelling and scenarios for the Arctic. In: Arris L (ed) Arctic climate impact assessment, vol 4. Cambridge University Press, Cambridge, pp 99–150

Lenoir J, Gegout JC, Marquet PA, de Ruffray P, Brisse H (2008) A significant upward shift in plant species optimum elevation during the 20th century. Science 320(5884):1768–1771. doi:10.1126/science.1156831

MacLennan MM, Arnott SE, Strecker AL (2012) Differential sensitivity of planktonic trophic levels to extreme summer temperatures in boreal lakes. Hydrobiologia 680(1):11–23. doi:10.1007/s10750-011-0896-9

McBean G (2005) Arctic climate: past and present. In: Symon C, Arris L, Heal B (eds) Arctic climate impact assessment. Cambridge University Press, Cambridge, pp 21–60

McKinnon L, Picotin M, Bolduc E, Juiliet C, Bêty J (2012) Timing of breeding, peak food availability, and effects of mismatch on chick growth in birds nesting in the High Arctic. Can J Zool 90(8):961–971

Meltofte H, Rasch M (2008) The study area at Zackenberg. Adv Ecol Res 40:101–110. doi:10.1016/S0065-2504(07)00005-0

Meltofte H, Christensen TR, Elberling B, Forchhammer MC, Rasch M (2008) High-arctic ecosystem dynamics in a changing climate—ten years of monitoring and research at Zackenberg Research Station, Northeast Greenland—Introduction. Adv Ecol Res 40:1–12. doi:10.1016/S0065-2504(07)00001-3

Miller-Rushing AJ, Hoye TT, Inouye DW, Post E (2010) The effects of phenological mismatches on demography. Philos Trans R Soc B 365(1555):3177–3186. doi:10.1098/rstb.2010.0148

Montoya JM, Raffaelli D (2010) Climate change, biotic interactions and ecosystem services. Philos Trans R Soc B 365(1549):2013–2018. doi:10.1098/rstb.2010.0114

Parmesan C (2006) Ecological and evolutionary responses to recent climate change. Annu Rev Ecol Evol Syst 37:637–669. doi:10.1146/annurev.ecolsys.37.091305.110100

Post E, Forchhammer MC (2008) Climate change reduces reproductive success of an Arctic herbivore through trophic mismatch. Philos Trans R Soc B 363(1501):2369–2375. doi:10.1098/rstb.2007.2207

Post E, Forchhammer MC, Bret-Harte MS, Callaghan TV, Christensen TR, Elberling B, Fox AD, Gilg O, Hik DS, Høye TT, Ims RA, Jeppesen E, Klein DR, Madsen J, McGuire AD, Rysgaard S, Schindler DE, Stirling I, Tamstorf MP, Tyler NJC, van der Wal R, Welker J, Wookey PA, Schmidt NM, Aastrup P (2009) Ecological dynamics across the Arctic associated with recent climate change. Science 325(5946):1355–1358. doi:10.1126/science.1173113

Root TL, Price JT, Hall KR, Schneider SH, Rosenzweig C, Pounds JA (2003) Fingerprints of global warming on wild animals and plants. Nature 421(6918):57–60. doi:10.1038/Nature01333

Schmidt NM, Berg TB, Forchhammer MC, Hendrichsen DK, Kyhn LA, Meltofte H, Høye TT (2008) Vertebrate predator-prey interactions in a seasonal environment. Adv Ecol Res 40:345–371

Schmidt NM, Hansen LH, Hansen J, Berg TB, Meltofte H (2012a) BioBasis: Conceptual design and sampling procedures of the biological monitoring programme within Zackenberg basic, 15th edn. Department of BioScience, Aarhus University, Roskilde

Schmidt NM, Kristensen DK, Michelsen A, Bay C (2012b) High Arctic plant community responses to a decade of ambient warming. Biodiversity 13(3–4):191–200

Schmitz OJ, Hamback PA, Beckerman AP (2000) Trophic cascades in terrestrial systems: a review of the effects of carnivore removals on plants. Am Nat 155(2):141–153

Screen JA, Simmonds I (2010) The central role of diminishing sea ice in recent Arctic temperature amplification. Nature 464(7293):1334–1337. doi:10.1038/Nature09051

Stendel M, Christensen JH, Petersen D (2008) Arctic climate and climate change with a focus on Greenland. Adv Ecol Res 40:13–44

Tylianakis JM, Didham RK, Bascompte J, Wardle DA (2008) Global change and species interactions in terrestrial ecosystems. Ecol Lett 11(12):1351–1363. doi:10.1111/j.1461-0248.2008.01250.x

Vibe C (1967) Arctic animals in relation to climatic fluctuations. Monogr Greenl 170(5):227

Voigt W, Perner J, Davis AJ, Eggers T, Schumacher J, Bahrmann R, Fabian B, Heinrich W, Kohler G, Lichter D, Marstaller R, Sander FW (2003) Trophic levels are differentially sensitive to climate. Ecology 84(9):2444–2453

Walther GR (2010) Community and ecosystem responses to recent climate change. Philos Trans R Soc B 365(1549):2019–2024. doi:10.1098/rstb.2010.0021

Winder M, Schindler DE (2004) Climate change uncouples trophic interactions in an aquatic ecosystem. Ecology 85(8):2100–2106

Zar JH (1999) Biostatistical analysis, 4th edn. Prentice Hall, Upper Saddle River
Acknowledgments
The data for this project were provided by the Zackenberg BioBasis programme, and the study was financed by ECOGLOBE, Aarhus University. We would like to thank Jannik Hansen and Lars Holst Hansen for help with the data. This paper is lovingly dedicated to Lotte Mortensen (Mum) for her love of Greenland.
Electronic supplementary material
Below is the link to the electronic supplementary material.
About this article
Cite this article
Mortensen, L.O., Jeppesen, E., Schmidt, N.M. et al. Temporal trends and variability in a high-arctic ecosystem in Greenland: multidimensional analyses of limnic and terrestrial ecosystems. Polar Biol 37, 1073–1082 (2014). https://doi.org/10.1007/s00300-014-1501-2
Received:

Revised:

Accepted:

Published:

Issue Date:
Keywords
Arctic ecosystems

Temporal variance

Temporal trends

Trophic interactions

Zackenberg

Greenland