Abstract
Adélie penguins (Pygoscelis adeliae) are important predators of krill (Euphausia spp.) and Antarctic silverfish (Pleuragramma antarctica) during summer, are a key indicator of the status of the Southern Ocean ecosystem, and are therefore a focal species for the Committee for the Conservation of Antarctic Marine Living Resources (CCAMLR) Ecosystem Monitoring Program. The ability to monitor the population size of species potentially affected by Southern Ocean fisheries, i.e., the Adélie penguin, is critical for effective management of those resources. However, for several reasons, direct estimates of population size are not possible in many locations around Antarctica. In this study, we combine high-resolution (0.6 m) satellite imagery with spectral analysis in a supervised classification to estimate the sizes of Adélie penguin breeding colonies along Victoria Land in the Ross Sea and on the Antarctic Peninsula. Using satellite images paired with concurrent ground counts, we fit a generalized linear mixed model with Poisson errors to predict the abundance of breeding pairs as a function of the area of current-year guano staining identified in the satellite imagery. Guano-covered area proved to be an effective proxy for the number of penguins residing within. Our model provides a robust, quantitative mechanism for estimating the breeding population size of colonies captured in imagery and identifies terrain slope as a significant component influencing apparent nesting density. While our high-resolution satellite imagery technique was developed for the Adélie penguin, these principles are directly transferrable to other colonially nesting seabirds and other species that aggregate in fixed localities.
Access options
Buy single article
Instant access to the full article PDF.
US$ 39.95
Tax calculation will be finalised during checkout.
Subscribe to journal
Immediate online access to all issues from 2019. Subscription will auto renew annually.
US$ 119
Tax calculation will be finalised during checkout.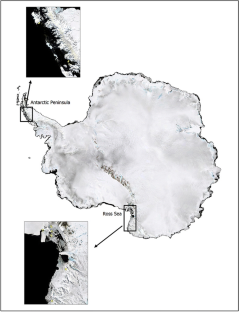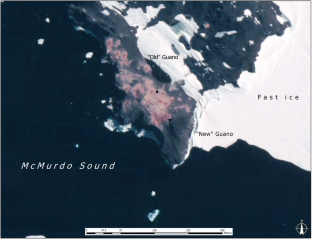 References
Abileah R (2002) Marine mammal census using space satellite imagery. US Navy J Underw Acoust 52:709–724

Ainley DG (2002a) Adélie penguin: bellwether of climate change. Columbia University Press, New York

Ainley DG (2002b) The Ross Sea, Antarctica, where all ecosystem processes still remain for study, but maybe not for long. Mar Ornith 30:55–62

Ainley DG, Nur N, Woehler EJ (1995) Factors affecting the distribution and size of pygoscelid penguin colonies in the Antarctic. Auk 112:171–182

Ainley DG, Clarke ED, Arrigo K, Fraser WR, Kato A, Barton KJ, Wilson PR (2005) Decadal-scale changes in the climate and biota of the Pacific sector of the Southern Ocean, 1950s to the 1990s. Antarct Sci 17:171–182

Ainley DG, Russel J, Jenouvrier S, Woehler E, Lyver POB, Fraser WR, Kooyman GL (2010) Antarctic penguin responses to habitat change as Earth's troposphere reaches 2 °C above preindustrial levels. Ecol Monogr 80:49–66

Barber-Meyer SM, Kooyman GL, Ponganis PJ (2007) Estimating the relative abundance of emperor penguin at inaccessible colonies using satellite imagery. Polar Biol 30:1565–1570

Bhikharidas AK, Whitehead MD, Peterson JA (1992) Mapping Adélie penguin rookeries in the Vestfold Hills and Rauer Islands, east Antarctica, using SPOT HRV. Int J Remote Sens 13:1577–1583

Boltunov A, Evtushenko N, Knijnikov A, Puhova M, Semenova V (2012) Space technology for the marine mammal research and conservation in the Arctic: results of the pilot project to develop methods of finding walruses on satellite images. WWF-Russia

Bricher PK, Lucieer A, Woehler EJ (2008) Population trends of Adélie penguin (Pygoscelis adeliae) breeding colonies: a spatial analysis of the effects of snow accumulation and human activities. Polar Biol 31:1397–1407

Buchanan GM, Butchart SHM, Dutson G, Pilgrim JD, Steininger MK, Bishop DK, Mayaux P (2008) Using remote sensing to inform conservation status assessment: estimates of recent deforestation rates on New Britain and the impacts upon endemic birds. Biol Cons 141:56–66

CCAMLR (2004) Commission for the conservation of Antarctic marine living resources, ecosystem monitoring program standard methods. http://www.ccamlr.org/en/document/science/cemp-standard-methods. Accessed 01 June 2013

Chamaillé-Jammes S, Guinet C, Nicoleau F, Argentier M (2000) A method to assess population changes in king penguins: the use of a geographical information system to estimate area-population relationships. Polar Biol 23:545–549

Cook AJ, Fox AJ, Vaughn DG, Ferrigno JG (2005) Retreating glacier fronts on the Antarctic peninsula over the past half-century. Science 308:541–544

Crawford RJM, Dyer BM, Wolfaardt AC, Tshingana D, Spencer K, Peterson SL, Nel JL, Keith DG, Holness CL, Hanise B, Greyling MD, Du Toit M (2003) Population, breeding, diet, and conservation of the Crozet Shag (Phalacrocorax melanogenis) at Marion Island, 1995/95-2002/03. Afr J Mar Sci 25:537–547

Csatho B, Schenk T, Kyle P, Wilson T, Krabill WB (2008) Airborne laser swath mapping of the summit of Erebus volcano, Antarctica: applications to geological mapping of a volcano. J Volcan Geotherm Res 177:531–548

Ducklow HW, Baker K, Martinson DG, Quetin LB, Ross RM, Smith RC, Stammerjohn SE, Vernet M, Fraser W (2007) Marine pelagic ecosystems: the West Antarctic Peninsula. Phil Trans Royal Soc B 362:67–94

Esri (2011) ArcMap 10.1. Redlands, CA

Foody GM (2002) Status of land cover classification accuracy assessment. Remote Sens Env 80:185–201

Fraser WR, Patterson DL (1997) Human disturbance ad long-term changes in Adélie penguin populations: a natural experiment at Palmer Station, Antarctic Peninsula. In: Battaglia B, Valencia J, Walton DH (eds) Antarctic communities: species, structure and survival. Cambridge University Press, Cambridge, pp 445–452

Fraser WR, Trivelpiece WZ, Ainley DG, Trivelpiece SG (1992) Increases in Antarctic penguin populations: reduced competition with whales or a loss of sea ice due to global warming? Polar Biol 11:525–531

Fretwell PT, Trathan PN (2009) Penguins from space: faecal stains reveal the location of emperor penguin colonies. Glob Ecol Biogeogr 18:543–552

Fretwell PT, LaRue MA, Morin P, Kooyman GL, Wienecke B, Ratcliffe N, Fox AJ, Fleming AH, Porter C, Trathan PN (2012) The first global, synoptic survey of a species from space: emperor penguins. PLoS ONE 7(4):e33751. doi:10.1371/journal.pone.0033751

Gaston KJ (2000) Global patterns in biodiversity. Nature 405:220–227

Gelman A, Hill J (2007) Data analysis using regression and multilevel/hierarchical models. Cambridge University Press, Cambridge

Gillespie TW, Foody TM, Rocchini D, Giorgi AP, Saatchi S (2008) Measuring and modeling biodiversity from space. Prog Phys Geogr 32:203–221

Horning N, Robinson JA, Sterling EJ, Turner W, Spector S (2010) Remote sensing for ecology and conservation: a handbook of techniques. Oxford, New York

Jenouvrier S, Barbraud C, Weimerskirch H (2006) Sea ice affects the population dynamics of Adélie penguins in Terre Adélie. Polar Biol 29:413–423

Kerr JT, Ostrovsky M (2003) From space to species: ecological applications for remote sensing. Trends Ecol Evol 18:299–305

LaRue M, Rotella JJ, Garrott RA, Siniff DB, Ainley DG, Stauffer GE, Porter CC, Morin PJ (2011) Satellite imagery can be used to detect variation in abundance of Weddell seals (Leptonychotes weddellii) in Erebus Bay, Antarctica. Polar Biol 34:1727–1737

LaRue MA, Ainley DG, Swanson M, Dugger KM, Lyver POB, Barton KJ, Ballard G (2013) Climate change winners: receding ice fields facilitate colony expansion and altered dynamics in an Adélie penguin metapopulation. PLoS ONE 8(4):e60568. doi:10.1371/journal.pone.0060568

Liu H, Jezek K, Li B, Zhao Z (2001) Radarsat Antarctic mapping project digital elevation model version 2. National Snow and Ice Data Center, Boulder, Colorado

Low M, Meyer L, Southwell C (2007) Number and distribution of Adélie penguin (Pygoscelis adeliae) breeding sites in the Robinson Group of islands, MacRobertson Land coast, east Antarctica. Polar Rec 43:225–229

Lynch HJ, Naveen R, Trathan PN, Fagan WR (2012a) Spatially integrated assessment reveals widespread change in penguin populations on the Antarctic Peninsula. Ecology 93:1367–1377

Lynch HJ, White R, Black AD, Naveen R (2012b) Detection, differentiation, and abundance estimation of penguin species by high-resolution satellite imagery. Polar Biol 35:963–968

Lyver POB, Macleod CJ, Ballard G, Karl BJ, Barton KJ, Adams J, Ainley DG, Wilson PR (2011) Intra-seasonal variation in foraging behavior among Adélie penguins (Pygoscelis adeliae) breeding at Cape Hallett, Ross Sea, Antarctica. Polar Biol 34:49–67

Lyver POB, Barron M, Barton KJ, Ainley DG, Pollard A, Gordon S, McNeill S, Ballard G, Wilson PR (2014) Trends in the breeding population of Adélie penguins in the Ross Sea, 1981–2012: a coincidence of climate and resource extraction effects. PLoSONE (in press)

Montes-Hugo M, Doney SC, Ducklow HW, Fraser WR, Martinson D, Stammerjohn SE, Schofield O (2009) Recent changes in phytoplankton communities associated with rapid regional climate change. Science 323:1470–1473

Nagendra H (2001) Using remote sensing to assess biodiversity. Int J Remote Sens 22:2377–2400

Naveen R, Lynch HJ, Forrest S, Mueller T, Polito M (2012) First direct, site-wide penguin survey at Deception Island, Antarctica, suggests significant declines in breeding chinstrap populations. Polar Biol 35:1879–1888

Penney RL (1968) Territorial and social behavior of the Adélie penguin. Antarct Res Ser 12:83–131

Sailley SF, Ducklow HW, Moeller HV, Fraser WF, Schofield OM, Steinberg DK, Garzio LM, Doney SC (2013) Carbon fluxes and pelagic ecosystem dynamics near two western Antarctic Peninsula Adélie penguin colonies: an inverse model approach. Mar Ecol Prog Ser 492:253–272

Schofield O, Ducklow HW, Martinson DG, Meredith MP, Moline MA, Fraser WR (2010) How do polar marine ecosystems respond to rapid climate change? Science 328:1520–1523

Schwaller MR, Benninghoff MS, Olson CE (1984) Prospects for satellite remote sensing of Adélie penguin rookeries. Int J Remote Sens 5:849–853

Schwaller MR, Olson CE, Zhenqui M, Zhu Z (1989) A remote sensing analysis of Adélie penguin rookeries. Remote Sens Env 28:199–206

Schwaller MR, Southwell CJ, Emmerson LM (2013) Continental-scale mapping of Adélie penguin colonies from Landsat imagery. Remote Sens Env 139:353–364

Southwell C, Emmerson L (2013) Large-scale occupancy surveys in east Antarctica discover new Adélie penguin breeding sites and reveal and expanding breeding distribution. Antarct Sci 25:531–535

Southwell C, McKinlay J, Low M, Wilson D, Newbery K, Lieser JL, Emmerson L (2013) New methods and technologies for regional-scale abundance estimation of land-breeding marine animals: application to Adélie penguin populations in East Antarctica. Polar Biol. doi: 10.1007/s00300-01301310-z

Stonehouse B (1975) The biology of penguins. Macmillan, London

Taylor RH (1961) Adélie penguin (Pygoscelis adeliae) at Cape Royds. Ibis 104:176–204

Taylor RH, Wilson PR (1990) Recent increase and southern expansion of Adélie penguin populations in the Ross Sea, Antarctica, related to climatic warming. N Z J Ecol 14:25–29

Thaxter CB, Burton NKH (2009) High definition imagery for surveying seabirds and marine mammals: a review of recent trials and development of protocols. COWRIE BTO workshop-09

Trivelpiece W, Volkman J (1979) Nest-site competition between Adélie and chinstrap penguins: an ecological interpretation. Auk 96:675–681

Trivelpiece WZ, Hinke JT, Miller AK, Reiss C, Trivelpiece SG, Watters M (2011) Variability in krill biomass links harvesting and climate warming to penguin population changes in Antarctica. Proc Nat Acad Sci 108:7625–7628

Turner W, Spector S, Gardiner N, Fladeland M, Sterline E, Steininger M (2003) Remote sensing for biodiversity science and conservation. Trends Ecol Evol 18:306–314

Volkman NJ, Trivelpiece W (1981) Nest-site selection among Adélie, chinstrap and gentoo penguins in mixed species rookeries. Wilson Bull 93:243–248

Wilson PR, Ainley DG, Nur N, Jacobs S, Barton KJ, Ballard G, Comiso JC (2001) Adélie penguin population change in the pacific sector of Antarctica: relation to sea-ice extent and the Antarctic circumpolar current. Mar Ecol Progr Ser 213:301–309

Wilson D, Pike R, Southwell D, Southwell C (2009) A systematic survey of breeding Adélie penguins (Pygoscelis adeliae) along the Mawson and Kemp Land coasts, east Antarctica: new colonies and population counts. Antarct Sci 21:591–592

Woehler EJ (1993) The distribution and abundance of Antarctic and subantarctic penguins. Sci Comm Antarct Res, Cambridge

Woehler EJ, Croxall JP (1997) The status and trends of Antarctic and sub-Antarctic seabirds. Mar Ornith 25:43–66

Woehler EJ, Riddle MJ (1998) Spatial relationships of Adélie penguin colonies: implications for assessing population changes from remote imagery. Antarct Sci 10:49–454

Young EC (1994) Skua and penguin: predator and prey. Cambridge University Press, London
Acknowledgments
This research was funded by National Science Foundation (OPP-0217282, OPP-0823101, ANT-0739515, ANT-0944411, OPP-1109962, PLR-1255058) and New Zealand's Ministry for Business, Innovation and Employment (C09X0510, C01X0505, C01X1001, CONT-21216-BKBN). Field logistics were provided by the US Antarctic Program and Antarctica New Zealand, and helicopter support was provided by PHI, Inc., and Helicopters NZ. We thank the team of counters over the years, but in particular Peter Wilson, Bruce Thomas, Brian Karl, Keven Drew, Caroline Thomson, Morgan Coleman, Quoyah Barr-Glintborg, and Mario Fichtner. The Polar Geospatial Center facilitated use of imagery for analysis, and we thank Claire Porter for assistance with image processing. We would like to thank the editor and 3 anonymous reviewers for their feedback and insight in previous drafts of this manuscript. Point Blue Conservation Science contribution #1945.
About this article
Cite this article
LaRue, M.A., Lynch, H.J., Lyver, P.O.B. et al. A method for estimating colony sizes of Adélie penguins using remote sensing imagery. Polar Biol 37, 507–517 (2014). https://doi.org/10.1007/s00300-014-1451-8
Received:

Revised:

Accepted:

Published:

Issue Date:
Keywords
Adélie penguin

Antarctica

Generalized linear mixed models

GIS

High-resolution imagery

Population estimation

Supervised classification