Abstract
Information of tintinnid community, as an important component of plankton, was limited in Kongsfjorden, Svalbard (Arctic), which is an important Arctic monitoring site for global change. In this paper, we studied the species composition, spatial, and vertical distribution of tintinnids in Kongsfjorden in July 2012. Water samples for tintinnid study were taken in different depths at eight grid stations in the fjord and time series (5–23 July) at one station at the pier (St. C). Eight species (morphotypes) were found: Acanthostomella norvegica, Leprotintinnus pellucidus, Parafavella edentata, Parafavella gigantea, Ptychocylis obtusa, Stenosemella spp., Tintinnopsis parvula, and Tintinnopsis spp. Total tintinnid abundance and biomass ranged from undetectable (<1 ind L−1) to 2,435 ind L−1 and 0–6.33 μg C L−1, respectively. Cluster analysis of the tintinnid community in the grid stations and St. C showed that tintinnid community was uniform throughout the fjord. Four species (morphotypes) showed distinct vertical distributions: T. parvula occurred throughout the water column but showed a peak at the surface; Tintinnopsis spp. occurred only in the upper 30 m; A. norvegica occurred in low abundance throughout the water column; and Stenosemella spp. was not detected in surface waters. There was variation in abundance of different species in St. C in the 18-day period. However, the tintinnid community did not change according to cluster analysis. These results are helpful in understanding the distribution of other plankton taxon and in long-term monitoring of the Kongsfjorden marine ecosystem.
Access options
Buy single article
Instant access to the full article PDF.
USD 39.95
Price excludes VAT (USA)
Tax calculation will be finalised during checkout.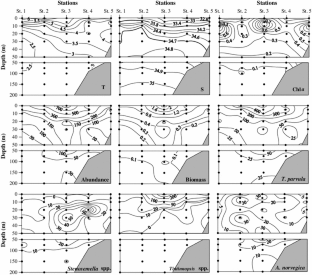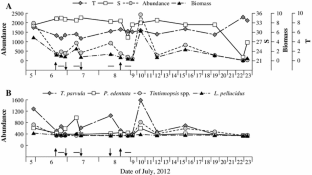 References
Barría de Cao SB, Beigt D, Piccolo C (2005) Temporal variability of diversity and biomass of tintinnids (Ciliophora) in a southwestern Atlantic temperate estuary. J Plankton Res 27:1103–1111

Boltovskoy D, Vivequin SM, Swanberg NR (1991) Vertical distribution of tintinnids and associated microplankton in the upper layer of the Barents Sea. Sarsia 76:141–151

Burkovsky IV (1976) Ecology of Tintinnida (Ciliata) of the White Sea. Zool Zh 55:497–507

Calbet A, Landry MR (2004) Phytoplankton growth, microzooplankton grazing, and carbon cycling in marine systems. Limnol Oceanogr 40:51–57

Dolan JR, Ritchie ME, Tunin-Ley A, Pizay MD (2009) Dynamics of core and occasional species in the marine plankton: tintinnid ciliates in the north–west Mediterranean Sea. J Biogeogr 36:887–895

Dolan JR, Montagnes DJS, Agatha S, Coats DW, Stocker DK (2013) Biology and ecology of tintinnid ciliates: models for marine plankton. Wiley-Blackwell, Oxford

Godhantaraman N (2002) Seasonal variations in species composition, abundance, biomass and estimated production rates of tintinnids at tropical estuarine and mangrove waters, Parangipettai, southeast coast of India. J Mar Syst 36:161–171

Gomez F (2007) Trends on the distribution of ciliates in the open Pacific Ocean. Acta Oecol 32:188–202

Guo CY, He JF, Zhang F, Cai MH, Wang GZ (2011) Spatial heterogeneity of a microbial community in Kongsfjorden, Svalbard during late summer 2006 and its relationship to biotic and abiotic factors. Adv Polar Sci 22:55–66

Hodal H, Falk-Petersen S, Hop H, Kristiansen S, Reigstad M (2012) Spring bloom dynamics in Kongsfjorden, Svalbard: nutrients, phytoplankton, protozoans and primary production. Polar Biol 35:191–203

Hop H, Pearson T, Hegseth EN, Kovacs KM et al (2002) The marine ecosystem of Kongsfjorden, Svalbard. Polar Res 21:167–208

Hop H, Falk-Petersen S, Svendsen H, Kwasniewski S, Pavlov V, Pavlova O, Soreide JE (2006) Physical and biological characteristics of the pelagic system across Fram Strait to Kongsfjorden. Prog Oceanogr 71:182–231

Jonsson PR (1989) Vertical distribution of planktonic ciliates—an experimental analysis of swimming behaviour. Mar Ecol Prog Ser 52:39–53

Kamiyama T, Tsujino M (1996) Seasonal variation in the species composition of tintinnid ciliates in Hiroshima Bay, the Seto Inland Sea of Japan. J Plankton Res 18:2313–2327

Kršinić F (1982) On vertical distribution of tintinnines (Ciliata, Oligotrichida, Tintinnina) in the open waters of the South Adriatic. Mar Biol 68:83–90

Kršinić F (1998) Vertical distribution of protozoan and microcopepod communities in the South Adriatic Pit. J Plankton Res 20:1033–1060

Kršinić F, Grbec B (2002) Some distributional characteristics of small zooplankton at two stations in the Otranto Strait (Eastern Mediterranean). Hydrobiologia 482:119–136

Marshall SM (1969) Protozoa: order Tintinnida. Fiches d'identification du zooplancton sheets:117–127

Modigh M, Castaldo S (2002) Variability and persistence in tintinnid assemblages at a Mediterranean coastal site. Aquat Microb Ecol 28:299–311

Monti M, Minocci M (2013) Microzooplankton along a transect from northern continental Norway to Svalbard. Polar Res 32:19306

Paranjape MA (1987) The seasonal cycles and vertical distribution of tintinnines in Bedford Basin, Nova Scotia, Canada. Can J Zool 65:41–48

Seuthe L, Iversen KR, Narcy F (2011) Microbial processes in a high-latitude fjord (Kongsfjorden, Svalbard): II. Ciliates and dinoflagellates. Polar Biol 34:751–766

Sitran R, Bergamasco A, Decembrini F, Guglielmo L (2007) Temporal succession of tintinnids in the northern Ionian sea, central Mediterranean. J Plankton Res 29:495–508

Svendsen H, Beszczynska-Moller A, Hagen JO et al (2002) The physical environment of Kongsfjorden–Krossfjorden, an Arctic fjord system in Svalbard. Polar Res 21:133–166

Thompson GA, Alder VA (2005) Patterns in tintinnid species composition and abundance in relation to hydrological conditions of the Southwestern Atlantic during austral spring. Aquat Microb Ecol 40:85–101

Thompson GA, Alder VA, Boltovskoy D, Brandini F (1999) Abundance and biogeography of tintinnids (Ciliophora) and associated microzooplankton in the Southwestern Atlantic Ocean. J Plankton Res 21:1265–1298

Thompson GA, Alder VA, Boltovskoy D (2001) Tintinnids (Ciliophora) and other net microzooplankton (>30 μm) in Southwestern Atlantic shelf break waters. Mar Ecol 22:343–355

Verity PG, Langdon C (1984) Relationships between lorica volume, carbon, nitrogen, and ATP content of tintinnids in Narragansett Bay. J Plankton Res 6:859–868
Acknowledgments
Dr. Sabine Agatha and Dr. Marina Monti identified the specimens shown in the micrographs provided in the supplementary material and usually provided two or more alternative determinations, as the single micrographs of each morphotype did not show all relevant characteristics. Based on their suggestions and further micrographs, we performed the final determination. We are grateful to John Dolan and International Science Editing Compuscript Ltd for aid in editing the manuscript. This study was supported by the National Natural Science Foundation of China (Project No. 41121064, 41206189) and project 13/14YR04 of CAA, SOA.
Electronic supplementary material
Below is the link to the electronic supplementary material.
About this article
Cite this article
Feng, M., Zhang, W. & Xiao, T. Spatial and temporal distribution of tintinnid (Ciliophora: Tintinnida) communities in Kongsfjorden, Svalbard (Arctic), during summer. Polar Biol 37, 291–296 (2014). https://doi.org/10.1007/s00300-013-1442-1
Received:

Revised:

Accepted:

Published:

Issue Date:

DOI: https://doi.org/10.1007/s00300-013-1442-1
Keywords
Tintinnid community

Spatial distribution

Temporal variation

Kongsfjorden

Arctic fjord