Abstract
The common raven (Corvus corax) is an abundant generalist of the northern hemisphere, known to congregate and roost near human-related food sources. Due to a growing human-footprint and associated anthropogenic food subsidies, raven populations have increased dramatically over the past several years throughout the USA. The sub-arctic region has also witnessed increased urbanization and industrialization, and ravens have taken advantage of these changes. During 2004 and 2006, we surveyed parking lots on a bi-weekly basis in the city of Fairbanks in interior Alaska, showing an influx of ravens in winter. Between 2010 and 2012, we documented the presence and absence of ravens at a permanent set of 30 suspected raven locations and 21 randomized locations within the city limits of Fairbanks. We used machine learning (RandomForests) and 12 spatial GIS datasets from the Fairbanks North Star Borough to accurately model-predict the relative occurrence of ravens during winter and summer in Fairbanks. Our research showed a positive correlation between raven occurrence and commercial and residential zones in both winter and summer, as well as an inverse geographic relationship between ravens and the waste transfer station in the study area in winter, and a direct correlation near restaurants in summer. These results emphasize the link that ravens have with commercial, anthropogenic food sources, and how Fairbanks and its subsidized, urban habitat may be shaping part of the wider sub-arctic biodiversity landscape.
Access options
Buy single article
Instant access to the full article PDF.
US$ 39.95
Tax calculation will be finalised during checkout.
Subscribe to journal
Immediate online access to all issues from 2019. Subscription will auto renew annually.
US$ 119
Tax calculation will be finalised during checkout.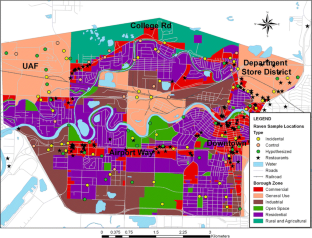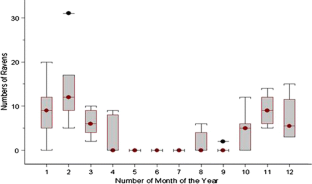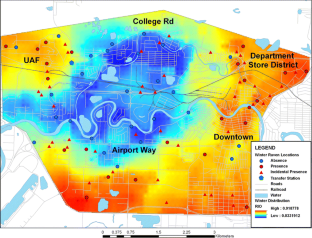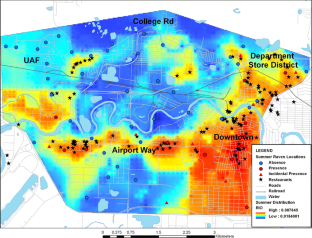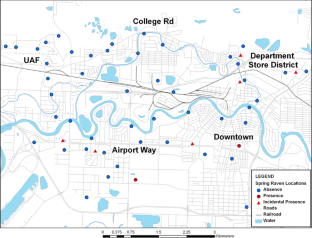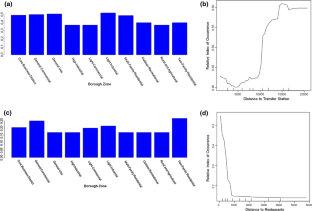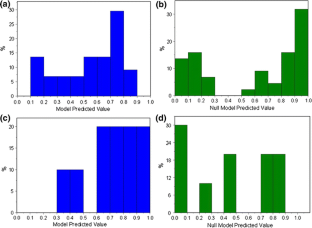 References
Aldridge CL, Boyce MS (2007) Linking occurrence and fitness to persistence: habitat-based approach for endangered greater sage-grouse. Ecol Appl 17:508–526

Backensto S (2010) Common ravens in Alaska's North Slope oil fields: an integrated study using local knowledge and science. Thesis, University of Alaska Fairbanks, Fairbanks

Bezzel E (1985) Bird life in intensively used rural and urban environments. Ornis Fennica 62:90–95

Boarman WI (2003) Managing a subsidized predator population: reducing common raven predation on desert tortoises. J Environ Manage 32:205–217

Boarman WI, Heinrich B (1999) Common raven (Corvus corax), The Birds of North America Online. http://bna.birds.cornell.edu/bna/species/476. Accessed 4 March 2010

Boarman WL, Patten MA, Camp RJ, Collis SJ (2006) Ecology of a population of subsidized predators: common ravens in the central Mojave Desert, California. J Arid Environ 67:248–261

Breiman L (1996) Bagging predictors. Mach Learn 24:123–140

Breiman L (2001a) Random forests. Mach Learn 45:5–32

Breiman L (2001b) Statistical modeling: the two cultures. Stat Sci 16:199–215

Bui TD, Marzluff JM, Bedrosian B (2010) Common raven activity in relation to land use in western Wyoming: implications for greater sage-grouse reproductive success. Condor 112:65–78

Buler JJ, Hamilton RB (2000) Predation of natural and artificial nests in a southern pine forest. Auk 117:739–747

Craig E, Huettmann F (2009) Using "Blackbox" algorithms such as TreeNet and random forests for data-mining and for finding meaningful patterns, relationships, and outliers in complex ecological data: an overview, an example using golden eagle satellite data and an outlook for a promising future. In: Wang HF (ed) Intelligent data analysis: developing new methodologies through pattern discovery and recovery. Idea Group Inc., Hershey, PA, pp 65–83

Cutler DR, Edwards TC et al (2007) Random forests for classification in ecology. Ecology 88:2783–2792

Elith J, Graham CH et al (2006) Novel methods improve prediction of species' distributions from occurrence data. Ecography 29:129–151

Engel KA, Young LS (1992) Movements and habitat use by common ravens from roost sites in Southwestern Idaho. J Wildl Manag 56:596–602

Fairbanks North Star Borough Spatial Data Repository (2010) ftp://co.fairbanks.ak.us/GIS. Accessed 4 March 2010

Fielding AH, Bell JF (1997) A review of methods for the assessment of prediction errors in conservation presence/absence models. Environ Conserv 24:38–49

Gibson DD, Byrd GV (2007) Birds of the Aleutian Islands, Alaska. Series in Ornithology No. 1. The Nuttall Ornithological Club and The American Ornithologist's Union

Guisan A, Zimmermann NE (2000) Predictive habitat distribution models in ecology. Ecol Model 135:147–186

Hegel TM, Cushman SA, Evans J, Huettmann F (2010) Current state of the art for statistical modelling of species distributions. In: Drew CA, Wiersma YF, Huettmann F (eds) Predictive species and habitat modeling in landscape ecology. Springer, New York, pp 273–311

Heinrich B (1999) Mind of the raven. Harper Collins Publishers, New York

Hijmans RJ (2012) Cross-validation of species distribution models: removing spatial sorting bias and calibration with a null model. Ecology 93:679–688

Huettmann F, Edwards T, Gottschalk T (2011) Simplicity, complexity and uncertainty in spatial models applied across time. In: Drew CA, Wiersma Y, Huettmann F (eds) Predictive modeling in landscape ecology. Springer, New York, pp 186–208

Jokimäki J, Kaisanlahti-Jokimäki M-L, Huhta E, Siikamäki P (2007) Bird species as indicators of environmental changes at tourist destinations. In: Jokimäki J, Kaisanlahti-Jokimäki M-L, Tuulentie S, Laine K, Uusitalo M (eds) Environment, local society and sustainable tourism. Arctic Centre Reports 50, University of Lapland, Finland, pp 1–125

Juhász L, Kövér L, Gyüre P (2009) The urbanization of the hooded crow (Corvus cornix L.) in Debrecen (Hungary). II. European Congress of Conservation Biology (ECCB, 2009), Prague, Czech Republic, Book of Abstracts, p 227

Kelly JP, Etienne KL, Roth JE (2002) Abundance and distribution of the common raven and American crow in the San Francisco Bay area, California. West Birds 33:202–217

Knight RL, Kawashima JY (2012) Responses of raven and red-tailed hawk populations to linear right-of-ways. J Wildl Manag 57:266–271

Knight RL, Knight HAL, Camp RJ (1993) Populations and land-use patterns in the Mojave Desert, California. Wildlife Soc B 21:469–471

Konstantinov VM (1982) Numbers and some ecological features of synanthropic populations of the Corvidae under the conditions of intensive urbanization (European USSR). Zool ZH 61:1837–1845

Kristan WB III, Boarman WI (2003) Spatial pattern of risk of common raven predation on desert tortoises. Ecology 84:2432–2443

Kristan WB III, Boarman WI (2007) Effects of anthropogenic developments on common raven nesting biology in the West Mojave Desert. Ecol Appl 17:1703–1713

Kristan WB III, Boarman WI, Crayon JJ (2004) Diet composition of common ravens across the urban-wildland interface of the West Mojave Desert. Wildlife Soc B 32:244–253

Landis JR, Koch GG (1977) The measurement of observer agreement for categorical data. Biometrics 33:159–174

Littlefield CD (1995) Demographics of a declining flock of greater sandhill cranes in Oregon. Wilson Bull 107:667–674

Lugenbuhl JM, Marzluff JM, Bradley JE, Raphael MG, Varland DE (2001) Corvid survey techniques and the relationship between Corvid relative abundance and nest predation. J Field Ornithol 72:556–572

Marzluff JM, Neatherlin E (2006) Corvid response to human settlements and campgrounds: causes, consequences, and challenges for conservation. Biol Conserv 130:301–314

Marzluff JM, Boon RB, Cox GW (1994) Historical changes in populations and perceptions of native pest and bird species in the West. Stud Avian Biol 15:202–220

Nelson SK, Hamer T (1995) Nest success and the effects of predation on marbled murrelets. In: Ralph CJ, Hunt GL, Rafael MG, Piatt JF (eds) The ecology and conservation of the marbled murrelet in North America: an interagency scientific evaluation, U.S. Department of Agriculture Forest Service Gen Tech Rep PSW-GTR-152, pp 89–97

Powell AN, Backensto S (2009) Common ravens (Corvus corax) nesting on Alaska's North Slope Oil Fields. Final Report. OCS Study MMS 2009-007. Minerals Management Service, U.S. Department of the Interior, pp 1–42

Prasad AM, Iverson LR, Liaw A (2006) Newer classification and regression tree techniques: bagging and random forests for ecological prediction. Ecosystems 9:181–199

R Development Core Team (2012) R: a language and environment for statistical computing. R Foundation for Statistical Computing, Vienna

Restani M, Marzluff JM, Yates RE (2001) Effects of anthropogenic food sources on movements, survivorship, and sociality of common ravens in the Arctic. Condor 103:399–404

Sorace A (2001) Value to wildlife of urban-agricultural parks: a case study from Rome urban area. J Environ Manage 28:547–560

Temple SA (1974) Winter food habits of ravens on the Arctic Slope of Alaska. Arctic 27:41–46

Thayer JA, Sydeman J, Fairman NP, Allen SG (1999) Attendance and effects of disturbance on coastal common murre colonies at Point Reyes, California. Waterbirds 22:130–139

US Census Bureau Homepage (2010) http://www.census.gov. Accessed 22 Feb 2010

Vuorisalo T, Andersson H, Lahtinen R, Laaksonen H, Lehikonen E (2003) Urban development from an avian perspective: causes of hooded crow (Corvus corone cornix) urbanisation in two Finnish cities. Landsc Urban Plan 62:69–87

Webb WC, Boarman WI, Rotenberry JT (2004) Raven juvenile survival in a human-augmented landscape. Condor 106:517–528

White CM, Cade TJ (1971) Cliff-nesting raptors and ravens along the Colville River in Arctic Alaska. Living Bird 10:107–150

Withey JC, Marzluff JM (2005) Dispersal by juvenile American crows (Corvus brachyrhynchos) influences population dynamics across a gradient of urbanization. Auk 122:205–221

Zweig MH, Campbell G (1993) Receiver-operating characteristic (ROC) plots: a fundamental evaluation tool in clinical medicine. Clin Chem 39:561–577
Acknowledgments
This project represents unfunded natural history work conducted by northern raven enthusiasts. A collaborative effort, this research was initiated during supermarket trips by FH between 2004 and 2006, and was continued from 2010 until 2012 as a graduate student project under the leadership of AB. We gratefully acknowledge the help of many volunteer observers and helpers in the Fairbanks and UAF community, including S. and J. Linke, H. Gundersen and family, R. Barry, as well as D. Holyoke of the UAF Student Chapter of The Wildlife Society (TWS) for spatial surveys, and for sharing sightings and details. This is EWHALE lab publication #116.
Electronic supplementary material
Below is the link to the electronic supplementary material.
About this article
Cite this article
Baltensperger, A.P., Mullet, T.C., Schmid, M.S. et al. Seasonal observations and machine-learning-based spatial model predictions for the common raven (Corvus corax) in the urban, sub-arctic environment of Fairbanks, Alaska. Polar Biol 36, 1587–1599 (2013). https://doi.org/10.1007/s00300-013-1376-7
Received:

Revised:

Accepted:

Published:

Issue Date:
Keywords
Common raven

Fairbanks

Alaska

Distribution model

Machine learning

Subsidized predator