Abstract
Behavioral predictions based on optimal foraging models that assume an energy-maximizing strategy have been challenged on both theoretical and empirical grounds. Although polar bears (Ursus maritimus) are specialist predators of seal pups on the Arctic ice pack, the use of terrestrial food sources during the ice-free period has received increased attention in recent years in light of climate predictions. Across a 10-day period of observation, we documented between four and six individual polar bears successfully capture at least nine flightless lesser snow geese (Chen caerulescens caerulescens) and engage in at least eight high-speed pursuits of geese. The observed predatory behaviors of polar bears do not support predictions made by energy-optimizing foraging models and suggest that polar bears may frequently engage in energy inefficient pursuits of terrestrial prey. Further study of the nutritional needs and foraging behaviors of polar bears during the ice-free period is warranted, given that polar bears are predicted to spend more time on land as climate change advances.
Access options
Buy single article
Instant access to the full article PDF.
US$ 39.95
Tax calculation will be finalised during checkout.
Subscribe to journal
Immediate online access to all issues from 2019. Subscription will auto renew annually.
US$ 119
Tax calculation will be finalised during checkout.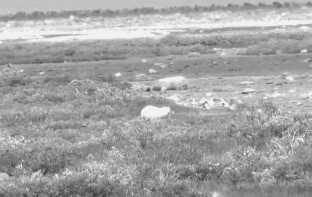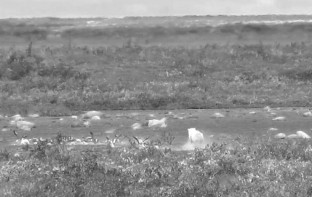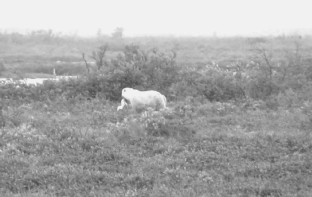 References
Ankney CD (1979) Does the wing molt cause nutritional stress in lesser snow geese? Auk 96:68–72

Ankney CD, MacInnes CD (1978) Nutrient reserves and reproductive performance of female lesser snow geese. Auk 95:459–471

Belovsky GE (1978) Diet optimization in a generalist herbivore: the moose. Theor Popul Biol 14:105–134

Bevelhimer MS, Adams SM (1993) A bioenergetics analysis of diel vertical migration by kokanee salmon, Oncorhynchus nerka. Can J Fish Aquat Sci 50:2336–2349

Brose U (2010) Body-mass constraints on foraging behaviour determine population and food-web dynamics. Funct Ecol 24:28–34

Clark DA (1980) Age-and sex-dependent foraging strategies of a small mammalian omnivore. J Anim Ecol 49:549–563

Donnelly RE, Sullivan KA (1998) Foraging proficiency and body condition of juvenile American dippers. Condor 100:385–388

Dyck M, Romberg S (2007) Observations of a wild polar bear (Ursus maritimus) successfully fishing Arctic charr (Salvelinus alpinus) and Fourhorn sculpin (Myoxocephalus quadricornis). Polar Biol 30:1625–1628

Estes JA, Riedman ML, Staedler MM, Tinker MT, Lyon BE (2003) Individual variation in prey selection by sea otters: patterns, causes and implications. J Anim Ecol 72:144–155

Galbraith PS, Larouche P (2011) Sea-surface temperature in Hudson Bay and Hudson Strait in relation to air temperature and ice cover breakup, 1985–2009. J Mar Syst 87:66–78

Hailey A, Chidavaenzi RL, Loveridge JP (1998) Diet mixing in the omnivorous tortoise Kinixys spekii. Funct Ecol 12:373–385

Hobson KA, Stirling I, Andriashek DS (2009) Isotopic homogeneity of breath CO2 from fasting and berry-eating polar bears: implications for tracing reliance on terrestrial foods in a changing Arctic. Can J Zool 87:50–55

Hurst RJ, Leonard ML, Watts PD, Beckerton P, Øritsland NA (1982a) Polar bear locomotion: body temperature and energetic cost. Can J Zool 60:40–44

Hurst RJ, Ørtisland NA, Watts PD (1982b) Body mass, temperature and cost of walking in polar bears. Acta Physiol Scand 115:391–395

Lunn NJ, Stirling I (1985) The significance of supplemental food to polar bears during the ice-free period of Hudson Bay. Can J Zool 63:2291–2294

Pulliam HR (1975) Diet optimization with nutrient constraints. Am Nat 109:765–768

Pyke GH (1984) Optimal foraging theory: a critical review. Ann Rev Ecol Syst 15:523–575

Regehr EV, Lunn NJ, Amstrup SC, Stirling I (2007) Effects of earlier sea ice breakup on survival and population size of polar bears in western Hudson Bay. J Wildl Manag 71:2673–2683

Rockwell RF, Gormezano LJ (2009) The early bear gets the goose: climate change, polar bears and lesser snow geese in western Hudson Bay. Polar Biol 32:539–547

Rockwell RF, Gormezano LJ, Koons DN (2011) Trophic matches and mismatches: can polar bears reduce the abundance of nesting snow geese in western Hudson Bay? Oikos 120:696–709

Russell RH (1975) The food habits of polar bears of James Bay and southwest Hudson Bay in summer and autumn. Arctic 28:117–129

Schoener TW (1971) Theory of feeding strategies. Ann Rev Ecol Syst 11:369–404

Sih A, Christensen B (2001) Optimal diet theory: when does it work, and when and why does it fail? Anim Behav 61:379–390

Simpson SJ, Sibly RM, Lee KP, Behmer ST, Raubenheimer D (2004) Optimal foraging when regulating intake of multiple nutrients. Anim Behav 68:1299–1311

Singer MS, Bernays EA (2003) Understanding omnivory needs a behavioral perspective. Ecology 84:2532–2537

Smith PA, Elliott KH, Gaston AJ, Gilchrist HG (2010) Has early ice clearance increased predation on breeding birds by polar bears? Polar Biol 33:1149–1153

Stempniewicz L (1993) The polar bear Ursus maritimus feeding in a seabird colony in Frans Josef Land. Polar Res 12:33–36

Stempniewicz L (2006) Polar bear predatory behaviour toward molting barnacle geese and nesting glaucous gulls on Spitsbergen. Arctic 59:247–251

Stirling I (1974) Midsummer observations on the behavior of wild polar bears (Ursus maritimus). Can J Zool 52:1191–1198

Stirling I, McEwan EH (1975) The caloric value of whole ringed seals (Phoca hispida) in relation to polar bear (Ursus maritimus) ecology and hunting behavior. Can J Zool 53:1021–1027

Stirling I, Parkinson CL (2006) Possible effects of climate warming on selected populations of polar bears (Ursus maritimus) in the Canadian Arctic. Arctic 59:261–275

Stirling I, Lunn NJ, Iacozza J (1999) Long-term trends in the population ecology of polar bears in western Hudson Bay in relation to climatic change. Arctic 52:294–306

Westoby M (1978) What are the biological bases of varied diets? Am Nat 112:627–631
Acknowledgments
We graciously thank Ryan Choi for his superior assistance with video and image editing. Christa Mulder provided comments on an earlier draft. DTI received support for this project from the S. J. and Jesse E. Quinney Foundation and Delta Waterfowl.
Electronic supplementary material
Below is the link to the electronic supplementary material.
Supplementary material 2 (MPG 19114 kb)
Supplementary material 3 (MPG 17672 kb)
About this article
Cite this article
Iles, D.T., Peterson, S.L., Gormezano, L.J. et al. Terrestrial predation by polar bears: not just a wild goose chase. Polar Biol 36, 1373–1379 (2013). https://doi.org/10.1007/s00300-013-1341-5
Received:

Revised:

Accepted:

Published:

Issue Date:
Keywords
Optimal foraging

Diet choice

Predation

Energy budget

Chen caerulescens
Ursus maritimus