Abstract
Lemmings are key herbivores in many arctic food webs, and their population dynamics have major impacts on the functioning of tundra systems. However, current knowledge of lemming diet is limited, hampering evaluation of lemming–vegetation interactions. This lack of knowledge is mainly due to methodological challenges, as previously used microhistological methods result in large proportions of poorly resolved plant taxa. We analyzed diets of Norwegian lemmings (Lemmus lemmus) in three different habitats using a new method, DNA metabarcoding of stomach contents. To achieve detailed information on ingested vascular plants, bryophytes, and fungi, we amplified short fragments of chloroplast DNA (for plants; P6 loop of the trnL intron) and nuclear ribosomal DNA (for fungi; ITS1-region). Our results revealed that lemming diets were dominated by grasses, mainly Avenella flexuosa, and mosses, mainly Dicranum spp., but that a variety of other food items were also eaten. Vascular plant composition of the diets differed between heath, meadow, and wetland habitats, whereas bryophyte composition did not. Also, a variety of fungal taxa were retrieved, but as most of the identified taxa belong to micromycetes, they were unlikely to be consumed as food. The role of fungi in the diet of lemmings remains to be investigated. We suggest that there may be substantial variation between habitats and regions in lemming diet.
Access options
Buy single article
Instant access to the full article PDF.
US$ 39.95
Tax calculation will be finalised during checkout.
Subscribe to journal
Immediate online access to all issues from 2019. Subscription will auto renew annually.
US$ 119
Tax calculation will be finalised during checkout.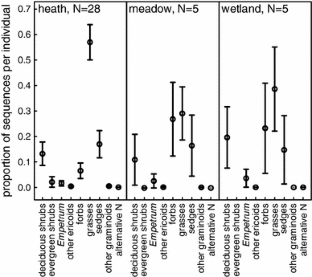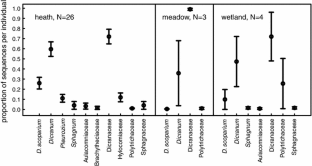 References
Andersson M, Jonasson S (1986) Rodent cycles in relation to food resources on an alpine heath. Oikos 46:93–106

Aunapuu M, Dahlgren J, Oksanen T, Grellmann D, Oksanen L, Olofsson J, Rammul U, Schneider M, Johansen B, Hygen HO (2008) Spatial patterns and dynamic responses of arctic food webs corroborate the exploitation ecosystems hypothesis (EEH). Am Nat 171:249–262

Austrheim G, Hassel K, Mysterud A (2005) The role of life history traits for bryophyte community patterns in two contrasting alpine regions. Bryologist 108:259–271

Batzli GO (1993) Food selection by lemmings. In: Stensetch NC, Ims RA (eds) The biology of lemmings, 1st edn. Academic Press, London, pp 281–301

Davey ML, Currah RS (2006) Interactions between mosses (Bryophyta) and fungi. Can J Bot 84:1509–1519

Ekerholm P, Oksanen L, Oksanen T (2001) Long-term dynamics of voles and lemmings at the timberline and above the willow limit as a test of hypotheses on trophic interactions. Ecography 24:555–568. doi:10.1034/j.1600-0587.2001.d01-211.x

Engelbrektson A, Kunin V, Wrighton KC, Zvenigorodsky N, Chen F, Ochman H, Hugenholtz P (2010) Experimental factors affecting PCR-based estimates of microbial species richness and evenness. ISME J 4(5):642–647. doi:10.1038/ismej.2009.153

Epp L, Boessenkool S, Bellemain E, Haile J, Esposito A, Riaz T, Erseus C, Gusarov VI, Edwards ME, Johnsen A, Steinøien HK, Hassel K, Kauserud H, Yoccoz NG, Bråthen KA, Willerslev E, Taberlet P, Coissac E, Brochmann C (2012) New environmental metabarcodes for analysing soil DNA: potential for studying past and present ecosystems. Mol Ecol 21:1821–1833

Eskelinen O (2002) Diet of the wood lemming Myopus schisticolor. Ann Zool Fenn 39:49–57

Gauthier G, Bêty J, Giroux JF, Rochefort L (2004) Trophic interactions in a High Arctic snow goose colony. Integr Comp Biol 44(2):119–129

Hansen L, Knudsen H (eds) (1992) Nordic macromycetes vol. 2. Polyporales, Boletales, Agaricales, Russulales. Nordsvamp, Copenhagen

Hansson L (1969) Spring populations of small mammals in central Swedish Lapland in 1964–68. Oikos 20:431–450

Hassel K, Prestø T, Schmidt NM (2012) Bryophyte diversity in high and low arctic Greenland. Establishment of permanent monitoring transects and bryophyte and bryophyte mapping in Zackenberg and Kobbefjord 2009–2010. Scientific Report from DCE—Danish Centre for Environment and Energy No. 2/. Aarhus University, Roskilde, Denmark

Henden J-A, Bardsen BJ, Yoccoz NG, Ims RA (2008) Impacts of differential prey dynamics on the potential recovery of endangered arctic fox populations. J Appl Ecol 45:1086–1093. doi:10.1111/j.1365-2664.2008.01515.x

Henden J-A, Ims RA, Yoccoz NG, Sørensen R, Killengreen ST (2011) Population dynamics of tundra voles in relation to configuration of willow thickets in southern arctic tundra. Pol Biol 34:533–540. doi:10.1007/s00300-010-0908-7

Hill MO, Bell N, Bruggeman-Nannenga MA, Brugues M, Cano MJ, Enroth J, Flatberg KI, Frahm JP, Gallego MT, Garilleti R, Guerra J, Hedenas L, Holyoak DT, Hyvonen J, Ignatov MS, Lara F, Mazimpaka V, Munoz J, Söderström L (2006) An annotated checklist of the mosses of Europe and Macaronesia. J Bryol 28:198–267

Huitu O, Helander M, Lehtonen P, Saikkonen K (2008) Consumption of grass endophytes alters the ultraviolet spectrum of vole urine. Oecologia 156:333–340

Ims RA, Fuglei E (2005) Trophic interaction cycles in tundra ecosystems and the impact of climate change. Bioscience 55:311–322

Ims RA, Yoccoz NG, Killengreen ST (2011) Determinants of lemming outbreaks. PNAS 108:1970–1974. doi:10.1073/pnas.1012714108

Jensen JB, González VT, Guevara DU, Bhuvaneswari TV, Wäli PR, Tejesvi MV, Pirttilä AM, Bazely D, Vicari M, Bråthen KA (2011) Kit for detection of fungal endophytes of grasses yields inconsistent results. Methods Ecol Evol 2:197–201. doi:10.1111/j.2041-210X.2010.00066.x

Kalela O, Koponen T, Lind EA, Skarén U, Tast J (1961) Seasonal change of habitat in the Norwegian lemming Lemmus lemmus (L.). Ann Acad Sci Fenn A IV 55:1–72

Kauserud H, Mathiesen C, Ohlson M (2008) High diversity of fungi associated with living parts of boreal forest bryophytes. Botany 86:1326–1333

Koshkina TV (1961) New data on the nutrition of the Norwegian lemming (Lemmus lemmus). Bull Mosk Obshch Ispytal Prirod 66:15–31 (in Russian)

Kowalczyk R, Taberlet P, Coissac E, Valentini A, Miquel C, Kaminski T, Wójcik JM (2011) Influence of management practices on large herbivore diet—case of European bison in Bialowieza primeval forest (Poland). For Ecol Manag 261:821–828

Krebs C (2011) Of lemmings and snowshoe hares: the ecology of northern Canada. PRSB 278:481–489

Krebs CJ, Danell K, Angerbjörn A, Agrell J, Berteaux D, Bråthen KA, Danell O, Erlinge S, Fedorov V, Fredga K, Hjältén J, Högstedt G, Jónsdóttir IS, Kenney AJ, Kjellén N, Nordin T, Roininen H, Svensson M, Tannerfeldt M, Wiklund C (2003) Terrestrial trophic dynamics in the Canadian Arctic. Can J Zool 81:827–843

Moen J, Lundberg PA, Oksanen L (1993) Lemming grazing on snowbed vegetation during a population peak, northern Norway. Arct Alp Res 25:130–135. doi:10.2307/1551549

Morris DW, Davidson DL, Krebs CJ (2000) Measuring the ghost of competition: insights from density-dependent habitat selection on the co-existence and dynamics of lemmings. Evol Ecol Res 2:41–67

Oksanen T, Oksanen L, Dahlgren J, Olofsson J (2008) Arctic lemmings, Lemmus spp. and Dicrostonyx spp.: integrating ecological and evolutionary perspectives. Evol Ecol Res 10:415–434

Olofsson J, Hulme PE, Oksanen L, Suominen O (2004) Importance of large and small mammalian herbivores for the plant community structure in the forest tundra ecotone. Oikos 106:324–334. doi:10.1111/j.0030-1299.2004.13224.x

Pegard A, Miquel C, Valentini A, Coissac E, Bouvier F, Francois D, Taberlet P, Engel E, Pompanon F (2009) Universal DNA-based methods for assessing the diet of grazing livestock and wildlife from feces. J Agric Food Chem 57:5700–5706

Pompanon F, Deagle BE, Symondson WOC, Brown DS, Jarman SN, Taberlet P (2012) Who is eating what: diet assessment using next generation sequencing. Mol Ecol 21:1931–1950

Ravolainen VT, Bråthen KA, Ims RA, Yoccoz NG, Soininen EM (2013) Shrub patch configuration at the landscape scale is related to diversity of adjacent herbaceous vegetation. Plant Ecol Div. doi:10.1080/17550874.2013.773104

Raye G, Miquel C, Coissac E, Redjadj C, Loison A, Taberlet P (2011) New insights on diet variability revealed by DNA barcoding and high-throughput pyrosequencing: chamois diet in autumn as a case study. Ecol Res 26:265–276

Saari S, Sundell J, Huitu O, Helander M, Ketoja E, Ylönen H, Saikkonen K (2010) Fungal-mediated multitrophic interactions—do grass endophytes in diet protect voles from predators? PLoS ONE 5(3):e9845. doi:10.1371/journal.pone.0009845

Saetnan ER, Gjershaug JO, Batzli GO (2009) Habitat use and diet composition of Norwegian lemmings and field voles in central Norway. J Mammal 90:183–188. doi:10.1644/07-mamm-a-259.1

Saikkonen K, Faeth SH, Helander M, Sullivan TJ (1998) Fungal endophytes: a continuum of interactions with host plants. Annu Rev Ecol Evol Syst 29:319–343

Soininen EM, Valentini A, Coissac E, Miquel C, Gielly L, Brochmann C, Brysting AK, Sonstebo JH, Ims RI, Yoccoz NG, Taberlet P (2009) Analysing diet of small herbivores: the efficiency of DNA barcoding coupled with high-throughput pyrosequencing for deciphering the composition of complex plant mixtures. Front Zool 6:16. doi:10.1186/1742-9994-6-16

Sønstebø JH, Gielly L, Brysting A, Elven R, Edwards M, Haile J, Willerslev E, Coissac E, Roiux D, Sannier J, Taberlet P, Brochmann C (2010) Using next-generation sequencing for molecular reconstruction of past Arctic vegetation and climate. Mol Ecol Resour 10:1009–1018

Stoddart DM (1967) A note on the food of the Norway lemming. J Zool 151:211–213

Taberlet P, Gielly L, Patou G, Bouvet J (1991) Universal primers for amplification of 3 noncoding regions of chloroplast DNA. Plant Mol Biol 17:1105–1109

Taberlet P, Coissac E, Pompanon F, Gielly L, Miquel C, Valentini A, Vermat T, Corthier G, Brochmann C, Willerslev E (2007) Power and limitations of the chloroplast trnL (UAA) intron for plant DNA barcoding. Nucleic Acid Res 35:e14. doi:10.1093/nar/gkl938

Taberlet P, Coissac E, Hajibabaei M, Rieseberg LH (2012) Environmental DNA. Mol Ecol 21:1789–1793

Tast J (1991) Will the Norwegian Lemming become endangered if climate becomes warmer. Arct Alp Res 23:53–60

Turchin P, Oksanen L, Ekerholm P, Oksanen T, Henttonen H (2000) Are lemmings prey or predators? Nature 405:562–565

Valentini A, Pompanon F, Taberlet P (2009) DNA barcoding for ecologist. Trends Ecol Evol 24:110–117

Walker DA, Raynolds MK, Daniels FJA, Einarsson E, Elvebakk A, Gould WA, Katenin AE, Kholod SS, Markon CJ, Melnikov ES, Moskalenko NG, Talbot SS, Yurtsev BA, Team C (2005) The circumpolar Arctic vegetation map. J Veg Sci 16:267–282. doi:10.1111/j.1654-1103.2005.tb02365.x

White T, Bruns T, Lee S, Taylor J (1990) Amplification and direct sequencing of fungal ribosomal RNA genes for phylogenetics. In: Innins MA, Gelfand DH, Sninski JJ, White TJ (eds) PCR-protocols a guide to methods and applications. Academic Press, San Diego, pp 315–322
Acknowledgments
We thank Arne-Petter Sarre, Alfred Ørjebo, and all field assistants for collecting lemming samples in 2007; Torbjørn Alm, Knut Rydgren, and Leif Einar Støveren for taxonomic expertise; Christian Miquel, Delphine Rioux, Alice Valentini, Virginia Mirré, and Audun Schrøder-Nielsen for technical assistance in the laboratory; Eric Coissac and Frédéric Boyer for help in data handling; Pierre Taberlet for fruitful discussions and two anonymous reviewers for valuable comments that have improved the manuscript. This project was funded by the Research Council of Norway (Ecosystem Finnmark) and Oskar Huttunen Fond (PhD scholarship for EMS). Funding for building the taxonomic reference libraries was obtained from the Research Council of Norway (the BarFrost project, Grant No. 191627/V40 to CB).
Conflict of interest
We would like to mention that L.G. is one of the co-inventors of a patent concerning g-h primers and the subsequent use of the P6 loop of the chloroplast trnL (UAA) intron for plant identification using degraded template DNA. These patents only restrict commercial applications and have no impact on the use of this locus by academic researchers.
Electronic supplementary material
Below is the link to the electronic supplementary material.
About this article
Cite this article
Soininen, E.M., Zinger, L., Gielly, L. et al. Shedding new light on the diet of Norwegian lemmings: DNA metabarcoding of stomach content. Polar Biol 36, 1069–1076 (2013). https://doi.org/10.1007/s00300-013-1328-2
Received:

Revised:

Accepted:

Published:

Issue Date:
Keywords
Small rodents

Lemmus lemmus

Tundra

Herbivore

trnL approach

Fungi