Abstract
Global warming and enhanced UV-radiation due to stratospheric ozone depletion could drastically affect Arctic coastal ecosystems. Previous research revealed that the UV-susceptibility and impact of increased UV-radiation on Arctic kelp zoospores are highly variable, potentially due to seasonal acclimation. Accordingly, for a better understanding of climate change effects on Arctic kelp, we need to determine the fertility period of Arctic kelps and to systematically examine the seasonal differences of increased UV-radiation during the fertility period. We examined the fertility period of Laminaria digitata and Alaria hyperborea, by evaluating sorus maturation, zoospore release and germination. Zoospore germination was studied under photosynthetic active radiation (PAR 400–700 nm) and PAR and increased UVAB-radiation (280–700 nm) from July to September at 2 and 7 °C. Furthermore, we tested whether differences in the zoosporic UV-susceptibility were related to the content of UV-screening phlorotannins. The fertility period of A. esculenta is uniform from July to mid-August and ends in September. Within the fertility period, the UV-susceptibility of A. esculenta zoospores was highest at 2 °C and the beginning of July, whereas it was not affected by seasonality at 7 °C. The fertility period of L. digitata starts in late July and lasts at least until September, and no seasonal differences in the UV-susceptibility were found. However, UV-susceptibility was significantly lower at 7 °C. In both species, the zoosporic phlorotannin content did not affect the UV-susceptibility. We conclude that seasonality strongly influences the UV-susceptibility of A. esculenta but at low water temperatures only. Higher seawater temperatures help both species to cope with increasing UV-radiation.
Access options
Buy single article
Instant access to the full article PDF.
US$ 39.95
Tax calculation will be finalised during checkout.
Subscribe to journal
Immediate online access to all issues from 2019. Subscription will auto renew annually.
US$ 119
Tax calculation will be finalised during checkout.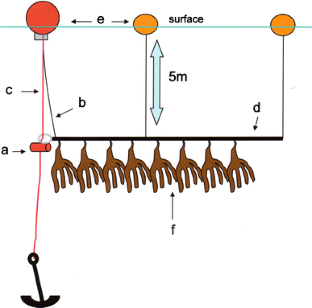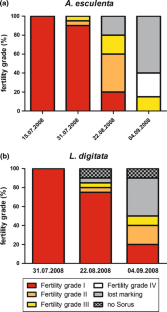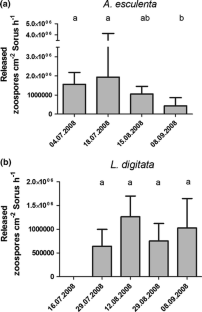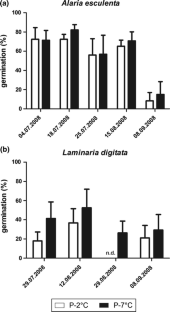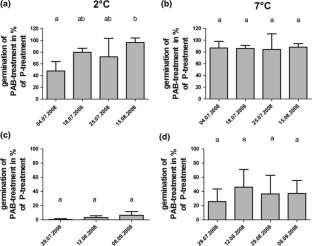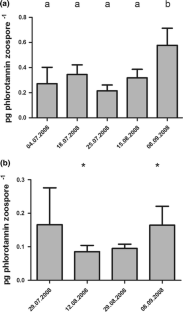 References
Bartsch I, Wiencke C, Bischof K, Buchholz CM, Buck BH, Eggert A, Feuerpfeil P, Hanelt D, Jacobsen S, Karez R, Karsten U, Molis M, Roleda MY, Schubert H, Schumann R, Valentin K, Weinberger F, Wiese J (2008) The genus Laminaria sensu lato: recent insights and developments. Eur J Phycol 43:1–86

Bischof K, Steinhoff FS (2012) Impacts of ozone depletion and solar UV-B radiation on seaweeds. In: Wiencke C, Bischof K (eds) Advances in seaweed biology. Novel insights into ecophysiology, ecology and utilization. Ecological studies Vol. 219. Springer publishers, New York, pp 433–448

Bischof K, Hanelt D, Tug H, Karsten U, Brouwer PEM, Wiencke C (1998) Acclimation of brown algal photosynthesis to ultraviolet radiation in Arctic coastal waters (Spitsbergen, Norway). Polar Biol 20:388–395

Bischof K, Hanelt D, Wiencke C (1999) Acclimation of maximal quantum yield of photosynthesis in the brown alga Alaria esculenta under high light and UV radiation. Plant Biol 1:435–444

Bischof K, Gomez I, Molis M, Hanelt D, Karsten U, Lüder U, Roleda MY, Zacher K, Wiencke C (2006) Ultraviolet radiation shapes seaweed communities. Rev Environ Sci Biotecnol 5:141–166

Cottier F, Tverberg V, Inall M, Svendsen H, Nilsen F, Griffiths C (2005) Water mass modification in an Arctic fjord through cross-shelf exchange: the seasonal hydrography of Kongsfjorden, Svalbard. J Geophys Res 110:C12005. doi:10-1029/2004JC002757

Cruces E, Huovinen P, Gómez I (2013) Interactive effects of UV-radiation and enhanced temperature on photosynthesis, phlorotannin induction and antioxidant activities of two sub-Antarctic brown algae. Mar Biol 160:1–13

Flores-Moya A, Hanelt D, Figueroa FL, Altamirano M, Viňegla B, Salles S (1999) Involvement of solar UV-B radiation in recovery of inhibited photosynthesis in the brown alga Dictyota dichotoma (Hudson) Lamouroux. J Photochem Photobiol, B 49:129–135

Garcia-Pichel F (1994) A model for internal self-shading in planktonic organisms and its implications for the usefulness of ultraviolet sunscreens. Limnology Oceanogr 39:1704–1717

Gordon R, Brawley SH (2004) Effects of water motion on propagule release from algae with complex life histories. Mar Biol 145:21–29

Hanelt D, Tug H, Bischof K, Gross C, Lippert H, Sawall T, Wiencke C (2001) Light regime in an Arctic fiord: a study related to stratospheric ozone depletion as a basis for determination of UV effects on algal growth. Mar Biol 138:649–658

Henry BE, Van Alstyne KL (2004) Effects of UV-radiation on growth and phlorotannins in Fucus gardneri (Phaeophyceae) juveniles and embryos. J Phycol 40:527–533

Hoffman JR, Hansen LJ, Klinger T (2003) Interactions between UV radiation and temperature limit inferences from single-factor experiments. J Phycol 39:268–272

Karsten U, Bischof K, Wiencke C (2001) Photosynthetic performance of Arctic macroalgae after transplantation from deep to shallow waters. Oecologia 127:11–20

Karsten U, Wulff A, Roleda MY, Müller R, Steinhoff FS, Fredersdorf J, Wiencke C (2009) Physiological responses of polar benthic algae to ultraviolet radiation. Bot Mar 52:639–654

McGuinness KA (2002) Of rowing boats, ocean liners and tests of the ANOVA homogeneity of variance assumption. Austral Ecol 27:681–688

Müller R, Wiencke C, Bischof K (2008) Interactive effects of UV radiation and temperature on microstages of Laminariales (Phaeophyceae) from the Arctic and North Sea. Climate Res 37:203–213

Müller R, Wiencke C, Bischof K, Krock B (2009) Zoospores of three Arctic Laminariales under different UV radiation and temperature conditions: exceptional spectral absorbance properties and lack of phlorotannin induction. Photochem Photobiol 85:970–977

Müller R, Desel C, Steinhoff FS, Wiencke C, Bischof K (2011) UV-radiation and elevated temperatures induce formation of reactive oxygen species in gametophytes of cold-temperate/Arctic kelps (Laminariales, Phaeophycae). Phycol Res 60:27–36

Pavia H, Brock E (2000) Extrinsic factors influencing phlorotannin production in the brown alga Ascophyllum nodosum. Mar Ecol-Prog Ser. 193:285–294

Rautenberger R, Bischof K (2006) Impact of temperature on UV-susceptibility of two Ulva (Chlorophyta) species from Antarctic and Subantarctic Regions. Polar Biol 29:988–996

Roleda (2009) Photosynthetic response of Arctic kelp zoospores exposed to radiation and thermal stress. Photochem Photobiol Sci 8:1302–1312

Roleda MY, Wiencke C, Hanelt D, Van de Poll W, Gruber A (2005) Sensitivity of Laminariales zoospores from Helgoland (North Sea) to ultraviolet and photosynthetically active radiation: implications for depth distribution and seasonal reproduction. Plant, Cell Environ 28:466–479

Roleda MY, Wiencke C, Luder UH (2006a) Impact of ultraviolet radiation on cell structure, UV-absorbing compounds, photosynthesis, DNA damage, and germination in zoospores of Arctic Saccorhiza dermatodea. J Exp Bot 57:3847–3856

Roleda MY, Hanelt D, Wiencke C (2006b) Exposure to ultraviolet radiation delays photosynthetic recovery in Arctic kelp zoospores. Photosynth Res 88:311–322

Roleda MY, Clayton MN, Wiencke C (2006c) Screening capacity of UV-absorbing compounds in spores of Arctic Laminariales. J Exp Mar Biol Ecol 338:123–133

Roleda MY, Luder UH, Wiencke C (2010) UV-susceptibility of zoospores of the brown macroalga Laminaria digitata from Spitsbergen. Polar Biol 33:577–588

Schoenwaelder MEA (2002) The occurrence and cellular significance of physodes in brown algae. Phycologia 41:125–139

Steinhoff FS, Wiencke C, Müller R, Bischof K (2008) Effects of ultraviolet radiation and temperature on the ultrastructure of zoospores of the brown macroalga Laminaria hyperborea. Plant Biol 10:388–397

Steinhoff FS, Graeve M, Bartoszek K, Bischof K, Wiencke C (2012) Phlorotannin production and lipid oxidation as a potential protective function against high photosynthetically active and UV radiation in gametophytes of Alaria esculenta (Alariales, Phaeophyceae). Photochem Photobiol 88:46–57

Steneck RS, Graham MH, Bourque BJ, Corbett D, Erlandson JM, Estes JA, Tegner MJ (2002) Kelp forest ecosystems: biodiversity, stability, resilience and future. Environ Conserv 29:436–459

Swanson AK, Fox CH (2007) Altered kelp (Laminariales) phlorotannins and growth under elevated carbon dioxide and ultraviolet-B treatments can influence associated intertidal food webs. Glob Change Biol 13:1696–1709

Tala F, Veliz K, Gomez I, Edding M (2007) Early life stages of the South Pacific kelps Lessonia nigrescens and Lessonia trabeculata (Laminariales, Phaeophyceae) show recovery capacity following exposure to UV radiation. Phycologia 46:467–470

Véliz K, Edding M, Tala F, Gómez I (2006) Effects of ultraviolet radiation on different life cycle stages of the south Pacific kelps, Lessonia nigrescens and Lessonia trabeculata (Laminariales, Phaeophyceae). Mar Biol 149:1015–1024

Weatherhead CE, Andersen SB (2006) The search for signs of recovery of the ozone layer. Nature 441:39–45. doi:10.1038/nature04746

Wiencke C, Gómez I, Pakker H, Flores-Moya A, Altamirano M, Hanelt D, Bischof K, Figueroa FL (2000) Impact of UV-radiation on viability, photosynthetic characteristics and DNA of brown algal zoospores: implications for depth zonation. Mar Ecol-Prog Ser 197:217–229

Wiencke C, Clayton MN, Schoenwaelder M (2004) Sensitivity and acclimation to UV radiation of zoospores from five species of Laminariales from the Arctic. Mar Biol 145:31–39

Wiencke C, Roleda MY, Gruber A, Clayton MN, Bischof K (2006) Susceptibility of zoospores to UV radiation determines upper depth distribution limit of Arctic kelps: evidence through field experiments. J of Ecol 94:455–463

Wiencke C, Lüder UH, Roleda MY (2007) Impact of ultraviolet radiation on physiology and development of zoospores of the brown alga Alaria esculenta from Spitsbergen. Physiol Plantarum 130:601–612

World Meterological Organisation (2010) Scientific assessment of ozone depletion: 2010; global ozone research and monitoring project-report no. 52, World Meteorological Organization, Geneva, Switzerland

Xu J, Gao K (2010) UV-A enhanced growth and UV-B induced positive effects in the recovery of photochemical yield in Gracilaria lemaniformis (Phodophyta). J Photochem Photobiol, B 100:117–122
Acknowledgments
This work was performed at the International Arctic Environmental Research and Monitoring Facility at Ny-Ålesund, Spitsbergen, Norway. The authors wish to thank the other members of the AWI-diving team, in particular Max Schwanitz, our colleagues at the AWI-PEV-Base in 2008, in particular Dr. Marcus Schumacher, and all staff members of the Kings Bay AS, in particular Elin Austerheim. Furthermore, we wish to thank Dr. Inka Bartsch for some valuable comments on this manuscript and Prof. Dr. Gerhard Dieckmann for checking our English. All experiments were conducted according to the laws of Germany and Norway.
About this article
Cite this article
Olischläger, M., Wiencke, C. Seasonal fertility and combined effects of temperature and UV-radiation on Alaria esculenta and Laminaria digitata (Phaeophyceae) from Spitsbergen. Polar Biol 36, 1019–1029 (2013). https://doi.org/10.1007/s00300-013-1325-5
Received:

Revised:

Accepted:

Published:

Issue Date:
Keywords
Zoospores

Germination

UV

Temperature

Seasonality

Acclimatization