Abstract
In the 2009–2010 austral summer, two breeding pairs of king penguins were recorded at Stinker Point, Elephant Island, Maritime Antarctic. This is the first record of king penguins breeding south of 60°S. The finding suggests a possible range extension of this species and increases the number of breeding bird species at Stinker Point, which was recently appointed as an Important Bird Area in Antarctica.
Access options
Buy single article
Instant access to the full article PDF.
US$ 39.95
Tax calculation will be finalised during checkout.
Subscribe to journal
Immediate online access to all issues from 2019. Subscription will auto renew annually.
US$ 119
Tax calculation will be finalised during checkout.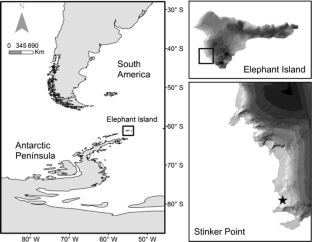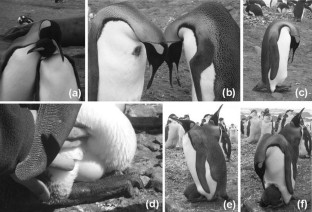 References
Aubin T, Jouventin P (1998) Cocktail-party effect in king penguin colonies. Proc R Soc B 265:1665–1673

Bost CA, Georges JY, Guinet C et al (1997) Foraging habitat and food intake of satellite tracked king penguins during the austral summer at Crozet Archipelago. Mar Ecol Prog Ser 150:21–33

Chamaillé-Jammes S, Guinet C, Nicoleau F, Argentier M (2000) A method to assess population changes in king penguins: the use of a geographical information system to estimate area-population relationships. Polar Biol 23:545–549

Furse JR, Bruce G (1972) Ornithology Report. In: Burley MK (ed) Joint service expedition: elephant Island, 1970–1971, Annex F. Ministry of Defense, London, pp F1–F11

Gorman KB, Erdmann ES, Pickering ABC et al (2010) A new high-latitude record for the macaroni penguin (Eudyptes chrysolophus) at Avian Island, Antarctica. Polar Biol 33:1155–1158

Harris CM, Carr R, Lorenz K, Jones S (2011) Important bird areas in Antarctica: Antarctic Peninsula, South Shetland Islands, South Orkney Islands—Final Report. Environmental Research & Assessment Ltd, Cambridge

Harrison P (1983) Seabirds. Beckenham, Kent

Hobday AJ (2010) Ensemble analysis of the future distribution of large pelagic fishes off Australia. Progr Oceanogr 86:291–301

Le Bohec C, Gauthier-Clerc M, Le Maho Y (2005) The adaptive significance of crèches in the king penguin. Anim Behav 70:527–538

Le Bohec C, Durant JM, Gauthier-Clerc M et al (2008) King penguin population threatened by Southern Ocean warming. Proc Natl Acad Sci USA 105:2493–2497

Müller-Schwarze D (1984) The Behavior of Penguins: adapted to ice and tropics. State University of New York Press, Albany

Murphy RC (1936) Oceanic birds of South America. Macmillan, The American Museum of Natural History, New York

Péron C, Weimerskirch H, Bost C-A (2012) Projected poleward shift of King Penguins' (Aptenodytes patagonicus) foraging range at the Crozet Islands, southern Indian Ocean. Proc R Soc B. doi:10.1098/rspb.2011.2705

Petry MV (1994) Spatial distribution and population aspects of the avifauna of Stinker Point—elephant Island—South Shetland—Antarctica. Dissertation, Universidade do Vale do Rio dos Sinos

Steig EJ, Schneider DP, Rutherford SD et al (2009) Warming of the Antarctic ice-sheet surface since the 1957 international geophysical year. Nature 457:459–463

Stonehouse B (1960) The King Penguin Aptenodytes patagonica of South Georgia. I. Breeding behaviour and development. Scientific reports. FIDS 23:1–81

Turner J, Colwell SR, Marshall GJ et al (2005) Antarctic climate change during the last 50 years. Int J Climatol 25:279–294

Van Heezik YL, Seedon PJ, Cooper J, Plös AL (1994) Interrelationships between breeding frequency, timing and outcome in king penguins Aptenodytes patagonicus: are king penguins biennial breeders? Ibis 136:279–284

Watson GE, Angle JP, Harper PC (1975) Birds of the Antarctic and Sub-antarctic. American Geophysical Union, Washington

Weimerskirch H (2007) Are seabirds foraging for unpredictable resources? Deep-Sea Res Part II 54:211–223

Weimerskirch H, Stahl JC, Jouventin P (1992) The breeding biology and population dynamics of king penguins Aptenodytes patagonica on the Crozet Islands. Ibis 134:107–117

Williams TD (1995) The Penguins: Spheniscidae. Oxford University Press, Oxford

Woehler EJ, Croxall JP (1997) The status and trends of Antarctic and sub-Antarctic seabirds. Mar Ornithol 25:43–66
Acknowledgments
This research was supported by National Institute of Science and Technology—Antarctic Environmental Research—INCT-APA; National Counsel of Technological and Scientific Development—CNPq; Foundation of Research Support, Rio de Janeiro—FAPERJ; Brazilian Antarctic Program; Secretariat of the Interministerial Commission for Sea Resources—SECIRM—and University of Vale do Rio dos Sinos. We thank Elisa de Souza Petersen and Gisele Dantas for providing photographs. Finally, we are grateful to Emily Toriani Moura and Dieter Piepenburg for revising the language of our manuscript.
About this article
Cite this article
Petry, M.V., Basler, A.B., Valls, F.C.L. et al. New southerly breeding location of king penguins (Aptenodytes patagonicus) on Elephant Island (Maritime Antarctic). Polar Biol 36, 603–606 (2013). https://doi.org/10.1007/s00300-012-1277-1
Received:

Revised:

Accepted:

Published:

Issue Date:
Keywords
Biogeographic range shift

Breeding site

Elephant Island

New record

Sphenisciformes