Abstract
Seabird movements outside the breeding season are generally poorly known, but can cover thousands of square km and a multitude of habitats, feeding conditions and potential threats. During the last decades, many seabird species in the North Atlantic have experienced large reductions in population size and breeding success, probably caused by reduced prey abundance caused by climate alterations and overfishing. One of these seabird species is the common guillemot. We used global location sensors (geolocators) to identify inter-breeding movements of 10 individuals breeding at Sklinna, a colony off the coast of Central Norway during July 2009–July 2010. All individuals moved northwards after breeding, and eight of them (80 %) entered the Barents Sea where they probably completed their moult. Three individuals moved southwards before the winter, but in total, half of the individuals stayed in the Barents Sea during winter. The other half wintered off the coast of Central Norway–Lofoten. The fact that all individuals moved northwards to winter was surprising as ringing recoveries suggest they also moves southwards (to the Skagerrak area) to winter. This suggests variation (individual or annual) in wintering movements and calls for a multi-year geolocator study at a number of colonies. Much of the area in the Barents Sea–Lofoten area is classified as vulnerable with respect to specific environmental pressures such as oil pollution and other anthropogenic factors, and the importance of the Barents Sea as a major wintering area for common guillemots from central Norway certainly has implications for the management authorities.
Access options
Buy single article
Instant access to the full article PDF.
USD 39.95
Price excludes VAT (USA)
Tax calculation will be finalised during checkout.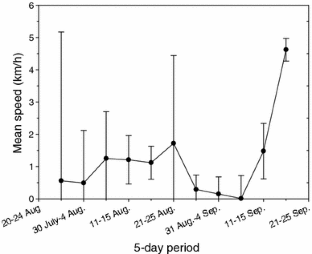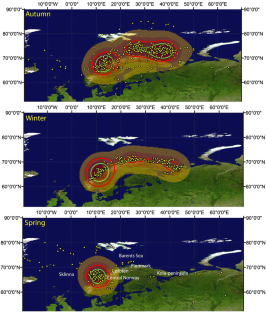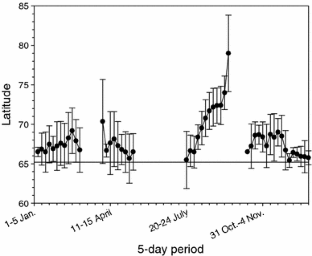 References
Anker-Nilssen T, Aarvak T (2009) Satellite telemetry reveals post-breeding movements of Atlantic puffins Fratercula arctica from Røst, North Norway. Polar Biol 32:1657–1664

Bakken V, Runde O, Tjørve E (2003) Norwegian bird ringing Atlas vol 1. Stavanger Museum, Stavanger (In Norwegian)

Bantock TM, Prys-Jones RP, Lee PLM (2008) New and improved molecular sexing methods for museum bird specimens. Mol Ecol Res 8:519–528

Barrett RT (2002) Atlantic puffin (Fratercula arctica) and common guillemot (Uria aalge) chick diet and growth as indicators of fish stocks in the Barents Sea. Mar Ecol Prog Ser 230:275–287

Barrett RT, Golovkin AN (2000) Common guillemot Uria aalge In: Anker-Nilssen T, Bakken V, Strøm H, Golovkin AN, Bianki VV, Tatarinkova IP (eds) The status of the marine birds breeding in the Barents Sea region. Norsk Polarinstitutt, Tromsø, pp 114–118

Barrett RT, Lorentsen SH, Anker-Nilssen T (2006) The status of breeding seabirds in mainland Norway. Atl Seabirds 8:97–126

Bost CA, Thiebot JB, Pinaud D, Cherel Y, Trathan PN (2009) Where do penguins go during the inter-breeding period? Using geolocation to track the winter dispersion of the macaroni penguin. Biol Lett 5:473–476

Bugge J, Barrett RT, Pedersen T (2011) Optimal foraging in chick-raising common guillemots (Uria aalge). J Ornithol 152:253–259

Cadiou B, Riffaut L, McCoy KD, Cabelguen J, Fortin M, Gélinaud G, Le Roch A, Tirard C, Boulinier T (2004) Ecological impact of the "Erika" oil spill: determination of the geographic origin of the affected common guillemots. Aquat Living Resour 17:369–377

Cramp S (ed) (1985) The birds of the western Palearctic, vol 4. Oxford University Press, Oxford

Dunn MJ, Silk JRD, Trathan PN (2011) Post-breeding dispersal of Adélie penguins (Pygoscelis adeliae) nesting at Signy Island, South Orkney Islands. Polar Biol 34:205–214

Egevang C, Stenhouse IJ, Phillips RA, Petersen A, Fox JW, Silk JRD (2010) Tracking of Arctic terns Sterna paradisea reveals longest animal migration. Proc Nat Acad Sci USA 107:2078–2081

Ekstrom PA (2004) An advance in geolocation by light. Mem Natl Inst Polar Res 58:210–226

Frederiksen M (2010) Seabirds in the North East Atlantic. A review of status, trends and anthropogenic impact. Appendix 1 TemaNord 587:47–122

Frederiksen M, Wanless S, Harris MP, Rothery P, Wilson LJ (2004) The role of industrial fisheries and oceanographic change in the decline of North Sea black-legged kittiwakes. J Appl Ecol 41:1129–1139

Frederiksen M, Edwards M, Mavor RA, Wanless S (2007) Regional and annual variation in black-legged kittiwake breeding productivity is related to sea surface temperature. Mar Ecol Prog Ser 350:137–143

Frederiksen M, Jensen H, Daunt F, Mavor RA, Wanless S (2008) Differential effects of a local industrial sand lance fishery on seabird breeding performance. Ecol Appl 18:701–710

Frederiksen M, Moe B, Daunt F, Phillips RA, Barrett RT, Bogdanova MI, Boulinier T, Chardine JW, Chastel O, Chivers LS, Christensen-Dalsgaard S, Clément-Chastel C, Colhoun K, Freeman R, Gaston AJ, González-Solís J, Goutte A, Grémillet D, Guilford T, Jensen GH, Krasnov Y, Lorentsen SH, Mallory ML, Newell M, Olsen B, Shaw D, Steen H, Strøm H, Systad GH, Thórarinsson TL, Anker-Nilssen T (2012) Multi-colony tracking reveals the winter distribution of a pelagic seabird on an ocean basin scale. Divers Distrib 18:530–542

Gitzen RA, Millspaugh JJ, Kernohan BJ (2006) Bandwidth selection for fixed-kernel analysis of animal utilization distributions. J Wildl Manag 70:1334–1344

Halpern BS, Walbridge S, Selkoe KA, Kappel CV, Micheli F, D'Agrosa C, Bruno JF, Casey KS, Ebert C, Fox HE, Fujita R, Heinemann D, Lenihan HS, Madin EMP, Perry MT, Selig ER, Spalding M, Steneck R, Watson R (2008) A global map of human impact on marine ecosystems. Science 319:948–952

Harris MP, Frederiksen M, Wanless S (2007) Within and between-year variation in the juvenile survival of common guillemots Uria aalge. Ibis 149:472–481

IPCC, Core Writing Team (2007) Climate change 2007: synthesis report. In: Pachauri RK, Reisinger A (eds) Contribution of working groups I, II and III to the fourth assessment. Report of the intergovernmental panel on climate change. IPCC, Geneva

Jones MC, Marron JS, Sheather SJ (1996) A brief survey of bandwidth selection for density estimation. J Am Stat Assoc 91:401–407

Kålås JA, Viken Å, Henriksen S, Skjelseth S (eds) (2010) The 2010 Norwegian red list for species. Artsdatabanken, Norway

Mosbech A, Johansen KL, Bech NI, Lyngs P, Harding AMA, Egevang C, Phillips RA, Fort J (2012) Inter-breeding movements of little auks Alle alle reveal a key post-breeding staging area in the Greenland sea. Polar Biol 35:305–311

Phillips RA, Silk JRD, Croxall JP, Afanasyev V, Briggs DR (2004) Accuracy of geolocation estimates for flying seabirds. Mar Ecol Prog Ser 266:265–272

Phillips RA, Silk JRD, Croxall JP, Afanasyev V, Bennett VJ (2005) Summer distribution and migration of nonbreeding albatrosses: individual consistencies and implications for conservation. Ecology 86:2386–2396

Seaman DE, Millspaugh JJ, Kernohan BJ, Brundige GC, Raedeke KJ, Gitzen RA (1999) Effects of sample size on kernel home range estimates. J Wildl Manag 63:739–747

Seutin GB, White N, Boag PT (1991) Preservation of avian blood and tissue samples for DNA analyses. Can J Zool 69:82–90

Von Quillfeldt C, Olsen E, Dommasnes A, Vongraven D (2009) Integrated ecosystem-based management of the Barents Sea-Lofoten area. In: Sakshaug E, Johnsen G, Kovacs K (eds) Ecosystem Barents Sea. Tapir Academic Press, Trondheim, pp 545–562
Acknowledgments
We are indebted to the field assistants during the 2009 and 2010 field seasons at Sklinna, especially Emma Bengtsson, Torunn Moe and Eike Stüebner, and to Vidar Bakken for help with some of the data smooting. We are also indebted to Børge Moe, the editor, and the referees for valuable comments on the manuscript, and to Lotek Inc. for their kind support on Lat Viewer Studio. Permissions to catch, handle and attach geolocators to the guillemots were obtained from the Directorate for Nature Management and the Animal Research Authorities. All handling of the birds was in accordance with the animal welfare act and other legal requirements in Norway. Permission to work in the Sklinna Nature Reserve was obtained from the County Governor of Nord-Trøndelag. Financial support was granted by the Directorate for nature Management.
About this article
Cite this article
Lorentsen, SH., May, R. Inter-breeding movements of common guillemots (Uria aalge) suggest the Barents Sea is an important autumn staging and wintering area. Polar Biol 35, 1713–1719 (2012). https://doi.org/10.1007/s00300-012-1215-2
Received:

Revised:

Accepted:

Published:

Issue Date:

DOI: https://doi.org/10.1007/s00300-012-1215-2
Keywords
Uria aalge

Geolocation

GLS

Tracking

Barents Sea