Abstract
Capelin (Mallotus villosus Müller) is a key pelagic mediator of energy from lower to higher trophic levels in arctic waters. This is also the case in Greenland waters, but little is known of its feeding behaviour in this region. By analysing stable nitrogen isotopes and stomach content of capelin collected along 1500 km of the Greenland west coast, this study aims to provide knowledge on capelin feeding ecology and the role that diet composition and biomass may have in generating the observed latitudinal growth differences in Greenland capelin. In total, 572 stomachs were sampled. The most dominant prey by wet weight was euphausiids (61 %) followed by amphipods (18 %) and copepods (10 %). The most common species were Thysanoessa raschii, Themisto libulla, Calanus finmarchicus and Calanus hyperboreus. Copepods dominated in smaller capelin but were replaced by euphausiids in larger fish. A similar prey shift towards euphausiids along with an increase in prey weight (relative and absolute) was seen with increasing latitude. The spatial variation in feeding pattern was supported by stable nitrogen analyses. The mean δ15N values of capelin muscle tissue for the south (60–64°N) and north (68–72°N) were 9.54 ‰ ± 0.72 and 12.47 ‰ ± 0.38 (mean ± SD), respectively. However, when differences in isotopic baseline values (C. finmarchicus δ15N, 2.47 ‰) in the two areas were taken into account, the isotope values suggest that capelin in the northern areas fed on a slightly higher trophic level higher than in the south, as would be expected with increasing importance of euphausiids. These significant feeding differences along the Greenland west coast are likely impacting capelin growth and condition as they show parallel trends along the same gradient.
Access options
Buy single article
Instant access to the full article PDF.
US$ 39.95
Tax calculation will be finalised during checkout.
Subscribe to journal
Immediate online access to all issues from 2019. Subscription will auto renew annually.
US$ 119
Tax calculation will be finalised during checkout.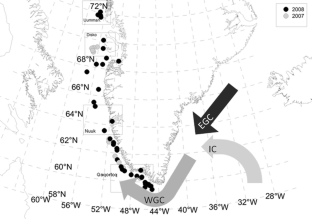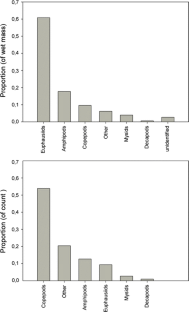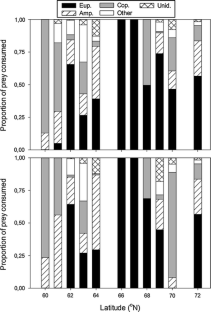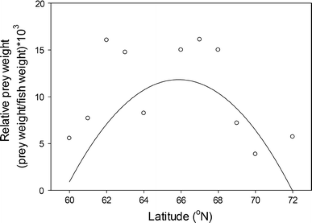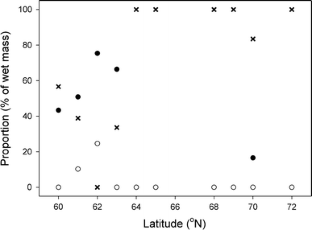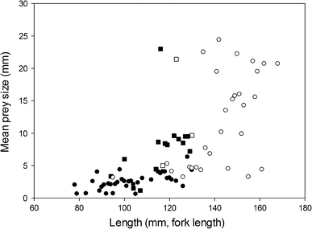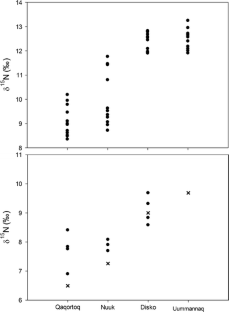 References
Arendt KE, Nielsen TG, Rysgaard S, Tönnesen K (2010) Differences in plankton community structure along the Godthabsfjord, from the Greenland Ice Sheet to offshore waters. Mar Ecol Prog Ser 401:49–62

Astthorsson OS, Gislason A (1997) On the food of capelin in the subarctic waters north of Iceland. Sarsia 82:81–86

Bakun A (2006) Wasp-waist populations and marine ecosystem dynamics: navigating the "predator pit" topographies. Prog Oceanogr 68:271–288. doi:10.1016/j.pocean.2006.02.004

Carscadden JE, Frank KT, Leggett WC (2001) Ecosystem changes and the effects on capelin (Mallotus villosus), a major forage species. Can J Fish Aquat Sci 58:73–85

Conover DO, Present TMC (1990) Countergradient variation in growth-rate—compensation for length of the growing-season among Atlantic silversides from different latitudes. Oecologia 83:316–324

Cury P, Bakun A, Crawford RJM, Jarre A, Quinones RA, Shannon LJ, Verheye HM (2000) Small pelagics in upwelling systems: patterns of interaction and structural changes in "wasp-waist" ecosystems. ICES J Mar Sci 57:603–618

Evjemo JO, Reitan KI, Olsen Y (2003) Copepods as live food organisms in the larval rearing of halibut larvae (Hippoglossus hippoglossus L.) with special emphasis on the nutritional value. Aquaculture 227:191–210. doi:10.1016/S0044-8486(03)00503-9

Falk-Petersen S, Hagen W, Kattner G, Clarke A, Sargent J (2000) Lipids, trophic relationships, and biodiversity in Arctic and Antarctic krill. Can J Fish Aquat Sci 57:178–191. doi:10.1139/cjfas-57-S3-178

Friis-Rødel E, Kanneworff P (2002) A review of capelin (Mallotus villosus) in Greenland waters. ICES J Mar Sci 59:890–896. doi:10.1006/jmsc.2002.1242

Gerasimova OV (1994) Peculiarities of spring feeding by capelin (Mallotus villosus) on the Grand Bank in 1987–90. J Northwest Atl Fish Sci 17:59–67

Gjøsæter H (1998) The population biology and exploitation of capelin (Mallotus villosus) in the Barents Sea. Sarsia 83:453–496

Gjøsæter H, Dalpadado P, Hassel A (2002) Growth of Barents Sea capelin (Mallotus villosus) in relation to zooplankton abundance. ICES J Mar Sci 59:959–967. doi:10.1006/jmsc.2002.1240

Hansson S, Hobbie JE, Elmgren R, Larsson U, Fry B, Johansson S (1997) The stable nitrogen isotope ratio as a marker of food-web interactions and fish migration. Ecology 78:2249–2257

Hassel A, Skjoldal HR, Gjøseter H, Loeng H, Omli L (1991) Impact of grazing from capelin (Mallotus villosus) on zooplankton—a case-study in the Northern Barents Sea in August 1985. Polar Res 10:371–388

Hedeholm R, Grønkjær P, Rosing-Asvid A, Rysgaard S (2010) Variation in size and growth of Greenlandic capelin (Mallotus villosus Müller) along a latitudinal gradient. ICES J Mar Sci. doi:10.1093/icesjms/fsq024

Hedeholm R, Grønkjær P, Rysgaard S (2011) Energy content and fecundity of capelin (Mallotus villosus) along a 1,500-km latitudinal gradient. Mar Biol 158:1319–1330

Hirche HJ (1991) Distribution of dominant calanoid copepod species in the Greenland Sea during late fall. Polar Biol 11:351–362

Hobson KA, Welch HE (1992) Determination of trophic relationships within a high arctic marine food web using delta-C-13 and delta-N-15 analysis. Mar Ecol Prog Ser 84:9–18

Huse G, Toresen R (1996) A comparative study of the feeding habits of herring (Clupea harengus, Clupeidae, L) and capelin (Mallotus villosus, Osmeridae, Müller) in the Barents Sea. Sarsia 81:143–153

Jákupsstovu SH, Røttingen I (1975) Undersøkelser av lodde (Mallotus villosus) og sil (Ammodytes sp.) ved Vest-Grønland i juni-juli 1974 [Investigations on capelin (Mallotus villosus) and sand eel (Ammodytes sp.) at West Greenland in June–July 1974]. Fiskets gang 11:155–160

Kanneworff P (1967) Mallotus villosus (O. F. Müller). Biologi og dynamik i grønlandske farvande. [Mallotus villosus (O. F. Müller). Biology and dynamics in Greenland waters]. Dissertation, University of Copenhagen

Kleist J (1988) Ammassat (Mallotus villosus) i Sydvestgrønland. [Capelin (Mallotus villosus) in Southwest Greenland.]. Dissertation, University of Copenhagen

Lilly GR (1994) Predation by Atlantic cod on capelin on the Southern Labrador and Northeast Newfoundland shelves during a period of changing spatial distributions. In: Proceedings of a symposium on cod and climate change 198, pp 600–611

Michner RH, Schnell DM (1994) Stable isotope ratios as tracers in marine and aquatic food webs. In: Lajtha K, Michener RH (eds) Stable isotopes in ecology and environmental science. Blackwell Scientific Publications, Oxford, pp 138–157

Møller P (2007) An isotopic food web model for the West Greenland marine ecosystem. In lipids and stable isotopes in marine food webs in West Greenland. Trophic relations and health implications. Dissertation, Technical University of Denmark

Nicol S, Delamare WK, Stolp M (1995) The energetic cost of egg-production in Antarctic krill (Euphausia Superb Dana). Antarct Sci 7:25–30

Nielsen JR, Andersen M (2001) Feeding habits and density patterns of Greenland cod (Gadus ogac) (Richardson 1836), at West Greenland compared to those of the coexisting Atlantic cod, Gadus morhua L. J Northwest Atl Fish Sci 29:1–22

Nielsen TG, Hansen B (1995) Plankton community structure and carbon cycling on the western coast of Greenland during and after the sedimentation of a diatom bloom. Mar Ecol Prog Ser 125:239–257

Nilsen M, Pedersen T, Nilssen EM, Fredriksen S (2008) Trophic studies in a high-latitude fjord ecosystem—a comparison of stable isotope analyses (delta C-13 and delta N-15) and trophic-level estimates from a mass-balance model. Can J Fish Aquat Sci 65:2791–2806

O'Driscoll RL, Parsons MJD, Rose GA (2001) Feeding of capelin (Mallotus villosus) in Newfoundland waters. Sarsia 86:165–176

Pedersen T, Fossheim M (2008) Diet of 0-group stages of capelin (Mallotus villosus), herring (Clupea harengus) and cod (Gadus morhua) during spring and summer in the Barents Sea. Mar Biol 153:1037–1046. doi:10.1007/s00227-007-0875-x

Pedersen SA, Smidt ELB (2000) Zooplankton distribution and abundance in West Greenland waters, 1950–1984. J Northwest Atl Fish Sci 26:45–102

Petursdottir H, Gislason A, Falk-Petersen S, Hop H, Svavarsson J (2008) Trophic interactions of the pelagic ecosystem over the Reykjanes Ridge as evaluated by fatty acid and stable isotope analyses. Deep Sea Res Pt II 55:83–93. doi:10.1016/j.dsr2.2007.09.003

Post DM (2002) Using stable isotopes to estimate trophic position: models, methods, and assumptions. Ecology 83:703–718

Ribergaard MH, Olsen SM, Mortensen J (2008) Oceanographic investigations off West Greenland 2007. NAFO SCR Doc. 08/3

Romano MD, Piatt JF, Roby DD (2006) Testing the junk-food hypothesis on marine birds: effects of prey type on growth and development. Waterbirds 29:407–414

Sherwood GD, Rose GA (2005) Stable isotope analysis of some representative fish and invertebrates of the Newfoundland and Labrador continental shelf food web. Estuar Coast Shelf Sci 63:537–549. doi:10.1016/j.ecss.2004.12.010

Søreide JE, Hop H, Carroll ML, Falk-Petersen S, Hegseth EN (2006) Seasonal food web structures and sympagic-pelagic coupling in the European Arctic revealed by stable isotopes and a two-source food web model. Prog Oceanogr 73:96–98. doi:10.1016/j.pocean.2006.06.001

Swalethorp R, Kjellerup S, Dunweber M, Nielsen TG, Møller EF, Rysgaard S, Hansen BW (2011) Grazing, egg production, and biochemical evidence of differences in the life strategies of Calanus finmarchicus, C. glacialis and C. hyperboreus in Disko Bay, western Greenland. Mar Ecol Prog Ser 429:125–144

Sweeting CJ, Barry J, Barnes C, Polunin NVC, Jennings S (2007) Effects of body size and environment on diet-tissue δ15N fractionation in fishes. J Exp Mar Biol Ecol 340:1–10

Thor P, Nielsen TG, Tiselius P, Juul-Pedersen T, Michel C, Møller EF, Dahl K, Selander E, Gooding S (2005) Post-spring bloom community structure of pelagic copepods in the Disko Bay, Western Greenland. J Plankton Res 27:341–356. doi:10.1093/plankt/fbi010

Vesin JP, Leggett WC, Able KW (1981) Feeding ecology of capelin (Mallotus villosus) in the estuary and Western Gulf of St Lawrence and its multispecies implications. Can J Fish Aquat Sci 38:257–267

Vilhjalmsson H (2002) Capelin (Mallotus villosus) in the Iceland-East Greenland-Jan Mayen ecosystem. ICES J Mar Sci 59:870–883. doi:10.1006/jmsc.2002.1233

Wilson MT, Jump CM, Duffy-Anderson JT (2006) Comparative analysis of the feeding ecology of two pelagic forage fishes: capelin Mallotus villosus and walleye pollock Theragra chalcogramma. Mar Ecol Prog Ser 317:245–258

Wilson MT, Jump CM, Buchheister A (2009) Ecology of small neritic fishes in the western Gulf of Alaska. II. Consumption of krill in relation to krill standing stock and the physical environment. Mar Ecol Prog Ser 392:239–251

Hansen J, Hedeholm R, Sünksen K, Christensen JT, Grønkjær P. Spatial variability of carbon (d13C) and nitrogen (d15N) in an arctic marine food web (accepted)
Acknowledgments
The authors wish to thank the personnel at the Greenland Institute of Natural Resources and the RV "Erika" for sampling assistance. Also, we are thankful to Jens Tang Christensen and Anna Neuheimer for helpful comments on earlier versions of the manuscript as well as anonymous reviewers. The study received financial support from the Danish Agency for Science, Technology and Innovation and is part of the Greenland Climate Research Centre.
About this article
Cite this article
Hedeholm, R., Grønkjær, P. & Rysgaard, S. Feeding ecology of capelin (Mallotus villosus Müller) in West Greenland waters. Polar Biol 35, 1533–1543 (2012). https://doi.org/10.1007/s00300-012-1193-4
Received:

Revised:

Accepted:

Published:

Issue Date:
Keywords
Capelin

δ15N

Latitudinal gradient

Stable isotopes