Abstract
House mice (Mus musculus) are a widespread introduced species with major but often overlooked impacts on ecosystems, proportionally greater when they are the only introduced mammal present. Studies conducted on the ecology of mice on Antipodes Island, where they are the only introduced mammal, are presented and compared to previous work over the past four decades. Mice live-trapped on grids were more abundant in dense coastal tussock (147 mice/ha) compared to inland plateau grasslands (59 mice/ha), with a significant effect of age, but not sex, on both capture probability and range size. Body-size of mice has not changed over four decades, providing no evidence of gigantism, which on other Southern Ocean islands has been speculated to increase the predation risk to birds. Over 2,405 invertebrates from fourteen Orders were identified from pitfall traps and litter samples across five sites. Differences in invertebrate communities and taxonomic units attributable to habitat and altitude were detected among sites in both pitfall and litter samples on Antipodes Island. Differences in invertebrate communities were detected from litter samples on a neighbouring mouse-free island, with significantly greater abundance of large Amphipods and Collembola, but fewer Spiders. These data on introduced mouse ecology and invertebrate distribution on Antipodes Island contribute to the body of knowledge on Southern Ocean islands.
Access options
Buy single article
Instant access to the full article PDF.
USD 39.95
Price excludes VAT (USA)
Tax calculation will be finalised during checkout.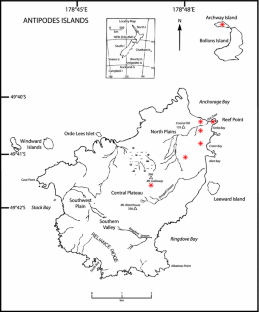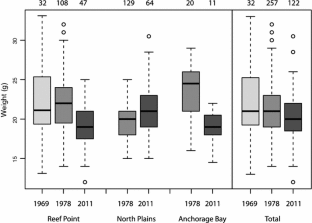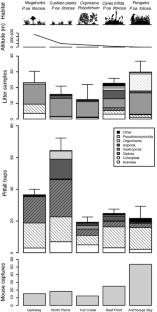 Similar content being viewed by others
References
Angel A, Wanless RM, Cooper J (2009) Review of impacts of the introduced house mouse on islands in the Southern Ocean: are mice equivalent to rats? Biol Inv 9:1743–1754

Auffray J-C, Vanlerberghe F, Britton-Davidan J (1990) The house mouse progression in Eurasia: a palaeontological and archaeozoological approach. Biol J Linn Soc 41:13–25

Berry RJ (1968) The ecology of an island population of the house mouse. J Anim Ecol 37:445–470

Berry RJ, Peters J (1975) Macquarie Island house mice: a genetic isolate on a sub-antarctic island. J Zool 176:375–389

Berry RJ, Jakobson ME, Peters J (1978a) The house mice of the Faroe Islands: a study in microdifferentiation. J Zool 185:73–92

Berry RJ, Peters J, van Aarde RJ (1978b) Sub-antarctic house mice: colonization, survival and selection. J Zool 184:127–141

Borchers DL, Efford MG (2008) Spatially explicit maximum likelihood methods for capture–recapture studies. Biometrics 64:377–385

Boursot P, Din W, Anand R, Darviche D, Dod B, Deimling FV, Talwar GP, Bonhomme F (1990) Origin and radiation of the house mouse: mitochondrial DNA phylogeny. J Evol Biol 9:391–415

Chilton C (1909) The subantarctic islands of New Zealand. Philosophical Institute of Canterbury, Wellington

Courchamp F, Chapuis J-L, Pascal M (2003) Mammal invaders on islands: impact, control and control impact. Biol Rev 78:347–383

Cuthbert R, Hilton G (2004) Introduced house mice Mus musculus: a significant predator of threatened and endemic birds on Gough Island, South Atlantic Ocean? Biol Conserv 117:483–489

Cuthbert RJ, Visser P, Louw H, Rexer-Huber K, Parker G, Ryan PG (2011) Preparations for the eradication of mice from Gough Island: results of bait acceptance trials above ground and around cave systems. In: Veitch CR, Clout MN, Towns DR (eds) Island invasives: eradication and management. IUCN, Gland, pp 47–50

Ferreira SM, van Aarde RJ, Wassenaar TD (2006) Demographic responses of house mice to density and temperature on sub-Antarctic Marion Island. Polar Biol 30:83–94

Godley E (1989) The flora of Antipodes Island. NZ J Bot 27:531–563

Harper GA (2010) Habitat use by mice during winter on subantarctic Auckland Island. NZ J Ecol 34:262–264

Jones MGW, Ryan PG (2010) Evidence of mouse attacks on albatross chicks on sub-Antarctic Marion Island. Antart Sci 22:39–42

Lidicker WZ (1966) Ecological observations on a feral house mouse population declining to extinction. Ecol Mono 36:27–50

MacKay JWB, Russell JC, Murphy EC (2007) Eradicating house mice from islands: successes, failures and the way forward. In: Witmer GW, Pitt WC, Fagerstone KA (eds) Managing vertebrate invasive species: proceedings of an international symposium. USDA/APHIS/WS, National Wildlife Research Center, Fort Collins, pp 294–304

Marris JWM (2000) The beetle (Coleoptera) fauna of the Antipodes Islands, with comments on the impact of mice; and an annotated checklist of the insect and arachnid fauna. J Roy Soc NZ 30:169–195

Matthewson DC, van Aarde RJ, Skinner JD (1994) Population biology of house mice (Mus musculus L.) on sub-Antarctic Marion Island. S Afr J Zool 29:99–106

McIntosh AR (2001) The impact of mice on the Antipodes Islands. In: McClelland P (ed) Antipodes Island expedition, October–November 1995. Department of Conservation, Invercargill, pp 52–57

Murphy EC, Pickard CR (1990) House mouse. In: King CM (ed) The handbook of New Zealand mammals. Oxford University Press, Auckland, pp 225–245

Pergams ORW, Ashley MV (2001) Microevolution in island rodents. Genetica 112–113:245–256

Russell JC, Ringler D, Trombini A, Le Corre M (2011) The island syndrome and population dynamics of introduced rats. Oecol 167:667–676

Searle JB, Jamieson PM, Gündüz Í, Stevens MI, Jones EP, Gemmill CEC, King CM (2009) The diverse origins of New Zealand house mice. Proc Roy Soc B 276:209–217

St Clair JJH (2011) The impacts of invasive rodents on island invertebrates. Biol Conserv 144:68–81

Taylor R (1969) Summary of studies carried out on Campbell and Antipodes Islands while with the University of Canterbury Antipodes Island expedition 1969. Animal ecology division. D.S.I.R, Lower Hutt, p 7

Taylor R (2006) Straight through from London. Heritage Expeditions, Christchurch

Towns DR, Wardle DA, Mulder CPH, Yeates GW, Fitzgerald BM, Parrish GR, Bellingham PJ, Bonner KI (2009) Predation of seabirds by invasive rats: multiple indirect consequences for invertebrate communities. Oikos 118:420–430

Wanless RM, Angel A, Cuthbert RJ, Hilton GM, Ryan PG (2007) Can predation by invasive mice drive seabird extinctions? Biol Lett 3:241–244

Wanless RM, Fisher P, Cooper J, Parkes J, Ryan PG, Slabber M (2008) Bait acceptance by house mice: an island field trial. Wildl Res 35:806–811

Wanless RM, Cooper J, Slabber MJ, Ryan PG (2009) Risk assessment of birds foraging terrestrially at Marion and Gough Islands to primary and secondary poisoning by rodenticides. Wildl Res 37:524–530

Warham J, Bell BD (1979) The birds of Antipodes Island, New Zealand. Notornis 26:121–169

Warham J, Jones PM (1975) The University of Canterbury Antipodes Island expedition 1969. J Roy Soc NZ 5:103–131
Acknowledgments
The author thanks Phil Moors and Rowley Taylor for providing unpublished data and discussion; Angus McIntosh and John Marris for discussion; Pete McClelland and Gilly Adam of DOC for logistical support; Henk Haazen and the crew of Tiama for transport; and Paul Sagar and David Thompson of NIWA for support, and the seabird (Erica Sommer, Dave Boyle and Mark Fraser) and geology (James Scott, Ian Turnbull) teams on the island for their assistance. Many thanks to Stephen Thorpe for taxonomic identification, sorting and photography of invertebrate samples. This research was conducted under DOC entry (SO-29716-LND 1011/35) and research (SO-29140-FAU 1011/20) permits, and University of Auckland Animal Ethics Committee approval (R845), and thanks to Pete McClelland, Keith Broome and a number of anonymous reviewers for critical comments on earlier versions of the manuscript.
About this article
Cite this article
Russell, J.C. Spatio-temporal patterns of introduced mice and invertebrates on Antipodes Island. Polar Biol 35, 1187–1195 (2012). https://doi.org/10.1007/s00300-012-1165-8
Received:

Revised:

Accepted:

Published:

Issue Date:

DOI: https://doi.org/10.1007/s00300-012-1165-8
Keywords