Abstract
Due to its high spatial resolution, broad spatial coverage, and cost-effectiveness, commercial satellite imagery is rapidly becoming a key component of biological monitoring in the Antarctic. While considerable success in surveying emperor penguins (Aptenodytes forsteri) has been facilitated by their large size and the visual simplicity of their habitat, there has been considerably less progress in mapping colonies on the Antarctic Peninsula and associated sub-Antarctic islands where smaller penguin species breed on topographically complex terrain composed of mixed substrates. Here, we demonstrate that Adélie penguin (Pygoscelis adeliae), chinstrap penguin (P. antarcticus), gentoo penguin (P. papua), and macaroni penguin (Eudyptes chrysolophus) colonies can be detected by high-resolution (2-m multispectral, 40–50-cm panchromatic) satellite imagery and that under ideal conditions, such imagery is capable of distinguishing among groups of species where they breed contiguously. To demonstrate the potential for satellite imagery to estimate penguin population abundance, we use satellite imagery of Paulet Island (63°35′S, 55°47′W) to estimate a site-wide population of 115,673 (99,222–127,203) breeding pairs of Adélie penguins.
Access options
Buy single article
Instant access to the full article PDF.
US$ 39.95
Tax calculation will be finalised during checkout.
Subscribe to journal
Immediate online access to all issues from 2019. Subscription will auto renew annually.
US$ 119
Tax calculation will be finalised during checkout.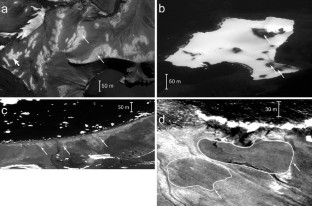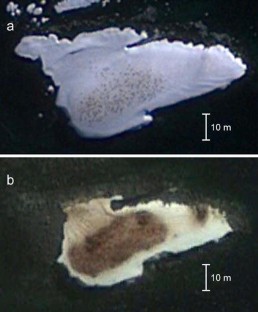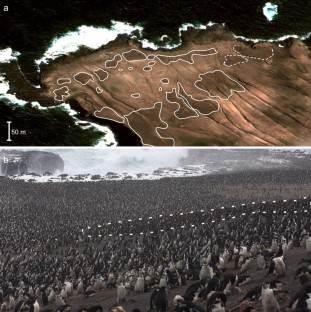 References
Barber-Meyer SM, Kooyman GL, Ponganis PJ (2007) Estimating the relative abundance of emperor penguins at inaccessible colonies using satellite imagery. Polar Biol 30:1565–1570

Fretwell PT, Trathan PN (2009) Penguins from space: faecal stains reveal the location of penguin colonies. Global Ecol Biogeogr 18:543–552

Guinet C, Jouventin P, Malacamp J (1995) Satellite remote sensing in monitoring change of seabirds: use of Spot image in king penguin population increase at Ile aux Cochons, Crozet Archipelago. Polar Biol 15:511–515

Lynch HJ, Naveen R, Fagan WF (2008) Censuses of Penguins, Blue-Eyed Shags, and Southern Giant Petrel Populations in the Antarctic Peninsula, 2001–2007. Mar Ornithol 36:83–97

Lynch HJ, Fagan WF, Naveen R, Trivelpiece SG, Trivelpiece WZ (2012) Differential advancement of breeding phenology in response to climate may alter staggered breeding among sympatric pygoscelid penguins. Mar Ecol Prog Ser. doi:10.3354/meps09252

Naveen R, Lynch HJ (2011) Antarctic Peninsula compendium, 3rd edn. Environmental Protection Agency, Washington, DC

Naveen R, Forrest SC, Dagit RG, Blight LK, Trivelpiece WZ, Trivelpiece SG (2000) Census of penguin, blue-eyed shag, and southern giant petrel populations in the Antarctic Peninsula region, 1994–2000. Polar Rec 36:323–334

Schwaller MR, Benninghoff WS, Olson CE (1984) Prospects for satellite remote-sensing of Adélie penguin rookeries. Int J Remote Sens 5:849–853

Schwaller MR, Olson CE, Ma Z, Zhu Z, Dahmer P (1989) Remote sensing analysis of Adélie penguin rookeries. Remote Sens Environ 28:199–206

Stonehouse B (1975) The biology of penguins. University Park Press, Baltimore

Woehler EJ, Riddle MJ (1998) Spatial relationships of Adélie penguin colonies: implications for assessing population changes from remote sensing. Antarct Sci 10:449–454
Acknowledgments
H.J.L. and R.N. gratefully acknowledge assistance from the US National Science Foundation Office of Polar Programs (Award No. NSF/OPP-0739515 and NSF/OPP-0739430) and the Polar Geospatial Center (Award No. ANT 1043681), as well as helpful comments on an earlier draft of the manuscript by Michelle LaRue and Paul Morin. Imagery provided through the NGA Commercial Imagery Program. Fieldwork on the South Sandwich Islands would not have been possible without the knowledge and skill of Jérôme Poncet and the crew of MV Golden Fleece. The participation of A.D.B. on this expedition was funded by the Government of South Georgia and the South Sandwich Islands and that of R.W. by Oceanites, Inc.
Electronic supplementary material
Below is the link to the electronic supplementary material.
About this article
Cite this article
Lynch, H.J., White, R., Black, A.D. et al. Detection, differentiation, and abundance estimation of penguin species by high-resolution satellite imagery. Polar Biol 35, 963–968 (2012). https://doi.org/10.1007/s00300-011-1138-3
Received:

Revised:

Accepted:

Published:

Issue Date:
Keywords
Remote sensing

Adélie penguin

Gentoo penguin

Chinstrap penguin

Macaroni penguin

Zavodovski Island