Abstract
The distribution of the tick Ixodes uriae is studied in the South Shetlands and different locations along the Antarctic Peninsula. Ticks were found beneath stones close to penguin rookeries of chinstrap, gentoo and adelie penguin, although no individuals were found parasitized. Our results showed that ticks are not distributed evenly along the Antarctic Peninsula being more common and abundant in the northern part with relative abundances of ticks ranging from 1 to 57 individuals per stone and from 2 to 26% of the stone inspected. Ticks are probably absent in the south.
Access options
Buy single article
Instant access to the full article PDF.
US$ 39.95
Tax calculation will be finalised during checkout.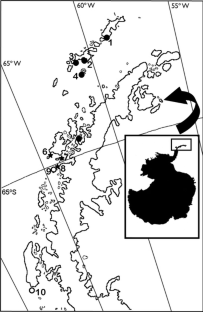 References
Barbosa A, Palacios MJ (2009) Health of Antarctic birds: a review of their parasites, pathogens and diseases. Polar Biol 32:1095–1115

Benoit JB, Yoder JA, Lopez-Martinez G, Elnitsky MA, Lee RE, Denlinger DL (2007) Habitat requirements of the seabird tick, Ixodes uriae (Acari: Ixodidae) from the Antarctic Peninsula in relation to water balance characteristics of eggs, nonfed and engorged stages. J Comp Physiol B 177:205–215

Benoit JB, Lopez-Martinez G, Elnitsky MA, Lee RE, Denlinger DL (2009) Increase in feeding by the tick Ixodes uriae on Adélie penguins during a prolonged summer. Antarct Sci 21:151–152

Bergström S, Haemig PD, Olsen B (1999) Distribution and abundance of the tick Ixodes uriae in a diverse subantarctic seabird community. J Parasitol 85:25–27

Boulinier T, Danchin E (1996) Population trends in Kittiwake Rissa tridactyla in relation to tick infestation. Ibis 138:326–334

Carlini A, Coria NR, Santos MM, Negrete J, Juares MA, Daneri GA (2009) Responses of Pygoscelis adeliae and P. papua to environmental changes at Isla 25 de Mayo (King George Island). Polar Biol 32:1427–1433

Casanueva ME, Moyano HI (2000) Ixodes uriae White 1852 (Acari: Ixodidae) asociado con el pingüino papúa (Pygoscelis papua Forster), en la Península antártica. Gayana 64:2–3

Chastel C, Monnat JY, Le Lay G, Balouet G (1987) Infestation et hyperinfestation de la mouette tridactyle, Rissa tridactyla L. par des tiques (Ixodes (Ceratixodes) uriae, Ornithodoros (Alectorobius) maritimus). Consequences pathologiques. Ann Parasitol Hum Comp 62:492–504

Eveleigh ES, Threlfall W (1974) The biology of Ixodes (Ceratixodes) uriae White 1852 in Newfoundland. Acarologia 16:621–635

Frenot Y, de Oliveira E, Gauthier-Clerc M, Deunff J, Bellido A, Vernon P (2001) Life cycle of the tick Ixodes uriae in penguin colonies: relationship with host breeding activity. Int J Parasitol 31:1040–1047

Gauthier-Clerc M, Clerquin Y, Handrich Y (1998) Hyperinfestation by ticks Ixodes uriae: a possible cause of death in adult King penguins, a long lived seabird. Col Waterbirds 21:229–233

Gauthier-Clerc M, Jaulhac B, Frenot Y, Bachelard C, Monteil H, Le Mayo Y, Handrick Y (1999) Prevalence of Borrelia burgdorferi (the Lyme disease agent) antibodies in king penguin Aptenodytes patagonicus in Crocet Archipelago. Polar Biol 22:141–143

Gauthier-Clerc M, Manguin S, Le Bohec C, Gendner JP, Le Maho Y (2003) Comparison of behaviour, body mass, haematocrit level, site fidelity and survival between infested and non-infested king penguin Aptenodytes patagonicus by ticks Ixodes uriae. Polar Biol 26:379–382

Health ACG (1977) Zoogeography of the New Zealand tick fauna. Tuatara 23:26–40

Hoogstraal H (1954) Ixodes (Cratixodes) uriae White, 1952, parasitizing penguins and sea birds in the Falkland Islands (Ixodoidea, Ixodidae). J Parasitol 40:232

Kerry K, Riddle M, Clarke K (1999) Diseases of Antarctic wildlife. A report for SCAR and COMNAP, SCAR

Lee RE, Baust JG (1982) Respiratory metabolism of the Antarctic tick, Ixodes uriae. Comp Biochem Physiol 72A:167–171

Lee RE, Baust JG (1987) Cold-hardiness in Antarctic tick, Ixodes uriae. Physiol Zool 60:499–506

Lynch HJ, Naveen R, Fagan WF (2008) Censuses of penguins, blue-eyed shags Phalacrocorax atriceps, and southern giant petrels Macronectes giganteus populations on the Antarctic Peninsula, 2001–2007. Marine Ornithol 36:83–97

Lynch HJ, Fagan WF, Naveen R (2010) Populations trends and reproductive success at a frequently visited penguin colony on the Western Antarctic Peninsula. Polar Biol 33:493–503

Major L, Linn ML, Slade RW, Schroder WA, Hyatt AD, Gardner J, Cowley J, Suhrbier A (2009) Ticks associated with Macquarie island penguins carry arboviruses from four genera. Plos One 4:1–12

Morbey YE (1996) The abundance and effects of ticks (Ixodes uriae) on nestlings Cassin's Auklets (Ptychorramphus aleuticus) at Triangle Islands, British Columbia. Can J Zool 74:1585–1589

Murray MD (1967) Ectoparasites of Antarctic seals and birds. JARE Sci Rep Spec Issue 1:185–191

Nuttall PA (1984) Tick-borne viruses in seabird colonies. Seabird 7:31–41

Ogden NH, Maarouf A, Barker LK, Bigras-Poulin L, Lindsay LR, Morsehd MG, O'Callaghan CJ, Ramay F, Waltner-Toews D, Charron DF (2006) Climate change and the potential for range expansion of the Lyme disease vector Ixodes scapularis in Canada. Int J Parasitol 36:63–70

Olsen B, Duffy DC, Jaenson TGT, Gylfe A, Bonnedahl J, Bergström S (1993) A lyme borreliosis cycle in seabirds and Ixodes uriae ticks. Nature 362:340–342

Olsen B, Duffy DC, Jaenson TGT, Gylfe A, Bonnedahl J, Bergström S (1995) Transhemispheric exchange of Lyme disease spirochetes by seabirds. J Clin Microbiol 33:3270–3274

Smith RP, Rand PW, Lacombe EH, Morris SR, Holmes DW, Caporale DA (1996) Role of bird migration in the long-distance dispersal of Ixodes dammini, the vector of Lyme disease. J Infect Dis 174:221–224

Steig EJ, Schneider DP, Rutherford RD, Mann ME, Comisso JC, Shindell DT (2009) Warming of the Antarctic ice-sheet surface since the 1957 International Geophysical Year. Nature 457:459–463

Wilson N (1970) Metastigmata: Ixodidae of South Georgia, Heard and Kerguelen. Pac Insect Monogr 23:78–88
Acknowledgments
This study was funded by the Spanish Ministry of Science and Innovation projects CGL2004-01348, POL2006-05175, POL2006-06635, CGL2007-60369 and by the European Regional Development Fund. MJP was supported by a PhD grant from the Spanish Ministry of Science and Innovation (BES2005-8465). VV was supported by a PhD grant from the Spanish Council for Scientific Research (JAEPre08-01053). We thank the Spanish Antarctic base "Gabriel de Castilla", the Argentinean Antarctic base "Teniente Jubany", the Spanish polar ship "Las Palmas" and the Maritime Logistic Unit (CSIC) for logistic support and transport. Permission to work in the study area was given by the Spanish Polar Committee. This is a contribution to the International Polar Year project 172 BIRDHEALTH and to PINGUCLIM project. We thank an anonymous referee for helpful suggestions on an early version of this manuscript.
About this article
Cite this article
Barbosa, A., Benzal, J., Vidal, V. et al. Seabird ticks (Ixodes uriae) distribution along the Antarctic Peninsula. Polar Biol 34, 1621–1624 (2011). https://doi.org/10.1007/s00300-011-1000-7
Received:

Revised:

Accepted:

Published:

Issue Date:
Keywords
Antarctic Peninsula

Distribution

Ixodes uriae

Penguins

Ticks

South Shetlands