Abstract
Black-browed albatrosses Thalassarche melanophris are currently classified as globally endangered. The most important populations of this species are believed to be declining due to, amongst other factors, unsustainable levels of incidental mortality in fishing gear. However, detailed demographic data are lacking for several critical populations, including the largest of all, nesting in the Falkland Islands. Here, we present data from the first Falkland Islands detailed demographic study (at New Island) and show that, from 2003 to 2009, the mean adult survival probability was 0.942 (95% CI: 0.930–0.952). Nesting frequency of adults is amongst the highest recorded for Thalassarche albatrosses and breeding success (0.564 chicks per egg) is within normal values. The nesting population in the intensively studied plots experienced an increase of 4% per year from 2004 to 2009. These results indicate that the Falklands population may not be as threatened as previously supposed, although studies from more sites and a longer time series are needed to confirm or refute this. The high survival rates may partly reflect recent efforts to mitigate bycatch made by the Falkland Islands and other fisheries in the region. The reinforcement of such initiatives may be critical to buffer the black-browed albatross population against ecosystem shifts and natural disasters (such as harmful algal blooms) that will likely become more frequent with ongoing global changes.
Access options
Buy single article
Instant access to the full article PDF.
US$ 39.95
Tax calculation will be finalised during checkout.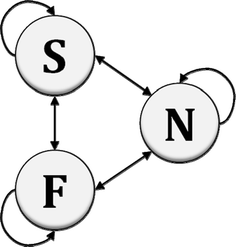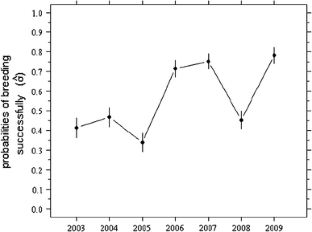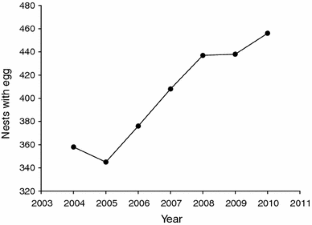 References
ACAP (2009) ACAP Species Assessment: black-browed albatross Thalassarche melanophris. http://www.acap.aq. Accessed on 1 September 2009

Arnold JM, Brault S, Croxall JP (2006) Albatross populations in peril: a population trajectory for black-browed albatrosses at South Georgia. Ecol Appl 16:419–432

Barange M, Field JG, Harris RP, Hofmann EE, Perry RI, Werner FE (eds) (2010) Marine ecosystems and global change. Oxford University Press, Oxford

BirdLife International (2004) Tracking ocean wanderers. The global distribution of albatrosses and petrels. Results from the global procellariiform tracking workshop, 1–5 September 2003, Gordon's Bay, South Africa. BirdLife International, Cambridge

Bugoni L, Mancini PL, Monteiro DS, Nascimento L, Neves T (2008) Seabird bycatch in the Brazilian pelagic longline fishery and a review of capture rates in the Southwestern Atlantic Ocean. Endang Species Res 5:137–147

Bugoni L, Griffiths K, Furness RW (2010) Sex-biased incidental mortality of albatrosses and petrels in longline fisheries: differential distributions at sea or differential access to baits mediated by sexual size dimorphism? J Orn. doi:10.1007/s10336-010-0577-x

Burnham KP, Anderson DR (1998) Model selection and inference: a practical information-theoretic approach. Springer, New York

Choquet R, Reboulet AM, Pradel R, Gimenez O, Lebreton J-D (2004) M-SURGE: new software specifically designed for multistate capture-recapture models. Anim Biodivers Conserv 27:207–215

Choquet R, Lebreton J-D, Gimenez O, Reboulet AM, Pradel R (2009) U-CARE: utilities for performing goodness of fit tests and manipulating Capture-Recapture data. Ecography 32:1071–1074

Crofts S (2006) Seabird interactions in the Falkland Islands Loligo trawl fishery, 2005/2006. Falklands Conservation, Stanley

Cuthbert R, Ryan PG, Cooper J, Hilton G (2003) Demography and population trends in the Atlantic yellow-nosed albatross. Condor 105:439–452

Favero M, Khatchikian E, Arias A, Rodriguez MPS, Cañete G, Mariano-Jelicich R (2003) Estimates of seabird by-catch along the Patagonian Shelf by Argentine longline fishing vessels, 1999–2001. Bird Conserv Int 13:273–281

Favero M, Blanco G, García G, Copello S, Seco Pon JP, Frere E, Quintana F, Yorio P, Rabuffetti F, Cañete G, Gandini P (2010) Seabird mortality associated with ice trawlers in the Patagonian shelf: effect of discards on the occurrence of interactions with fishing gear. Anim Conserv. doi:10.1111/j.1469-1795.2010.00405.x

Gandini P, Frere E (2006) Spatial and temporal patterns in the bycatch of seabirds in the Argentinean longline fishery. Fish Bull 104:482–485

González-Zevallos D, Yorio P (2006) Seabird use of discards and incidental captures at the Argentine hake trawl fishery in the Golfo San Jorge, Argentina. Mar Ecol Prog Ser 316:175–183

González-Zevallos D, Yorio P, Caille G (2007) Seabird mortality at trawler warp cables and a proposed mitigation measure: a case study in Golfo San Jorge, Patagonia, Argentina. Biol Conserv 136:108–116

Grémillet D, Wilson RP, Wanless S, Chater T (2000) Black-browed albatrosses, international fisheries and the Patagonian Shelf. Mar Ecol Prog Ser 195:269–280

Huin N (2002) Foraging distribution of the black-browed albatross Thalassarche melanophris breeding in the Falkland Islands. Aquat Conserv: Mar Freshw Ecosyst 12:89–99

Huin N, Reid T (2007) Census of the black-browed albatross population of the Falkland Islands. Falkland Conservation, Stanley

IUCN (2008) IUCN red list of threatened species. http://www.iucnredlist.org. Accessed 1 September 2009

Jiménez S, Domingo A, Brazeiro A (2009) Seabird bycatch in the southwest Atlantic: interaction with the Uruguayan pelagic longline fishery. Polar Biol 32:187–196

Jiménez S, Abreu M, Pons M, Ortiz M, Domingo A (2010) Assessing the impact of the pelagic longline fishery on albatrosses and petrels in the Southwest Atlantic. Aquat Living Resour 23:49–64

Laich AG, Favero M, Mariano Jelicich R, Blaco G, Cañete G, Arias A, Rodriguez PS, Brachetta H (2006) Environmental and operational variability affecting the mortality of black-browed albatrosses associated with long-liners in Argentina. Emu 106:21–28

Lebreton J-D, Pradel R (2002) Multistate recapture models: modelling incomplete individual histories. J Appl Stat 29:353–369

Lewis S, Sherrat TN, Hamer KC, Wanless S (2001) Evidence of intra-specific competition for food in a pelagic seabird. Nature 412:816–819

Moreno CA, Arata JA, Rubilar P, Hucke-Gaete R, Robertson G (2006) Artisanal longline fisheries in Southern Chile: lessons to be learned to avoid incidental seabird mortality. Biol Conserv 127:27–36

Moreno CA, Castro R, Mújica LJ, Reyes P (2008) Significant conservation benefits obtained from the use of a new fishing gear in the Chilean Patagonian toothfish fishery. CCAMLR Sci 15:79–91

Neves T, Olmos F (1997) Albatross mortality in fisheries off the coast of Brazil. In: Robertson G, Gales R (eds) Albatross biology and conservation. Surrey Beally & Sons, Chipping Norton, pp 214–219

Nevoux M, Forcada J, Barbraud C, Croxall J, Weimerskirch H (2010) Bet-hedging response to environmental variability, an intraspecific comparison. Ecology 91:2416–2427

Olmos F, Bastos GC, Neves TS (2000) Estimating seabird by-catch in Brazil. Second international conference on the biology and conservation of albatrosses and other petrels. 8–12 May, Waikiki, Hawaii

Otley HM, Reid TA, Pompert J (2007) Trends in seabird and Patagonian toothfish Dissostichus eleginoides longliner interactions in Falkland Islands waters, 2002/03 and 2003/04. Mar Ornithol 35:47–55

Poncet S, Robertson G, Phillips RA, Lawton K, Phalan B, Trathan PN, Croxall JP (2006) Status and distribution of wandering, black-browed and grey-headed albatrosses breeding at South Georgia. Polar Biol 29:772–781

Pradel R (1996) Utilization of capture-mark-recapture for the study of recruitment and population growth rate. Biometrics 52:703–709

Pradel R, Winterbert CMA, Gimenez O (2003) A proposal for a goodness-of-fit test to the Arnason-Schwarz multisite capture–recapture model. Biometrics 59:43–53

Prince PA, Rothery P, Croxall JP, Wood AG (1994) Population dynamics of black-browed and grey headed albatrosses Diomedea melanophris and D. chrysostoma at Bird Island, South Georgia. Ibis 136:50–71

R Development Core Team (2009) R: a language and environment for statistical computing. R foundation for statistical computing, Vienna, Austria. ISBN 3-900051-07-0, URL http://www.R-project.org

Reid T, Edwards M (2005) Consequences of the introduction of Tori lines in relation to seabird mortality in the Falkland Islands trawl fishery, 2004/2005. Falklands Conservation, Stanley

Reid TA, Sullivan BJ, Pompert J, Enticott JW, Black AD (2004) Seabird mortality associated with Patagonian Toothfish (Dissostichus eleginoides) longliners in Falkland Islands waters. Emu 104:317–325

Rolland V, Barbraud C, Weimerskirch H (2008) Combined effects of fisheries and climate on a migratory long-lived seabird. J Appl Ecol 45:4–13

Sancho E (2009) Seabird mortality associated with trawlers in the Falkland Islands waters during 2007 and 2008. Falklands Conservation, Stanley

Shumway SE, Allen SM, Boersma PD (2003) Marine birds and harmful algal blooms: sporadic victims or under-reported events? Harmful Algae 2:1–17

Strange IJ (2008) Aerial surveys of black-browed albatross Thalassarche melanophris breeding colonies in the Falkland Islands: the methodology employed and comparisons with surveys carried out in 1986, 2005, 2006 and 2007. Design in Nature & Falkland Islands Wildlife, Stanley

Sullivan BJ, Brickle P, Reid TA, Bone DG, Middleton DAJ (2006a) Mitigation of seabird mortality on factory trawlers: trials of three devices to reduce warp cable strikes. Polar Biol 29:745–753

Sullivan BJ, Reid TA, Bugoni L (2006b) Seabird mortality on factory trawlers in the Falkland Islands and beyond. Biol Conserv 131:495–504

Terauds A, Gales R, Alderman R (2005) Trends in numbers and survival of black-browed (Talassarche melanophrys) and grey-headed (T. chrysostoma) albatrosses breeding on Macquarie Island. Emu 105:159–167

Uhart M, Karesh W, Cook R, Huin N, Lawrence K, Guzman L, Pacheco H, Pizarro G, Mattsson R, Mörner T (2004) Paralytic shellfish poisoning in gentoo penguins (Pygoscelis papua) from the Falkland (Malvinas) Islands. In: Proceedings of the 2004 AAZV, AAWV and WDA joint conference, USA, pp 481–486

Watkins BP, Petersen SL, Ryan PG (2008) Interactions between seabirds and deep-water hake trawl gear: an assessment of impacts in South African waters. Anim Conserv 11:247–254

Waugh SM, Weimerskirch H, Moore PJ, Sagar PM (1999) Population dynamics of black-browed and grey headed albatrosses Diomedea melanophrys and D. chrysostoma at Campbell Island, New Zealand, 1942–1996. Ibis 141:216–225

White GC, Burnham KP (1999) Program MARK: survival estimation from populations of marked animals. Bird Study 46:120–138

Yorio P, Caille G (1999) Seabird interactions with coastal fisheries in Northern Patagonia: use of discards and incidental captures in nets. Waterbirds 22:207–216
Acknowledgments
The long-term monitoring of black-browed albatrosses on New Island has benefited from the committed long-term support of the Falkland Islands Government, as well as from projects funds provided by Fundação para a Ciência e Tecnologia (FCT-Portugal) through Projecto Albatroz (PTDC/MAR/099366/2008) and as part of the Programa Plurianual (UI&D 331/94). Further support was received from the Foreign and Commonwealth Office through an Overseas Territories Environment Programme (OTEP) grant (FAL 201). The New Island Conservation Trust, an NGO and charity, supported field studies on their New Island reserve, through the supply of research facilities, accommodation, and subsistence. Without the support and encouragement from Ian Strange, this study would never have taken place. Rafael Matias, Miguel Lecoq, and Orea Anderson helped with fieldwork. Maria Strange, Shona Strange, Georgina Strange, Dan Birch, Helen Otley, Nick Rendell, Anton Wolfaardt and Leigh Wolfaardt provided logistical and moral support in the field and in Stanley. Inês Catry, John Croxall, Christophe Barbraud and two anonymous reviewers commented on a previous draft. All work was approved by the Falkland Islands Government.
About this article
Cite this article
Catry, P., Forcada, J. & Almeida, A. Demographic parameters of black-browed albatrosses Thalassarche melanophris from the Falkland Islands. Polar Biol 34, 1221–1229 (2011). https://doi.org/10.1007/s00300-011-0984-3
Received:

Revised:

Accepted:

Published:

Issue Date:
Keywords
New Island

Bycatch

Demography

Red tide

Patagonian shelf