Abstract
Polar bears (Ursus maritimus) prefer to live on Arctic sea ice but may swim between ice floes or between sea ice and land. Although anecdotal observations suggest that polar bears are capable of swimming long distances, no data have been available to describe in detail long distance swimming events or the physiological and reproductive consequences of such behavior. Between an initial capture in late August and a recapture in late October 2008, a radio-collared adult female polar bear in the Beaufort Sea made a continuous swim of 687 km over 9 days and then intermittently swam and walked on the sea ice surface an additional 1,800 km. Measures of movement rate, hourly activity, and subcutaneous and external temperature revealed distinct profiles of swimming and walking. Between captures, this polar bear lost 22% of her body mass and her yearling cub. The extraordinary long distance swimming ability of polar bears, which we confirm here, may help them cope with reduced Arctic sea ice. Our observation, however, indicates that long distance swimming in Arctic waters, and travel over deep water pack ice, may result in high energetic costs and compromise reproductive fitness.
Access options
Buy single article
Instant access to the full article PDF.
USD 39.95
Price excludes VAT (USA)
Tax calculation will be finalised during checkout.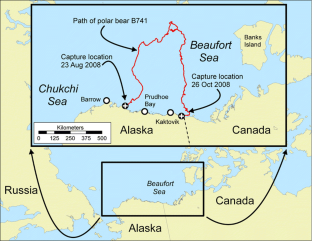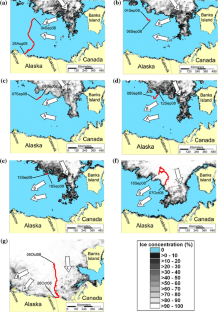 References
Amstrup SC, Stirling I, Smith TS, Perham C, Thiemann GW (2006) Recent observations of intraspecific predation and cannibalism among polar bears in the southern Beaufort Sea. Polar Biol. doi:10.1007/s00300-006-0142-5

Atkinson SN, Ramsay MA (1995) The effects of prolonged fasting of the body composition and reproductive success of female Polar Bears (Ursus maritimus). Func Ecol 9:559–567

Bowditch N (2002) The American practical navigator. National Imagery and Mapping Agency, Bethesda, Maryland

Burns JJ (1981) Bearded seal Erignathus barbatus Erxleben, 1777. In: Ridgeway SH, Harrison RJ (eds) Handbook of marine mammals. II: Seals. Academic Press, London, pp 145–170

Calvert W, Ramsay MA (1998) Evaluation of age determination of polar bears by counts of cementum growth layer groups. Ursus 10:449–453

Comiso JC (2002) A rapidly declining perennial sea ice cover in the Arctic. Geophys Res Lett 29:1956–1959

Derocher AE, Stirling I (1995) Temporal variation in reproduction and body mass of polar bears in western Hudson Bay. Can J Zool 73:1657–1665

Durner GM, Douglas DC, Neilson RM, Amstrup SC, McDonald TL, Stirling I, Mauritzen M, Born EW, Wiig Ø, DeWeaver E, Serreze MC, Belikov SE, Holland MM, Maslanik J, Aars J, Bailey DA, Derocher AE (2009) Predicting 21st century polar bear habitat distribution from global climate models. Ecol Monogr 79:25–58

Fancy SG, Pank LF, Douglas DC, Curby CH, Garner GW, Amstrup SC, Regelin WL (1988) Satellite telemetry: a new tool for wildlife research and management. US Fish and Wildl Resour Publ 172

Feldhamer GA, Drickamer LC, Vessey SH, Merritt JF, Krajewski C (2007) Mammalogy, 3rd edn. The Johns Hopkins University Press, Baltimore, USA

Fish FE (1996) Transitions from drag-based to lift-based propulsion in mammalian swimming. Am Zool 36:628–641

Fish FE, Baudinette RV (1999) Energetics of locomotion by the Australian water rat (Hydromys chrysogaster): a comparison of swimming and running in a semi-aquatic mammal. J Exp Biol 202:353–363

Frisch J, Øritsland NA, Krog J (1974) Insulation of furs in water. Comp Biochem Physiol 47A:403–410

Harwood LA, Stirling I (1992) Distribution of ringed seals in the southeastern Beaufort Sea during late summer. Can J Zool 70:891–900

Hunter C, Caswell CH, Runge M, Regehr E, Amstrup S, Stirling I (2010) Climate change threatens polar bear populations: a stochastic demographic analysis. Ecology. doi:10.1890/09-1641.1

Hurst RJ, Oritsland NA, Watts PD (1982) Body mass, temperature and cost of walking in polar bears. Acta Physiol Scand 115:391–395

Lehmer EM, Biggins DE (2005) Variation in torpor patterns of free-ranging black-tailed and Utah prairie dogs across gradients of elevation. J Mammal 86:15–21

Maickel RP, Matussek N, Stern DN, Brodie BB (1967) The sympathetic nervous system as a homeostatic mechanism. I. Absolute need for a sympathetic nervous function in body temperature maintenance of cols-exposed rats. J Pharmacol Exp Ther 157:103–110

Monnett C, Gleason JS (2006) Observations of mortality associated with extended open-water swimming by polar bears in the Alaskan Beaufort Sea. Polar Biol 29:681–687. doi:10.1007/s00300-005-0105-2

Regehr E, Amstrup SC, Stirling I (2006) Polar bear population status in the Southern Beaufort Sea. USGS Open-File Report 2006–1337

Regehr EV, Hunter CM, Caswell H, Amstrup SC, Stirling I (2010) Survival and breeding of polar bears in the southern Beaufort Sea in relation to sea ice. J Anim Ecol 79:117–127

Rode KD, Amstrup SC, Regehr EV (2010) Reduced body size and cub recruitment in polar bears associated with sea ice decline. Ecol Appl 20:768–782

Rowell LB (1974) Human cardiovascular adjustments to exercise and thermal stress. Physiol Rev 54:75–159

Sakshaug E (2003) Primary and secondary production in the Arctic seas. In: Stein R, MacDonald RW (eds) The organic carbon cycle in the Arctic Ocean. Springer, Berlin, pp 57–81

Savastano DM, Gorbach AM, Eden HS, Brady SM, Reynolds JC, Yanovski JA (2009) Adiposity and human regional body temperature. Am J Clin Nutr 90:1124–1131

Schliebe S, Rode KD, Gleason JS, Wilder J, Proffitt K, Evans TJ, Miller S (2008) Effects of sea ice extent and food availability on spatial and temporal distribution of polar bears during the fall open-water period in the southern Beaufort Sea. Polar Biol. doi:10.1007/s00300-008-0439-7

Spreen G, Kaleschke L, Heygster G (2008) Sea ice remote sensing using AMSR-E-E 89 GHz channels. J Geophys Res. doi:10.1029/2005JC003384

Stirling I, Spencer C, Andriashek D (1989) Immobilization of polar bears (Ursus maritimus) with Telazol. J Wildl Dis 25:159–168

Van Oort BEH, Tyler NJC, Storeheier PV, Stokkan K (2004) The performance and validation of a data logger for a long-term determination of activity in free-ranging reindeer, Rangifer tarandus L. Appl Anim Behav Sci 89:299–308

Williams TM (1983) Locomotion in the North American mink, a semi-aquatic mammal. I. Swimming energetics and body drag. J Exp Biol 103:155–168
Acknowledgments
Primary funding for this research was provided through a National Science Foundation grant (OPP 0732713) to the University of Wyoming. Major funding also was provided by the United States Geological Survey, Climate and Land Use Change Research and Development Program, and the United States Fish and Wildlife Service, Region 7 Marine Mammals Management program. Polar bear captures are made possible under U.S. Fish and Wildlife marine mammal research permit 690038 granted to the USGS, Alaska Science Center. Capture procedures were conducted under the approval of both University of Wyoming and Alaska Science Center Institutional Animal Care and Use Committee (IACUC) protocols. We thank David Douglas (USGS) for assistance in analysis of Argos data and Ignatius Rigor (University of Washington) for providing buoy location data. The following individuals are acknowledged for their constructive suggestions on earlier versions of this report: Layne Adams, Andrew Derocher, Karen Oakley, Ignatius Rigor, Joel Schmutz, and one anonymous reviewer. Any mention of trade names is for descriptive purposes only and does not reflect endorsement by the U.S. government.
About this article
Cite this article
Durner, G.M., Whiteman, J.P., Harlow, H.J. et al. Consequences of long-distance swimming and travel over deep-water pack ice for a female polar bear during a year of extreme sea ice retreat. Polar Biol 34, 975–984 (2011). https://doi.org/10.1007/s00300-010-0953-2
Received:

Revised:

Accepted:

Published:

Issue Date:

DOI: https://doi.org/10.1007/s00300-010-0953-2
Keywords
Climate change

Energetics

Long-distance swimming

Polar bear

Telemetry

Ursus maritimus

Sea ice