Abstract
Despite the large biomass of macaroni penguins Eudyptes chrysolophus in the Southern Ocean, their feeding ecology is poorly known at some important breeding localities. We investigated the diving behaviour and diet of female macaroni penguins feeding small chicks on Marion Island (46º52′S, 37º5′E), South Africa, one of the species' most northerly breeding sites, supporting 4% of their global population. We then compared our results with similar studies from other localities. In December 2008, we collected information on 12 foraging trips from 6 individuals using time-depth recorders, as well as diet from 42 individuals. Median trip duration was 22.8 h (5.6–80.8 h). Penguins performed 42.8 ± 15.9 dives per hour at sea, with dive depths averaging 24.6 ± 8.6 m and lasting 40.8 ± 12.1 s, although 74.3% of dives were <10 m. Euphasids dominated their diet (86% by mass), mainly Thysanoessa vicina. A second peak in dive depths at 55–80 m might reflect the 12% of fish in their diet. The substantial proportion of shallow night dives (30% of total dives) suggests some foraging occurs at night. Differences in diving patterns of individual macaroni penguins in this study confirmed the behavioural flexibility of these birds reported from other breeding localities. However, most other studies assumed that dives <3–5 m were commuting dives whereas our study suggests that at least some prey are caught during shallow dives. We highlight how different analytical methods can change the outcome of studies. Despite macaroni penguins' apparent flexibility in foraging behaviour during the breeding season, their numbers are decreasing globally. Further investigations of their foraging behaviour are needed to assess potential competition with other predators and krill fisheries.
Access options
Buy single article
Instant access to the full article PDF.
US$ 39.95
Tax calculation will be finalised during checkout.
Subscribe to journal
Immediate online access to all issues from 2019. Subscription will auto renew annually.
US$ 119
Tax calculation will be finalised during checkout.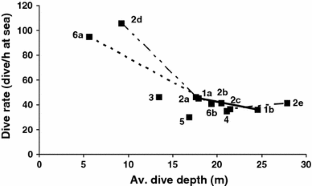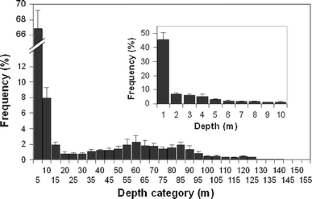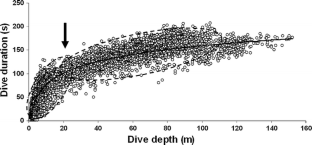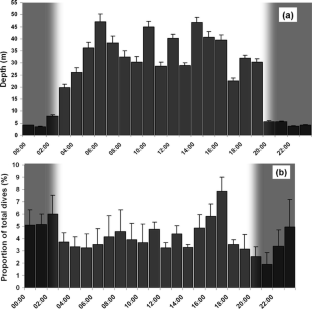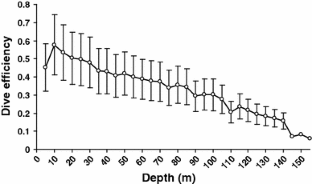 References
Bannasch R (1995) Hydrodynamics of penguins—an experimental approach. In: Dann P, Norman I, Reilly P (eds) The penguins. Surrey, Beatty and Sons, Chipping Norton, New South Wales, pp 141–176

Barlow KE, Croxall JP (2002) Seasonal and interannual variation in foraging range and habitat of macaroni penguins Eudyptes chrysolophus at South Georgia. Mar Ecol Progr Ser 232:291–304

Barlow KE, Boyd IL, Croxall JP, Reid K, Staniland IJ, Brierley AS (2002) Are penguins and seals in competition for Antarctic krill at South Georgia. Mar Biol 140:205–213

Bost CA, Handrich Y, Butler PJ, Fahlman A, Halsey L, Woakes AJ, Ropert-Coudert Y (2007) Change in dive profile as an indicator of feeding in king penguins and Adélie penguins. Deep Sea Res 54:248–255

Brooke M de L (2004) The food consumption of the world's seabirds. Proc R Soc Lond B 271:s246–s248

Brown CR (1987) Travelling speed and foraging range of macaroni and rockhopper penguins at Marion Island. J Field Ornithol 58:118–125

Charrassin J-B, Bost C-A, Putz K, Lage J, Dahier T, Zorn T, Le Maho Y (1998) Foraging strategies of incubating and brooding king penguins Aptenodytes patagonicus. Oecologia 114:194–201

Chiaradia A, Ropert-Coudert Y, Kato A, Mattern T, Yorke J (2007) Diving behaviour of little penguins from four colonies across their whole distribution range: bathymetry affecting diving effort and fledging success. Mar Biol 151:1535–1542

Chuine I (2010) Why does phenology drive species distribution. Phil Trans R Soc B 365:3149–3160

Crawford RJM, Cooper J (2003) Conserving surface-nesting seabirds at the Prince Edwards Islands: the roles of research, monitoring and legislation. Afr J Mar Sci 25:415–426

Crawford RJM, Cooper J, Dyer BM (2003) Population of the macaroni penguin Eudyptes chrysolophus at Marion Island, 1994/1995–2002/2003, with information on breeding and diet. Afr J Mar Sci 25:475–486

Crawford RJM, Dyer BM, Cooper J, Underhill L (2006) Breeding numbers and success of Eudyptes penguins at Marion Island, and the influence of mass and time of arrival of adults. CCALMR Science 13:175–190

Crawford RJM, Whittington PA, Upfold L, Ryan PG, Petersen SL, Dyer BM, Cooper J (2009) Recent trends in numbers of four species of penguins at the Prince Edward Islands. Afr J Mar Sci 31:419–426

Cresswell KA, Wiedenmann J, Magel M (2008) Can macaroni penguins keep up with climate- and fishing-induced changes in krill? Polar Biol 31:641–649

Croxall JP, Prince PA (1987) Seabirds as predators on marine resources, especially krill, at South Georgia. In: Croxall JP (ed) Seabirds feeding ecology and role in marine ecosystems. Cambridge University Press, Cambridge, pp 347–368

Croxall JP, Nicol S (2004) Management of Southern Ocean fisheries: global forces and future sustainability. Antarctic Sci 16:569–584

Croxall JP, Briggs DR, Kato A, Naito Y, Watanuki Y, Williams TD (1993) Diving pattern and performance in the macaroni Penguin Eudyptes chrysolophus. J Zool 230:31–47

Deagle BE, Gales NJ, Hindell MA (2008) Variability in foraging behaviour of chick-rearing macaroni penguins Eudyptes chrysolophus and its relation to diet. Mar Ecol Progr Ser 359:295–309

Dewar JM (1924) The bird as a diver. Witherby, London

Green K, Williams R, Green MG (1998) Foraging ecology and diving behaviour of macaroni penguins Eudyptes chrysolophus at Heard Island. Mar Ornithol 26:27–34

Green JA, Butler PJ, Woakes AJ, Boyd IL (2003) Energetics of diving in macaroni penguins. J Exp Biol 206:43–57

Green JA, Boyd IL, Woakes AJ, Warren NL, Butler PJ (2005) Behavioural flexibility during year-round foraging in macaroni penguins. Mar Ecol Progr Ser 296:183–196

Grémillet D, Pichegru L, Siorat F, Georges JY (2006) Conservation implications of the apparent mismatch between population dynamics and foraging effort in Northern gannets from the english channel. Mar Ecol Prog Ser 319:15–25

Ichii T, Bengston JL, Boveng PL, Takao Y, Jansen JK, Hiruki-Raring LM, Cameron MF, Okamura H, Hayashi T, Naganubo M (2007) Provisioning strategies of Antarctic fur seals and chinstrap penguins produce different responses to distribution of common prey and habitat. Mar Ecol Progr Ser 344:277–297

IUCN 2010 (2010) IUCN Red List of Threatened Species. http://www.iucnredlist.org/

Kato A, Ropert-Coudert Y, Grémillet D, Cannell B (2006) Locomotion and foraging strategy in foot-propelled and wing-propelled shallow-diving seabirds. Mar Ecol Progr Ser 308:293–301

Kawagushi S, Nicol S (2007) Learning about Antartcic krill from the fishery. Antartcic Sci 19:219–230

Kirkwood R, Lawton K, Moreno C, Valencia J, Shlatter R, Robertson G (2007) Estimates of southern rockhopper and macaroni penguin numbers at Ildefonso and Diego Ramírez Archipelagos, Chile, using quadrat and distance sampling techniques. Waterbirds 30:259–267

MacQueen JB (1967) "Some Methods for classification and Analysis of Multivariate Observations". Proceedings of 5th Berkeley symposium on mathematical statistics and probability. University of California Press. pp 281–297

Mangel M, Switzer PV (1998) A model at the level of the foraging trip for the indirect effcts of krill (Euphasia superba) fisheries on krill predatos. Ecol Model 105:235–256

Mori Y (1998) The optimal patch use in divers: optimal time budget and the numbers of dive cycles during bout. J Theor Biol 190:187–199

Mori Y, Boyd IL (2004) Segregation of foraging between two sympatric penguin species: does rate maximisation make the difference? Mar Ecol Progr Ser 275:241–249

Murphy EJ, Trathan PN, Everson I (1997) Krill fishing in the Scotia Sea in relation to bathymetry, including the detailed distribution around South Georgia. CCALMR Sci 4:1–17

Ropert-Coudert Y, Kato A, Baudat J, Bost C-A, Le Maho Y, Naito Y (2001) Feeding strategies of free-ranging Adélie penguins, Pygoscelis adeliae, analyzed by multiple data recording. Polar Biol 24:460–466

Ropert-Coudert Y, Kato A, Naito Y, Cannell B (2003) Individual diving strategies in the little penguins. Waterbirds 26:403–408

Sato K, Charassin J-B, Bost C-A, Naito Y (2004) Why do macaroni penguins choose shallow body angles that result in longer descent and ascent durations? J Exp Biol 207:4057–4065

Trathan PN, Green C, Tanton J, Peat H, Poncet J, Morton A (2006) Foraging dynamics of macaroni penguins Eudyptes chrysolophus at South Georgia during brood-guard. Mar Ecol Progr Ser 323:239–251

Tremblay Y, Cherel Y (2000) Benthic and pelagic dives: a new foraging behaviour in rockhopper penguins. Mar Ecol Progr Ser 204:257–267

Waluda CM, Collins MA, Black AD, Staniland IJ, Trathan PN (2010) Linking predator and prey behaviour: contrasts between Antarctic fur seals and macaroni penguins at South Georgia. Mar Biol 157:99–112

Williams AJ (1982) Chick feeding rates of macaroni and rockhopper penguins at Marion Island. Ostrich 53:129–134

Wilson RP, Steinfurth A, Ropert-Coudert Y, Kato A, Kurita M (2002) Lip-reading in remote subjects: an attempt to quantify and separate ingestion, breathing and vocalisation in free-living animals using penguins as a model. Mar Biol 140:17–27

Woehler EJ, Cooper J, Croxall JP, Fraser WR, Kooyman GL, Miller GD, Nel DC, Patterson DL, Peter HU, RIbic CA, Salwicka K, Trivelpiece WZ, Weimerskirch H (2001) A statistical assessment of the status and trends of Antarctic and subantarctic seabirds. Report on SCAR BBS workshop on Southern Ocean seabirds populations, p 43
Acknowledgments
Financial and logistical support was supplied by the South African National Antarctic Programme (through the National Research Foundation), the Marine Living Resources Fund and the DST/NRF Centre of Excellence at the Percy FitzPatrick Institute of African Ornithology. We warmly thank L. Clokie for assistance in the field, and Captain M. Vijoen and the crew of the FRS Africana for safe transport to and from the Prince Edwards Islands and for their hospitality. We also thank J.A. Green, T. Hart and an anonymous referee for constructive comments on the manuscript.
Electronic supplementary material
Below is the link to the electronic supplementary material.
About this article
Cite this article
Pichegru, L., Ropert-Coudert, Y., Kato, A. et al. Diving patterns of female macaroni penguins breeding on Marion Island, South Africa. Polar Biol 34, 945–954 (2011). https://doi.org/10.1007/s00300-010-0950-5
Received:

Revised:

Accepted:

Published:

Issue Date:
Keywords
Bio-logging

Behavioural flexibility

Dive efficiency

Eudyptes chrysolophus

Foraging ecology

Time-depth recorders