Abstract
Studies have shown that killer whale (Orcinus orca) communities in high latitudes regularly comprise assemblages of sympatric 'ecotypes'—forms that differ in morphology, behavior, and prey preferences. Although they can appear superficially similar, recent genetic evidence suggests that breeding is assortative among ecotypes within individual communities, and species-level divergences are inferred in some cases. Here, we provide information on a recently recognized 'type D' killer whale based on photographs of a 1955 mass stranding in New Zealand and our own six at-sea sightings since 2004. It is the most distinctive-looking form of killer whale that we know of, immediately recognizable by its extremely small white eye patch. Its geographic range appears to be circumglobal in subantarctic waters between latitudes 40°S and 60°S. School sizes are relatively large (mean 17.6; range 9–35; n = 7), and although nothing is known about the type D diet, it is suspected to include fish because groups have been photographed around longline vessels where they reportedly depredate Patagonian toothfish (Dissostichus eleginoides).
This is a preview of subscription content, log in to check access.
Access options
Buy single article
Instant access to the full article PDF.
US$ 39.95
Price includes VAT for USA
Subscribe to journal
Immediate online access to all issues from 2019. Subscription will auto renew annually.
US$ 199
This is the net price. Taxes to be calculated in checkout.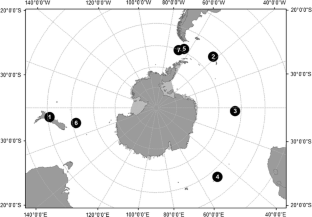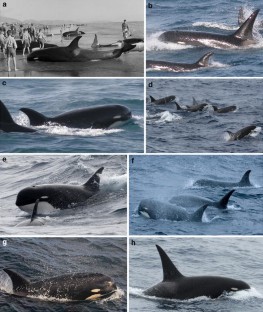 References
Baird RW, McSweeney DJ, Bane C, Barlow J, Salden DR, Antoine LK, LeDuc RG, Webster DL (2006) Killer whales in Hawaiian waters: information on population identity and feeding habits. Pac Sci 60:523–530

Baker AN (1983) Whales and dolphins of New Zealand and Australia. Victoria University Press, Wellington

Foote AD, Newton J, Piertney SB, Willerslev E, Thomas M, Gilbert P (2009) Ecological, morphological and genetic divergence of sympatric North Atlantic killer whale populations. Molec Ecol 18:5207–5217

Ford JKB, Ellis GM, Balcomb KC (2000) Killer whales: the natural history and genealogy of Orcinus orca in the waters of British Columbia and Washington. University of British Columbia Press and University of Washington Press, Vancouver and Seattle

Guinet C (1992) Comportement de chasse des orques (Orcinus orca) autour des îles Crozet. Can J Zool 70:1656–1667

Guinet C, Barrett-Lennard LG, Loyer B (2000) Co-ordinated attack behavior and prey sharing by killer whales at Crozet Archipelago: strategies for feeding on negatively-buoyant prey. Mar Mamm Sci 16:829–834

Jefferson TA, Webber MA, Pitman RL (2007) Marine mammals of the world. Academic Press, San Diego

LeDuc RG, Robertson KM, Pitman RL (2008) Mitochondrial sequence divergence among Antarctic killer whale ecotypes is consistent with multiple species. Biol Lett 4:426–429

Morin PA, Archer FI, Foote AD, Thomas M, Gilbert P, Allen EE, Wade P, Durban J, Parsons K, Pitman R, Li L, Bouffard P, Vilstrup J, Nielsen SA, Willerslev E, Harkins T (2010) Complete mitochondrial genome analysis of killer whales (Orcinus orca) indicates multiple species. Genome Res 20:908–916

Pitman RL, Ensor P (2003) Three different forms of killer whales in Antarctic waters. J Cetacean Res Manag 5:131–139

Pitman RL, Fearnbach H, LeDuc R, Gilpatrick JW, Ford JKB, Ballance LT (2007) Killer whales preying on a blue whale calf on the Costa Rica Dome: genetics, morphometrics, vocalizations and composition of the group. J Cetacean Res Manag 9:151–158

Roche C, Gasco N, Duhamel G, Guinet C (2007) Marine mammals and demersal long line fishery interactions in Crozet and Kerguelen exclusive economic zones: an assessment of the depredation level. CCAMLR Sci Ser 14:67–82

Tixier P, Gasco N, Duhamel G, Guinet C (2010) Interactions of Patagonian toothfish fisheries with killer and sperm whales: an assessment of depredation levels and insights on possible mitigation solutions. CCAMLR Sci Ser (in press)

Visser IN (1999) Antarctic orca in New Zealand waters? NZ J Mar Freshw Res 33:515–520

Visser IN, Mäkeläinen P (2000) Variation in eye-patch shape in killer whales (Orcinus orca) in New Zealand waters. Mar Mamm Sci 16:459–469
Acknowledgments
We thank Paul Ensor, Nicolas Gasco, Heidi Krajewsky and Audrey Scott for assistance in the field and Anton van Helden for providing details about the 1955 stranding. The data for the 2006 sighting was collected during an International Whaling Commission minke whale assessment cruise in Antarctica; we thank IWC for permission to use the data. This manuscript benefited from the comments of John Ford and an anonymous reviewer.
About this article
Cite this article
Pitman, R.L., Durban, J.W., Greenfelder, M. et al. Observations of a distinctive morphotype of killer whale (Orcinus orca), type D, from subantarctic waters. Polar Biol 34, 303–306 (2011). https://doi.org/10.1007/s00300-010-0871-3
Received:

Revised:

Accepted:

Published:

Issue Date:
Keywords
Killer whale

Orcinus orca

Subantarctic

Type D