Abstract
Although numerous studies have addressed the migration and dive behaviour of southern elephant seals (Mirounga leonina), questions remain about their habitat use in the marine environment. We report on the vertical use of the water column in the species and the potential lifetime implications for southern elephant seals from Marion Island. Long-term mark-resight data were used to complement vertical habitat use for 35 known individuals tagged with satellite-relay data loggers, resulting in cumulative depth use extrapolated for each individual over its estimated lifespan. Seals spent on average 77.59% of their lives diving at sea, 7.06% at the sea surface, and 15.35% hauled out on land. Some segregation was observed in maximum dive depths and depth use between male and female animals—males evidently being physiologically more capable of exploiting increased depths. Females and males spent 86.98 and 80.89% of their lives at sea, respectively. While at sea, all animals spent more time between 300 and 400 m depth, than any other depth category. Males and females spent comparable percentages of their lifetimes below 100 m depth (males: 65.54%; females: 68.92%), though males spent 8.98% of their lives at depths in excess of 700 m, compared to females' 1.84% at such depths. Adult males often performed benthic dives in excess of 2,000 m, including the deepest known recorded dive of any air-breathing vertebrate (>2,133 m). Our results provide a close approximation of vertical habitat use by southern elephant seals, extrapolated over their lifespans, and we discuss some physiological and developmental implications of their variable depth use.
Access options
Buy single article
Instant access to the full article PDF.
US$ 39.95
Tax calculation will be finalised during checkout.
Subscribe to journal
Immediate online access to all issues from 2019. Subscription will auto renew annually.
US$ 119
Tax calculation will be finalised during checkout.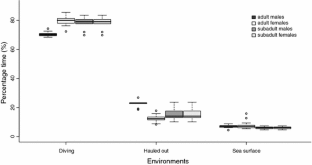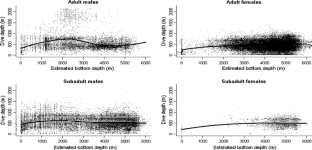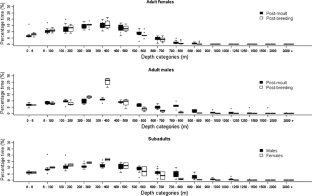 References
Bailleul F, Charrassin J-B, Ezraty R, Girard-Ardhuin F, McMahon CR, Field IC, Guinet C (2007) Southern elephant seals from Kerguelen Islands confronted by Antarctic Sea ice. Changes in movements and in diving behaviour. Deep Sea Res II 54:343–355

Bailleul F, Pinaud D, Hindell M, Charrassin J-B, Guinet C (2008) Assessment of scale-dependent foraging behaviour in southern elephant seals incorporating the vertical dimension: a development of the First Passage Time method. J Anim Ecol 77:948–957

Baird RW, Hanson MB, Dill LM (2005) Factors influencing the diving behaviour of fisheating killer whales: sex differences and diel and interannual variation in diving rates. Can J Zool 83:257–267

Bester MN (1988) Chemical restraint of Antarctic fur seals and southern elephant seals. S Afr J Wildl Res 18:57–60

Biuw M, McConnell BJ, Bradshaw CJA, Burton HR, Fedak M (2003) Blubber and buoyancy: monitoring the body condition of free-ranging seals using simple dive characteristics. J Exp Biol 206:3405–3423

Biuw M, Boehme L, Guinet C, Hindell MA, Costa DP, Charrassin J-B, Roquet F, Bailleul F, Meredith M, Thorpe S, Tremblay Y, McDonald BI, Park Y-H, Rintoul SR, Bindoff N, Goebel ME, Crocker DE, Lovell P, Nicholson J, Monks F, Fedak M (2007) Variations in behavior and condition of a Southern Ocean top predator in relation to in situ oceanographic conditions. Proc Natl Acad Sci U S A 104:13705–13710

Bornemann H, Kreyscher M, Ramdohr S, Martin T, Carlini AR, Sellmann L, Plötz J (2000) Southern elephant seal movements and Antarctic sea ice. Antarct Sci 12:3–15

Bostrom BL, Fahlman A, Jones DR (2008) Tracheal compression delays alveolar collapse during deep diving in marine mammals. Res Phys Neurobiol 161:298–305

Bradshaw CJA, Higgins J, Michael KJ, Wotherspoon SJ, Hindell MA (2004) At-sea distribution of female southern elephant seals relative to variation in ocean surface properties. ICES J Mar Sci 61:1014–1027

Campagna C, Le Boeuf BJ, Blackwell SB, Crocker DE, Quintana F (1995) Diving behaviour and foraging location of female southern elephant seals from Patagonia. J Zool (Lond) 236:55–71

Campagna C, Fedak M, McConnell BJ (1999) Post-breeding distribution and diving behavior of adult male southern elephant seals from Patagonia. J Mammal 80:1341–1352

Campagna C, Piola AR, Rosa Marin M, Lewis M, Zajaczkovski U, Fernandez T (2007) Deep divers in shallow seas: southern elephant seals on the Patagonian shelf. Deep Sea Res I 54:1792–1814

Carlini AR, Daneri GA, Marquez MEI, Bornemann H, Panarello HO, Casaux R, Ramdohr S, Plötz J (2005) Food consumption estimates of southern elephant seal females during their post-breeding aquatic phase at King George Island. Polar Res 28:769–775

de Bruyn PJN (2009) Life history studies of the southern elephant seal population at Marion Island. Ph.D. thesis, University of Pretoria

de Bruyn PJN, Tosh CA, Oosthuizen WC, Phalanndwa MV, Bester MN (2008) Temporary marking of unweaned southern elephant seal (Mirounga leonina L.) pups. S Afr J Wildl Res 38:133–137

Fahlman A, Olszowka A, Bostrom B, Jones DR (2006) Deep diving mammals: dive behavior and circulatory adjustments contribute to bends avoidance. Res Phys Neurobiol 153:66–77

Falke KJ, Hill RD, Qvist J, Schneider RC, Guppy M, Liggins GC, Hochachka PW, Elliott RE, Zapol WM (1985) Seal lungs collapse during free diving: evidence from arterial nitrogen tensions. Science 229:556–558

Fedak M, Lovell P, Grant SM (2001) Two approaches to compressing and interpreting time-depth information and satellite-linked data recorders as collected by time-depth recorders. Mar Mamm Sci 17:94–110

Folkow LP, Ramirez J-M, Ludvigsen S, Ramirez N, Blix AS (2008) Remarkable neuronal hypoxia tolerance in the deep-diving adult hooded seal (Cystophora cristata). Neurosci Lett 446:147–150

Hindell MA (1991) Some life-history parameters of a declining population of southern elephant seals, Mirounga leonina. J Anim Ecol 60:119–134

Hindell MA, Slip DJ, Burton HR (1991) The diving behaviour of adult male and female southern elephant seals, Mirounga leonina (Pinnipedia: Phocidae). Aust J Zool 39:595–619

Hindell MA, Slip DJ, Burton HR, Bryden MM (1992) Physiological implications of continuous, prolonged, and deep dives of the southern elephant seal (Mirounga leonina). Can J Zool 70:370–379

Jonker FC, Bester MN (1994) The diving behaviour of adult southern elephant seal, Mirounga leonina, cows from Marion Island. S Afr J Antarct Res 24:75–93

Jonker FC, Bester MN (1998) Seasonal movements and foraging areas of adult southern female elephant seals, Mirounga leonina, from Marion Island. Antarct Sci 10:21–30

Kirkman SP, Bester MN, Pistorius PA, Hofmeyr GJG, Owen R, Mecenero S (2001) Participation in the winter haulout by southern elephant seals (Mirounga leonina). Antarct Sci 13:380–384

Kooyman GL (2006) Mysteries of adaptation to hypoxia and pressure in marine mammals. The Kenneth S. Norris Lifetime Achievement Award Lecture, Presented on 12 December 2005, San Diego, California. Mar Mamm Sci 22:507–526

Kooyman GL, Ponganis PJ (1998) The physiological basis of diving to depth: birds and mammals. Annu Rev Physiol 60:19–32

Le Boeuf BJ, Laws RM (1994) Elephant seals: population ecology, behavior, and physiology. University of California Press, Berkeley

Le Boeuf BJ, Crocker DE, Costa DP, Blackwell SB, Webb PM, Houser DS (2000) Foraging ecology of northern elephant seals. Ecol Monogr 70:353–382

Lewis R, O'Connell T, Lewis M, Campagna C, Hoelzel AR (2006) Sex-specific foraging strategies and resource partitioning in the southern elephant seal (Mirounga leonina). Proc R Soc Lond B Biol Sci 273:2901–2907

Malherbe J (1998) The diving and ranging behaviour of southern elephant seal, Mirounga leonina, bulls. M.Sc. dissertation, University of Pretoria

McConnell BJ, Fedak M (1996) Movements of southern elephant seals. Can J Zool 74:1485–1496

McConnell BJ, Chambers C, Fedak MA (1992) Foraging ecology of southern elephant seals in relation to the bathymetry and productivity of the Southern Ocean. Antarct Sci 4:393–398

McMahon CR, Burton HR, Bester MN (2003) A demographic comparison of two southern elephant seal populations. J Anim Ecol 72:61–64

Meir JU, Champagne CD, Costa DP, Williams CL, Ponganis PJ (2009) Extreme hypoxemic tolerance and blood oxygen depletion in diving elephant seals. Am J Physiol Regul Integr Comp Physiol 297:R927–R939

Mitz SA, Reuss S, Folkow P, Blix AS, Ramirez J-M, Hankeln T, Burmester T (2009) When the brain goes diving: glial oxidative metabolism may confer hypoxia tolerance to the seal brain. Neuroscience 163:552–560

Moore MJ, Early GA (2004) Cumulative sperm whale bone damage and the bends. Science 306:2215

Pistorius PA, Taylor FE, Louw C, Hanise B, Bester MN, De Wet C, du Plooy A, Green N, Klasen S, Podile S, Schoeman J (2002) Distribution, movement, and estimated population size of killer whales at Marion Island. S Afr J Wildl Res 32:86–92

Polasek LK, Davis RW (2001) Heterogeneity of myoglobin distribution in the locomotory muscles of five cetacean species. J Exp Biol 204:209–215

Ramirez J-M, Folkow LP, Blix AS (2007) Hypoxia tolerance in mammals and birds: from the wilderness to the clinic. Annu Rev Physiol 69:113–143

Ridgway SH, Johnston DG (1966) Blood oxygen and ecology of porpoises of three genera. Science 151:456–458

Rothschild BM (2005) What causes lesions in sperm whale bones? Science 308:631–632

Rothschild BM, Storrs GW (2003) Decompression syndrome in plesiosaurs (Suaropterygia: Reptilia). J Vertebr Paleontol 23:324–328

Smith WHF, Sandwell DT (1997) Global sea floor topography from satellite altimetry and ship depth soundings. Science 277:1956–1962

Sutton TT, Poteiro FM, Heino M, Byrkjedal I, Langhelle G, Anderson CIH, Horne J, Søiland H, Falkenhaug T, Godø OR, Bergstad OA (2008) Vertical structure, biomass and topographic association of deep-pelagic fishes in relation to a mid-ocean ridge system. Deep Sea Res II 55:161–184

Tosh CA, de Bruyn PJN, Bester MN (2008) Preliminary analysis of the social structure of killer whales, Orcinus orca, at subantarctic Marion Island. Mar Mamm Sci 24:929–940

Tosh CA, Bornemann H, Ramdohr S, Schröder M, Martin T, Carlini A, Plötz J, Bester MN (2009) Adult male southern elephant seals from King George Island utilize the Weddell Sea. Antarct Sci 21:113–121

Zeno RL, Crocker DE, Hassrick JL, Allen SG, Costa DP (2008) Development of foraging behavior in juvenile northern elephant seals. J Zool (Lond) 274:180–187
Acknowledgments
We thank Chris Oosthuizen, Mashudu Phalanndwa, Ryan Reisinger, Thomas Mufanadzo, Phathu Radzilani, Brent Stewart and Greg Hofmeyr for their important assistance in the field with deployments of satellite tags. We are also grateful to them and the remaining field assistants for their continued efforts with the mark-resighting of tagged seals. Martin Biuw provided valuable input on the handling and filtering of dive data from SRDLs and René Wolmarans assisted with dive analyses in the R environment. The Alfred Wegener Institute for Polar and Marine Research (Germany), the Department of Science and Technology and the National Research Foundation (South Africa) and South African National Antarctic Programme are acknowledged for financial and logistical support. Louise Chilvers, Alejandro Carlini and three anonymous reviewers provided valuable criticism on previous versions of this manuscript.
Electronic supplementary material
Below is the link to the electronic supplementary material.
About this article
Cite this article
McIntyre, T., de Bruyn, P.J.N., Ansorge, I.J. et al. A lifetime at depth: vertical distribution of southern elephant seals in the water column. Polar Biol 33, 1037–1048 (2010). https://doi.org/10.1007/s00300-010-0782-3
Received:

Revised:

Accepted:

Published:

Issue Date:
Keywords
Southern elephant seals

Satellite-relay data loggers

Mark-resighting

Habitat use

Dive behaviour