Abstract
In July 2008 we outfitted reproductively active adult arctic foxes with satellite tracking collars on Bylot Island, Nunavut, Canada and recorded their movements over a complete annual cycle. We present the tracking data from two individuals, one female and one male, who traveled extensively from February to July 2009, covering minimum distances of 4,599 and 2,193 km, respectively. We recorded high and sustained travel rates on both land and sea ice that reached 90 km/day for the female and 88 km/day for the male. Our data confirm that arctic foxes can move extensively and demonstrate sustained travel rates that are 1.5 times those previously measured for the species. Our study is the first presenting detailed year-round satellite tracking of adult arctic foxes and has implications for our understanding of navigational abilities, foraging ecology, trophic interactions with lemming populations, and genetic population structure of arctic foxes.
Access options
Buy single article
Instant access to the full article PDF.
USD 39.95
Price excludes VAT (USA)
Tax calculation will be finalised during checkout.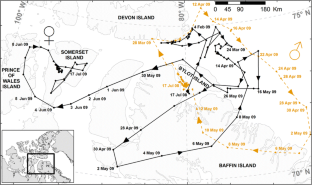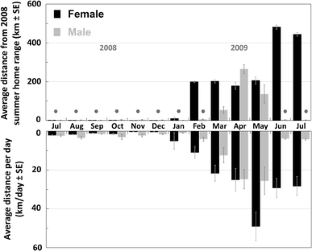 References
Andersen M, Derocher AE, Wiig Ø, Aars J (2008) Movements of two Svalbard polar bears recorded using geographical positioning system satellite transmitters. Polar Biol 31:905–911

Angerbjörn A, Tannerfeldt M, Erlinge S (1999) Predator-prey relationships: arctic foxes and lemmings. J Anim Ecol 68:34–49

Audet AM, Robbins CB, Larivière S (2002) Alopex lagopus. Mamm Species 713:1–10

Bêty J, Gauthier G, Korpimäki E, Giroux J-F (2002) Shared predators and indirect trophic interactions: lemming cycles and Arctic-nesting geese. J Anim Ecol 71:88–98

Beyer HL (2004) Hawth's analysis tools for ArcGIS. www.spatialecology.com. Accessed 30 July 2009

Caldwell IR, Nams VO (2006) A compass without a map: tortuosity and orientation of eastern painted turtles (Chrysemys picta picta) released in unfamiliar territory. Can J Zool 84:1129–1137

Canadian Ice Service (2009) Canadian digital regional ice charts. , Environment Canada, Ottawa. http://glaces.ec.gc.ca. Accessed 20 August 2009

Careau V, Lecomte N, Bêty J, Giroux J-F, Gauthier G, Berteaux D (2008) Hoarding of pulsed resources: temporal variations in egg-caching by arctic fox. Ecoscience 15:268–276

Chesemore DL (1968a) Distribution and movements of white foxes in northern and western Alaska. Can J Zool 46:849–854

Chesemore DL (1968b) Notes on the food habits of Arctic foxes in northern Alaska. Can J Zool 46:1127–1130

CLS (2008) Argos user's manual, CLS America Inc, Largo. www.argos-system.org/html/userarea/manual_en.html. Accessed 15 June 2009

Dalén L, Götherström A, Tannerfeldt M, Angerbjörn A (2002) Is the endangered Fennoscandian arctic fox (Alopex lagopus) population genetically isolated? Biol Conserv 105:171–178

Dalén L, Fuglei E, Hersteinsson P, Kapel CMO, Roth JD, Samelius G, Tannerfeldt M, Angerbjörn A (2005) Population history and genetic structure of a circumpolar species: the arctic fox. Biol J Linn Soc 84:79–89

Eberhardt LE, Hanson WC (1978) Long-distance movements of arctic foxes tagged in northern Alaska. Can Field-Nat 92:386–389

Eberhardt LE, Garrott RA, Hanson WC (1983) Winter movements of Arctic foxes, Alopex lagopus, in a petroleum development area. Can Field-Nat 97:66–70

Eide NE, Jepsen JU, Prestrud P (2004) Spatial organization of reproductive arctic foxes Alopex lagopus: responses to changes in spatial and temporal availability of prey. J Anim Ecol 73:1056–1068

Elmhagen B, Tannerfeldt M, Verucci P, Angerbjörn A (2000) The arctic fox (Alopex lagopus): an opportunistic specialist. J Zool 251:139–149

Frafjord K, Prestrud P (1992) Home range and movements of Arctic foxes Alopex lagopus in Svalbard. Polar Biol 12:519–526

Frame PF, Hik DS, Cluff HD, Paquet PC (2004) Long foraging movement of a denning tundra wolf. Arctic 57:196–203

Fuglei E, Ims RA (2008) Global warming and effects on the arctic fox. Sci Prog 91:175–191

Fuglei E, Øritsland NA, Prestrud P (2003) Local variation in arctic fox abundance on Svalbard, Norway. Polar Biol 26:93–98

Gagnon C-A, Berteaux D (2009) Integrating traditional ecological knowledge and ecological science: a question of scale. Ecol Soc 14:19

Garrott RA, Eberhardt LE (1987) Arctic fox. In: Novak M, Baker JA, Obbard ME, Malloch B (eds) Wild furbearer management and conservation in North America. Ministry of Natural Resources, Ontario, pp 395–406

Geffen E, Waidyaratne S, Dalén L, Angerbjörn A, Vila C, Hersteinsson P, Fuglei E, White PA, Goltsman M, Kapel CMO, Wayne RK (2007) Sea ice occurrence predicts genetic isolation in the Arctic fox. Mol Ecol 16:4241–4255

Gilg O, Hanski I, Sittler B (2003) Cyclic dynamics in a simple vertebrate predator–prey community. Science 302:866–868

Hanski I, Hansson L, Henttonen H (1991) Specialist predators, generalist predators, and the microtine rodent cycle. J Anim Ecol 60:353–367

Hanski I, Henttonen H, Korpimäki E, Oksanen L, Turchin P (2001) Small-rodent dynamics and predation. Ecology 82:1505–1520

Harvey F (2008) A primer of GIS: fundamental geographic and cartographic concepts. The Guilford Press, New York

Ims RA, Andreassen HP (2000) Spatial synchronization of vole population dynamics by predatory birds. Nature 408:194–196

Krebs CJ, Kenney AJ, Gilbert S, Danell K, Angerbjörn A, Erlinge S, Bromley RG, Shank C, Carriere S (2002) Synchrony in lemming and vole populations in the Canadian Arctic. Can J Zool 80:1323–1333

Macpherson AH (1968) Apparent recovery of translocated arctic fox. Can Field-Nat 82:287–289

Norén K, Angerbjörn A, Hersteinsson P (2009) Population structure in an isolated Arctic fox, Vulpes lagopus, population: the impact of geographical barriers. Biol J Linn Soc 97:18–26

Northcott T (1975) Long-distance movement of an arctic fox in Newfoundland. Can Field-Nat 89:464–465

Pamperin N, Follmann E, Person B (2008) Sea-ice use by arctic foxes in northern Alaska. Polar Biol 31:1421–1426

Roth JD (2002) Temporal variability in arctic fox diet as reflected in stable-carbon isotopes; the importance of sea ice. Oecologia 133:70–77

Samelius G (2006) Foraging behaviours and population dynamics of arctic foxes. PhD Thesis, University of Saskatchewan, Saskatoon

Sdobnikov VM (1940) Experiments on mass marking of arctic foxes [in Russian]. Probl Arktiki 12:106–110

Strand O, Landa A, Linnell JDC, Zimmermann B, Skogland T (2000) Social organization and parental behavior in the arctic fox. J Mamm 81:223–233

Szor G, Berteaux D, Gauthier G (2008) Finding the right home: distribution of food resources and terrain characteristics influence selection of denning sites and reproductive dens in arctic foxes. Polar Biol 31:351–362

Tang C, Ross C, Yao T, Petrie B, DeTracey B, Dunlap E (2004) The circulation, water masses and sea-ice of Baffin Bay. Prog Oceanogr 63:183–228

Tannerfeldt M, Angerbjörn A (1996) Life history strategies in a fluctuating environment: establishment and reproductive success in the arctic fox. Ecography 19:209–220

Wabakken P, Sand H, Kojola I, Zimmermann B, Arnemo JM, Pedersen HC, Liberg O (2007) Multistage, long-range natal dispersal by a global positioning system-collared Scandinavian wolf. J Wildl Manag 71:1631–1634

Wiig Ø, Born EW, Pedersen LT (2003) Movements of female polar bears (Ursus maritimus) in the East Greenland pack ice. Polar Biol 26:509–516

Wrigley RE, Hatch DRM (1976) Arctic fox migrations in Manitoba. Arctic 29:147–158

Ydenberg RC (1987) Nomadic predators and geographical synchrony in microtine population cycles. Oikos 50:270–272

Zollner PA, Lima SL (1999) Search strategies for landscape-level interpatch movements. Ecology 80:1019–1030
Acknowledgments
We thank (alphabetical order) A. Bourbeau-Lemieux, M.-C. Cadieux, C. Cameron, A. Desjardins, D. Duchesne, G. Gauthier, F. Racine, E. Tremblay, for help with data collection. N. Lecomte and M. Fast provided valuable comments on earlier versions of this manuscript. We thank D. Piepenburg, one anonymous reviewer, N. Pamperin, and A. Angerbjörn for providing useful suggestions on this manuscript. We are indebted to the Parks Canada Agency and to the Mittimatalik Hunters and Trappers Organization for allowing us to work in Sirmilik National Park of Canada. This study was supported by (alphabetical order) Canada Foundation for Innovation, Canada Research Chairs, Environment Canada, Fonds Québécois de la Recherche sur la Nature et les Technologies, Indian and Northern Affairs Canada, Natural Sciences and Engineering Research Council of Canada, Network of Centers of Excellence of Canada ArcticNet, Nunavut Wildlife Management Board, Parks Canada, Polar Continental Shelf Program, Université du Québec à Rimouski (UQAR), and Université Laval. Capture techniques and immobilization procedures were approved by the UQAR Animal Care Committee (permit # CPA32-08-62) and field research by the Joint Park Management Committee of Sirmilik National Park of Canada (permit # SNP-2007-1070 amended on 8 May 2008). This is PCSP contribution # 005-10.
About this article
Cite this article
Tarroux, A., Berteaux, D. & Bêty, J. Northern nomads: ability for extensive movements in adult arctic foxes. Polar Biol 33, 1021–1026 (2010). https://doi.org/10.1007/s00300-010-0780-5
Received:

Revised:

Accepted:

Published:

Issue Date:

DOI: https://doi.org/10.1007/s00300-010-0780-5
Keywords