Abstract
The southwest Greenland coast is made up of large and deep sill fjords. On the shelf, a number of shallow banks separated by deep troughs are located 20–50 km from the coast. We collected three 0.1-m2 van Veen grabs at nine stations along a transect spanning from the inner Godthaabsfjord influenced by glaciers, across the shallow Fyllas Bank and out to the slope of the continental shelf at approximately 1,000 m depth. Along this transect, we explored patterns of macrobenthic diversity, species composition, abundance and biomass. The sampled stations were very different in terms of environmental variables, resulting in large differences in species composition primarily related to differences in depth, silt–clay fraction and chl a content of the sediment (BIO-ENV analysis). Habitat differences also reduced species spatial ranges and the majority of species were found at only one (49%) or two (20%) stations and, consequently, species turnover or beta diversity was high and correlated to differences in depth, silt–clay fraction and median sediment grain size. Species richness and diversity were lowest in sites exposed to sediment disturbance: near the glaciers in the inner fjord (physical disturbance by mineral sedimentation) and at selected stations on the shelf (bioturbation by burrowing sand eel). Alpha diversity and richness were only weakly correlated to environmental parameters, indicating that alpha richness and diversity are influenced by several factors or that relationships are non-linear as was found for species richness and silt–clay fraction.
Access options
Buy single article
Instant access to the full article PDF.
USD 39.95
Price excludes VAT (USA)
Tax calculation will be finalised during checkout.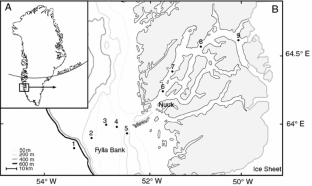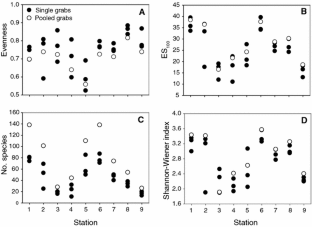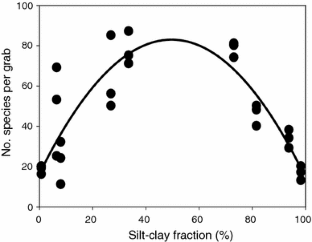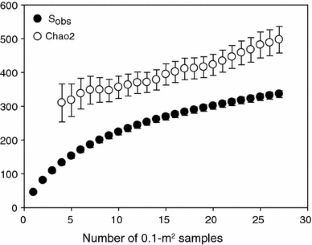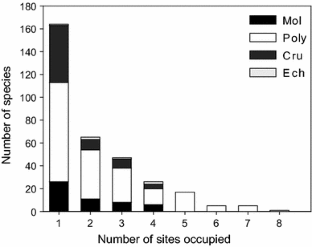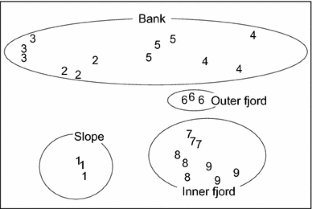 References
Anonymous (1978) Bundinvertebrater på store og lille Hellefiskebanke og i Holsteinsborgdybet, Marin ID

Bird KJ, Charpentier RR, Gautier DL, Houseknecht DW, Klett TR, Pitman JK, Moore TE, Schenk CJ, Tennyson ME, Wandrey CJ (2008) Circum-Arctic resource appraisal; estimates of undiscovered oil and gas north of the Arctic Circle. US Geological Survey Fact Sheet 2008-3049. http://pubs.usgs.gov/fs/2008/3049/

Blicher ME, Rysgaard S, Sejr MK (2007) Growth and production of sea urchin Strongylocentrotus droebachiensis in a high-Arctic fjord, and growth along a climatic gradient (64 to 77°N). Mar Ecol Prog Ser 341:89–102

Blicher ME, Sejr MK, Rysgaard S (2009) High carbon demand of dominant macrozoobenthic species indicates their central role in ecosystem carbon flow in a sub-Arctic fjord. Mar Ecol Prog Ser 383:127–140

Buch E, Pedersen SA, Ribergaard MH (2004) Ecosystem variability in west Greenland Water. J Northwest Atl Fish Sci 34:13–28

Chao A (1987) Estimating the population size for capture–recapture data with unequal catchability. Biometrics 43:783–791

Clarke K, Warwick R (1994) Change in marine communities: an approach to statistical analysis and interpretation. Plymouth Marine Laboratory, Plymouth

Colwell RK, Coddington JA (1994) Estimating terrestrial biodiversity through extrapolation. Philos Trans R Soc B 345:101–118

Cusson M, Archambault P, Aitken A (2007) Biodiversity of benthic assemblages on the Arctic continental shelf: historical data from Canada. Mar Ecol Prog Ser 331:291–304

Ellingsen K (2002) Soft-sediment benthic biodiversity on the continental shelf in relation to environmental variability. Mar Ecol Prog Ser 232:15–27

Ellingsen K, Gray JS (2002) Spatial patterns of benthic diversity: is there a latitudinal gradient along the Norwegian continental shelf? J Anim Ecol 71:373–389

Etter RJ, Grassle JF (1992) Patterns of species diversity in the deep sea as a function of sediment particle size diversity. Nature 360:576–578

Glockzin M, Zettler ML (2008) Spatial macrozoobenthic distribution patterns in relation to major environmental factors—a case study from the Pomeranian Bay (southern Baltic Sea). J Sea Res 59:144–161

Gray JS (2000) The measurement of marine species diversity, with an application to the benthic fauna of the Norwegian continental shelf. J Exp Mar Biol Ecol 250:23–49

Gray JS (2002) Species richness of marine soft sediments. Mar Ecol Prog Ser 244:285–297

Jensen DB, Christensen DC (2003) The biodiversity of Greenland— a country study. Technical report no. 55. Pinngortitalerifik, Greenland Institute of Natural Resources

Jensen LM, Rasch M (eds) (2008) Nuuk ecological research operations, 1st annual report 2007. Danish Polar Centre, Danish Agency for Science, Technology and Innovation, Ministry of Science, Technology and Innovation, Copenhagen

Mosbech A, Boertmann D, Jespersen M (2007) Strategic environmental impact assessment of hydrocarbon activities in the Disko West area. NERI technical report no. 618. National Environmental Research Institute, University of Aarhus, 188 pp

Pedersen SA, Ribergaard MH, Simonsen CS (2005) Micro- and mesozooplankton in southwest Greenland waters in relation to environmental factors. J Mar Syst 56:85–112

Petraitis PS, Latham RE, Niesenbaum RA (1989) The maintenance of species diversity by disturbance. Q Rev Biol 64:393–418

Piepenburg D, Ambrose W, Brandt A, Renaud P, Ahrens M, Jensen P (1997) Benthic community patterns reflect water column processes in the Northeast Water polynya (Greenland). J Mar Syst 10:467–482

Rosenzweig ML (1995) Species diversity in space and time. Cambridge University Press, Cambridge

Rvachev V (1963) Relief and bottom deposits of the shelf of southwestern Greenland. Okeanologiya 3:1046–1055

Sanders H (1968) Marine benthic diversity: a comparative study. Am Nat 102:243–282

Schmid M, Piepenburg D (1993) The benthos zonation of the Disco Fjord, West Greenland. Medd Grønland Biosci 37:1–21

Sejr MK, Jensen KT, Rysgaard S (2000) Macrozoobenthic community structure in a high-arctic East Greenland fjord. Polar Biol 23:792–801

Sejr MK, Blicher ME, Rysgaard S (2009) Sea ice cover affects inter-annual and geographic variation in growth of the Arctic cockle Clinocardium ciliatum (Bivalvia) in Greenland. Mar Ecol Prog Ser 389:149–158

Snelgrove PVR, Butman CA (1994) Animal–sediment relationships revisited: cause vs effect. Oceanogr Mar Biol Annu Rev 32:111–177

Thrush SF, Dayton PK (2002) Disturbance to marine benthic habitats by trawling and dredging: implication for marine biodiversity. Annu Rev Ecol Syst 33:449–473

Thrush SF, Hewitt JE, Cummings VJ, Ellis JI, Hatton C, Lohrer A, Norkko A (2004) Muddy waters: elevating sediment input to coastal and estuarine habitats. Front Ecol Environ 2:299–306

Whittaker RH (1960) Vegetation of the Siskiyou Mountains, Oregon and California. Ecol Monogr 30:279–338

Whittaker RH (1975) Communities and ecosystems. Macmillan, New York

Włodarska-Kowalczuk M, Pearson TH (2004) Soft-bottom macrobenthic faunal associations and factors affecting species distributions in an Arctic glacial fjord (Kongsfjord, Spitsbergen). Polar Biol 27:155–167

Włodarska-Kowalczuk M, Weslawski JM, Kotwicki L (1998) Spitsbergen glacial bays macrobenthos—a comparative study. Polar Biol 20:66–73

Włodarska-Kowalczuk M, Kendall MA, Weslawski JM, Klages M, Soltwedel T (2004) Depth gradients of benthic standing stock and diversity on the continental margin at a high-latitude ice-free site (off Spitsbergen, 79°N). Deep Sea Res Part I 51:1903–1914

Włodarska-Kowalczuk M, Pearson TH, Kendall MA (2005) Benthic response to chronic natural physical disturbance by glacial sedimentation in an Arctic fjord. Mar Ecol Prog Ser 303:31–41
Acknowledgments
We thank the captain and crew of R/V Adolf Jensen for skillful assistance during the cruise. Morten Frederiksen and Kristine Arendt are thanked for logistical support and organizing the cruise. Anna Haxen is thanked for linguistic corrections. The project has received financial support from the Danish Energy Agency as part of the climate support program to the Arctic and is a contribution to the Greenland Ecosystem Monitoring program (http://www.g-e-m.dk). MSE and MEB were supported financially by The Commission for Scientific Research in Greenland (KVUG).
About this article
Cite this article
Sejr, M.K., Włodarska-Kowalczuk, M., Legeżyńska, J. et al. Macrobenthic species composition and diversity in the Godthaabsfjord system, SW Greenland. Polar Biol 33, 421–431 (2010). https://doi.org/10.1007/s00300-009-0717-z
Received:

Revised:

Accepted:

Published:

Issue Date:

DOI: https://doi.org/10.1007/s00300-009-0717-z
Keywords
Soft bottom

Spatial patterns

Benthos

Macrofauna

Biodiversity

Arctic

Diversity