Abstract
Drepanocladus longifolius (Mitt.) Paris is recorded for the first time from King George Island, South Shetland Islands, in the maritime Antarctic. It was collected in West Lake during the 23rd Chinese National Antarctic Research Expedition in 2006–2007. The moss was found at a depth of 5–6 m attached to the bed of the lake. The stems of the moss are about 1–1.5 m in length. The moss exhibits seasonal growth patterns, with shorter branch internodes, more widely spaced leaves and more branches in summer than in winter. Most of the branches are initiated in summer. The annual shoot extension is about 3–6 cm, which implies that the plants must be at least 15 years of age. The distribution of aquatic moss species and records in Antarctica is outlined and discussed and the nomenclature of previous reports clarified.
This is a preview of subscription content, log in to check access.
Access options
Buy single article
Instant access to the full article PDF.
US$ 39.95
Price includes VAT for USA
Subscribe to journal
Immediate online access to all issues from 2019. Subscription will auto renew annually.
US$ 199
This is the net price. Taxes to be calculated in checkout.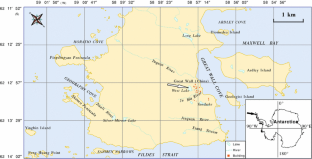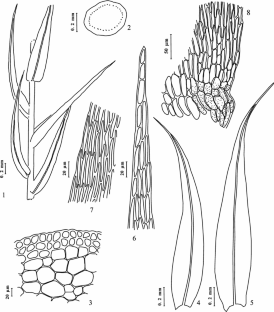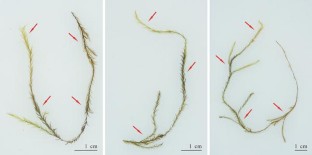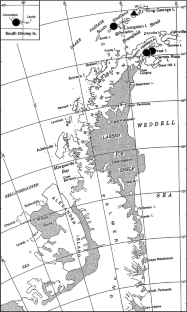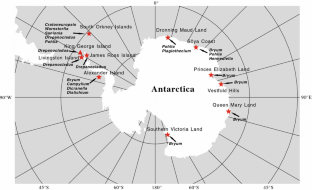 References
Adamson DA, Pickard J (1983) Late Quaternary ice movement across the Vestfold Hills, East Antarctica. In: Oliver RL, James PR, Jago JB (eds) Antarctic earth science. Cambridge University Press, Cambridge, pp 465–469

Bates JW (1992) Mineral nutrient acquisition and retention by bryophytes. J Bryol 17:223–240

Bednarek-Ochyra H, Lewis Smith RI, Ochyra R (1999) The genus Plagiothecium (Plagiotheciaceae, Bryopsida) in Antarctica. Bryobrothera 5:55–64

Bednarek-Ochyra H, Váňa J, Ochyra R et al (2000) The liverwort Flora of Antarctica. Institute of Botany, Polish Academy of Sciences, Cracow

Bian LG, Lu LH, Lu CG et al (1992) A study of radiative features at the Great Wall and Zhongshan Station of Antarctica. Q J Appl Metab 9:160–168 (in Chinese with English abstract)

Burgess JS, Spate AP, Shevlin J (1994) The onset of deglaciation in the Larsemann Hills, Eastern Antarctica. Antarct Sci 6:491–495. doi:10.1017/S095410209400074X

Chen FD, Li XD, Liu JX (1994) Handbook of Fildes Peninsula Antarctica mosses. Ocean Press, Beijing (in Chinese)

Dunn JL, Robinson SA (2006) UV-B screening potential is higher in two cosmopolitan moss species than in a co-occurring Antarctic endemic moss—implications of continuing ozone depletion. Gl Change B 12:2282–2296. doi:10.1111/j.1365-2486.2006.01283.x

Eights J (1833) Description of a new crustaceous animal found on the shores of the South Shetland, with remarks on their natural history. Trans Alb Ins 2:53–69 pls 1–2

Hedenäs L (1997) The Drepanocladus s str. species with excurrent costae (Amblystegiaceae). Nova Hedwig 64:535–547

Hedenäs L (2003) Amblystegiaceae (Musci). Flora Neotropica. Monograph 89. The New York Botanical Garden, New York

Imura S, Higuchi M, Kanda H et al (1992) Culture of rhizoidal tubers on an aquatic moss in the lakes near the Syowa Station area, Antarctica. Proc NIPR Symp Polar Biol 5:114–117

Imura S, Bando T, Saito S et al (1999) Benthic moss pillars in Antarctic lakes. Polar Biol 22:137–140. doi:10.1007/s003000050401

Imura S, Bando T, Seto K et al (2003) Distribution of aquatic mosses in the Sôya Coast region, East Antarctica. Polar Biosci 16:1–10

Ingólfsson Ó, Hjort C, Björck S et al (1992) Lake Pleistocene and Holocene history of James Ross Island, Antarctic Peninsula. Boreas 21:209–222

Kanda H, Iwatsuki Z (1989) Two aquatic mosses in the lakes near Syowa Station, Continental Antarctica. Hikobia 10:293–297

Kanda H, Mochida Y (1992) Aquatic mosses found in lakes of the Skarvsnes region, Syowa Station area, Antarctica (extended abstract). Proc NIPR Symp on Polar Biol 5:177–179

Kanda H, Ohtani S (1991) Morphology of the aquatic mosses collected in lake Yukidori, Langhovde, Antarctica (twelfth symposium on polar biology). Proc NIPR Symp Polar Biol 4:114–122

Kaspar M, Simmons GM Jr, Parker BC et al (1982) Bryum Hedw. collected from Lake Vanda, Antarctica. Bryologist 85:424–430. doi:10.2307/3242912

Kudoh S, Watanabe K, Imura S (2003a) Ecological studies of aquatic moss pillars in Antarctic lakes 2. Temperature and light environment at the moss habitat. Polar Biosci 16:23–32

Kudoh S, Kashino Y, Imura S (2003b) Ecological studies of aquatic moss pillars in Antarctic lakes 3. Light response and chilling and heat sensitivity of photosynthesis. Polar Biosci 16:33–42

Lewis AR, Marchant DR, Ashworth AC et al (2008) Mid-Miocene cooling and the extinction of tundra in continental Antarctica. Proc Natl Acad Sci USA 105:10676–10680. doi:10.1073/pnas.0802501105

Light JJ, Heywood RB (1973) Deep-water mosses in Antarctic lakes. Nature 242:535–536. doi:10.1038/242535a0

Light JJ, Heywood RB (1975) Is the vegetation of continental Antarctica predominantly aquatic? Nature 256:199–200. doi:10.1038/256199a0

Nakanishi S (1977) Ecological studies of the moss and lichen communities in the ice-free areas near Syowa Station, Antarctica. Antarct Rec 59:68–96

Ochi H (1979) A taxonomic review of the genus Bryum, musci in Antarctica. Mem Natl Inst Polar Res 11:70–80

Ochyra R (1998). The moss flora of King George Island, Antarctica. Polish Academy of Sciences, W. Szafer Institute of Botany, Cracow

Ochyra R, Matteri CM (2001) Amblystegiaceae. Flora Criptogámica de Tierra del Fuego. In: Guerrera SA, Gamundi de Amos IJ, Matteri CM (eds) Buenos Aires: Consejo Nacional de Investigaciones Clientíficasy Técnicas de la Republica Argentina, pp 1–96

Ochyra R, Bednarek-Ochyra H, Lewis Smith RI (2002) New and rare moss species from subantarctic South Georgia. Nova Hedwig 74:121–147. doi:10.1127/0029-5035/2002/0074-0121

Ochyra R, Lewis Smith RI, Bednarek-Ochyra H (2008) The illustrated moss flora of Antarctica. Cambridge University Press, Cambridge

Pickard J, Seppelt RD (1984) Holocene occurrence of the moss Bryum algens Card in the Vestfold Hills, Antarctica. J Bryol 13:209–217

Priddle J (1979) Morphology and adaptation of aquatic mosses in an Antarctic lake. J Bryol 10:517–529

Priddle J (1980) The production ecology of benthic plants in some Antarctic lakes: I. In situ production studies. J Ecol 68:141–153. doi:10.2307/2259248

Priddle J, Dartnall HJG (1978) The biology of an Antarctic aquatic moss community. Freshw Biol 8:469–480. doi:10.1111/j.1365-2427.1978.tb01469.x

Proctor MCF (1984) Structure and ecological adaptation. In: Dyer AFD, Duckett JG (eds) The experimental biology of bryophytes. Academic Press, London, pp 9–37

Rao DN (1982) Responses of bryophytes to air pollution. In: Smith AJE (ed) Bryophyte ecology. Chapman and Hall, London, pp 445–471

Riis T, Sand-Jensen K (1997) Growth reconstruction and photosynthesis of aquatic mosses: influence of light, temperature and carbon dioxide at depth. J Ecol 85:359–372. doi:10.2307/2960508

Savicz-Lyubitskaya LI, Smirnova ZN (1959) A new species of the genus Bryum Hedw. from Bunger's Oasis. Inf Byull Sov Antarkt Eksped 7:34–39 (in Russian)

Savicz-Lyubitskaya LI, Smirnova ZN (1960) New variety of Bryum korotkevicziae Sav.-Ljub. et Z. Smirn. Inf Byull Sov Antarkt Eksped 17:25–27 (in Russian)

Savicz-Lyubitskaya LI, Smirnova ZN (1964) A deep-water member of the genus Plagiothecium Br. et Sch. in Antarctica. Inf Byull Sov Antarkt Eksped 49:33–39 (in Russian)

Seppelt RD (1983) The status of the Antarctic moss Bryum korotkevicziae. Lindbergia 9:21–26

Seppelt RD, Selkirk PM (1984) Effects of submersion on morphology and the implications of induced environmental modification on the taxonomic interpretation of selected Antarctic moss species. J Hattori B 55:273–279

Takaki N (1985) The longest moss. Bryol Times 30:4

Tewari SD, Pant G (1996) Some moss collections from Dakshin Gangotri, Antarctica. Bryol Times 91:7

Wagner B, Seppelt R (2006) Deep-water occurrence of the moss Bryum pseudotriquetrum in Radok Lake, Amery Oasis, East Antarctica. Polar Biol 29:791–795. doi:10.1007/s00300-006-0116-7
Acknowledgments
We wish to express our sincere gratitude to Chinese Arctic and Antarctic Administration, the State Oceanic Administration of China. Also, many thanks to the members of the 23rd Chinese National Antarctic Research Expedition teams for their help during the field work. This research was supported by the Strategic Research Foundation on Polar Sciences of China (No. 20080220).
About this article
Cite this article
Li, S., Ochyra, R., Wu, P. et al. Drepanocladus longifolius (Amblystegiaceae), an addition to the moss flora of King George Island, South Shetland Islands, with a review of Antarctic benthic mosses. Polar Biol 32, 1415–1425 (2009). https://doi.org/10.1007/s00300-009-0636-z
Received:

Revised:

Accepted:

Published:

Issue Date:
Keywords
Bryophyta

Amblystegiaceae

Drepanocladus longifolius

Benthic mosses

Antarctica