Abstract
More white-chinned petrels (Procellaria aequinoctialis) are accidentally killed in fisheries than probably any other seabird in the world, but the population impact of this mortality is poorly understood, partly because there have been no recent estimates of the species' abundance. The breeding aggregation on the sub-Antarctic island of South Georgia is believed to be larger than all others combined. We estimated the size of this population by calculating the area of suitable habitat and the density of occupied burrows within it. Some 670,000 occupied nests were estimated for the island at mid-incubation, representing 0.9 million pairs of breeding-age birds associated with South Georgia in the survey seasons (2005/06 and 06/07). This is 40–45% of the previous estimate, but still represents well over half of the global population. If the population is declining due to fishery bycatch, as is likely, the scale of annual mortality in this population alone is at least in the high tens of thousands, and plausibly hundreds of thousands.
Access options
Buy single article
Instant access to the full article PDF.
US$ 39.95
Tax calculation will be finalised during checkout.
Subscribe to journal
Immediate online access to all issues from 2019. Subscription will auto renew annually.
US$ 119
Tax calculation will be finalised during checkout.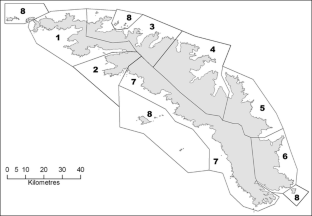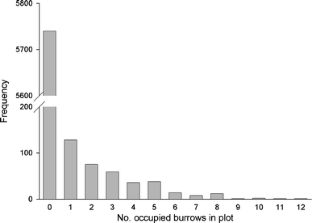 References
Berrow SD (2000) The use of acoustics to monitor burrow-nesting white-chinned petrels Procellaria aequinoctialis at Bird Island, South Georgia. Polar Biol 23:575–579

Berrow S, Croxall J (1999) The diet of white-chinned petrels Procellaria aequinoctialis, Linnaeus 1758, in years of contrasting prey availability at South Georgia. Ant Sci 11:283–292

Berrow SD, Croxall JP, Grant SD (2000a) Status of white-chinned petrels Procellaria aequinoctialis, Linnaeus 1758, at Bird Island, South Georgia. Ant Sci 12:399–405

Berrow SD, Wood AG, Prince PA (2000b) Foraging location and range of white-chinned petrels Procellaria aequinoctialis breeding in the South Atlantic. J Avian Biol 31:303–311

Birdlife International (2007) Species factsheet: Procellaria aequinoctialis. http://www.birdlife.org. Accessed 30 March 2008

Brooke M (2004) Albatrosses and petrels across the world. Oxford University Press, Oxford

CCAMLR (2007) Statistical bulletin 19 (1976–2006) Hobart, Tasmania. Ccamlr.org/pu/e/e_pubs/sb/vol19.htm

Chastel O (1995) Influence of reproductive success on breeding frequency in four southern petrels. Ibis 137:360–363

Cochran WG (1977) Sampling techniques. Wiley, New York

Croxall JP, Ricketts C, Prince P (1984) Impact of seabirds on marine resources, especially krill, of South Georgia waters. In: Whittow GC, Rahn H (eds) Seabird energetics. Plenum, New York, pp 285–317

FAO (2008) Regional fisheries statistics. http://faostat.fao.org/site/395/default.aspx

Favero M, Khatchikian CE, Arias A, Silva Rodriguez MP, Cañete G, Mariano-Jelicich R (2003) Estimates of seabird by-catch along the Patagonian Shelf by Argentine longline fishing vessels 1999–2001. Bird Conserv Int 13:273–281. doi:10.1017/S0959270903003204

Hall AJ (1987) The breeding biology of the white-chinned petrel Procellaria aequinoctialis at South Georgia. J Zool 212:605–617

Headland R (1984) The island of South Georgia. Cambridge University Press, Cambridge

Jouventin P, Bried J, Micol T (2003) Insular bird populations can be saved from rats: a long-term experimental study of white-chinned petrels Procellaria aequinoctialis on Ile de la Possession (Crozet archipelago). Polar Biol 26:371–378

Laich AG, Favero M (2007) Spatio-temporal variation in mortality rates of white-chinned petrels Procellaria aequinoctialis interacting with longliners in the south-west Atlantic. Bird Conserv Intern 17:359–366. doi:10.1017/S0959270907000895

Lawton K, Robertson G, Kirkwood R, Valencia J, Schlatter R, Smith D (2006) An estimate of population sizes of burrowing seabirds at the Diego Ramirez archipelago, Chile, using distance sampling and burrow-scoping. Polar Biol 29:229–238

Leader-Williams N, Smith RIL, Rothery P (1987) Influence of introduced Reindeer on the vegetation of South Georgia: results from a long-term exclusion experiment. J Appl Ecol 24:801–822

McIntosh E, Walton DWH (2000) Environmental management plan for South Georgia. British Antarctic Survey, Cambridge

Montevecchi WA (2001) Interactions between fisheries and seabirds. In: Schrieber EA, Burger J (eds) Biology of marine birds. CRC Books, Boca Raton

Nel DC, Ryan PG, Watkins BP (2002) Seabird mortality in the Patagonian toothfish longline fishery around the Prince Edward Islands, 1996–2000. Ant Sci 14:151–161

Phillips RA, Silk JRD, Croxall JP, Afanasyev V (2006) Year-round distribution of white-chinned petrels from South Georgia: relationships with oceanography and fisheries. Biol Conserv 129:336–347

Prince PA, Croxall JP (1983) Birds of South Georgia: new records and re-evaluation of status. Br Antarct Surv Bull 59:15–27

Robertson G, McNeill M, Smith N, Wienecke B, Candy S, Olivier F (2006) Fast sinking (integrated weight) longlines reduce mortality of white-chinned petrels (Procellaria aequinoctialis) and sooty shearwaters (Puffinus griseus) in demersal longline fisheries. Biol Conserv 132:458–471

Ryan PG, Boix-Hinzen C (1999) Consistent male-biased seabird mortality in the Patagonian toothfish longline fishery. Auk 116:851–854

Scott JJ, Poncet S (2003) South Georgia—environmental mapping. Technical Report No. EBS03/1 South Georgia Environmental Baseline Survey South Georgia Surveys, Stanley

Sea Around Us Project (2008) Landings from fisheries on the Patagonian Shelf. http://www.seaaroundus.org. Accessed 20 March 2008

Simons TR (1984) A population model of the endangered Hawaiian dark-rumped petrel. J Wildl Manag 48:1065–1076

Warham J (1996) The behaviour population biology and physiology of the petrels. Academic Press, London

Weimerskirch H, Catard A, Prince PA, Cherel Y, Croxall JP (1999) Foraging white-chinned petrels Procellaria aequinoctialis at risk: from the tropics to Antarctica. Biol Conserv 87:273–275
Acknowledgments
We thank Dion Poncet, Leiv Poncet, Ken Passfield, Steve Cartwright, Kilian de Couedic and Russell Evans for running the SV Golden Fleece and looking after the field team so well, and Ash Morton, Catrin Thomas, Olly Watts, Andy Black, Leiv Poncet, Carolina Mantella and Ronnie Reyes-Arriagada for their contribution to the fieldwork. Peter Rothery kindly contributed statistical advice, and Richard Phillips was an excellent source of advice and stimulating discussion. Funding for this study was provided by the Overseas Territories Environment Programme (OTEP) and the Government of South Georgia and the South Sandwich Islands. This study is a contribution to the BAS Discovery 2010 research programme.
About this article
Cite this article
Martin, A.R., Poncet, S., Barbraud, C. et al. The white-chinned petrel (Procellaria aequinoctialis) on South Georgia: population size, distribution and global significance. Polar Biol 32, 655 (2009). https://doi.org/10.1007/s00300-008-0570-5
Received:

Revised:

Accepted:

Published:
Keywords
White-chinned petrel (Procellaria aequinoctialis)

Population size

Burrow-nesting

South Georgia

Antarctic